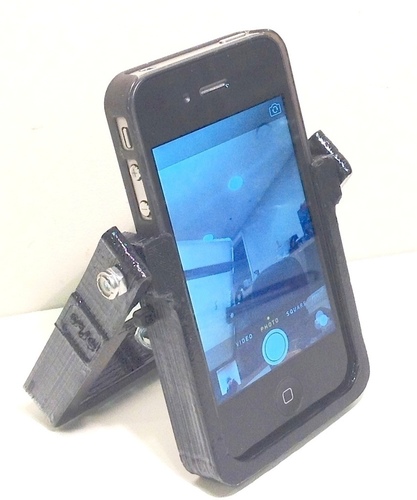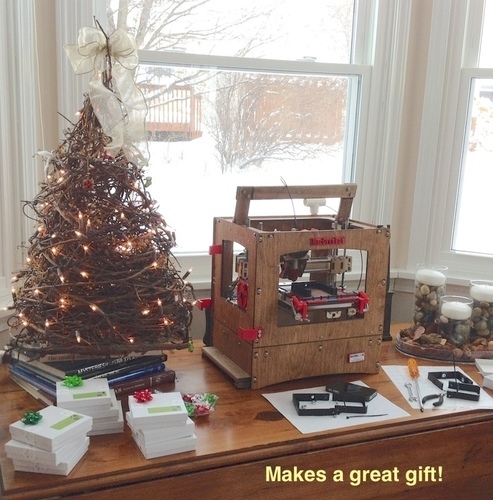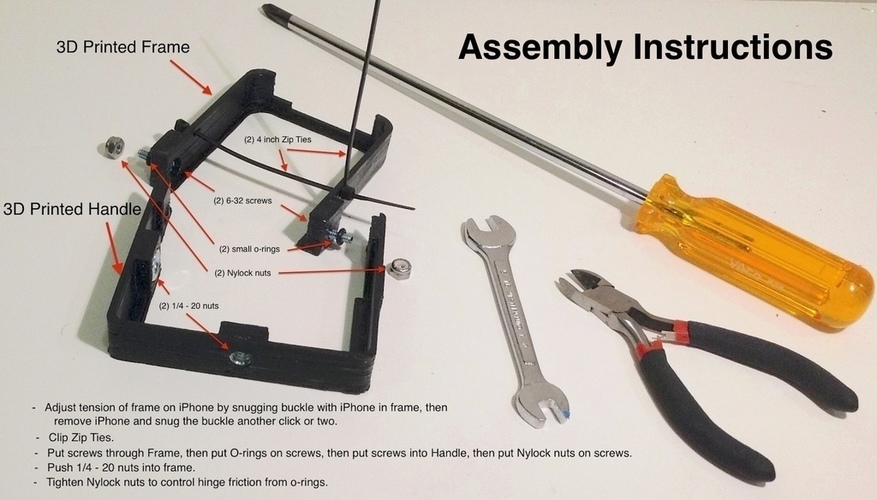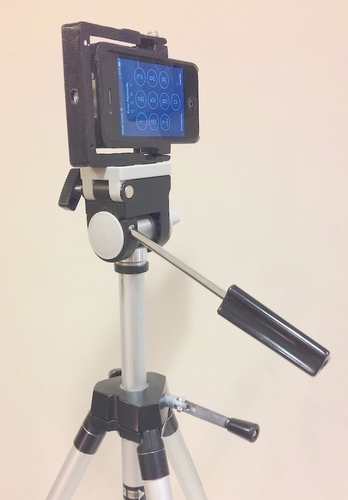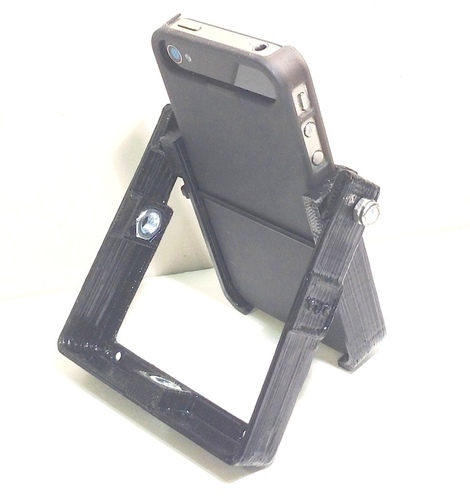 No Prints Yet

Be the first to upload a Print for this Design!
This thing was made with Tinkercad for an iPhone 4S. Edit it online https://tinkercad.com/things/1...  for other phones.
The HandleStand tilts with a reliable smooth action that is provided by o-rings in the hinges. Your iPhone becomes a totally adjustable table-top camera for FaceTime or video -making. Attachment features (1/4 - 20 nuts) mount the HandleStand on a tripod or monopod in either landscape or portrait orientations. The attachment features will also give you the option to design and print other accessories to be attached to the stand with the iPhone in it. 
Since the tightness of the fit to the iPhone is controlled by adjusting a zip tie, the HandleStand accommodates all iPhones with or without most cases. For phones in cases that are more than 61mm wide and 12mm thick, set the Scale setting on Slic3r to a percentage appropriately higher than 100%. Enlarging the Handle will make the 1/4 - 20 nuts fit loose and thus require a dab of hot-glue or superglue. The HandleStand makes a great gift!
Materials 
(1) Printed Handle 
(1) Printed Frame 
(2) 4 inch zip-ties 
(2) 6 - 32 x 1/2 inch machine screws 
(2) 6 - 32 Nyloc nuts 
(2) 1/4 - 20 Nuts Screwdriver, 5/16 inch wrench, wire-cutter (or nail clipper)
Instructions 
Use one zip-tie to make a strap across the frame and use the other zip-tie for a buckle. Adjust the fit of the Frame on the iPhone by snugging the buckle on the zip-tie with the iPhone in the Frame. Then remove the iPhone and snug the buckle another click or two. Clip the ends off the zip-ties. Put the hinge screws through the frame first, then put the o-rings on the screws, then put the screws into the handle, then put the Nylock nuts on the screws. Tighten the Nylock nuts to control the hinge friction from the o-rings. Push the 1/4 - 20 nuts into the frame.
handlestand_for_iphone.stl
151 KB