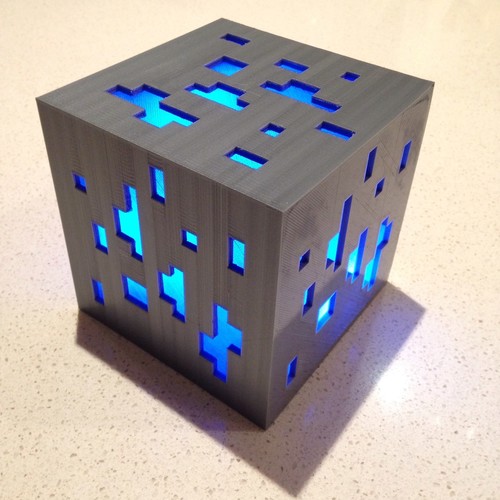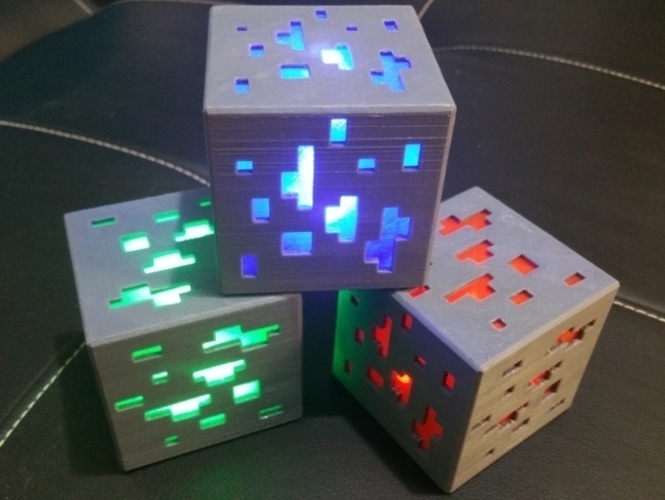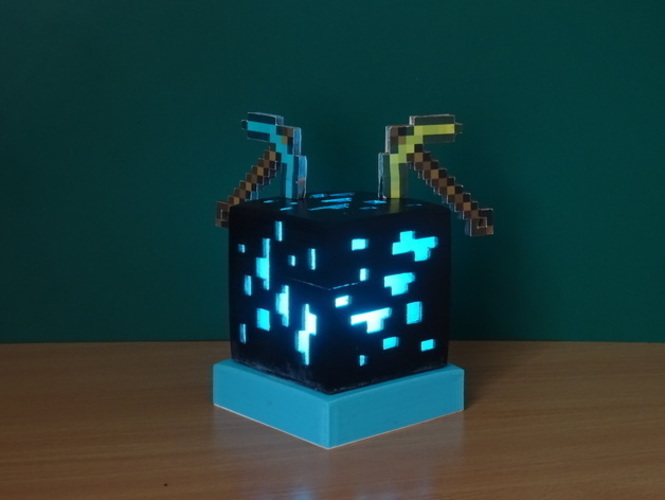 This is a lamp looking like a minecraft diamond block. There is two versions : one with the bottom sculpted like all the sides, the other one with a full bottom.  Choose the one that suits your needs and keep reading for a guide on how to make your own amazing lamp.
Read the article by Tailor3d : https://tailor3d.wordpress.com/2015/05/29/minecraft-and-3d-printing-were-made-for-each-other/
 Read the article by 3dprint.com : http://3dprint.com/98696/3d-print-minecraft-nightlight/
Printing :
This design will need supports on the hole sections, 0.2mm layers should be fine but you can go for 0.1mm for some overkill detail.
Post-Printing :
Once the print is finished fell free to sand or smooth out the layers but keeping them visible can have some charm too. Paint can be applied as well.
After this you will need to make the diffuser panels so that the light is evenly distributed. You can use some sanded plexiglass or parchment paper, you just need to cut 5 squares to fit in the inside of the lamp.
It is now time to add light to your lamp. You can use standalone LEDs, an LED ring, an arduino controlled light cycle or anything else you could think of. Check out Matthewc McMillan's Bluetooth controlled night light https://matthewcmcmillan.blogs...
diamond lamp sculpted bottom.stl
80.2 KB
diamond lamp full bottom.stl
67.3 KB