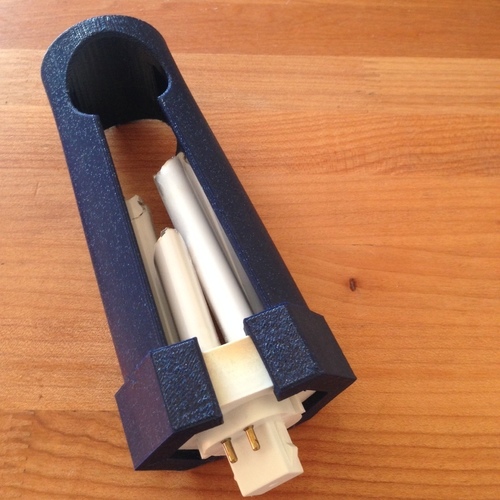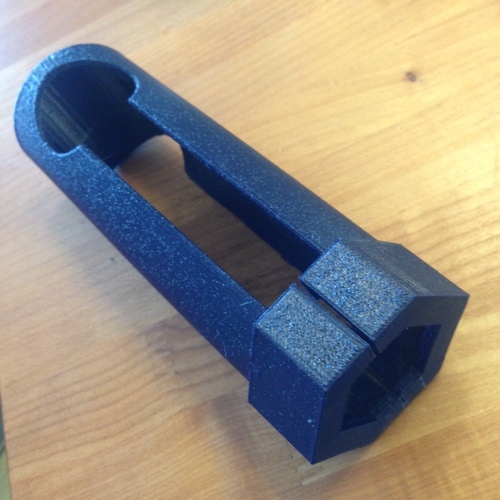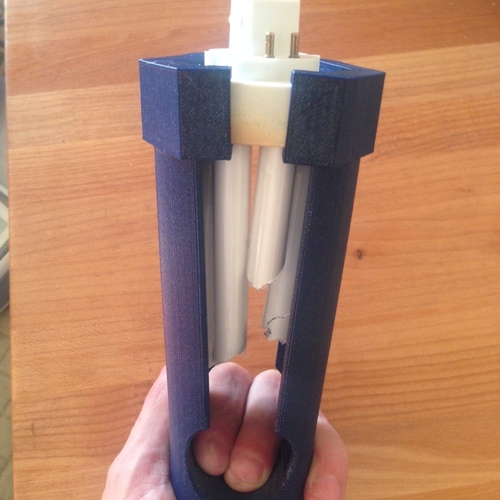 CFL Bulb Removal Tool
The CFL Tool was designed to remove or install a Gx24q Compact Florescent Bulb (Hexagonal 4-pin CFL lightbulb) safely and easily. I was inspired to create it after a friend with full use of her hands and fingers couldn't replace several burned-out CFL bulbs in her house.
The recessed design of her CFL receptacle (can light) did not allow enough room to grab the base of the bulb to remove it. Instead, I had to grab the bulb by the glass, apply tremendous pressure (not easy even if you don't have arthritis like me) and try not to break the glass (no such luck as you can see from the picture) in the process (risking cuts from the glass and toxins from the mercury).
This design attaches securely to the base of the bulb, protects the glass, and allows you to grasp and safely tug on the end to remove the bulb. It acts like a pair of salad tongs; open it up, allow it to grip the base of the bulb, and remove or insert the bulb safely without fear of breaking glass or releasing toxic mercury into your home.
Ability is a continuum. We are all differently-abled. Many everyday ordinary tasks present a challenge to even those of us with perfectly full use of our hands. Something as simple as opening a bag of chips or pulling up the top of a soap dispenser can present a challenge for any one of us.
CFL manufacturers should supply a tool to remove/insert these not very well designed lights.
Specifications
Part Design completed on FreeCad on a Mac running OS X El Capitan Slicing/Preparation: MakerWare Printer: MakerBot Replicator 2x Filament: MatterHackers Pro 1.75 mm ABS in midnight blue
Settings
Raft: none Infill: 30% Supports: yes Slurry on glass Platform: 105 degrees C Extruder: 132 degrees C Print time: Approximately 4 hrs and 15 minutes (4:15) Layer Height: 0.2 mm 
cfl_tool_final.obj
41.4 KB
CFL_removal_insertion_tool_final.pdf
184 KB