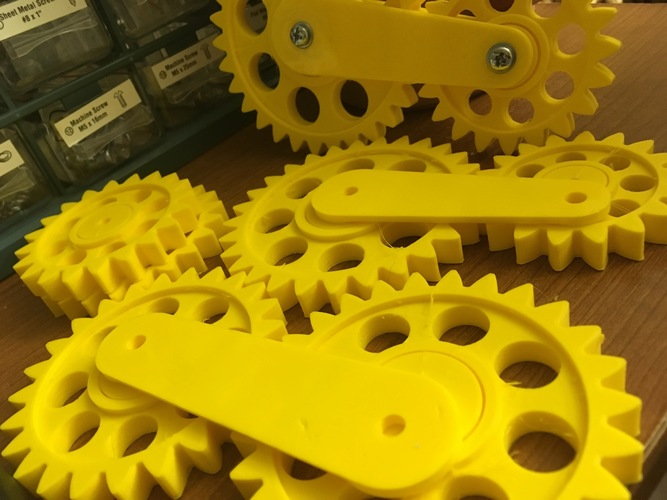 This eight-gear pack includes 16 toothed up to 32 toothed gears all nicely designed for ease of use.  They have a mounting hole in the center and an axle with a spindle design that is captive in the sense that it holds itself in place within the gear's spindle shaped central void.  I am printing up a full set and will take photos when ready.   
I print these with 0.25mm layer height, 25% infill, no support, and 80 mm/s speed on my Ultimaker 2+ (a great machine, my third printer and enjoy it immensely).  They take anywhere from one hour to two and a half hours to print.  They all have the same tooth size which is 10 mm and 10 mm thickness so they spin each other around.  
You can glue them in place with super glue or acrylic cement if printed in PLA, or you can use the mounting holes which are set to the number of teeth divided by four in mm of size (4 mm to 8 mm) which will accept M3 and larger bolts with washers.  I made the bigger ones with bigger holes because the smaller holes looked undersized on the larger gears.  You should even be able to sandwich the gears between two magnets for placement on a refrigerator, though I have not tried that.  You can get magnets from www.gaussboys.com for a low price.  
I put a non-commercial license on these.  If you wish to use them commercially then just ask and I will grant you permission to do so.  If you like these gears then please leave a comment to say thanks and to encourage me to make more gear packs!  
Note  1:  I added some connecting rods which are as yet untested.  They should be the proper distance, radius,  etc. to fit the gears properly.  
Note 2:  I removed the gears with 16 and 18 teeth because in practice I found their centers were too weak and would break in half.  To compensate I added gears 34 thru 40 so you can still get a 2:1 gear ratio with 20/40.  Also the holes are all 6 mm in diameter (without nozzle compensation).
Note 3:  I added every possible rod combination of two gears (if I got 'em all), which took a while to do.  The PinShape software would not handle all those STL files so I packed them up into a zip file.  
Note 4;  Some rods included in this post, the remaining rods here.
Remember to leave a comment please!  Too many people just take without so much as a hello.  Don't be a taker, be a maker and comment, thank you!  
Enjoy!