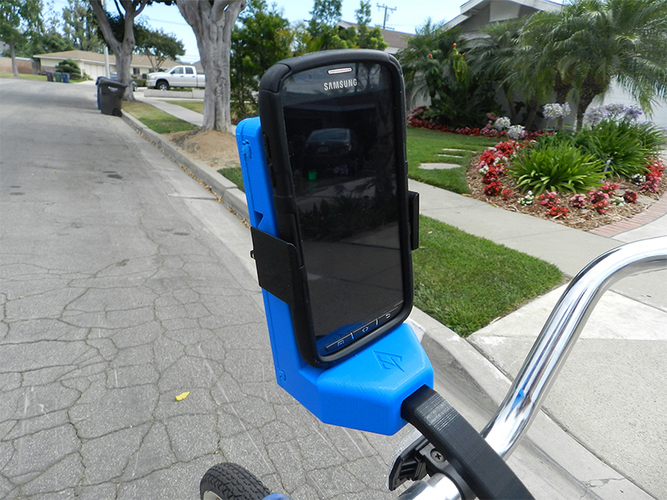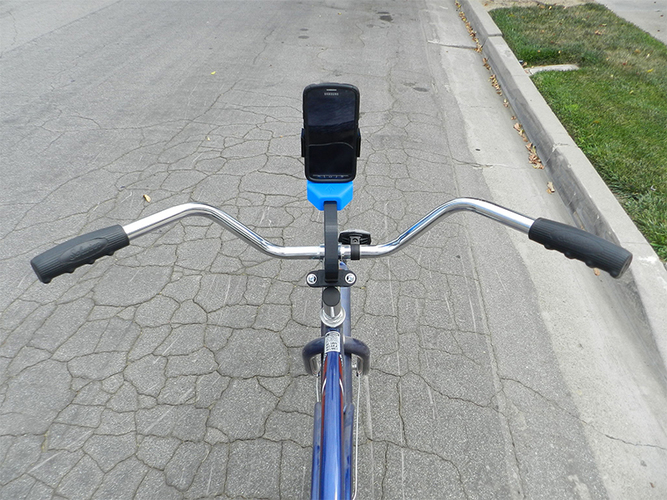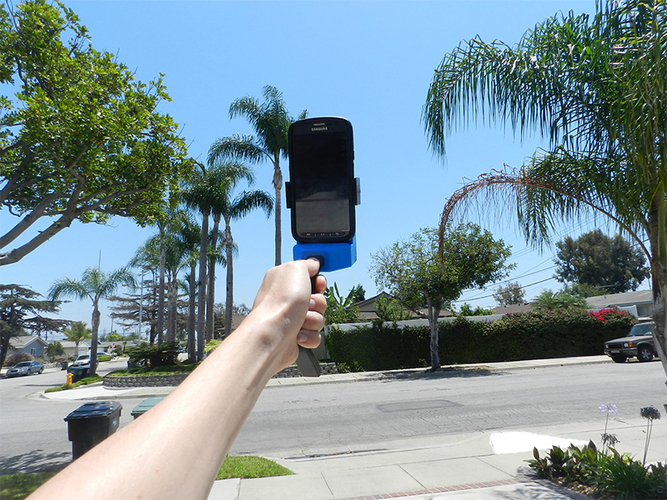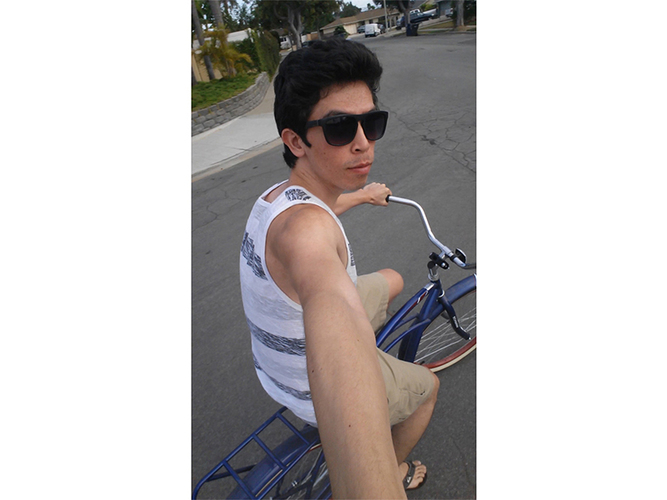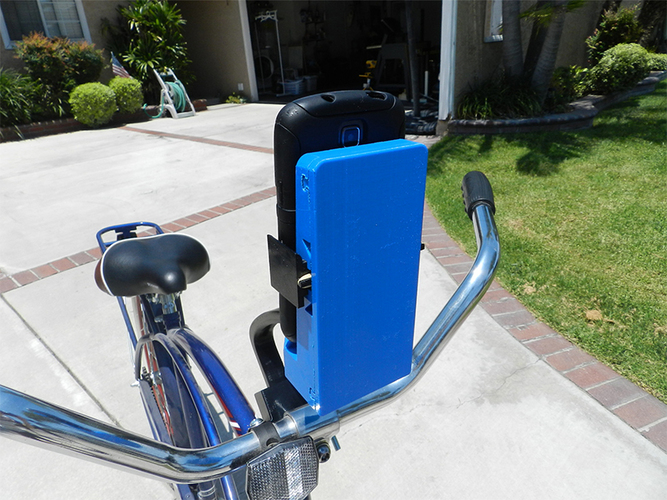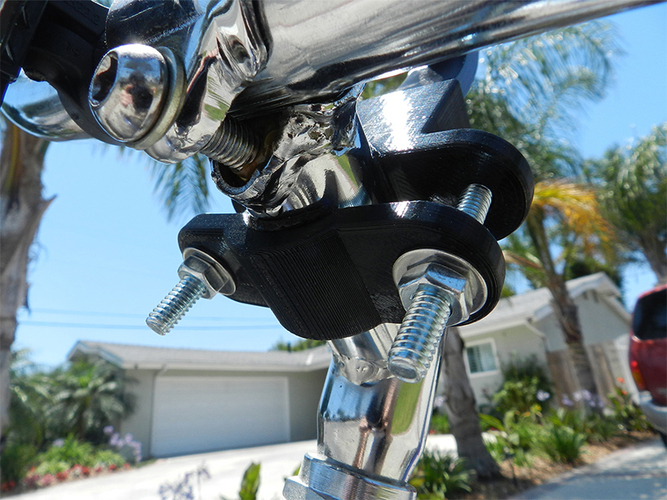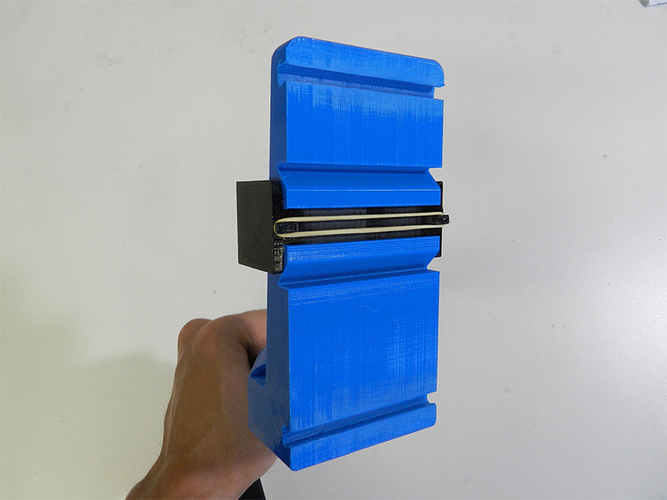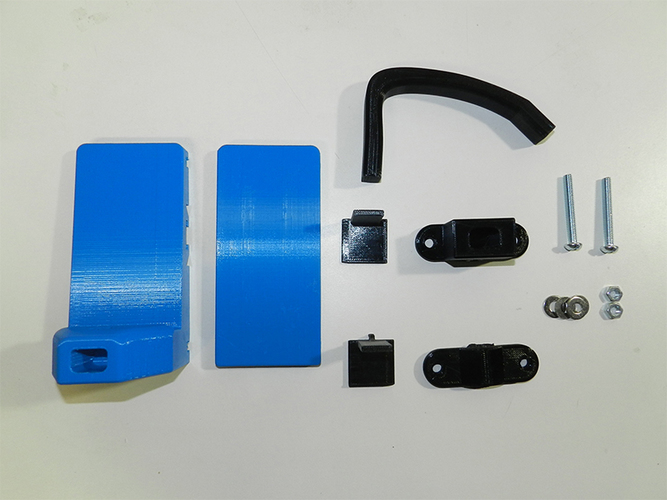 Check out my demonstration and tutorial video for this design here.
Go here for a test of run with the front facing camera.
This incredibly easy to use design allows you to place your phone quickly and easily in front of you, allowing you to view your GPS  nice and clearly.
Thanks to its cleverly designed locking mechanism, inserting and removing your phone has never been easier. 
It also has a removable arm for those who wish to go vlogging and/or take some nice selfies. 
For the hardware, you will only need about $3 to spend on the rubber bands, screws, nuts, and washers.
So if you are looking for a Bike Phone Mount to 3D print, you've come to the right place!
SPECIAL NOTE:
Since the video, I have made a better, more improved version, so if you would like to print this design, I would go for version 2. Basically, the main difference is that the main arm is angled a little more down so you can see the screen better. It should also be short enough to use your back camera on your phone. Other than that, it should work the same, but if if you would like to print the one I used in the video, go for it. I would have printed version 2, but I do not have a printer yet. Thanks!
RackMultipart20160628-148-yb32i0.zip/Bike Phone Mount V1 - Main Body-1.STL
250 KB
RackMultipart20160628-148-yb32i0.zip/Bike Phone Mount V1 - Arm1-1.STL
214 KB
RackMultipart20160628-148-yb32i0.zip/Bike Phone Mount V1 - Arm2-1.STL
216 KB
RackMultipart20160628-148-yb32i0.zip/Bike Phone Mount V1 - Back Cover-1.STL
47.1 KB
RackMultipart20160628-148-yb32i0.zip/Bike Phone Mount V1 - Clamp Bottom-1.STL
385 KB
RackMultipart20160628-148-yb32i0.zip/Bike Phone Mount V1 - Clamp Top-1.STL
450 KB
RackMultipart20160628-148-yb32i0.zip/Bike Phone Mount V1 - Main Arm-1.STL
234 KB
RackMultipart20160628-148-123leoi.zip/Bike Phone Mount V2 - Arm1-1.STL
245 KB
RackMultipart20160628-148-123leoi.zip/Bike Phone Mount V2 - Arm2-1.STL
245 KB
RackMultipart20160628-148-123leoi.zip/Bike Phone Mount V2 - Back Cover-1.STL
51.6 KB
RackMultipart20160628-148-123leoi.zip/Bike Phone Mount V2 - Clamp Bottom-1.STL
385 KB
RackMultipart20160628-148-123leoi.zip/Bike Phone Mount V2 - Clamp Top-1.STL
443 KB
RackMultipart20160628-148-123leoi.zip/Bike Phone Mount V2 - Main Arm-1.STL
248 KB
RackMultipart20160628-148-123leoi.zip/Bike Phone Mount V2 - Main Body-1.STL
255 KB