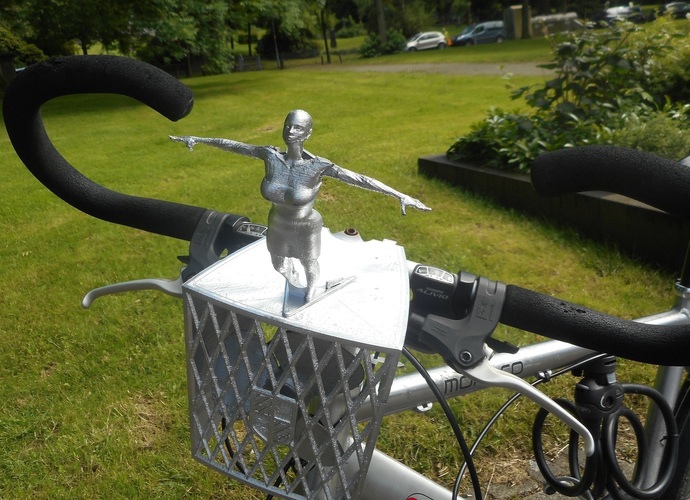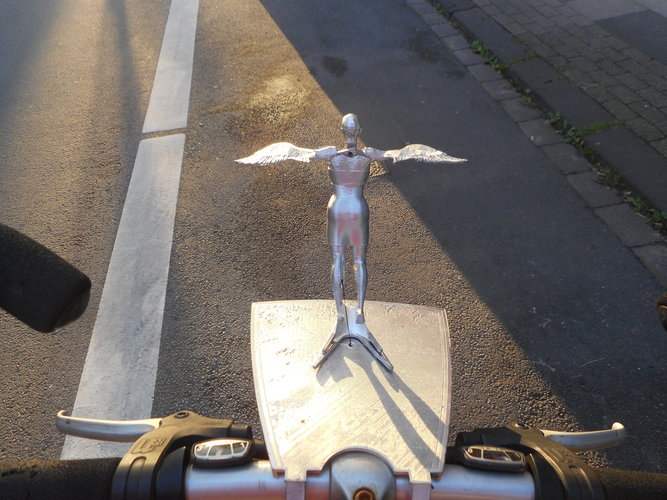 No Prints Yet

Be the first to upload a Print for this Design!
Ever felt inferior to all the Rolls-Royce owners in your neighbourhood, when getting on your rusty old bicycle for the way to the office? Work colleagues honking and jeering at you when passing you with their Bentleys or even a petty Mercedes Benz?
Well, there's an end to your suffering!
Pimp up your old bike with a stately mascot. Even better, a wind-wheel, concealed behind a classic chrome grille, drives the mascot, so when riding your bike it will start flapping its wings, turning the faces of all those luxury limo owners green with envy!
The Bicycle Mascot works just like a good old toy almost everybody had as a child: the "jumping jack" (or "Hampelmann" in german). A pullstring is used to lift the wings that will drop back due to their weight once the pullstring is released. To automate this process while riding your bike, I decided to use a wind wheel with a slightly off-center pin to which the pullstring is loosely connected. The relative wind drives the wind wheel (an idea I used before in my bicycle bubble machine) which will make the off-center pin periodically pull the string by approximately 1cm.
You can find step-by-step instructions with pictures here: http://www.instructables.com/i...
Please note that the wing version does not yet work as good as the arms you can see in the video.
a