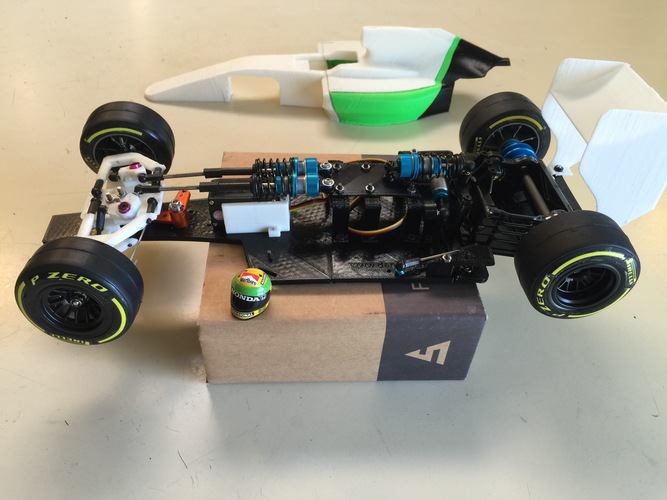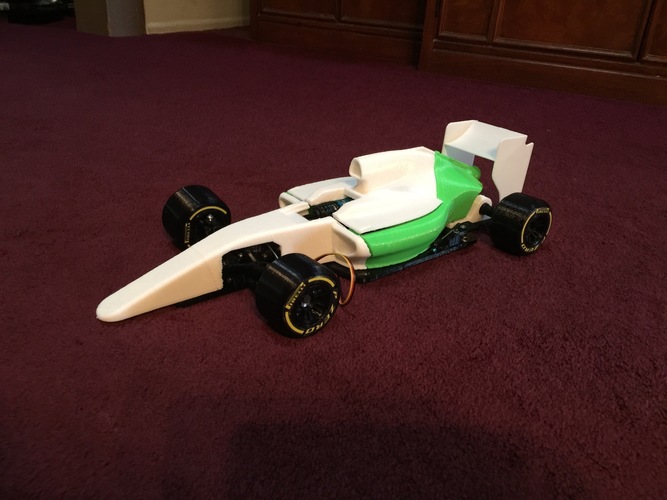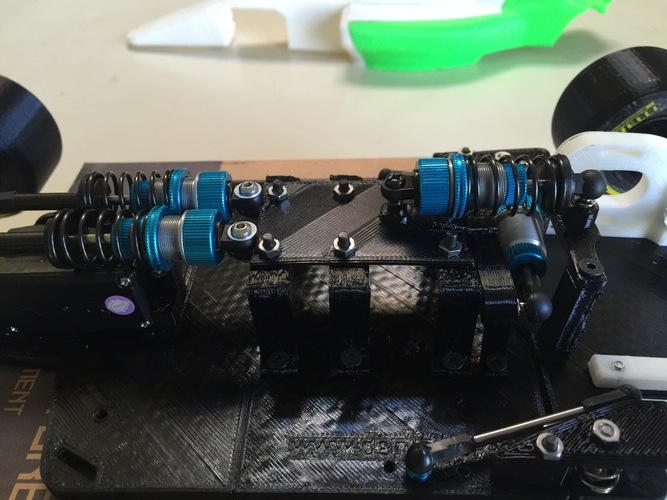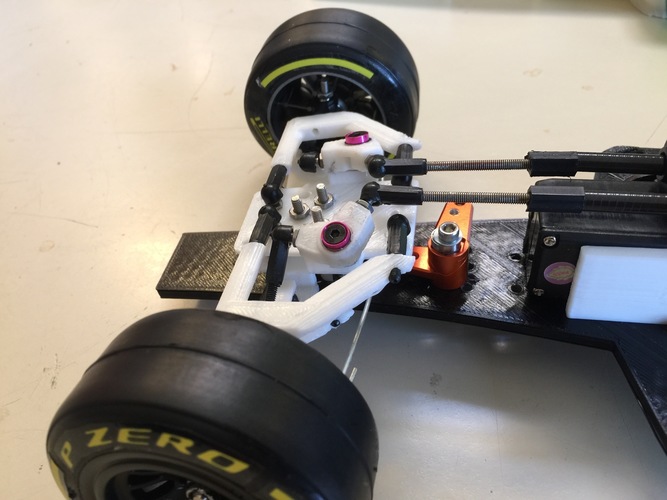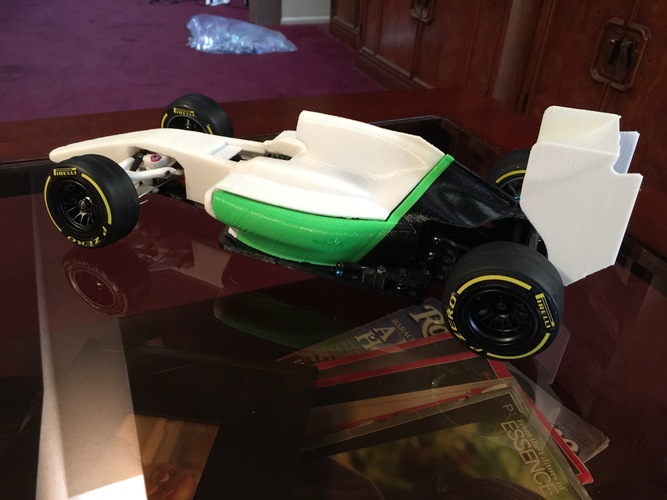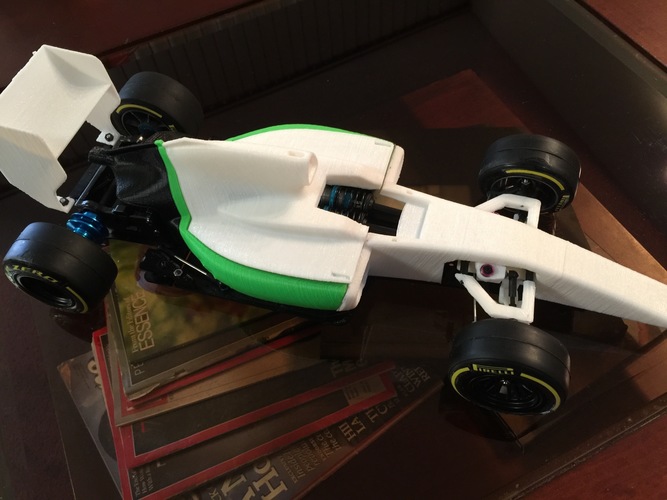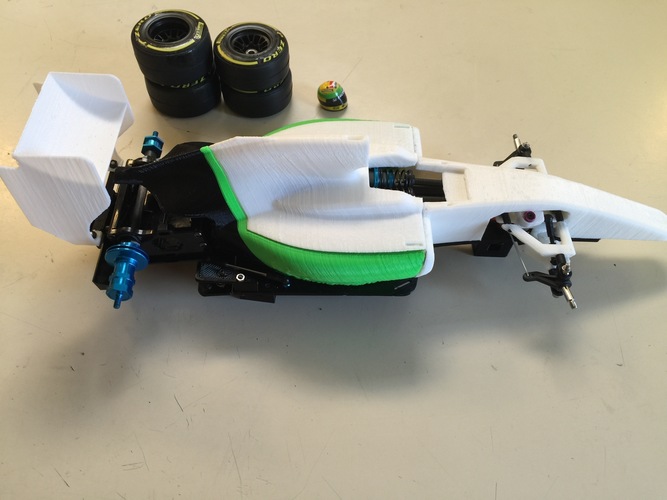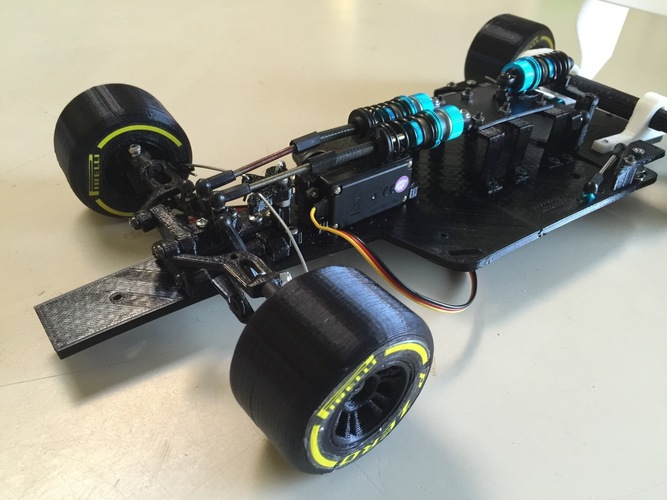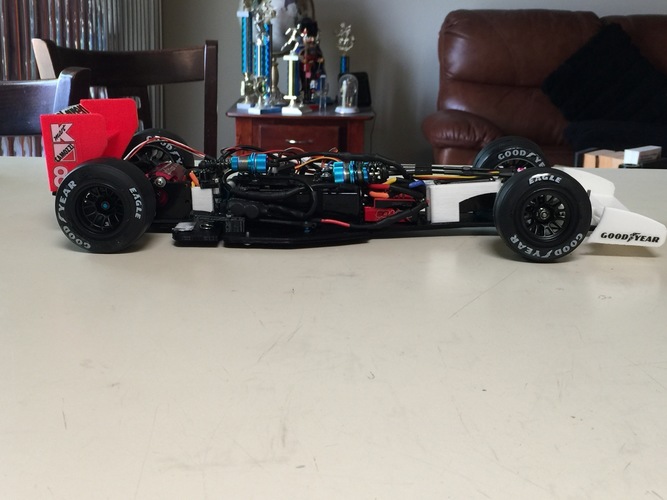 No Prints Yet

Be the first to upload a Print for this Design!
RS-01 Open RC F1 Adjustable Suspension Racing Chassis Version B
Full car: 
RS-01 Ayrton Senna's 1993 McLaren MP4/8 Formula 1 RC-Car
 https://pinshape.com/items/212...
UPDATE 4/26/16: Version C
Front suspension and servo mount has been updated to the version that I used in the Senna MP4/8 car:
Servo now sits upside down
New arms are thicker and have to mounting points to adjust wheel base length. 
Rims and Tires for F104 version.
Front suspension demonstration video:
https://www.youtube.com/watch?v=kcflgugvOYg
https://www.youtube.com/watch?v=710K5RflqO4
Rear suspension demo  video:
https://www.youtube.com/watch?v=DTZXX_mjeZY
Body on and shock movement demo:
https://www.youtube.com/watch?v=LLCjCuojl9Y
Introducing the RS-01 3d printed chassis designed for the Open RC F1 Remote Control Car.
I've named this chassis the RS-01. The "RS" stands for Riverside Speedway. The Riverside Speedway was a historic track that hosted all of the greats from Carol Shelby to Mario Andretti. It even hosted many Formula 1 races. As a homage to this great track I've named my chassis after it.
RS-01 Chassis GOALS:
The RS-01 Chassis is designed to turn the Open RC F1 into a competition RC race car. This car is a 3d printed version of competition RC cars like the Tamiya F104 Pro and 3Racing FGX F1—cars that cost around $600.
It features tunable front pushrods, adjustable rear suspension with an anti roll dampener. The front suspension translates the movement through rocker arms that then compress the shocks. The rear suspension moves independently of the main body. It is basically a Live Axle with a Panhard Bar. It not only compresses, but can also move torsionally, so if one wheel hits a rock, only that wheel will move up.
Modular Design:
I designed this chassis to be modular. You can run 3d printed wheels, or actual plastic wheels from the store—just by changing the axles. Different motor mounts will also be easily swapped in by printing out a different rear chassis which has the correct holes for that particular setup. I did this so that people can choose which type of car that they want to build. If you just want to experience the Open F1 RC car in its full 3d printed form, then you can. Those 3d parts bolt right up! Now you can have a printed 3d printed suspension to help you corner faster and hopefully avoid crashes caused by having no suspension, BUT if you are focused on building the fastest remote control car that you can have, with the most powerful motor and stickiest rubber tires that you can find—cars that can run 80 mph, then this chassis will also work for you. In its race form it is designed to use Tamiya F104 rear motor mounts and rear axle. With these additions, the sky is the limit. Go to the track and show people how fast a 3d printed car can go!
Front Suspension:
I chose a pushrod double wishbone suspension over a typical Macpherson strut suspension for two reasons: (1) I wanted the shocks to fit within the Formula F1 Body, and (2) believability—a pushrod suspension is the exact type of suspension that real Formula 1 cars use, so it was fitting.
Rear Suspension:
Rear suspension needs to move not only laterally, but also torsionally for greater control. The shock is mounted inside the car and attaches to a mount on the rear chassis. The damper controls the roll of the live axle. Body:
The body has minimal modifications. The Front, Lid, engine cover and bottom chassis are the only replacement body parts. All other body parts, and files can be found in the original Open RC F1 files. 
Servo:
Hitec RCD 31077S HS-77BB Low Profile BB ServoSpeed 
Battery:
 The battery cage can fit any battery up to the size of the Turing nano-tech Shorty 4200mah 2S2P Hardcore Lipo Pack (96x46.4x25mm).
Shocks:
The RS-01 chassis uses 55mm shocks. Any shocks can work. 
f109 rear chassis bottom.stl
185 KB
center bottom.stl
66.5 KB
chassis front.stl
1.77 MB
rear shock mount.stl
47.4 KB
right spindle.stl
86.4 KB
steering bell crank spacer.stl
12.6 KB
tripple shock mount.stl
188 KB
f104 rear wing mount.stl
27.8 KB
F109 motor cover.stl
510 KB
Rainlight and Diffuser for f109.stl
781 KB
chassis bottom part B.stl
1.66 MB
battery box front .stl
168 KB
battery box middle .stl
155 KB
battery box rear .stl
162 KB
center bottom with supports.stl
1.68 MB
rear shock tower.stl
7.11 KB
center body with fan .stl
1.2 MB
chassis bottom part A.stl
286 KB
front rim for printed tires.stl
272 KB
rear rim for printed tires.stl
191 KB
left damper spring mount.stl
20.2 KB
right damper spring mount.stl
20.2 KB