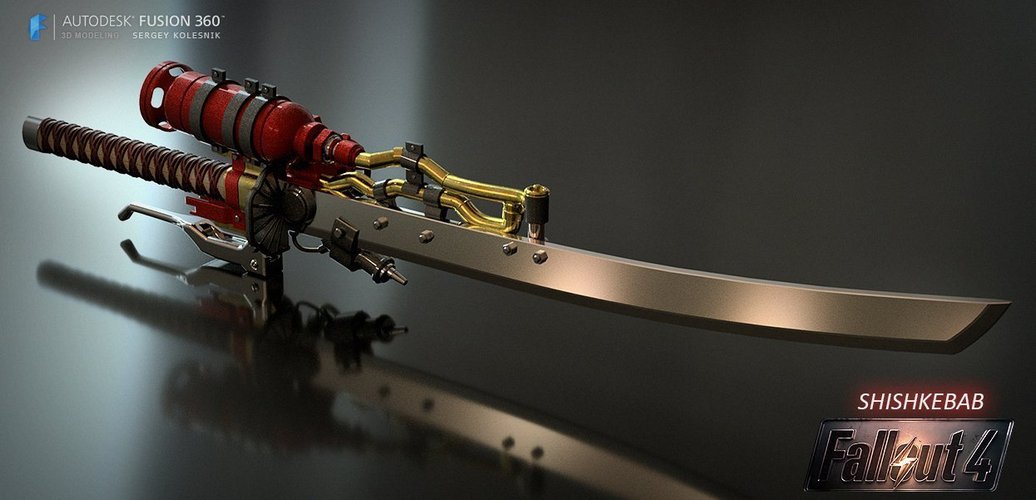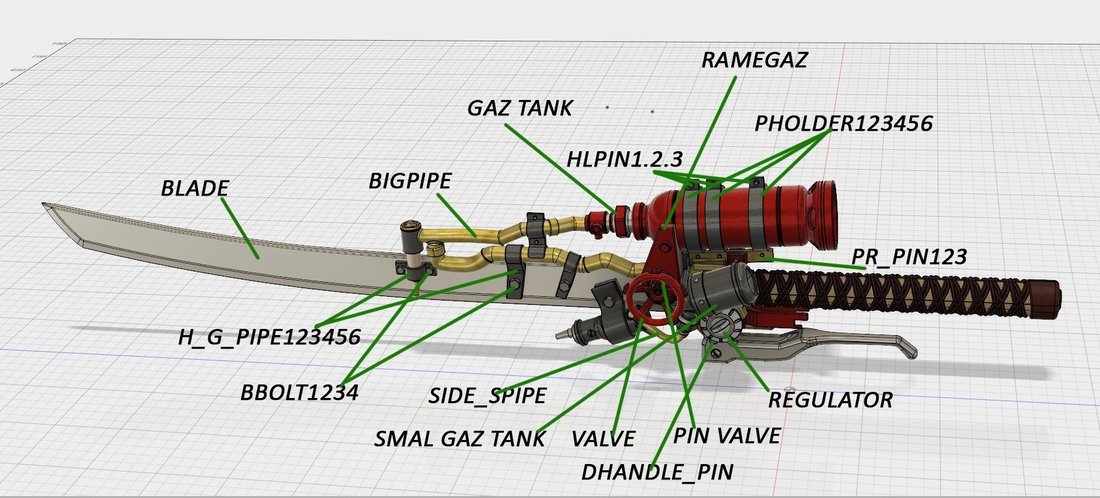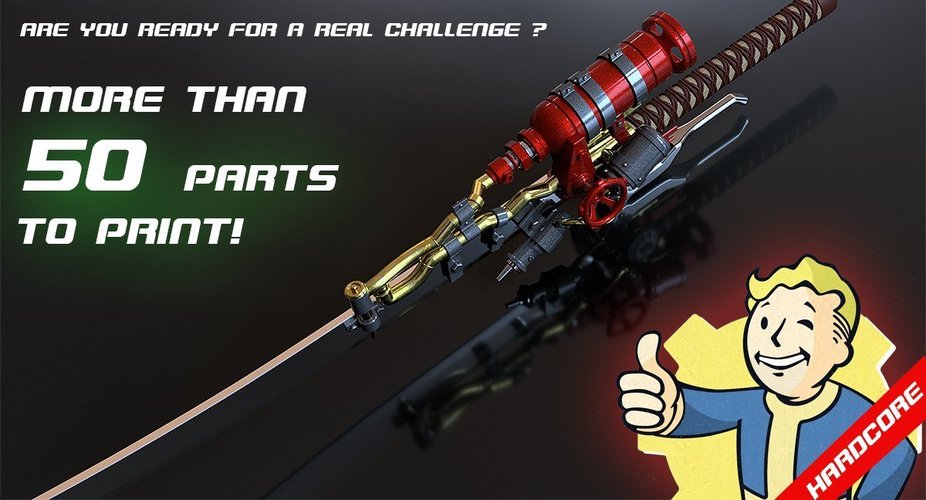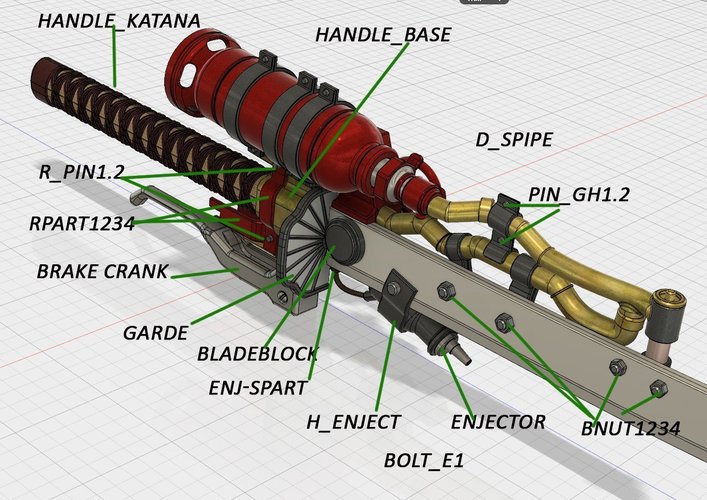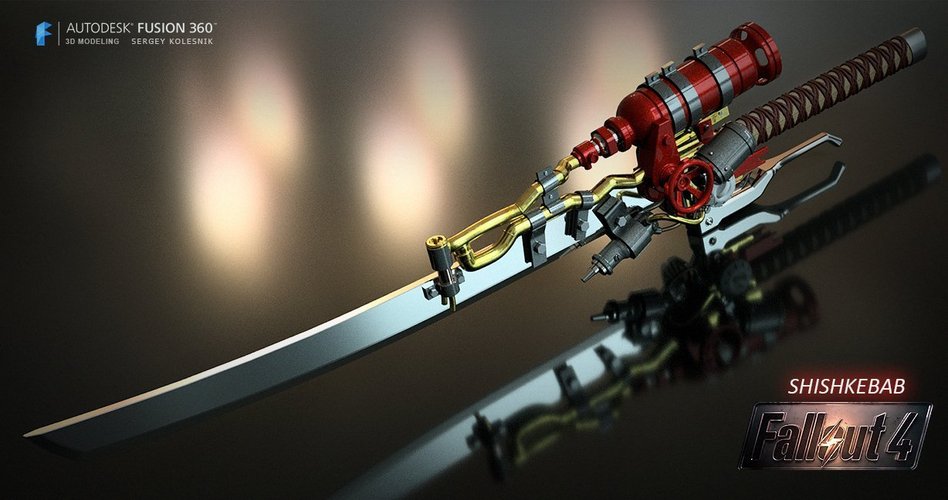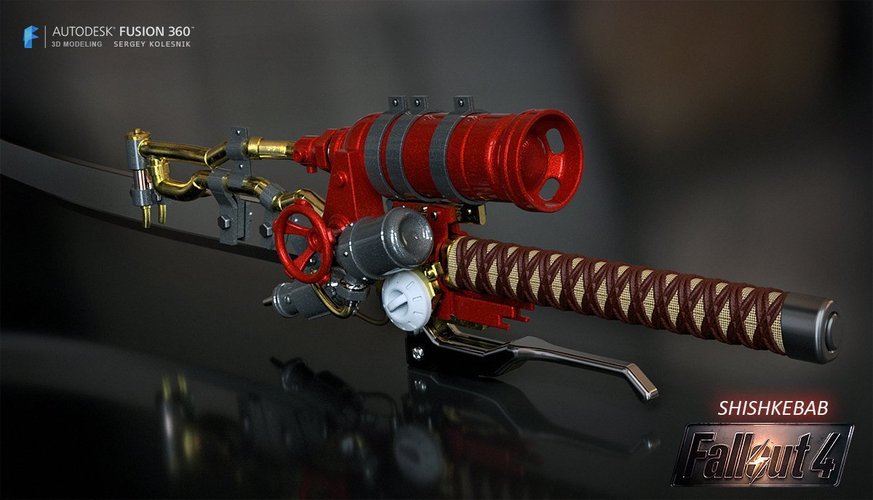 No Prints Yet

Be the first to upload a Print for this Design!
Are you the ultimate Fallout fan? Are you ready for a real challenge? Did you ever want to create the legendary sword with your own hands? Now it's time! Go for the amazing 3D-printed Shishkebab!
More than 50 parts to print! A guaranteed satisfaction and... а lot of headache! Go print and assemble your own Shishkebab! Get your rasp, tape and all the patience you have. Get ready for a real hardcore challenge testing yourself and your printer.
Don't forget to send me a pic when you finish it ;)
Beware, the model is separated only into logical parts. You should further adapt and cut for your printers' build plate size.
RackMultipart20160205-565-1bevugg.zip/rpart1.stl
43.8 KB
RackMultipart20160205-565-1bevugg.zip/dhandle_pin.stl
93.5 KB
RackMultipart20160205-565-1bevugg.zip/handle_katana.stl
4.23 MB
RackMultipart20160205-565-1bevugg.zip/conector smal tank.stl
94 KB
RackMultipart20160205-565-1bevugg.zip/gaz tank.stl
2.88 MB
RackMultipart20160205-565-1bevugg.zip/pholder3.stl
131 KB
RackMultipart20160205-565-1bevugg.zip/pholder.stl
131 KB
RackMultipart20160205-565-1bevugg.zip/bbolt3.stl
83.8 KB
RackMultipart20160205-565-1bevugg.zip/rpart2.stl
43.8 KB
RackMultipart20160205-565-1bevugg.zip/rpart3.stl
514 KB
RackMultipart20160205-565-1bevugg.zip/bladeblock.stl
104 KB
RackMultipart20160205-565-1bevugg.zip/bigpipe.stl
2.86 MB
RackMultipart20160205-565-1bevugg.zip/garde.stl
404 KB
RackMultipart20160205-565-1bevugg.zip/pholder2.stl
130 KB
RackMultipart20160205-565-1bevugg.zip/pholder1.stl
130 KB
RackMultipart20160205-565-1bevugg.zip/pholder4.stl
130 KB
RackMultipart20160205-565-1bevugg.zip/pholder5.stl
131 KB
RackMultipart20160205-565-1bevugg.zip/hlpin1.2.3.stl
92.5 KB
RackMultipart20160205-565-1bevugg.zip/brake crank.stl
2.1 MB
RackMultipart20160205-565-1bevugg.zip/valve.stl
4.37 MB
RackMultipart20160205-565-1bevugg.zip/blade.stl
283 KB
RackMultipart20160205-565-1bevugg.zip/bnut3.4.stl
26.4 KB
RackMultipart20160205-565-1bevugg.zip/bnut2.stl
18.6 KB
RackMultipart20160205-565-1bevugg.zip/bnut1.stl
18.6 KB
RackMultipart20160205-565-1bevugg.zip/handle_basepart.stl
840 KB
RackMultipart20160205-565-1bevugg.zip/conector2.stl
2.23 KB
RackMultipart20160205-565-1bevugg.zip/conector1.stl
1.45 KB
RackMultipart20160205-565-1bevugg.zip/ramegaz.stl
1 MB
RackMultipart20160205-565-1bevugg.zip/r_pin1.2.stl
94.1 KB
RackMultipart20160205-565-1bevugg.zip/rpart4.stl
508 KB
RackMultipart20160205-565-1bevugg.zip/pin_gh1.2.stl
97.4 KB
RackMultipart20160205-565-1bevugg.zip/bbolt4.stl
83.8 KB
RackMultipart20160205-565-1bevugg.zip/bbolt2.stl
89.3 KB
RackMultipart20160205-565-1bevugg.zip/bbolt1.stl
81.8 KB
RackMultipart20160205-565-1bevugg.zip/h_g_pipe456.stl
271 KB
RackMultipart20160205-565-1bevugg.zip/h_g_pipe123.stl
296 KB
RackMultipart20160205-565-1bevugg.zip/pr_pin123.stl
103 KB
RackMultipart20160205-565-1bevugg.zip/d_spipe.stl
715 KB
RackMultipart20160205-565-1bevugg.zip/bolt_e1.stl
78.8 KB
RackMultipart20160205-565-1bevugg.zip/h_enject.stl
426 KB
RackMultipart20160205-565-1bevugg.zip/enjector.stl
1.76 MB
RackMultipart20160205-565-1bevugg.zip/side_spipe.stl
1.91 MB
RackMultipart20160205-565-1bevugg.zip/enj-spart.stl
437 KB
RackMultipart20160205-565-1bevugg.zip/smal gaz tank.stl
2.84 MB
RackMultipart20160205-565-1bevugg.zip/pin valve.stl
81.2 KB
RackMultipart20160205-565-1bevugg.zip/regulator.stl
1.73 MB
Shishkebab3dnocut.stl
16.9 MB