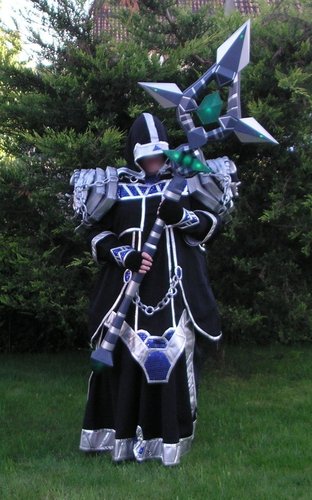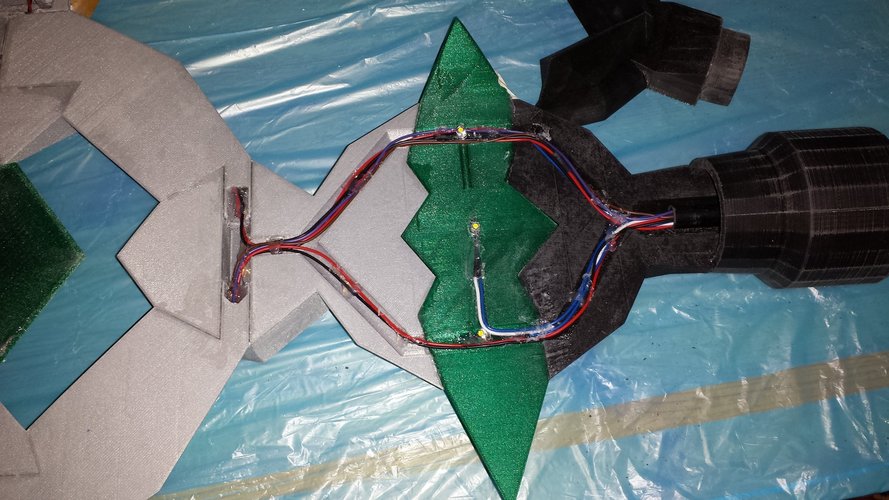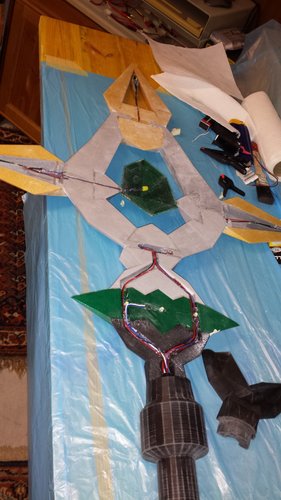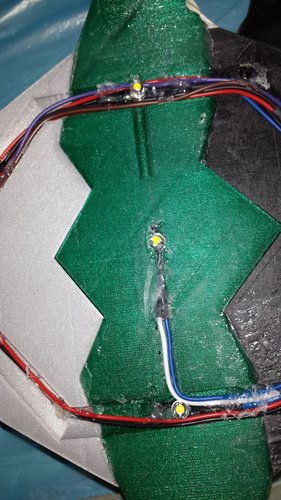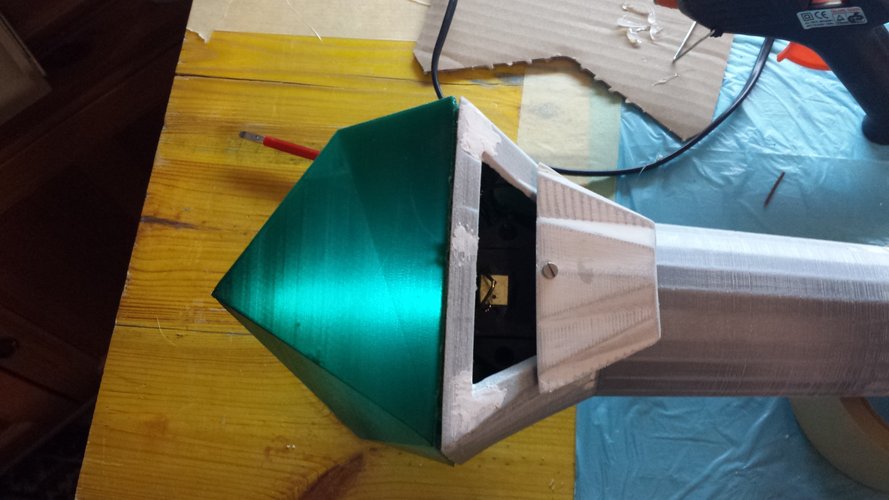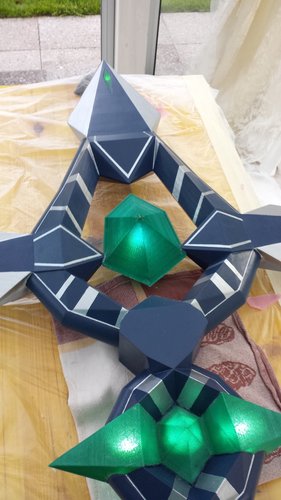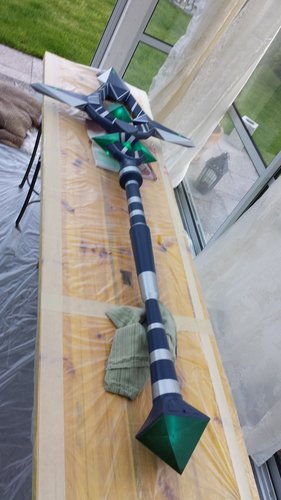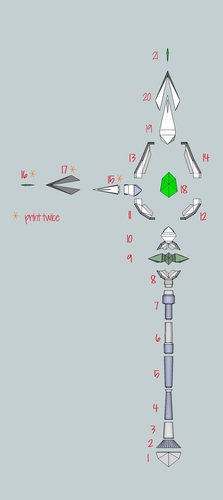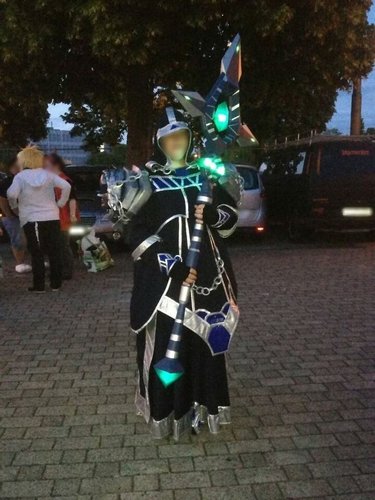 I have made this staff for cosplay at an event called "JapanAniManga night". The designing in the 3d program, printing, building and painting took around half a year.  It is almost 1.8 meters in length. A special detail I payed attention to are the green crystals, they are hollow with LEDs inside and glow beautifully at night.
The staff was my first own 3d project. I have previously never really worked with a 3d program. I've drawn the whole thing with Google Sketch Up. I bought my Ultimaker2 for this project, so I did not have any experience with 3d printing as well. Therefore, there may be a few parts that need slight adjustments after printing to fit together better. I had to sharpen some edges, use glue etc. to put it together correctly.
Inside the lower part of the staff is a carbon rod with a 1 cm diameter and a length of 1m. The carbon rod made the whole staff a lot more stable. I had to create extra fixations and glued them inside the staff to make the staff durable enough to carry it around all day.
On the assembly itself:
I put the staff together from bottom to top after I printed all parts (see picture with named parts).
In component 2, I placed a screw through the cover and fixed with a small nut. I glued a small magnet to the lid and this way I had a way to close the lid and keep it closed.
Inside that lid is a 9V battery, and it's connected to the 14 LEDs placed in all the crystals throughout the staff.
Component 9 was hard to fixate and used a lot of glue, since it held the whole upper part of the staff.
After component 8 and 9 I made the upper part of the staff only one half at the time, so I could put all the power lanes and LED's inside them fist.
Component 9 has 6 small LED in 3 x 2 pairs, Number 18 has 1 large 8 mm LED with 360° beam angle, the crystal Number 16 (printed twice) and Number 21 use 6 small LEDs together.
To fix all wires in place I used a little bit glue.
After all LED's and cable were placed I glued the both halves together.
Tips on printing: Since it was my first 3d project I designed myself I had to fix quite a lot after printing.
I had to readjust some corners of printed parts since they sometimes raised themselves while printing. With a heat gun I readjusted them where needed. I had to patch up the pieces where I glued them together and grinded off the glue to make them look neat
I painted the Crystals (1, 9, 16, 18 and 21) with a liquid silicone to protect them while painting the surface of the rest of the staff. Then I painted a transparent matte finish on the whole staff to protect it a bit from scratches etc.
Print settings are written in the title of the parts and some parts need additional supports. 
16-2_no_infill_no_bottom.stl
3.21 KB
14-2_hollow_no_infill.stl
43.1 KB
12-1_hollow_no_infill.stl
171 KB
9-2_hollow_no_infill.stl
321 KB
9-1_hollow_no_infill.stl
281 KB
21-2_no_infill_no_bottom.stl
3.5 KB
21-1_no_infill_no_bottom.stl
3.4 KB
19-2_no_infill_no_bottom.stl
11.3 KB
18-1_no_infill_no_bottom.stl
8.09 KB
16-1_no_infill_no_bottom.stl
3.99 KB
15-1_no_infill_no_bottom.stl
15.7 KB
13-2_hollow_no_infill.stl
43.1 KB
12-2_hollow_no_infill.stl
169 KB
11-2_hollow_no_infill.stl
169 KB
1_hollow_no_infill.stl
21.7 KB
11-1_hollow_no_infill.stl
171 KB
13-1_hollow_no_infill.stl
39.8 KB
14-1_hollow_no_infill.stl
39.8 KB
15-2_no_infill_no_bottom.stl
12.5 KB
18-2_no_infill_no_bottom.stl
10 KB
19-1_no_infill_no_bottom.stl
10.5 KB