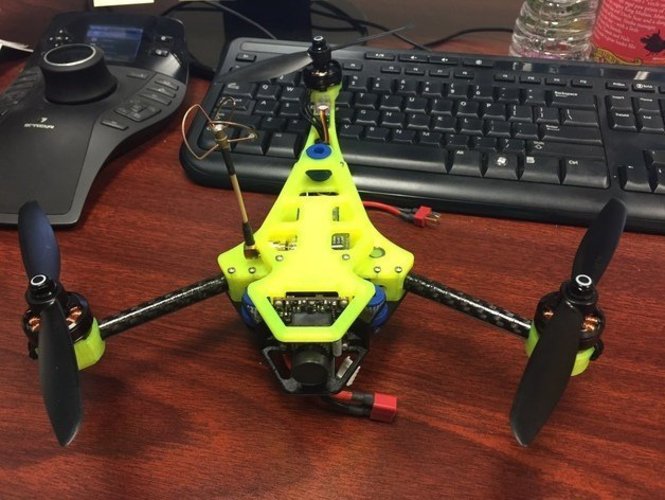 here is a list of screws and such.Required 
Hardware Items:
=====================
(10X) M2.2 Self tapping screw, 6mm long (used to secure printed frame pieces together) http://www.mcmaster.com/#96817a865/=wowf75
(4X) M2.2 Self tapping screw, 4mm long (used to secure 32x32mm FPV camera) http://www.mcmaster.com/#96817a861/=wowf6v
(8X) M3 Self tapping screw, 8mm long (used to mount flight 36x36mm flight controller and printed tail boom) http://www.mcmaster.com/#96817a908/=wowgq3
(8X) M3 Socket head cap screw, 16mm long (used to mount front motor mounting) http://www.mcmaster.com/#93070a073/=wowh7y
(2X) M3 Socket head cap screw, 5mm long (used for tail motor mounting) http://www.mcmaster.com/#91239a110/=wowhjx
(3X) Anti-vibration Bobbins (used to isolate the camera tray assembly) http://hobbyking.com/hobbyking/store/__40615__Vibration_Damping_Balls_150g_61_Blue_8_PCS_.html
(4X) Flanged ABEC-7 Ball Bearings (used for front arm pivots, will eventually be replaced with printed bushings) http://www.mcmaster.com/#4262t15/=wowj1m
(1X) 1/8" Clevis Pin (used as tail pivot axle) http://www.mcmaster.com/#92390a075/=wowllc
(2X) Carbon tube .375" OD, .25" ID, cut to 4.2" Length (used for front booms) http://www.rockwestcomposites.com/products/45546
(1X) Hitec HS-45HB Servo (current yaw mechanism only fits this servo, but I plan to update the design later) https://www.servocity.com/html/hs-45hb_premium_feather.html#.VSfa9a10xUQ
Suggested Electronics: ====================
(1X) Flight Controller: Naze32, Tau Labs Sparky, BrainFPV, or anything with 36x36mm PCB (30.5x30.5mm mounting)
(3X) 2204-size Brushless Motors: Cobra 2300kv or 1960kv, Sunnysky 2300kv, anything with a 16x19mm bolt spacing will work with mounts
(3X) 12A ESC's: SimonK or BLHeli, or KISS suggested, I used 12A ZTW Spiders for my build, and Lumenier 12A ESC's are also a good option.
(1X) FPV Board Camera: SONY 600TVL is what I used but most 32x32mm size cameras should work
(1X) 5.8 GHz Video Transmitter: TS5823 32ch 200mW, the upper plate is specifically designed for this transmitter to snap in, but others can be used.
(1X) 5.8 GHz Antenna: I used a circular polarized with a right angle connector directly on the video transmitter above.
(3X) Props: HQ 6045's are good, frame will fit any 6" or smaller prop
(Multiple) Battery: 1300mAh 3S LiPo, 45C or higher discharge recommended
Assembly Notes: ===============
The clevis pin in the hardware list above is used as the tail pivot. The pin should move freely in the motor mount portion of the yaw mechanism and have a slight interference/press fit in the pivot tab on the tail boom. If the pin moves freely in both parts, use a dab of epoxy near the head of the pin to prevent it from falling out during flight.
Printed yaw motor mount has integrated spline which matches Hitec HS-45HB servo. Use the screw that comes with the servo to attach these two parts.
RackMultipart20151128-25275-1w6u5ce.zip/ARM_SNAP_V2.stl
671 KB
RackMultipart20151128-25275-1w6u5ce.zip/ESC_MNT.stl
76.4 KB
RackMultipart20151128-25275-1w6u5ce.zip/LOWER_CAM_TRAY.stl
419 KB
RackMultipart20151128-25275-1w6u5ce.zip/PRINTED_MOTOR_MNT_BOTTOM.stl
254 KB
RackMultipart20151128-25275-1w6u5ce.zip/PRINTED_MOTOR_MNT_TOP.stl
254 KB
RackMultipart20151128-25275-1w6u5ce.zip/PRINTED_PIVOT_V3.stl
324 KB
RackMultipart20151128-25275-1w6u5ce.zip/PRINTED_TRI_TAIL.stl
197 KB
RackMultipart20151128-25275-1w6u5ce.zip/TRI_PRINTED_LOWER_PLATE.stl
233 KB
RackMultipart20151128-25275-1w6u5ce.zip/TRI_PRINTED_UPPER_PLATE.stl
241 KB
RackMultipart20151128-25275-1w6u5ce.zip/TUBE_PIVOT.stl
328 KB
RackMultipart20151128-25275-1w6u5ce.zip/UPPER_CAMERA_TRAY.stl
293 KB