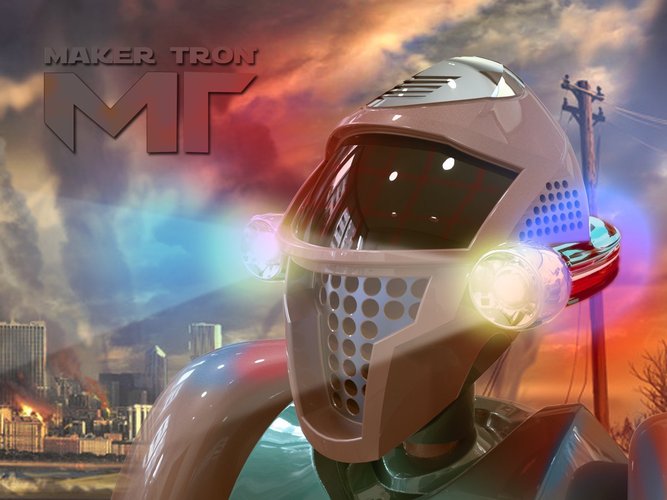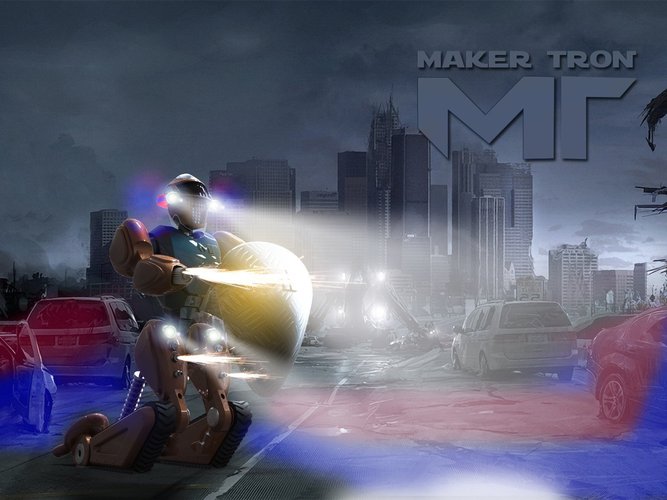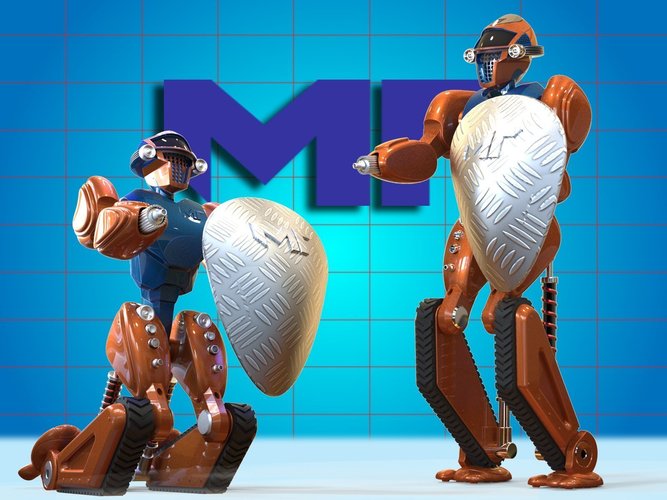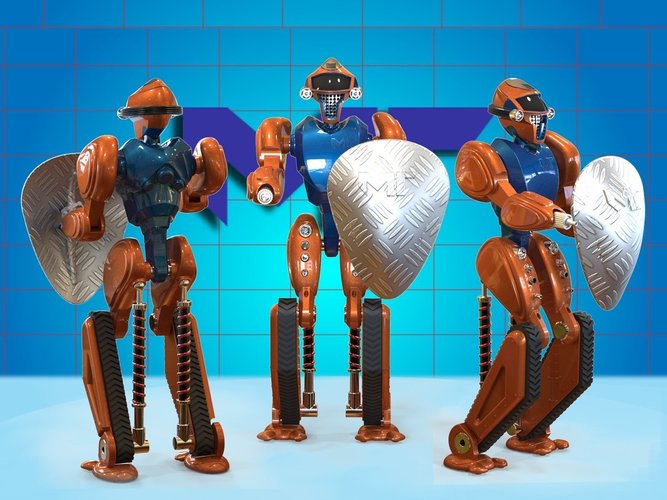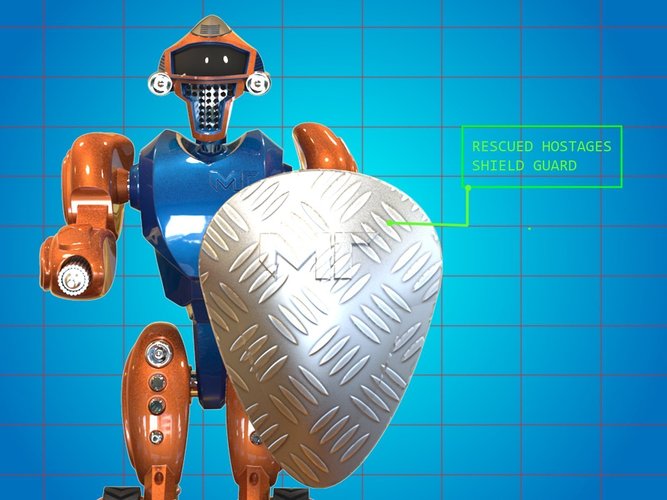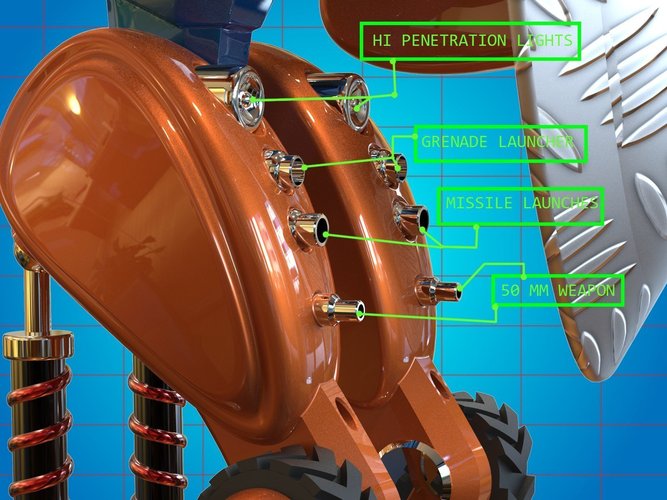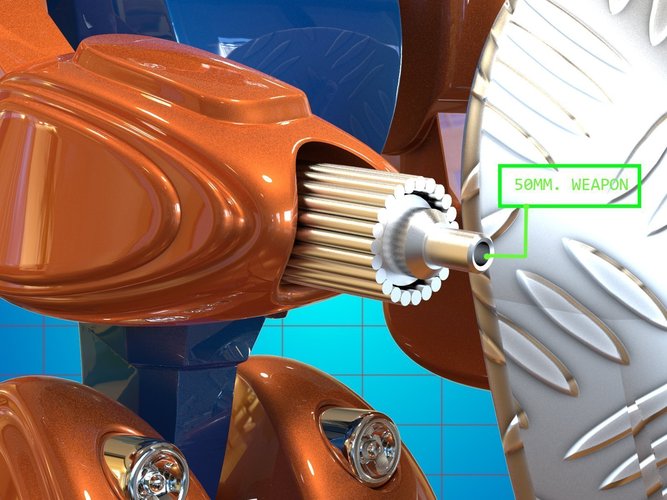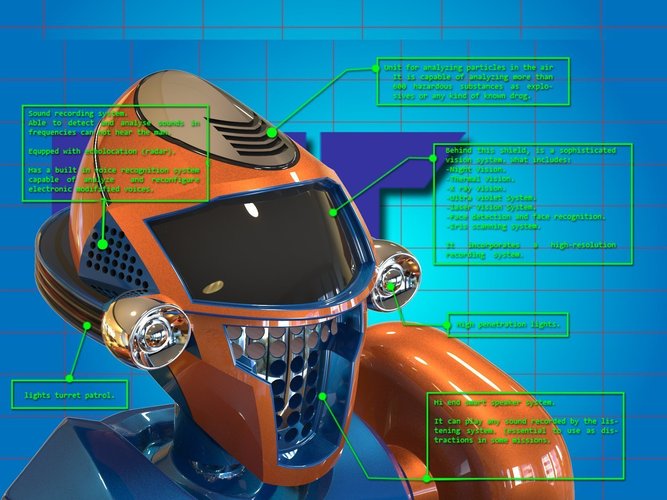 No Prints Yet

Be the first to upload a Print for this Design!
This robot was designed for rescue operations.  It is equipped with everything needed for the most complex missions.
MT. can stand and walk: it is an excellent option for some types of terrain. MT. moves very fast on its all terrain caterpillar tracks.
It has an independent suspension on each leg, making it very versatile, silence, stable and powerful.
It is equipped with lethal weapons, but can be easily configured to use weapons of deterrence.
Tools, weapons, hands, claws and other artifacts, can be mounted quickly, thanks to its plug and play system.
The head uses advanced technology and has many types of vision systems, audio and video, as well as tracking and recognition systems. (see the specifications sheet).
His great shield is to protect the hostages during the escape.
MT Rescuer.zip/MT Rescuer/50mm arm weapon.stl
3.98 MB
MT Rescuer.zip/MT Rescuer/torso_head pin.stl
37.6 KB
MT Rescuer.zip/MT Rescuer/right foot.stl
2.63 MB
MT Rescuer.zip/MT Rescuer/leg missile launcher x2.stl
215 KB
MT Rescuer.zip/MT Rescuer/left leg.stl
1.56 MB
MT Rescuer.zip/MT Rescuer/knee pin x2.stl
47 KB
MT Rescuer.zip/MT Rescuer/foot pin cap x2.stl
48.3 KB
MT Rescuer.zip/MT Rescuer/buffer system x2.stl
1.39 MB
MT Rescuer.zip/MT Rescuer/foot_buffer pin x2.stl
523 KB
MT Rescuer.zip/MT Rescuer/Head.stl
7.09 MB
MT Rescuer.zip/MT Rescuer/left arm.stl
2.45 MB
MT Rescuer.zip/MT Rescuer/left caterpillar.stl
4.27 MB
MT Rescuer.zip/MT Rescuer/left foot.stl
2.63 MB
MT Rescuer.zip/MT Rescuer/left hand.stl
1.37 MB
MT Rescuer.zip/MT Rescuer/leg 50mm weapon x2.stl
225 KB
MT Rescuer.zip/MT Rescuer/leg grenade louncher x2.stl
177 KB
MT Rescuer.zip/MT Rescuer/leg penetration light x2.stl
286 KB
MT Rescuer.zip/MT Rescuer/Right arm.stl
2.45 MB
MT Rescuer.zip/MT Rescuer/right caterpillar.stl
4.27 MB
MT Rescuer.zip/MT Rescuer/Right leg.stl
1.55 MB
MT Rescuer.zip/MT Rescuer/shield.stl
1.31 MB
MT Rescuer.zip/MT Rescuer/torso_arm pin x2.stl
6.14 KB
MT Rescuer.zip/MT Rescuer/torso_legs pin.stl
64.7 KB