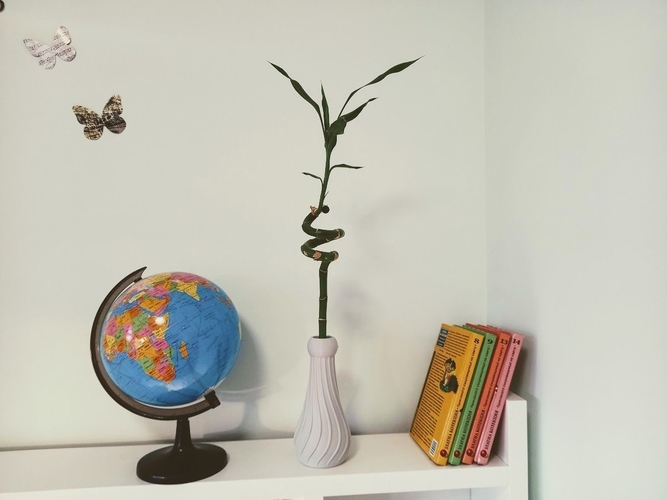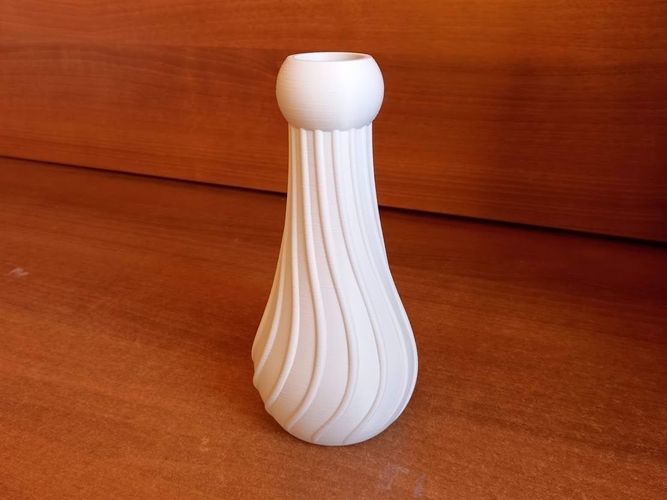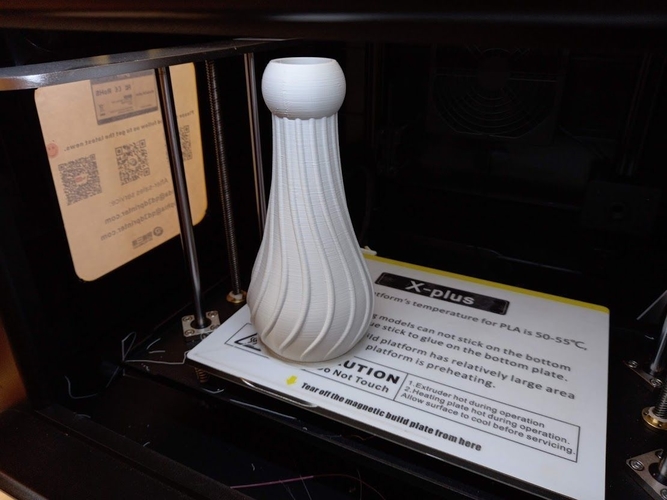 No Prints Yet

Be the first to upload a Print for this Design!
Vase (Spiral Theme)
Dimensions: 95mm X 195 mm;
The prototype is tested on Qidi Tech X-Plus printer with 0.4 mm nozzle.
Material: ABS (niceABS);
Print Settings:
Extruder: 

Flow: 100%;
Retraction Distance: 1.5 mm;
Retraction Speed: 30 mm/s;

Layer:

Layer Height: 0.2 mm;
Line Width (Inner Wall, Outer Wall, Top, Bottom): 0.35 mm;
Line Width (Infill): 0.42 mm;
Initial Layer Line Width: 130%;
Wall Line Count: 3;
Top Layers: 4;
Bottom Layers: 3;
Top/Bottom Patterns: Lines;
Fill Gaps Between Walls: Everywhere;

Infill:

Infill Density: 50%;
Infill Pattern: Zig Zag;
Infill Overlap Percentage: 30%;
Infill Before Walls: Yes;

Additions:

Z Seam Alignment: Sharpest Corner;
Skin Overlap Percentage: 30%;
Combing Mode: Within Infill;
Build Plate Adhesion Type: Brim;
Brim Width: 8 mm;

Speed:

Infill Speed: 50 mm/s;
Wall Speed (Outer, Top, Bottom): 25 mm/s;
Wall Speed (Inner): 40 mm/s;
Initial Layer Speed: 25 mm/s;
Travel Speed: 80 mm/s;
Minimum Layer Time (Body): 7 s;

Temperature:

Printing Temperature: 220 deg;
Build Plate Temperature: 100 deg;

Cooling:

Initial Fan Speed: 25%
Regular Fan Speed: 100%
Regular Fan Speed at Height: 0.7 mm;

Support:

Support Placement: Touching Buildplate;

Support Overhang Angle: 43%;

Support Pattern: Zig Zag;

Support Z Distance: 0.2 mm;

Support X/Y Distance: 0.2 mm;
Support Interface: Enabled;
Support Interface Thickness: 1 mm;
Support Interface Resolution: 0.3 mm;
Support Interface Density: 70%;
Support Interface Pattern: Lines;
Support Structure: Normal.
RackMultipart20210314-4677-88lksd.zip/Vase_Spiral.STL
2.11 MB