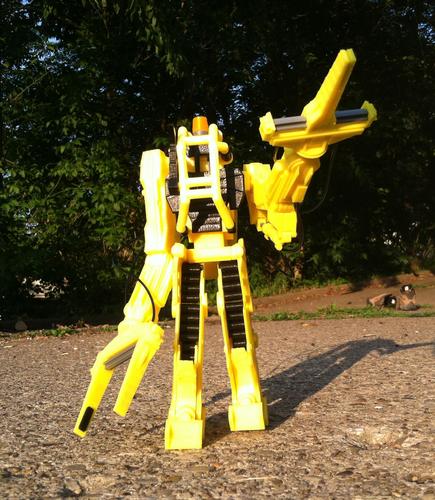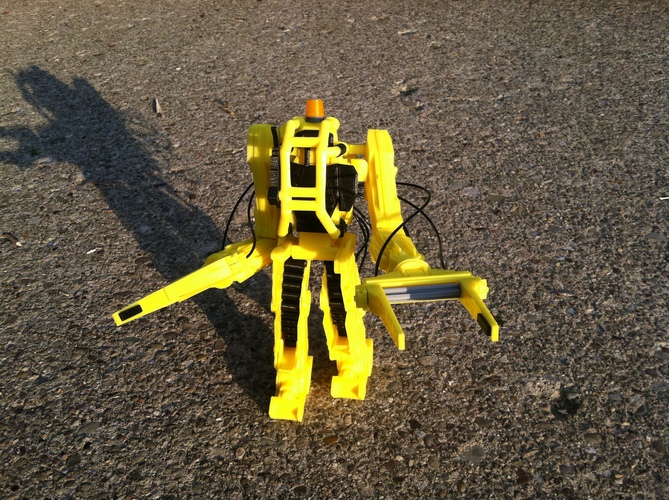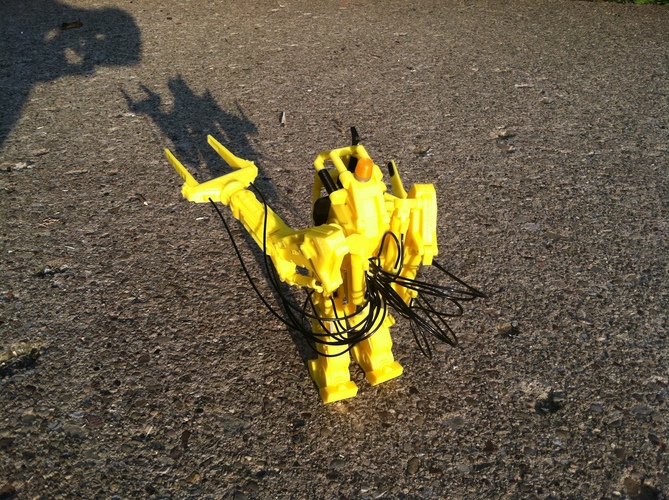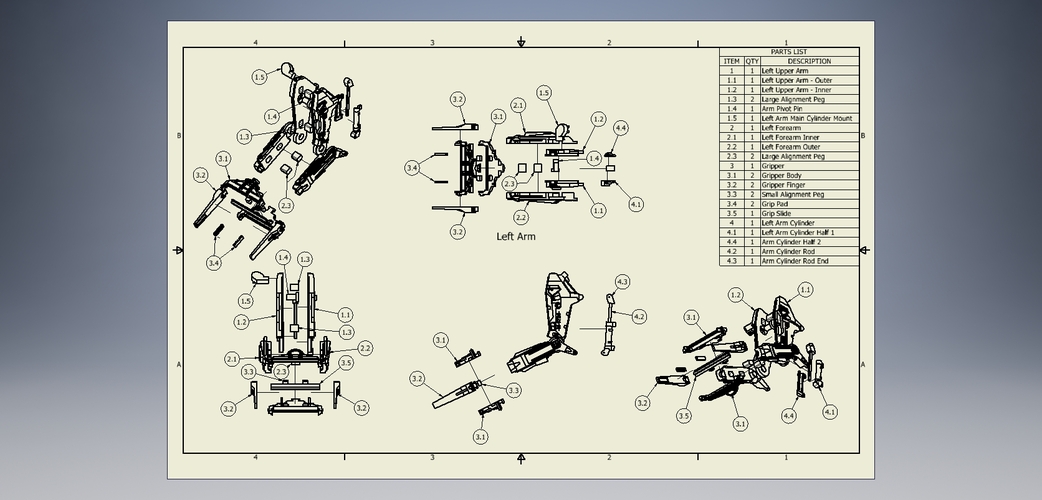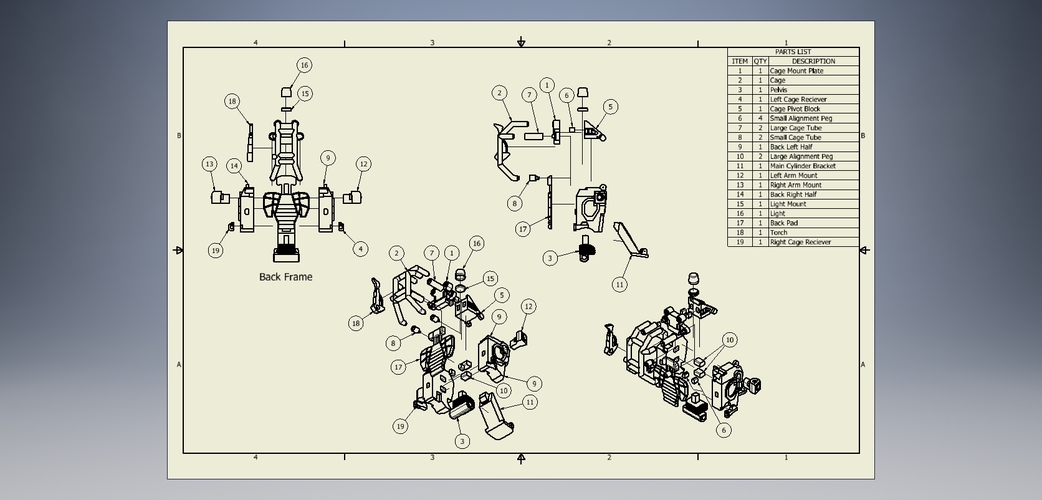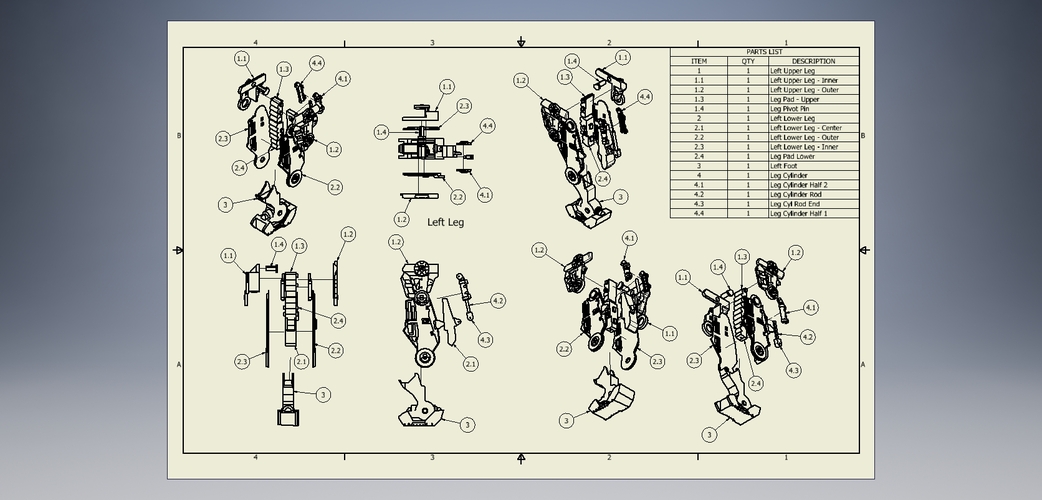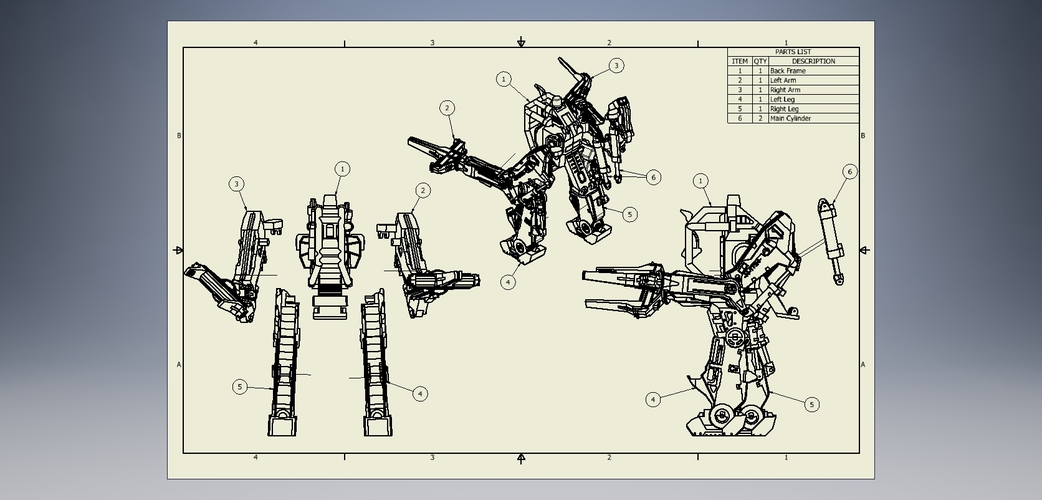 MUST ALSO DOWNLOAD DESIGN Power Loader 2
This is the Exo-Suit from my favorite movie when I was a kid.  It's for doing battle with the things that mostly come at night... mostly.  The model is fully articulated including the arms, legs, grippers and cage. 
Everything is 3D Printed except the pins for the cylinders are cut  paperclips and the "hydraulic lines" are made from flexible filament.  I recommend regular resolution with 30-50% infill.  The print in the pictures is PLA.  Some parts require support material.  I highly recommend a test fit assembly before applying any glue.  I use superglue.  Be sure to keep the glue away from the gripper slides, pivot pins and flexible joints. 
Power Loader.zip/RIght Foot.stl
137 KB
Power Loader.zip/Leg Cylinder Half 2.stl
106 KB
Power Loader.zip/Leg Cylinder Rod End.stl
43.5 KB
Power Loader.zip/Leg Pad - Upper.stl
40.7 KB
Power Loader.zip/Light Mount.stl
170 KB
Power Loader.zip/Right Arm Main Cylinder Mount.stl
38.9 KB
Power Loader.zip/Right Arm Mount.stl
73.9 KB
Power Loader.zip/Main Cylinder Bracket.stl
179 KB
Power Loader.zip/Left Upper Arm - Inner.stl
97.7 KB
Power Loader.zip/Left Arm Mount.stl
73.9 KB
Power Loader.zip/Left Arm Main Cylinder Mount.stl
38.9 KB
Power Loader.zip/Arm Cyl Rod End.stl
39.3 KB
Power Loader.zip/Back Left Half.stl
75.9 KB
Power Loader.zip/Back Pad.stl
151 KB
Power Loader.zip/Back Right Half.stl
75.9 KB
Power Loader.zip/Cage Mount Plate.stl
100 KB
Power Loader.zip/Cage Pivot Block.stl
53.6 KB
Power Loader.zip/Cage.stl
422 KB
Power Loader.zip/Grip Slide.stl
74.9 KB
Power Loader.zip/Gripper Body.stl
71.4 KB
Power Loader.zip/Gripper Tine.stl
33.7 KB
Power Loader.zip/Large Alignment Peg.stl
24.1 KB
Power Loader.zip/Arm Cylinder Rod.stl
18.9 KB
Power Loader.zip/Left Arm Cylinder Half 1.stl
64.9 KB
Power Loader.zip/Left Lower Leg - Inner.stl
113 KB
Power Loader.zip/Left Arm Cylinder Half 2.stl
55.4 KB
Power Loader.zip/Right Lower Leg - Outer.stl
138 KB
Power Loader.zip/Leg Cylinder Half 1.stl
106 KB
Power Loader.zip/Leg Cylinder Rod.stl
18.4 KB
Power Loader.zip/Right Upper Arm - Inner.stl
97.7 KB
Power Loader.zip/Light.stl
170 KB
Power Loader.zip/Right Arm Cylinder Half 2.stl
64.9 KB
Power Loader.zip/Pelvis.stl
623 KB
Power Loader.zip/Left Forearm Outer.stl
134 KB
Power Loader.zip/Left Foot.stl
137 KB
Power Loader.zip/RIght Upper Leg - Outer.stl
272 KB
Power Loader.zip/RIght Upper Leg - Inner.stl
206 KB
Power Loader.zip/Left Upper Arm - Outer.stl
149 KB
Power Loader.zip/Left Upper Leg - Inner.stl
206 KB
Power Loader.zip/Leg Pad Lower.stl
90.3 KB
Power Loader.zip/Leg Pivot Pin.stl
34.8 KB
Power Loader.zip/Right Arm Cylinder Half 1.stl
55.4 KB
Power Loader.zip/Right Forearm Inner.stl
142 KB
Power Loader.zip/Left Forearm Inner.stl
142 KB
Power Loader.zip/Right Forearm Outer.stl
134 KB
Power Loader.zip/Right Lower Leg - Center.stl
27.6 KB
Power Loader.zip/Left Lower Leg - Center.stl
27.6 KB
Power Loader.zip/Right Upper Arm - Outer.stl
149 KB
Power Loader.zip/Left Lower Leg - Outer.stl
138 KB
Power Loader.zip/Right Lower Leg - Inner.stl
113 KB