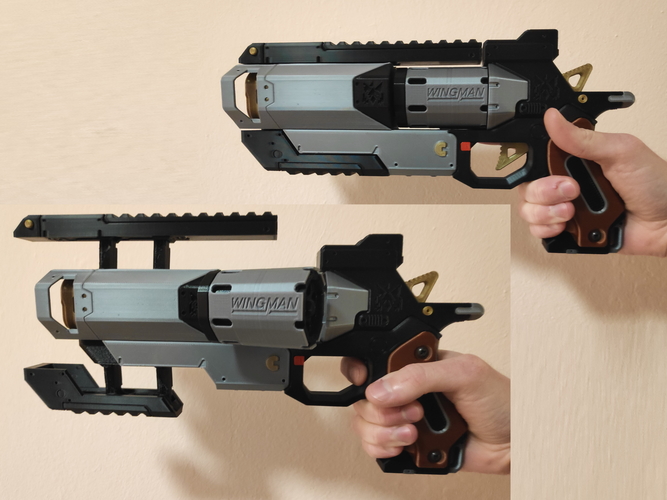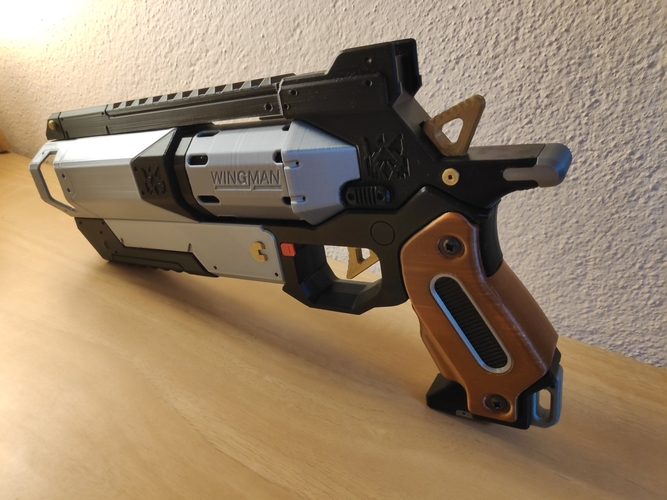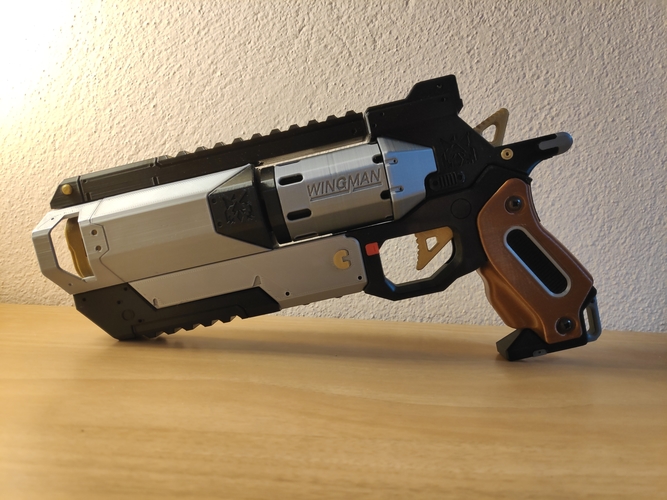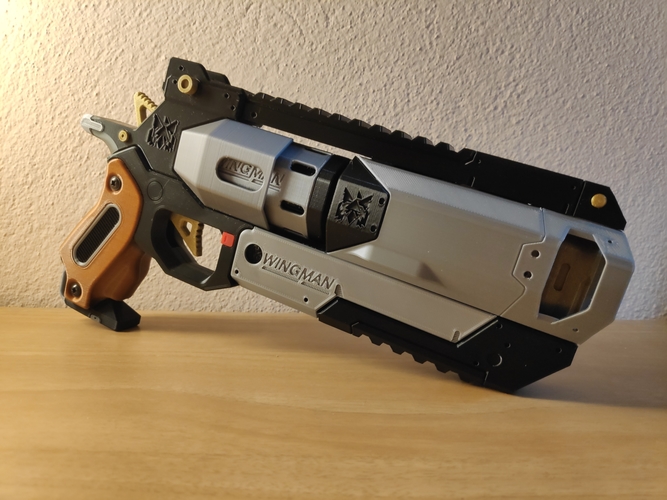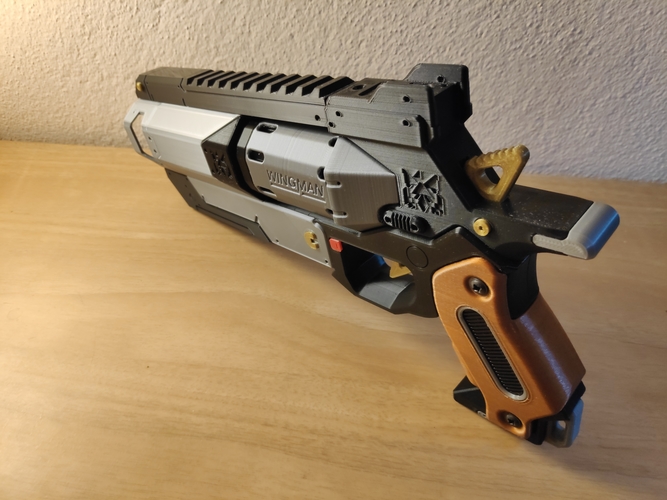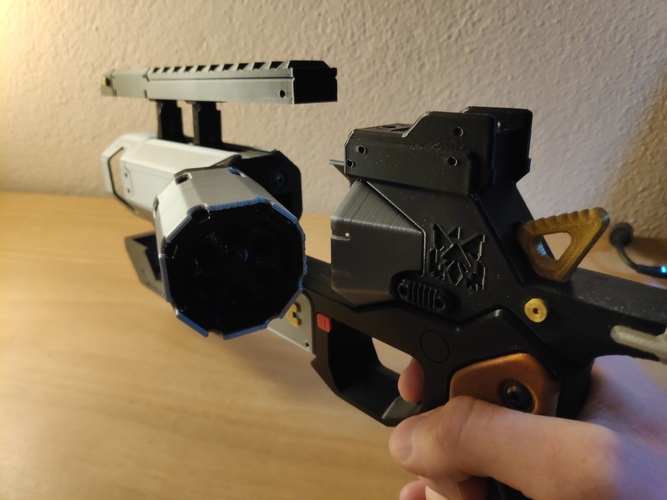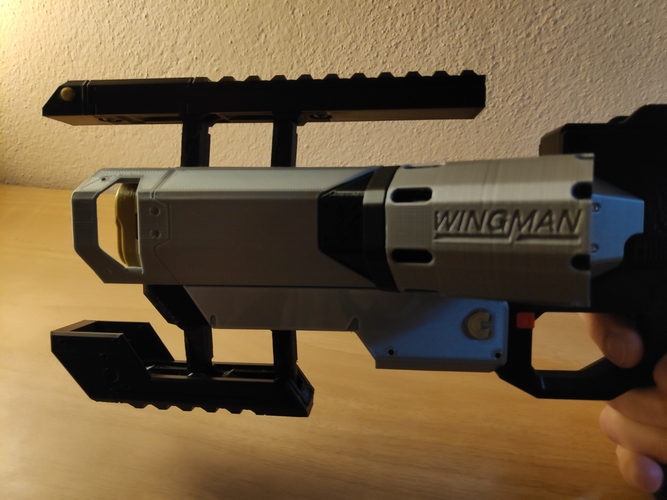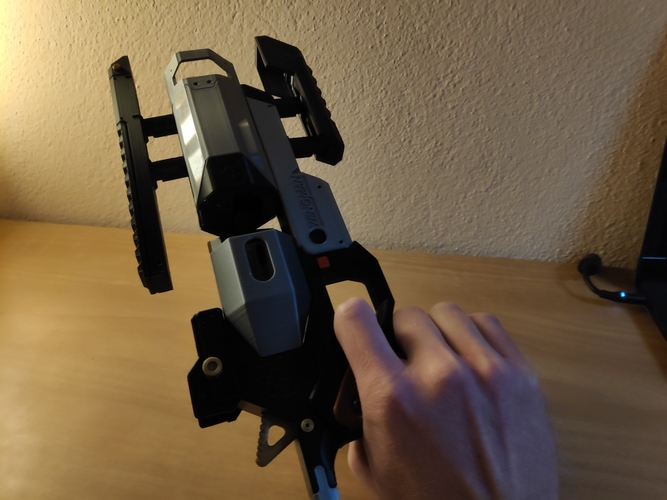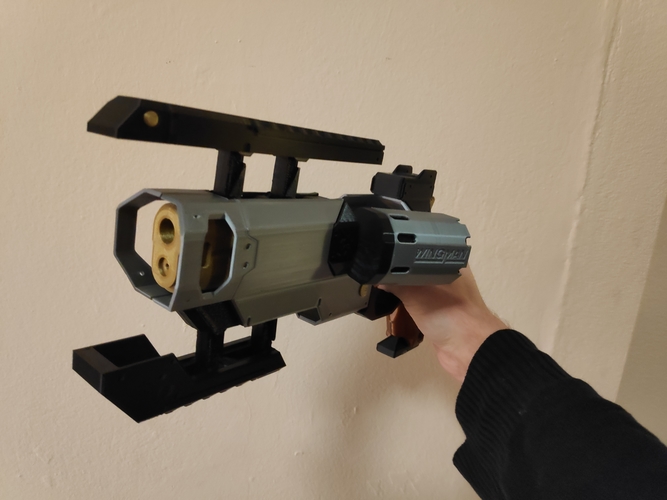 No Prints Yet

Be the first to upload a Print for this Design!
The Apex Legends Wingman with a spring loaded reload mechanism!
This is a super fun build, check out my YouTube Assembly Guide
You will need:
Black PLA
Silver PLA
Bronze PLA
Copper/Brown PLA
Red PLA (Maybe)
All stl files are orientated correctly, but you may need to rotate them about Z to fit. A few parts will require supports. All parts of the prototype were printed at 0.2mm
Some parts require multiple quantities, if they do then the file name will contain the quantity required at the end.
You will also need:
Spring (65mm free length, 6.8mm diameter) - UK - RS Link
15x No.6 5/8in self tapping screw
11x No.6 3/8in self tapping screw
OR You can buy the Spring and Screw kit for this project from my Ebay 
Have fun folks and subscribe to my YouTube to see my future projects!
apwm_bronze_pin_rear_2x.STL
88 KB
apwm_black_slot_2x.STL
74.3 KB
apwm_mech_brkt_br.STL
129 KB
apwm_mech_arm_m_brkt_2x.STL
95.6 KB
apwm_chamber_black.STL
1.13 MB
apwm_chamber_silver.STL
1.71 MB
apwm_barrel_bronze.STL
470 KB
apwm_bronze_pin_front.STL
70.4 KB
apwm_bronze_pin_top.STL
123 KB
apwm_bronze_pin_bottom.STL
41 KB
apwm_red_pin_2x.STL
54.2 KB
apwm_handle_base_silver.STL
244 KB
apwm_handle_base_black.STL
407 KB
apwm_silver_slot_2x.STL
133 KB
apwm_handle_copper.STL
11 MB
apwm_rear_cap_silver.STL
207 KB
apwm_hammer_bronze.STL
124 KB
apwm_trigger_bronze.STL
47.9 KB
apwm_mech_brkt_bl.STL
129 KB
apwm_main_body_bottom.STL
485 KB
apwm_main_body_top.STL
286 KB
apwm_mech_brkt_tl.STL
174 KB
apwm_mech_brkt_tr.STL
174 KB
apwm_mech_arm_tr_bl_4x.STL
178 KB
apwm_mech_arm_tl_br_4x.STL
178 KB
apwm_mech_arm_m.STL
172 KB
apwm_mech_main.STL
686 KB
apwm_silver_rear_cap.STL
3.12 MB
apwm_black_panel_r.STL
271 KB
apwm_black_panel_l.STL
226 KB
apwm_silver_panel_br.STL
426 KB
apwm_silver_panel_bl.STL
326 KB
apwm_silver_panel_tr.STL
1.14 MB
apwm_silver_panel_tl.STL
739 KB
apwm_main_body_back.STL
3.4 MB
apwm_main_body_r.STL
2.52 MB
apwm_main_body_l.STL
2.66 MB