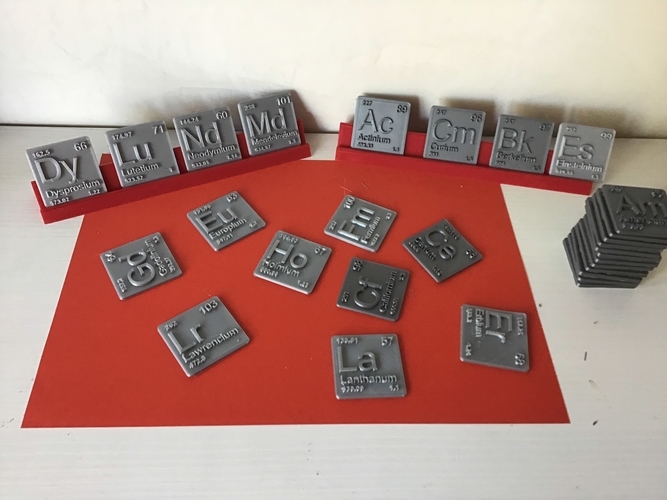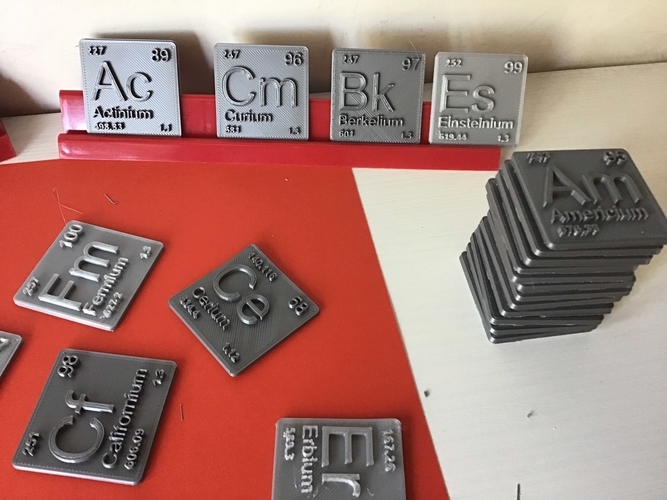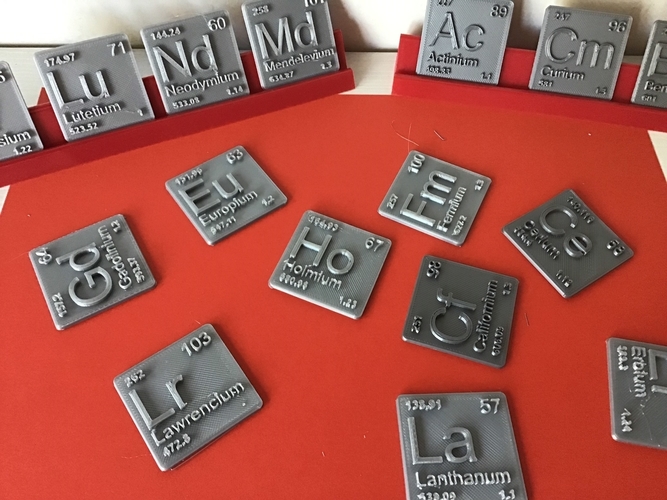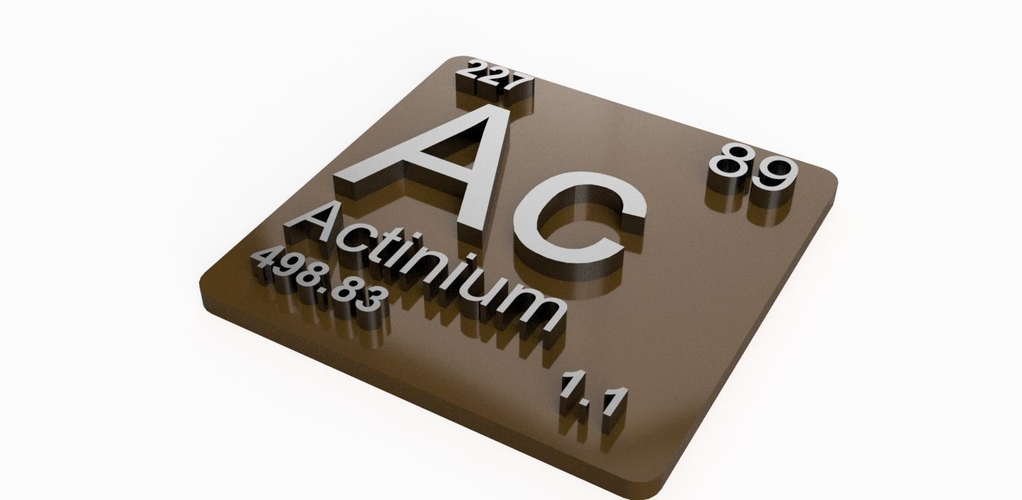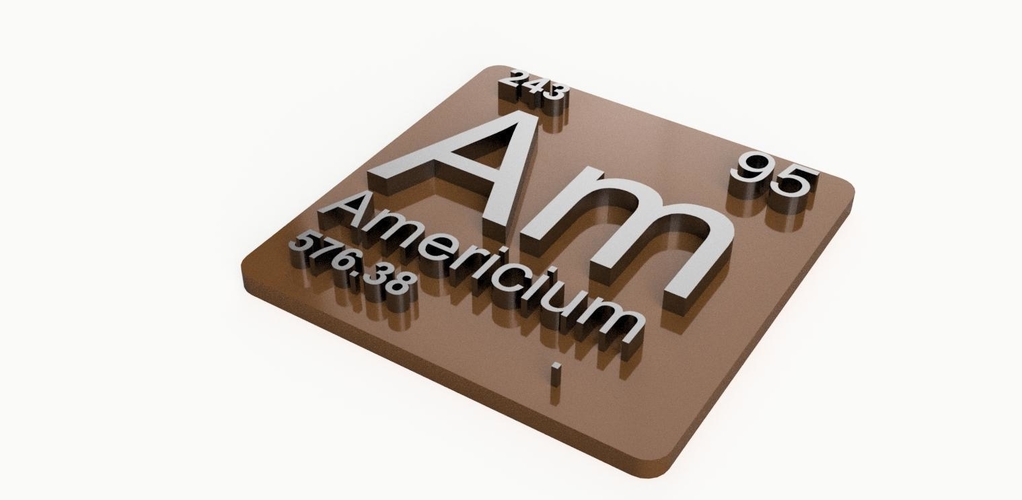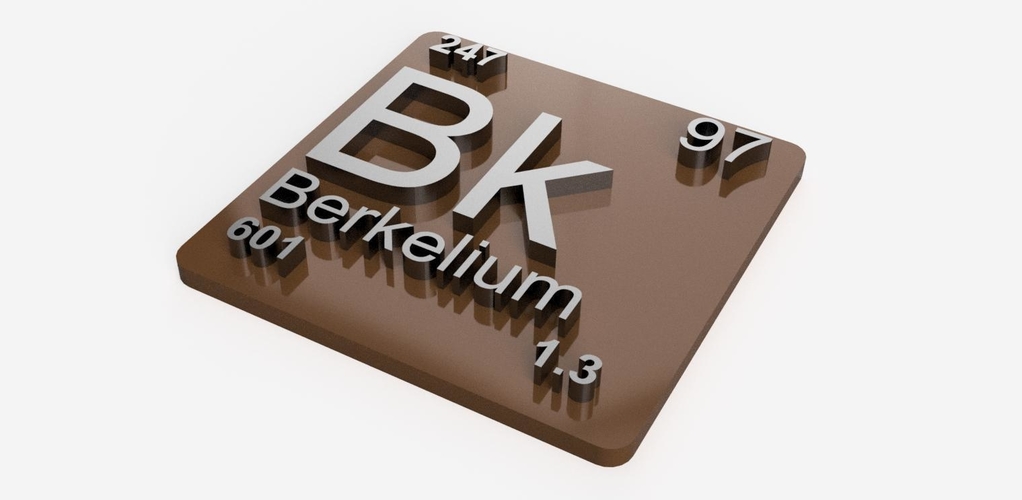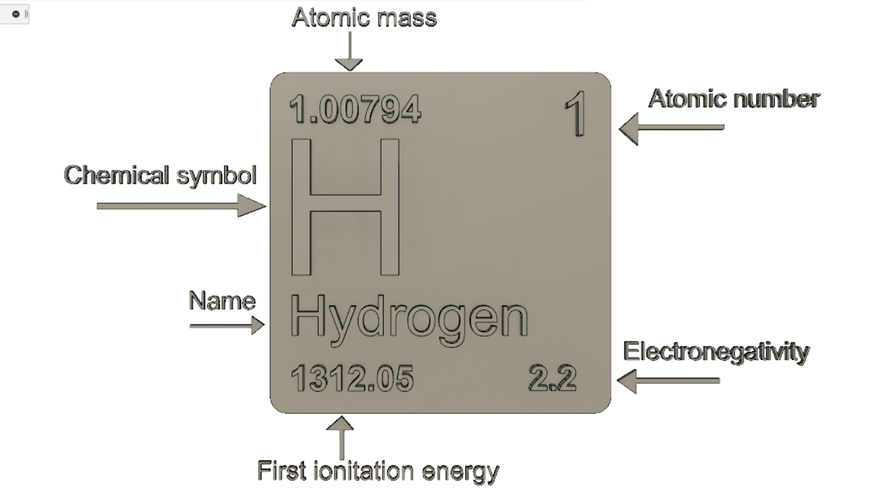 No Prints Yet

Be the first to upload a Print for this Design!
The zip file contains all the elements of the f-block of the periodic table of the elements.
On each item is printed, name, chemical symbol, atomic mass, atomic number, electronegativity and first ionitation energy of the element.
A block of the periodic table is a set of chemical elements predominantly characterised by having their highest energy electrons in the same atomic orbital type.
Created with Fusion 360 Printed with Creality Ender 3
Have fun and good 3D printing!!!!
RackMultipart20190619-5962-135tnxp.zip/uranium.stl
351 KB
RackMultipart20190619-5962-135tnxp.zip/thulium.stl
337 KB
RackMultipart20190619-5962-135tnxp.zip/praseo.stl
396 KB
RackMultipart20190619-5962-135tnxp.zip/neptunium.stl
296 KB
RackMultipart20190619-5962-135tnxp.zip/neodymium.stl
308 KB
RackMultipart20190619-5962-135tnxp.zip/lutetium.stl
217 KB
RackMultipart20190619-5962-135tnxp.zip/erbium.stl
281 KB
RackMultipart20190619-5962-135tnxp.zip/einsteinium.stl
305 KB
RackMultipart20190619-5962-135tnxp.zip/curium.stl
248 KB
RackMultipart20190619-5962-135tnxp.zip/berkelium.stl
238 KB
RackMultipart20190619-5962-135tnxp.zip/ytterbium.stl
289 KB
RackMultipart20190619-5962-135tnxp.zip/samarium.stl
370 KB
RackMultipart20190619-5962-135tnxp.zip/promethium.stl
295 KB
RackMultipart20190619-5962-135tnxp.zip/nobelium.stl
283 KB
RackMultipart20190619-5962-135tnxp.zip/lawrencium.stl
265 KB
RackMultipart20190619-5962-135tnxp.zip/lanthanum.stl
355 KB
RackMultipart20190619-5962-135tnxp.zip/fermium.stl
249 KB
RackMultipart20190619-5962-135tnxp.zip/actinium.stl
284 KB
RackMultipart20190619-5962-135tnxp.zip/americium.stl
277 KB
RackMultipart20190619-5962-135tnxp.zip/californium.stl
349 KB
RackMultipart20190619-5962-135tnxp.zip/cerium.stl
272 KB
RackMultipart20190619-5962-135tnxp.zip/dysprosium.stl
373 KB
RackMultipart20190619-5962-135tnxp.zip/europium.stl
250 KB
RackMultipart20190619-5962-135tnxp.zip/gadolinium.stl
341 KB
RackMultipart20190619-5962-135tnxp.zip/holmium.stl
330 KB
RackMultipart20190619-5962-135tnxp.zip/mendelevium.stl
316 KB
RackMultipart20190619-5962-135tnxp.zip/plutonium.stl
248 KB
RackMultipart20190619-5962-135tnxp.zip/protactinium.stl
363 KB
RackMultipart20190619-5962-135tnxp.zip/terbium.stl
290 KB
RackMultipart20190619-5962-135tnxp.zip/thorium.stl
303 KB