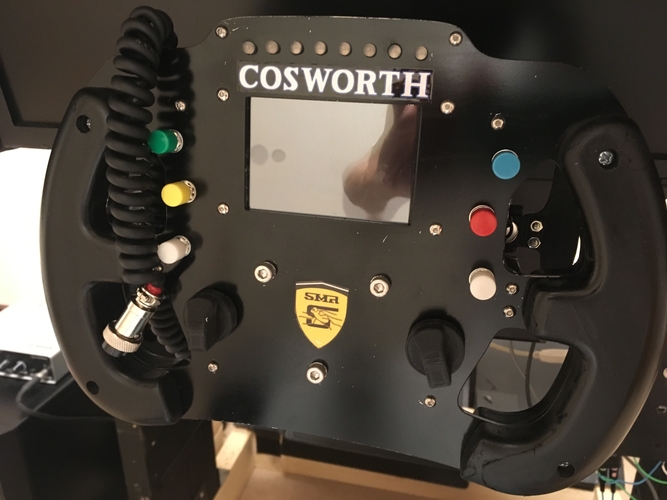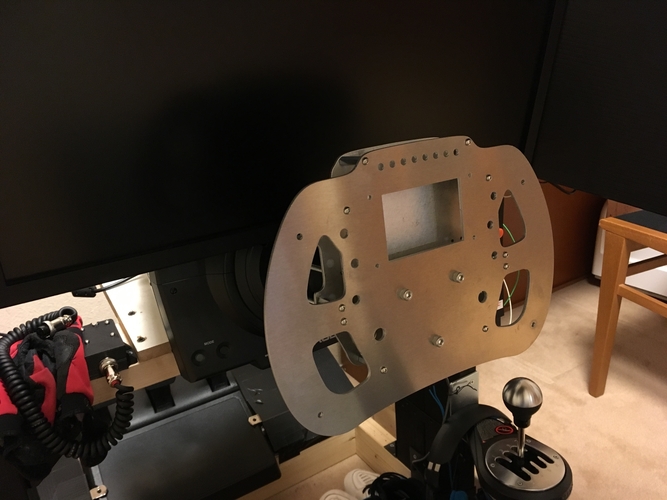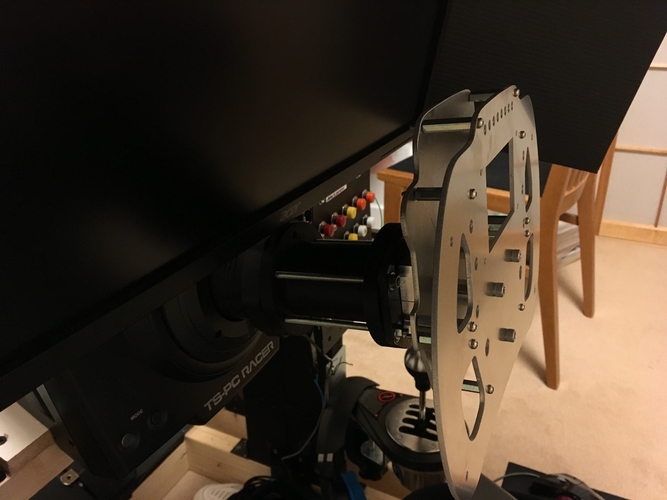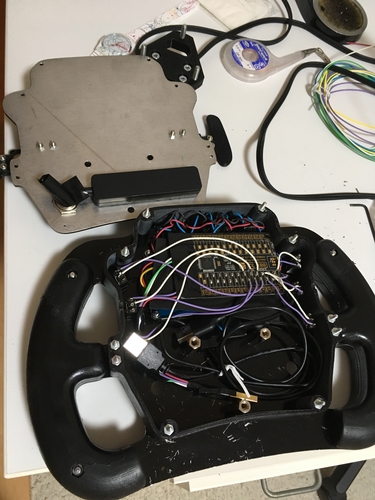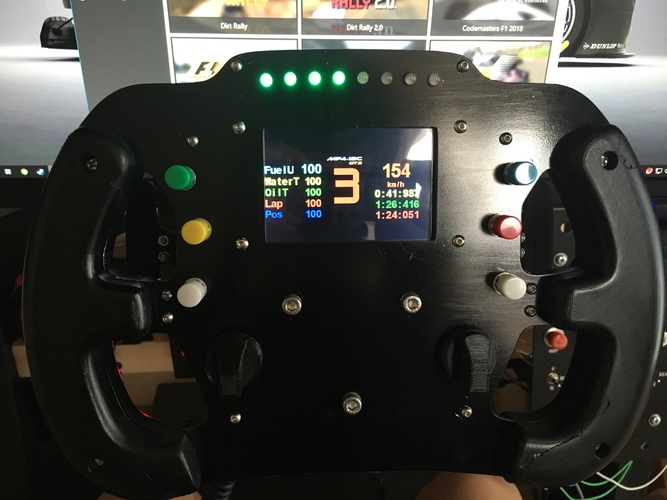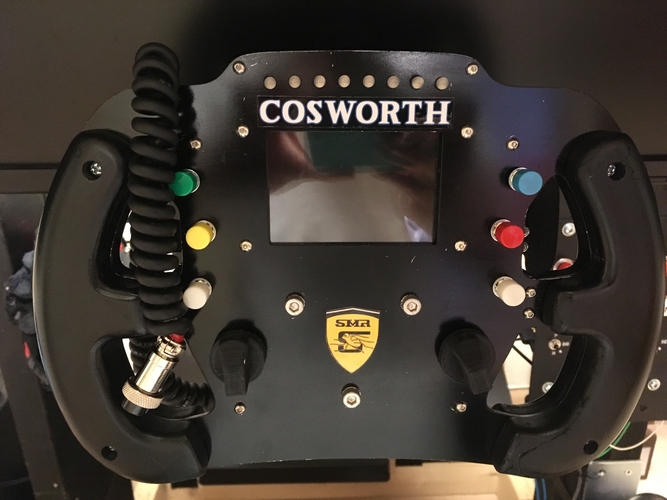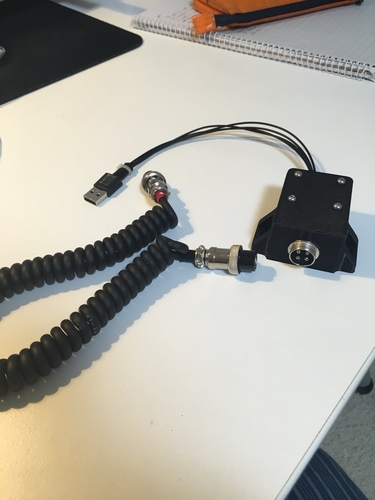 No Prints Yet

Be the first to upload a Print for this Design!
NOTE: Paddle shifters will NOT be included since it was found copied by anohter company. Please email me for further info on this.
Hi all. I've made a Cosworth CFW277 steering wheel, which is mainly used for LMP3 and F4 category racing, for simracing. The diameter of this wheel is 277mm and it has 6 switches, 2 rotary encoders and 2 paddle shifters. The wheel also has a 3.5 display and 8 RGB LEDs. The mounting points are for 50.8mm diameter quick releases but it can be converted to 70mm by using a converter, or you can just use a quick release with 50.8mm configuration. 
The LEDs and the display are configured using SimHub (this is an awsome software, please make some donations for  the creator, Mr. Wotever).  The tutorial for setting up the display can be found here.  The tutorial for setting up the LEDs can be found here. 
The LEDs, display, and LeoBodnar board are connected to a single USB hub, then the hub is connected to the pc via coiled cable. Main_body_v2.stl and Top_cover_v3.stl files are for the enclousre for Aviation plug to USB connector. 
NOTE: Main_plate_50.8 and Back_plate_50.8 files are PDF, please make sure to convert them into .ai or .dxf before laser or water-jet cutting.
Please feel free to contact me if you have any questions. I also sell some replica wheels including custom ones. 
Email: [email protected]
Instagram:Taichi sim racing
Website: Taichi sim racing wheels (work in progress)
Here are the stuff you'll need. 
- Hardware
(4x) M2x12 bolts for paddle shifters
(22x) M3x12 bolts 
(14x) M3x25 hexagonal spacers (female-male)
(22x) M3 nuts
(4x) M4x22 (20mm can be used) bolts
(4x) M4 nuts
(3x) M5x12 bolts (on the main plate)
(3x) M5x18 bolts (for mounting quick release)
(3x) M5x25 hexagonal spacer (female-female)
(2x) 12mm(diameter)x4mm Neodymium magnets for paddle shifters
(2x) Tamiya low suspension shafts for paddle shifters, or M3x22 bolts can be used instead. 
- Electronics
(1x) LeoBodnar board (I used BBI-32 but BU0836A with the break out matrix board will work better because it's smaller)
(6x) NKK EB2011/ MB2011 switches
(2x) CTS288 rotary encoders
(2x) Micro switches for paddle shifters
(1x) USB to TTL converter
(1x) Pro Micro
(8x) 5mm RGB LEDs
(1x)Aviation plug (M16 4pin)
(1x) USB hub (ditch the USB connector and solder the wires to the Aviation plug)
(1x) Coiled cable
(1x) USB connector (male)
(1x) micro USB cable for Pro Micro
(1x) USB-B cable for LeoBodnar board
(1x) mini USB-B cable for USB to TTL module (Nextion display)
Good luck!!
Back_plate_50.8.pdf
56.7 KB
Main_plate_50.8.pdf
60.9 KB
Display_housing.stl
148 KB
Arduino_config_Simhub_HOWTO.pdf
763 KB
LED_template_Simhub_HOWTO.pdf
364 KB