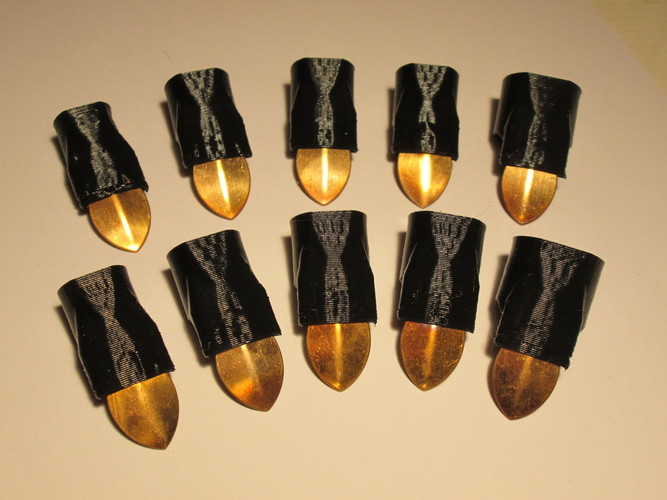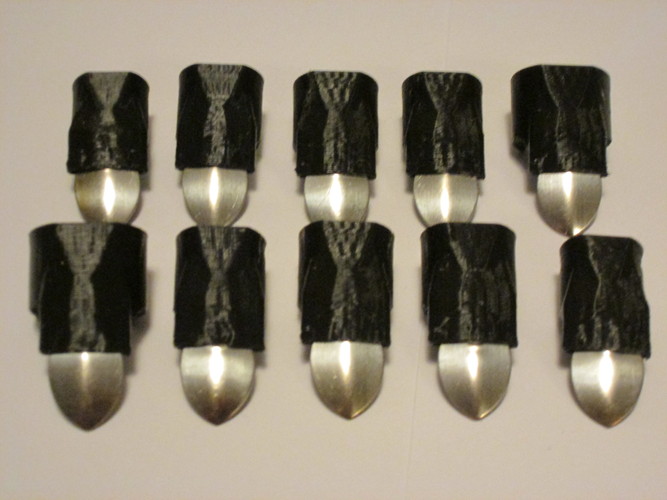 Well, there is a point where fingernails just don;t cut it, so I made claws. Sized in millimeters.
They use the small scalemail scales from Ringlord. Available here: http://theringlord.com/cart/shopdisplayproducts.asp?id=84&cat=Scalemail+Supplies
I suggest using copper, brass, bronze, or silver for their antimicrobial properties. (Since these will probably end up used on human skin, heh)
I print these in PLA, then heat the scale and insert into the base to set. It might take a few tries to get it right.
Claw Base V17 - 19.5mm.STL
108 KB
Claw Base V17 - 20.5mm.STL
110 KB
Claw Base V17 - 17mm.STL
104 KB
Claw Base V17 - 11.5mm.STL
97.1 KB
Claw Base V17 - 16mm.STL
107 KB
Claw Base V17 - 12.5mm.STL
100 KB
Claw Base V17 - 11mm.STL
98.7 KB
Claw Base V17 - 12mm.STL
97.8 KB
Claw Base V17 - 13.5mm.STL
100 KB
Claw Base V17 - 13mm.STL
99.9 KB
Claw Base V17 - 14.5mm.STL
109 KB
Claw Base V17 - 14mm.STL
106 KB
Claw Base V17 - 15.5mm.STL
109 KB
Claw Base V17 - 16.5mm.STL
106 KB
Claw Base V17 - 15mm.STL
110 KB
Claw Base V17 - 17.5mm.STL
105 KB
Claw Base V17 - 18.5mm.STL
108 KB
Claw Base V17 - 18mm.STL
103 KB
Claw Base V17 - 19mm.STL
107 KB
Claw Base V17 - 20mm.STL
108 KB