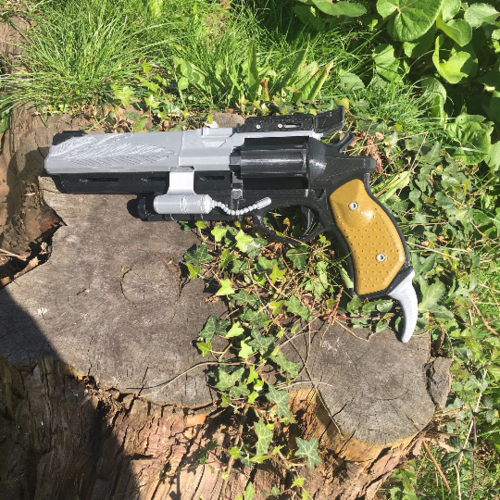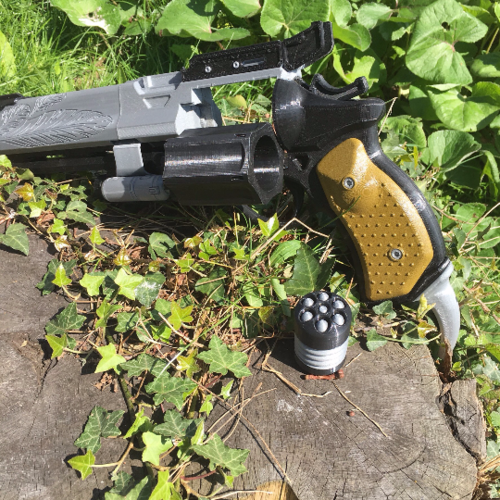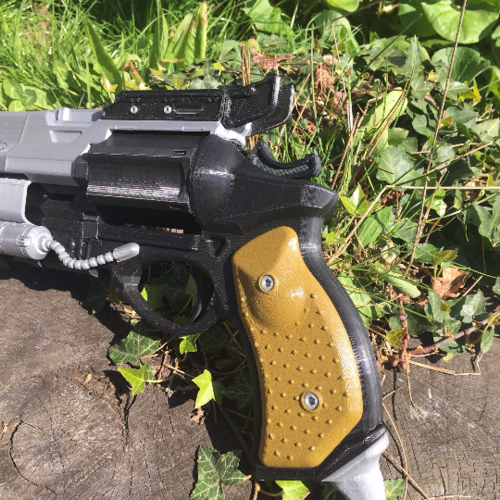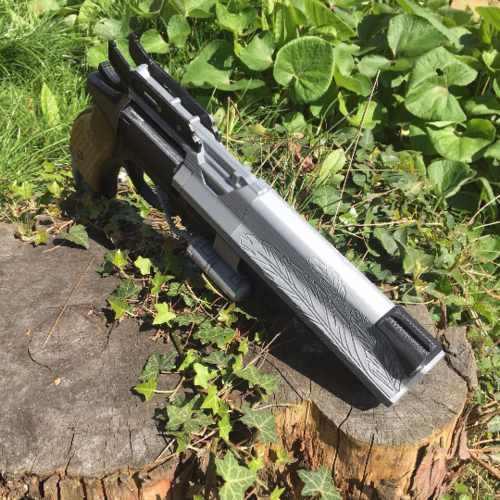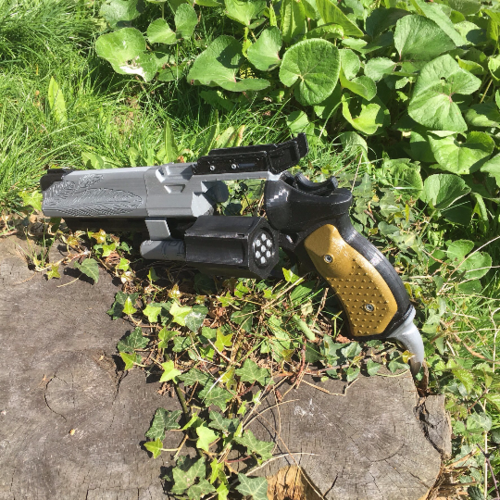 Destiny Hawkmoon Revisited - Premium Quality, Full scale with working features.  We Dual colour printed this model but we've included both files for single or dual colour printing.  
Our main targets are to make our models look good as and to incorporate as many working features as possible and to push 3D printing technology.  Our original Hawkmoon was one of our first designs we made at the start and we felt that it didn't have enough working features and the way the original was printed didn't really allow us to make it more colour realistic, so we decided to go back and remodel the design to make it even better here's a list of the new features  1) Remodelled main design to make it fit together easier and to allow better colour coding so it looks closer to the one you use in the game & we made the chamber a tighter fit. 2) Using the latest technology of dual colour printing the Ammo cartridge and other parts have been made with multiple colours in the one print  3) We have used Real Wood infused material to make the hand grips so they look, feel and smell like the real thing.  
4) The last and possibly most exciting change we have made is to incorporate a Hammer & Trigger, so you can now cock the hammer back and then squeeze the trigger to let the hammer go, just like you do in the game :-) 
Hawkmoon is an exotic hand cannon. It is currently an exclusive to PlayStation platforms until Fall 2015. It can be obtained from raids, the Crucible, the Weekly Nightfall Strike, Strike playlists, and engrams. The weapon's silvered barrel features intricate "hawk feather" etchings that were carved into its design. "Stalk thy prey and let loose thy talons upon The Darkness."
Hawkmoon 2 Barrel Colour 1.STL
1.87 MB
Hawkmoon 2 Barrel Colour 2.STL
43.4 KB
Hawkmoon 2 BARREL PIN.STL
11.4 KB
Hawkmoon 2 Chamber.STL
2.07 MB
Hawkmoon 2 Grip Bolt.STL
302 KB
Hawkmoon 2 Left Grip.STL
1.85 MB
Hawkmoon 2 Left HandGrip.STL
1.42 MB
Hawkmoon 2 Right Grip.STL
1.85 MB
Hawkmoon 2 Right HandGrip.STL
1.4 MB
Hawkmoon 2 side plate Left.STL
359 KB
Hawkmoon 2 side plate Right.STL
359 KB
Hawkmoon 2 Spike Left.STL
342 KB
Hawkmoon 2 Spike Right.STL
341 KB
Hawkmoon 2 Swing Arm.STL
104 KB
Hammer Crash Pad Flexible material.STL
111 KB
Trigger Box Left.STL
915 KB
Trigger Box Right.STL
1 MB
Hawkmoon Bullet 2 colour 1.STL
1.21 MB
Hawkmoon Bullet 2 colour 2.STL
2.57 MB
Hawkmoon Chamber Retainer.STL
47.2 KB
Hawkmoon Guide Block.STL
684 Bytes
Hawkmoon Guide BlockThin.STL
684 Bytes
Hawkmoon H Block.STL
2.23 KB
HAWKMOON REVISITED INSTRUCTIONS.PDF
1.49 MB
Hawkmoon Sight Plate Left.stl
940 KB
Hawkmoon Sight Plate Right.stl
922 KB
HM2 Lower Barrel L Colour 1.STL
1.46 MB
HM2 Lower Barrel L Colour 2.STL
2.24 MB
HM2 Lower Barrel R Colour 1.STL
1.46 MB
HM2 Lower Barrel R Colour 2.STL
2.24 MB
Hwkmoon 2 Barrel Rear colour 1.STL
1.15 MB
Hwkmoon 2 Barrel Rear colour 2.STL
123 KB
Hawkmoon 2 Barrel Single colour.STL
1.91 MB
Hawkmoon 2 Bullet Single colour.STL
3.78 MB
HM2 Lower Barrel L Single colour.STL
3.73 MB
HM2 Lower Barrel R Single colour.STL
3.73 MB
Hwkmoon 2 Barrel Rear Single colour.STL
1.29 MB