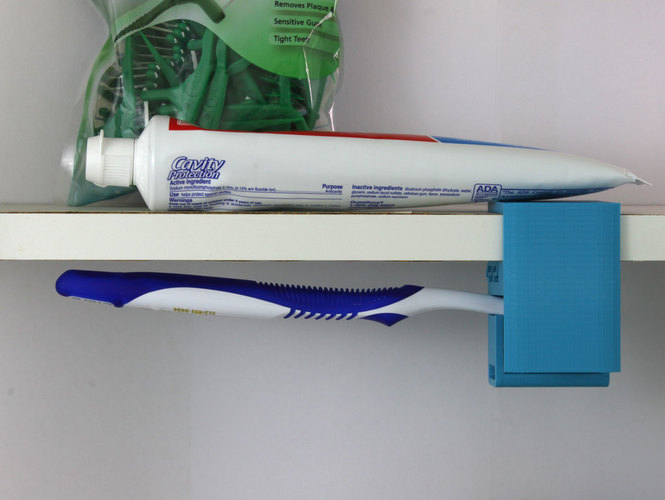 No Prints Yet

Be the first to upload a Print for this Design!
Summary
Just a little doodad I made to hold my toothbrush. It is useful for me because I have limited space in my bathroom so I thought I would share. I measured a few common sizes and designed versions to fit. If you actually could use this but need a certain thickness, pm me. It is pretty easy to adjust the height of the opening. This thing prints in the orientation shown, and no support is required. The built in supports can be snapped off with needle nose pliers.
File Name Shelf Thickness
BrushHolder_1=1"
BrushHolder_75=0.75"
BrushHolder_65=0.65"
BrushHolder_55=0.55"
BrushHolder_5=0.5"s
BrushHolder_35=0.35"
BrushHolder_25=0.25"
Toothbrushes can have a very different neck angle / thickness. I tried testing this with a few types of toothbrushes, but they will all sit at slightly different angles from the one shown in the photo here!
BrushHolder_55.STL
57.4 KB
BrushHolder_1.STL
56.7 KB
BrushHolder_5.STL
57.4 KB
BrushHolder_65.STL
57.1 KB
BrushHolder_75.STL
56.7 KB
BrushHolder_35.STL
57.4 KB
BrushHolder_25.STL
57.4 KB