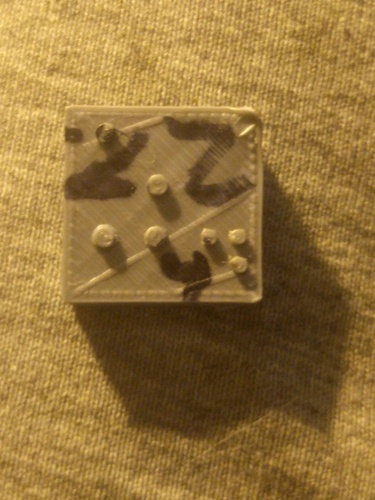 No Prints Yet

Be the first to upload a Print for this Design!
(updated with raised letters and numbers modeled into the tiles so you no longer need to paint the letters on)
Braille scrabble pieces, I recommend painting the letters and numbers on ( or use a fine tip marker) so everyone can plat together. I used a regular felt tip sharpie in the photo, if the marker had been new, it may have been more legible. 
braille scrabble X (3).stl
61 KB
braille scrabble A (3).stl
17.7 KB
braille scrabble B (3).stl
45.1 KB
braille scrabble C (3).stl
42.6 KB
braille scrabble D (3).stl
35.2 KB
braille scrabble E (3).stl
24.5 KB
braille scrabble F (3).stl
43.5 KB
braille scrabble G (3).stl
55.7 KB
braille scrabble H (3).stl
43.7 KB
braille scrabble I (3).stl
22.9 KB
braille scrabble J (3).stl
46 KB
braille scrabble K (3).stl
36.8 KB
braille scrabble L (3).stl
42.6 KB
braille scrabble M (3).stl
43.8 KB
braille scrabble N (3).stl
37.6 KB
braille scrabble O (3).stl
38.9 KB
braille scrabble P (3).stl
54.2 KB
braille scrabble Q (3).stl
80.5 KB
braille scrabble R (3).stl
53.3 KB
braille scrabble S (3).stl
49.7 KB
braille scrabble T (3).stl
47.4 KB
braille scrabble U (3).stl
46.2 KB
braille scrabble V (3).stl
49.4 KB
braille scrabble W (3).stl
49.9 KB
braille scrabble Y (3).stl
67.7 KB
braille scrabble Z (3).stl
50.7 KB
braille scrabble A.stl
13.2 KB
braille scrabble D.stl
26.4 KB
braille scrabble G.stl
38.9 KB
braille scrabble J.stl
38.2 KB
braille scrabble N.stl
33.1 KB
braille scrabble Q.stl
57.3 KB
braille scrabble BLANK.stl
684 Bytes
braille scrabble Z.stl
44.8 KB
braille scrabble Y.stl
51.4 KB
braille scrabble X.stl
44.8 KB
braille scrabble W.stl
38.9 KB
braille scrabble V.stl
44.8 KB
braille scrabble U.stl
38.2 KB
braille scrabble T.stl
38.9 KB
braille scrabble S.stl
32.3 KB
braille scrabble R.stl
38.9 KB
braille scrabble P.stl
38.9 KB
braille scrabble O.stl
26.4 KB
braille scrabble M.stl
32.3 KB
braille scrabble L.stl
32.3 KB
braille scrabble K.stl
25.7 KB
braille scrabble I.stl
19.8 KB
braille scrabble H.stl
38.2 KB
braille scrabble F.stl
38.2 KB
braille scrabble E.stl
19.8 KB
braille scrabble C.stl
25.7 KB
braille scrabble B.stl
25.7 KB