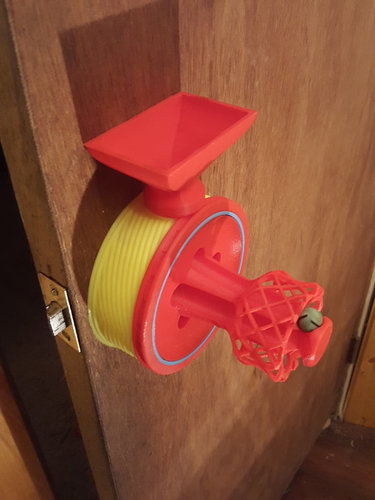 The marble lock is an interior privacy lock that will not open until a marble is inserted. Once the door has been opened, simply turn the knob back and the marble will return. 
SEE IT IN ACTION HERE: http://imgur.com/gallery/Ct49X
This design uses 12 6mm Airsoft pellets as bearings and can be augmented with an optional 45mm tension spring if the return on your existing door knob is too loose. 
You will also need a roughly 16.5mm marble.
The base has a print in place swivel joint, so make sure that your bed temp is as low as it can stand to be and that your first layer is not over extruding.
Enjoy The Marble Lock by Beta Things!
Part Studio 1 - Part 7.stl
3.08 MB
Part Studio 1 (26).stl
16.1 MB
Part Studio 1 - Part 11.stl
3.35 MB
Part Studio 1 - Part 6.stl
7 MB
Part Studio 1 - Part 9.stl
7.84 MB
Part Studio 1 - Part 10.stl
2.55 MB