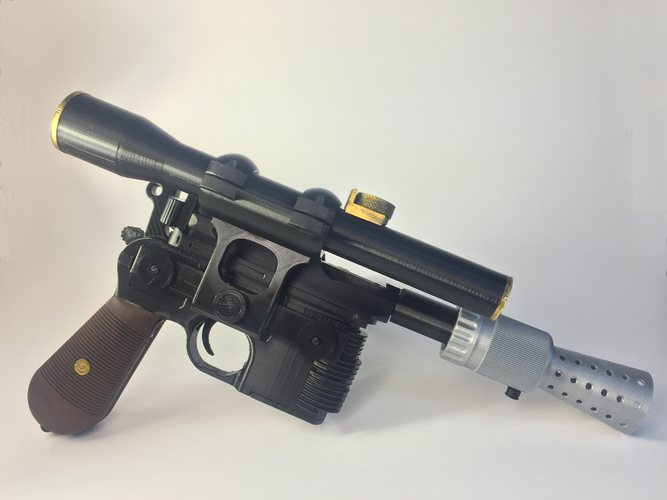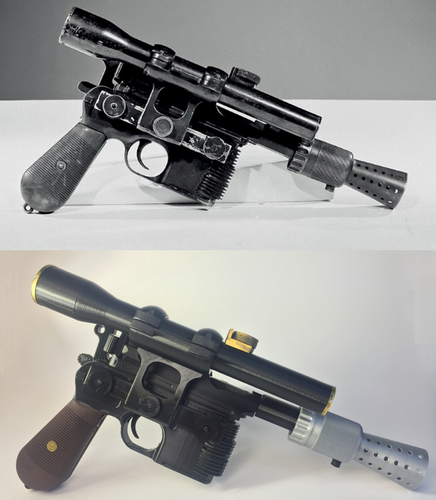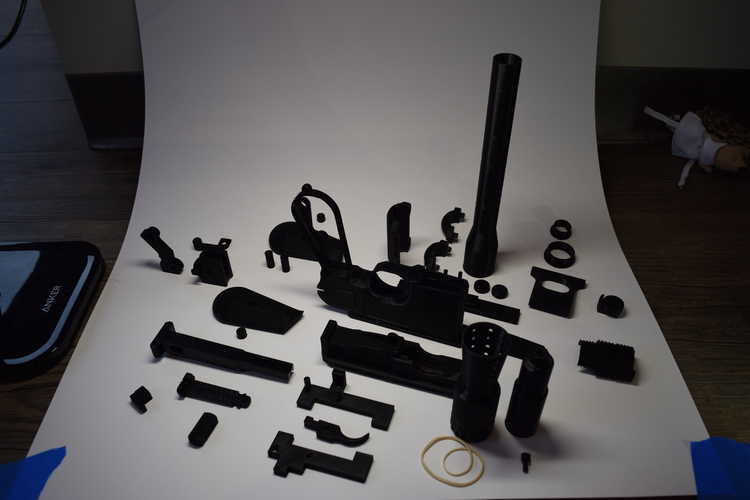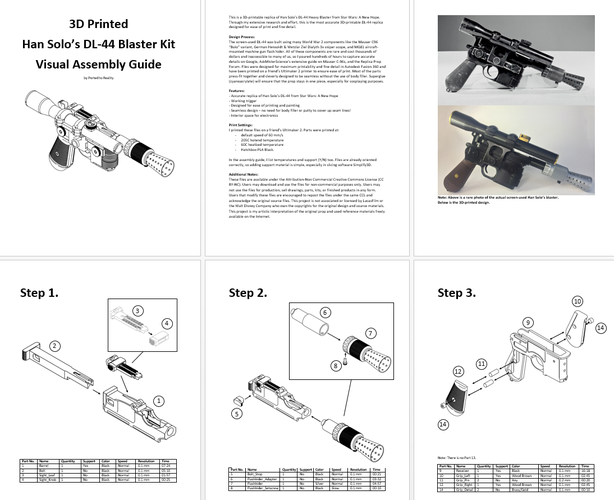 This is a 3D-printable replica of Han Solo's DL-44 Heavy Blaster from Star Wars: A New Hope. This is the most accurate 3D-printable DL-44 replica designed for ease of print and fine detail because of my countless hours of extensive research. In the images above is a comparison between this 3D printed design and one of the few existing reference materials for the screen-used DL-44.
 Features:
- Accurate replica of Han Solo's DL-44 from Star Wars: A New Hope
- Visual Assembly Guide PDF containing full print settings and assembly instructions IKEA-style
- Designed for ease of printing and painting
- Seamless design – no need for body filler or putty to cover up seam lines!
- Working trigger (with a rubber band contraption) video link
- Interior space for embedded electronics
The .stl files are already oriented correctly for maximum strength and detail. Download and read the included '3Dprinted_dl44_assemblyGuide .pdf' for all print settings and assembly instructions.  For those of you who do not own a 3D printer, check out local printing services near you through 3D Hubs. 
 Design Process:
The screen-used DL-44 was built using many World War 2 components like the Mauser C96 "Bolo" variant, German Hensoldt & Wetzlar Ziel Dialyth 3x sniper scope, and MG81 aircraft-mounted machine gun flash hider. All of these real-world components are rare and cost thousands of dollars and inaccessible to many of us, so I poured hundreds of hours to capture accurate details on Google, AskMisterScience's extensive guide on Mauser C-96s, and the Replica Prop Forum. 
The parts press-fit together and are cleverly designed to be seamless without the use of body filler. If needed, superglue (cyanoacrylate) ensures the prop stays in one piece, especially for cosplay purposes. This model also has a working trigger mechanism using a standard rubberband. 
Print Settings:
- Default speed (60 mm/s)
- 205C hotend temperature, 60 bed temperature using Hatchbox PLA (Black)
- 37 files
- 80+ hours (on friend's Ultimaker 2  200 x 200 x 200 mm bed) 
- 0.1 mm layer height for maximum detail
- 20% infill
- Support for parts indicated in assembly guide
- Simple finish with foam brush and acrylic paint
*Additional Notes:
These files are available under the Attribution-Non Commercial Creative Commons License (CC BY-NC). Users may download and use the files for non-commercial purposes only. Users may not use the files for production, sell drawings, parts, kits, or finished products in any form. Users that modify these files are encouraged to repost the files under the same CCL and acknowledge the original source files. This project is not associated or licensed by LucasFilm or the Walt Disney Company who own the copyrights for the original design and source materials. This project is my artistic interpretation of the original prop and used reference materials freely available on the Internet.
27_scopeLensRear.stl
106 KB
28_scopeWindageKnob.stl
1.01 MB
29_scopeWindageMount.stl
134 KB
33_hammerMechanism.stl
132 KB
36_thumbnutMiddle.stl
90.9 KB
37_thumbNutPin.stl
80.7 KB
06_flashhider_adapter.stl
225 KB
07_flashhider.stl
1.49 MB
08_flashhider_setscrew.stl
1.21 MB
15_triggerMechanismA.stl
30.2 KB
16_triggerMechanismB.stl
33.6 KB
18_crossbarPin.stl
82.5 KB
19_crossbarSpacer.stl
674 KB
21_magazineFloorplate.stl
49.6 KB
26_scopeLensFront.stl
88.1 KB
_3D_printed_d44_assemblyGuide.pdf
998 KB