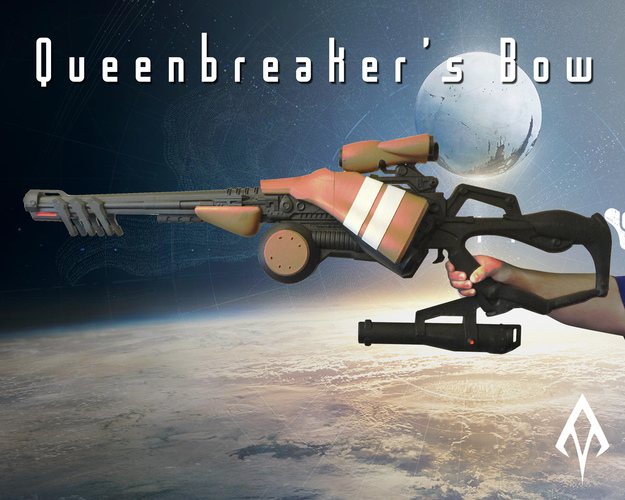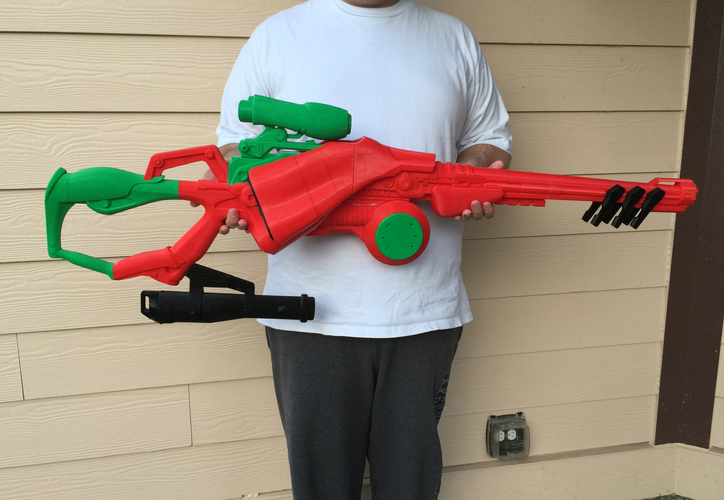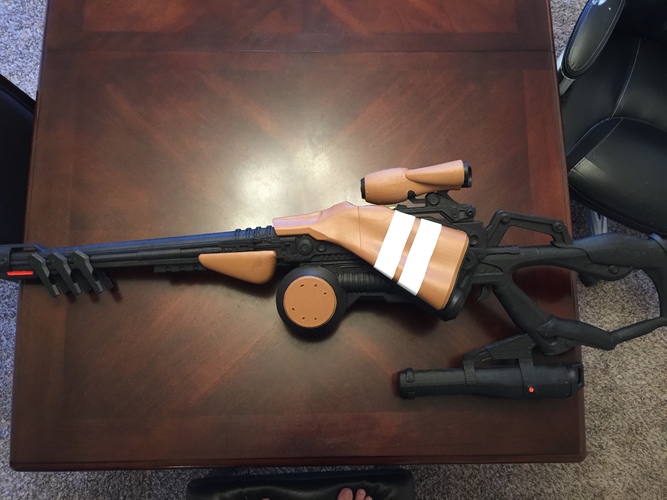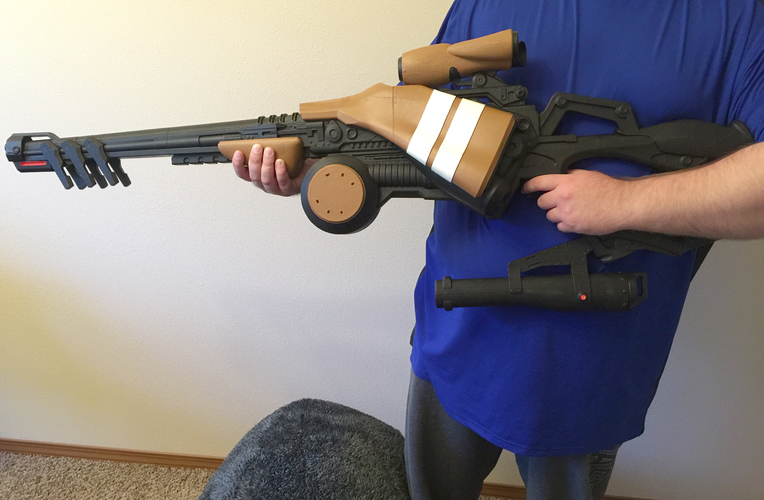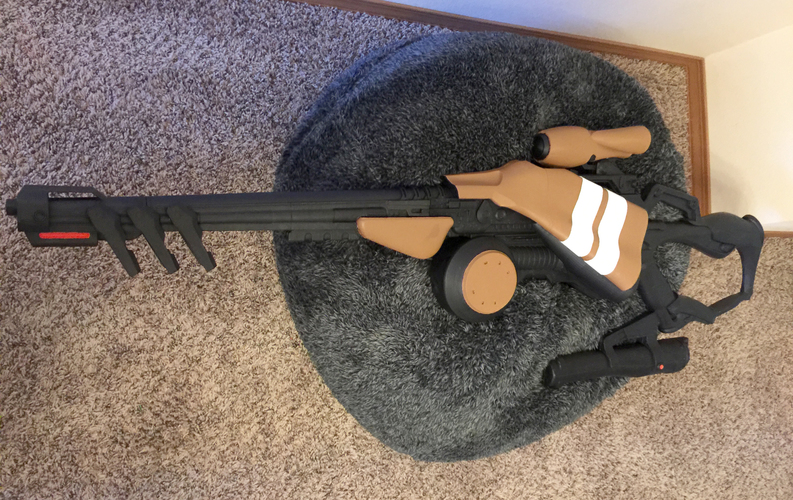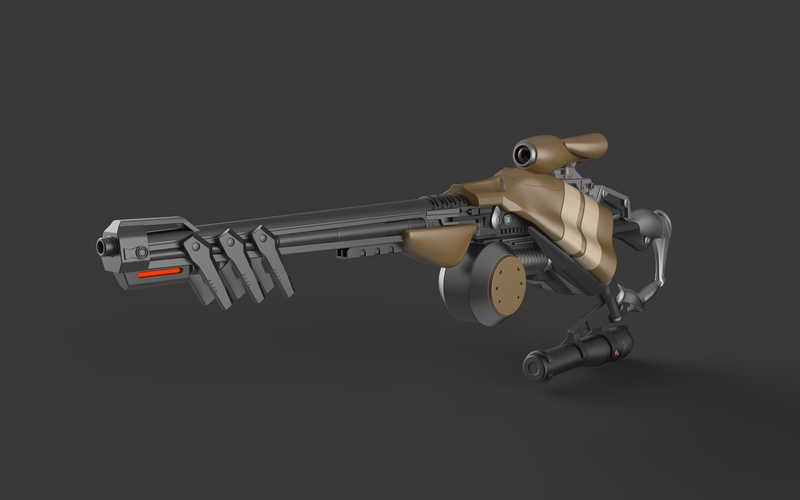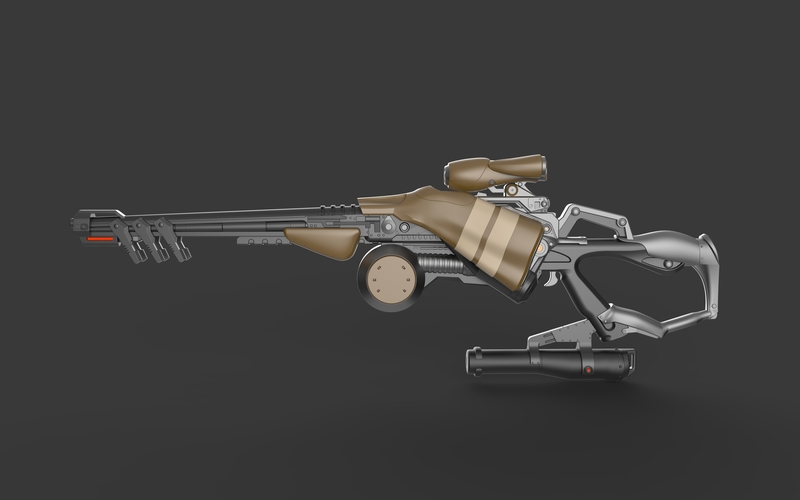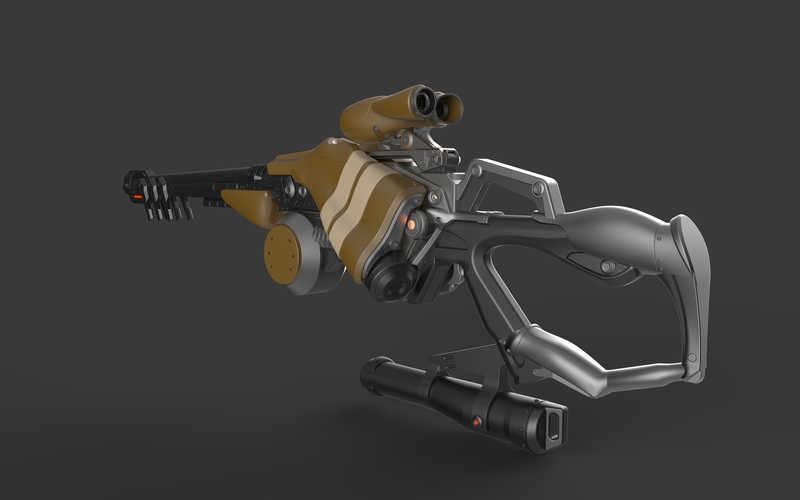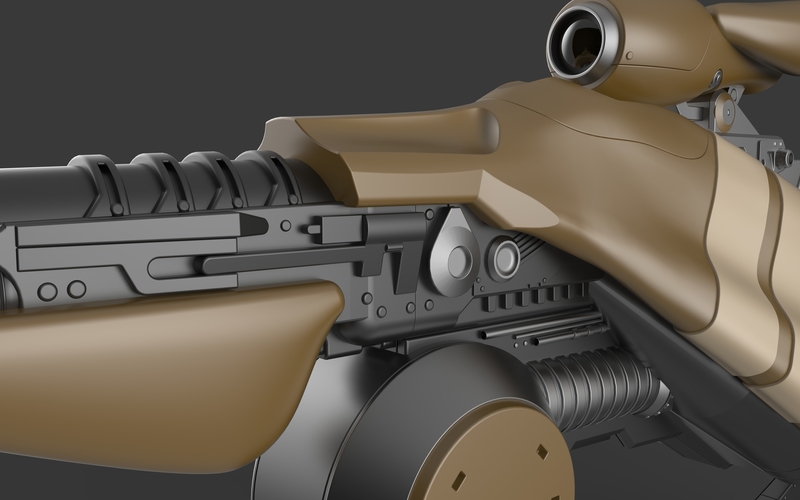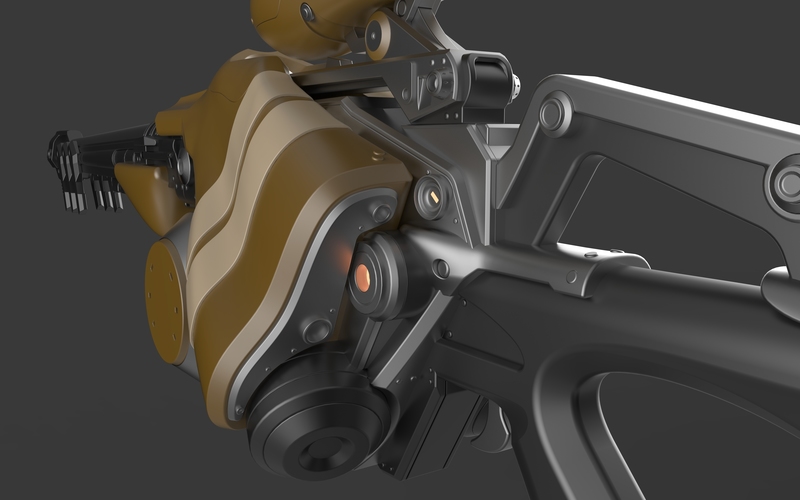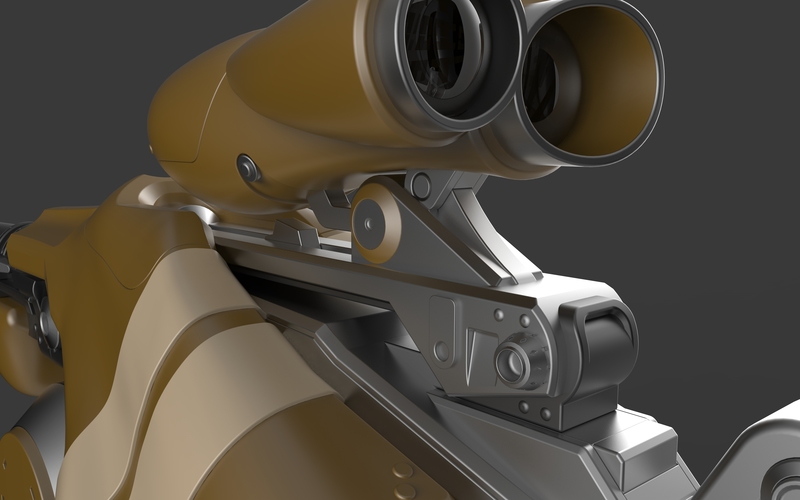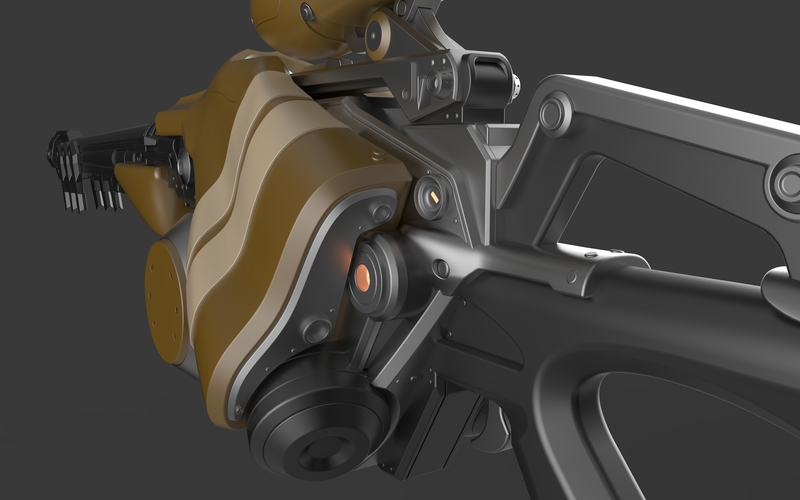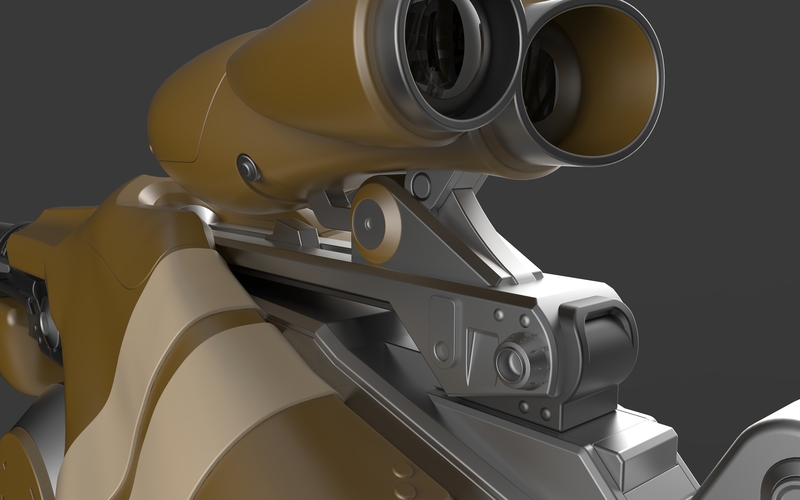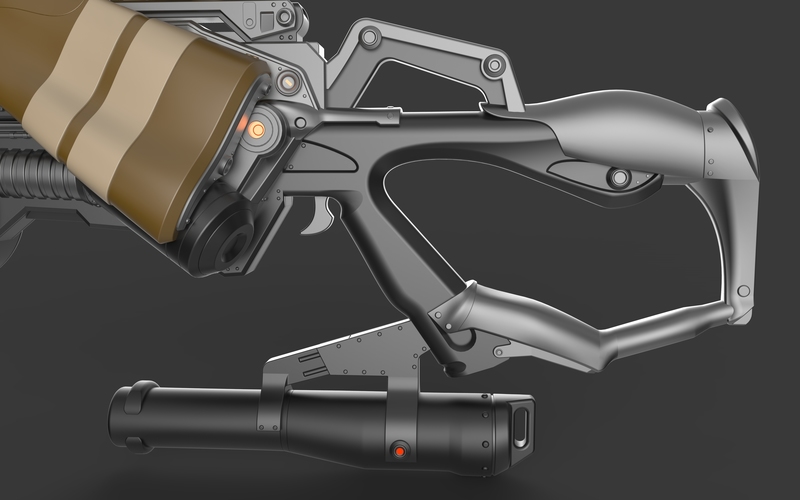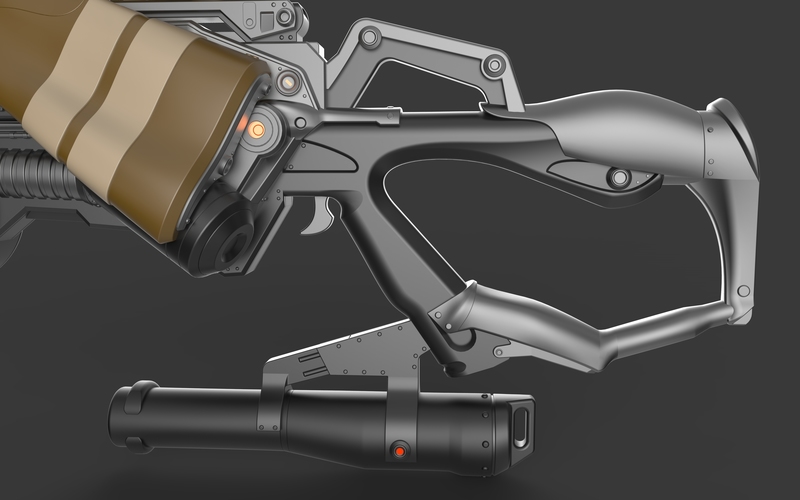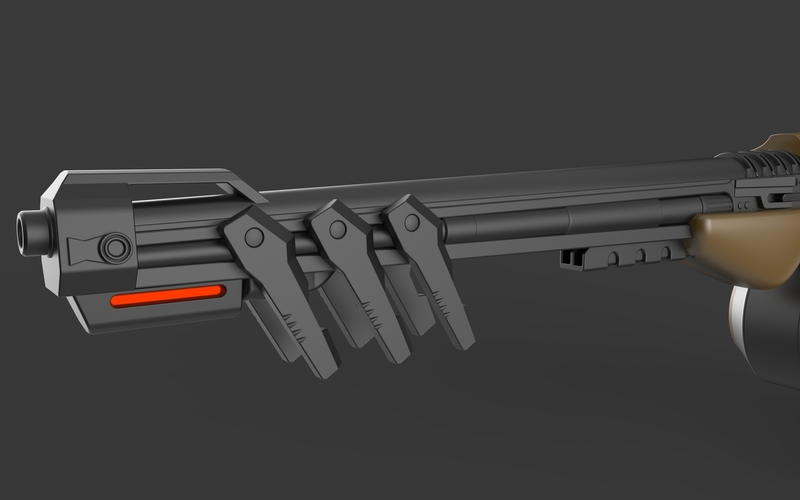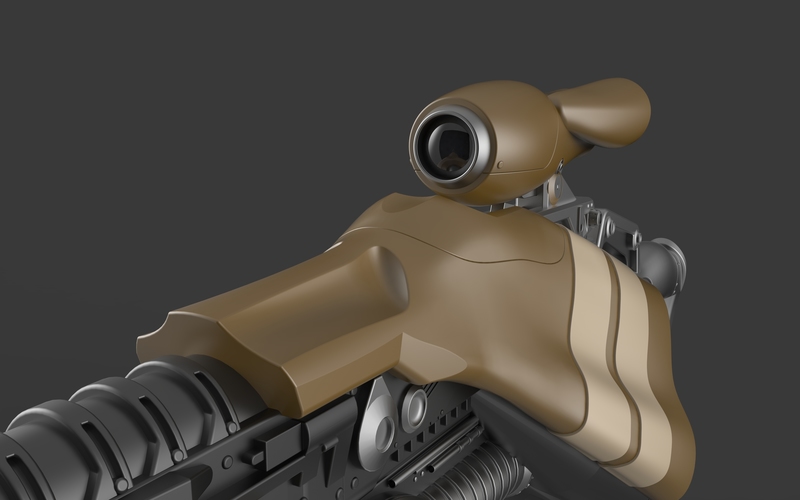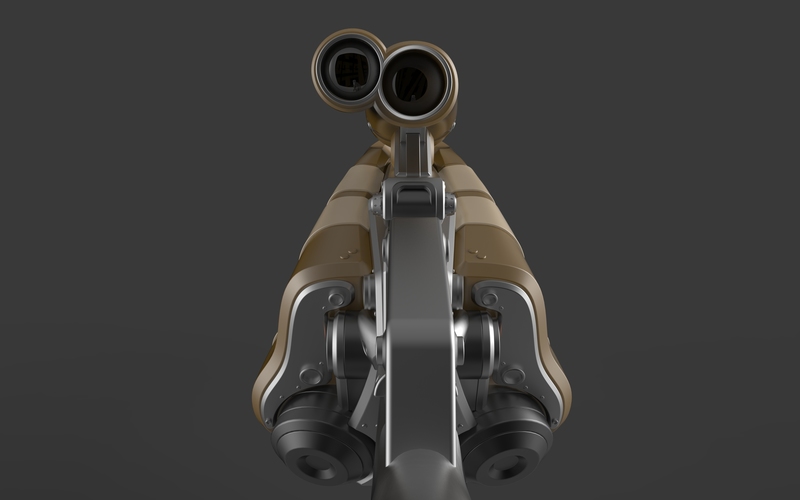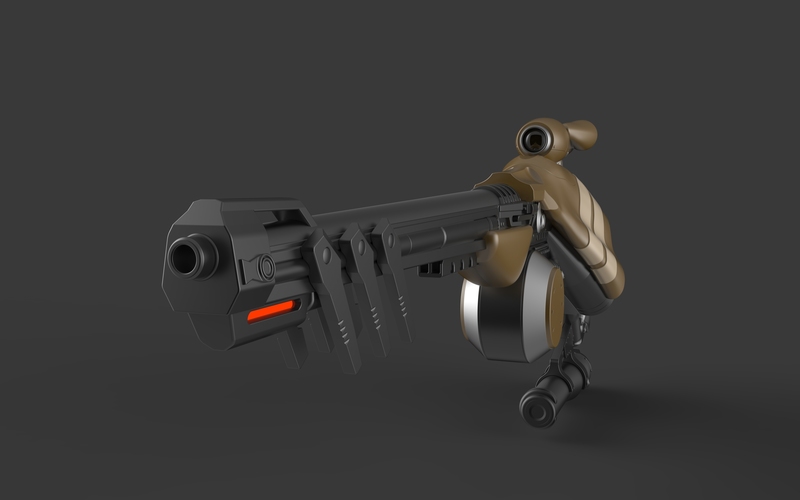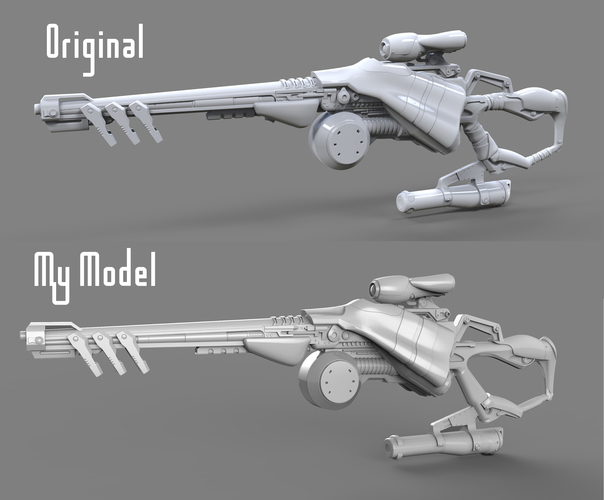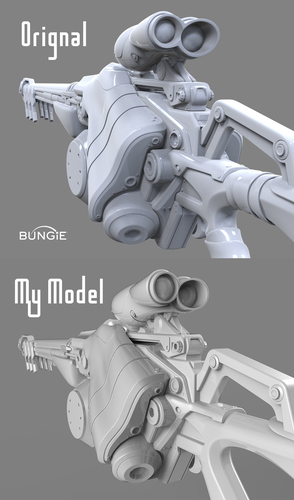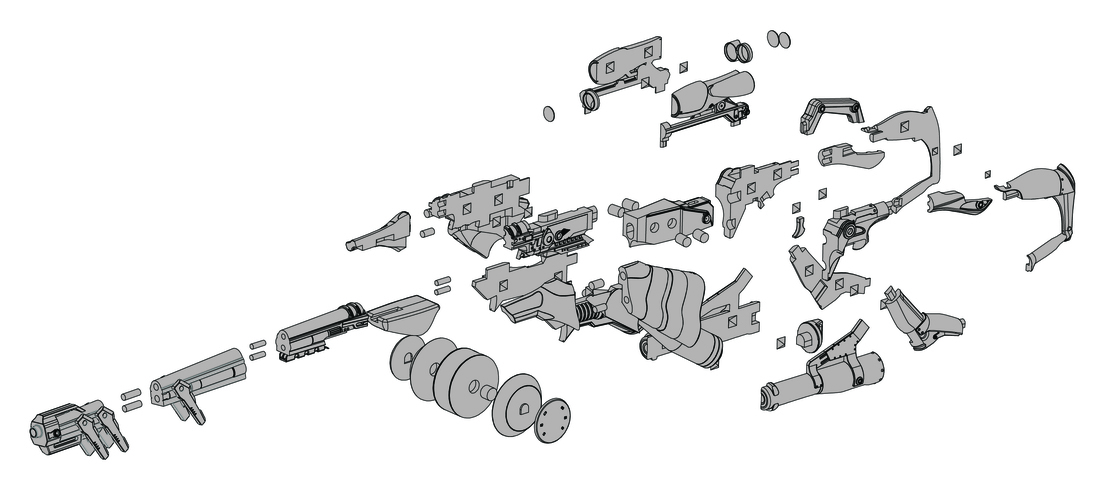 Here I proudly  present to you my 1:1 scale Queenbreaker's Bow from Destiny! This project was definitely a huge challenge for me to tackle, taking over 100+ hours of work and was probably the hardest project I've done to date, but it was worth it.
With this design, I made sure to accurately capture every little detail from the original design by David Stammel, and boy, there's a TON of it. Just check out my renderings and you'll see what I mean. Apart from that, modeling the gun in general was a real challenge, especially when using Solidworks (my chosen CAD program).
Another important aspect I decided to do was to design the gun in a way that allows the user to print or paint the parts in their respective colors. Although this meant significantly more time on the modeling side, I figured it necessary for post processing, effectively eliminating what might have required a great deal of masking (for painting). I also wanted the best chance at winning the contest, so I went for it.
Keeping detail and quality in mind, I also made sure to separate the 4-ft long gun out into all the necessary pieces to ensure that the prints might come out as detailed and support-free as possible. I also engineered it to be as structurally sound as possible so that it does not break when you hold it. You can't just print a solid 4-ft long gun, so I made sure to split up the pieces to all assemble together cleanly and easily. This was probably one of the biggest challenges for the gun given how gigantic and incredibly detailed it is, but thankfully, I pulled it off. 
Lastly, I made an instructional PDF showing each and every step of how to put this gun together. My goal with the pdf was to make it as clear and to the point as possible, and hopefully, making the assembly process a snap.
I hope you guys like my design, and I hope it does even better in the contest!
Photo credits: Justin Smith 
Queenbreaker's Bow - Handle Key-1.STL
484 Bytes
Queenbreaker's Bow - Handle Grip Key2-1.STL
484 Bytes
Queenbreaker's Bow - Front MAIN Body Pin1-1.STL
9.65 KB
Queenbreaker's Bow - Front Block Key1-1.STL
484 Bytes
Queenbreaker's Bow - Body Face Plate Pin2-1.STL
7.7 KB
Queenbreaker's Bow - Barrel1 Pin1-1.STL
7.7 KB
Queenbreaker's Bow - Back Stock Front Key1-1.STL
484 Bytes
Queenbreaker's Bow - Ammo Pin-1.STL
5.75 KB
Queenbreaker's Bow - Scope1-1.STL
3.91 MB
Queenbreaker's Bow - Middle Stock2-1.STL
513 KB
Queenbreaker's Bow - Lense3-1.STL
157 KB
Queenbreaker's Bow - Lense Cover1-1.STL
185 KB
Queenbreaker's Bow - Large Cylinder1-1.STL
692 KB
Queenbreaker's Bow - Handle1-1.STL
568 KB
Queenbreaker's Bow - Grip-1.STL
381 KB
Queenbreaker's Bow - Front Circle YELLOW1-1.STL
782 KB
Queenbreaker's Bow - Body Face Plate1-1.STL
672 KB
Queenbreaker's Bow - Back Stock1-1.STL
899 KB
Queenbreaker's Bow - Back MAIN Body2-1.STL
1.25 MB
Queenbreaker's Bow - Scope Key2-1.STL
484 Bytes
Queenbreaker's Bow - MAIN Body Side Pin3-1.STL
10 KB
Queenbreaker's Bow - MAIN Body Side Pin1-1.STL
10 KB
Queenbreaker's Bow - Front MAIN Body Pin4-1.STL
9.26 KB
Queenbreaker's Bow - Front MAIN Body Pin2-1.STL
9.26 KB
Queenbreaker's Bow - Front Circle GREY pin1-1.STL
11.2 KB
Queenbreaker's Bow - Front Block Bottom Key2-1.STL
484 Bytes
Queenbreaker's Bow - Front Barrel Pin2-1.STL
7.7 KB
Queenbreaker's Bow - Body Face Plate Pin1-1.STL
7.7 KB
Queenbreaker's Bow - Barrel2 Pin1-1.STL
7.7 KB
Queenbreaker's Bow - Back Stock Key1-1.STL
484 Bytes
Queenbreaker's Bow - Ammo Key1-1.STL
484 Bytes
Queenbreaker's Bow - Scope2-1.STL
3.71 MB
Queenbreaker's Bow - Middle Barrel-1.STL
322 KB
Queenbreaker's Bow - Lense1-1.STL
131 KB
RackMultipart20161122-26829-1bd58k5.zip/Queenbreaker's Bow Instructions.pdf
21.4 MB
Queenbreaker's Bow - Add-on Wings1-1.STL
516 KB
Queenbreaker's Bow - Add-on Wings2-1.STL
515 KB
Queenbreaker's Bow - Add-on Wings3-1.STL
519 KB
Queenbreaker's Bow - Add-on Wings4-1.STL
517 KB
Queenbreaker's Bow - Add-on Wings5-1.STL
523 KB
Queenbreaker's Bow - Add-on Wings6-1.STL
516 KB
Queenbreaker's Bow - Ammo Back-1.STL
708 KB
Queenbreaker's Bow - Ammo Body1-1.STL
1.91 MB
Queenbreaker's Bow - Ammo Body2-1.STL
1.81 MB
Queenbreaker's Bow - Back MAIN Body1-1.STL
1.25 MB
Queenbreaker's Bow - Back Stock Front1-1.STL
1.26 MB
Queenbreaker's Bow - Back Stock Front2-1.STL
1.26 MB
Queenbreaker's Bow - Back Stock2-1.STL
885 KB
Queenbreaker's Bow - Barrel2-1.STL
3.06 MB
Queenbreaker's Bow - Body Face Plate2-1.STL
670 KB
Queenbreaker's Bow - Front Barrel-1.STL
1.5 MB
Queenbreaker's Bow - Front Block Bottom1-1.STL
1.21 MB
Queenbreaker's Bow - Front Block Bottom2-1.STL
1.21 MB
Queenbreaker's Bow - Front Block1-1.STL
2.37 MB
Queenbreaker's Bow - Front Block2-1.STL
2.37 MB
Queenbreaker's Bow - Front Circle GREY-1.STL
302 KB
Queenbreaker's Bow - Front Circle SILVER1-1.STL
159 KB
Queenbreaker's Bow - Front Circle SILVER2-1.STL
159 KB
Queenbreaker's Bow - Front Circle YELLOW2-1.STL
784 KB
Queenbreaker's Bow - Front MAIN Body1-1.STL
584 KB
Queenbreaker's Bow - Front MAIN Body2-1.STL
588 KB
Queenbreaker's Bow - Handle Grip1-1.STL
716 KB
Queenbreaker's Bow - Handle Grip2-1.STL
719 KB
Queenbreaker's Bow - Handle2-1.STL
533 KB
Queenbreaker's Bow - Large Cylinder2-1.STL
713 KB
Queenbreaker's Bow - Lense Cover2-1.STL
576 KB
Queenbreaker's Bow - Lense2-1.STL
157 KB
Queenbreaker's Bow - Middle Stock1-1.STL
511 KB
Queenbreaker's Bow - Scope Holding Body-1.STL
1.09 MB
Queenbreaker's Bow - Trigger-1.STL
262 KB
Queenbreaker's Bow - Ammo Key2-1.STL
484 Bytes
Queenbreaker's Bow - Back Stock Front Key2-1.STL
484 Bytes
Queenbreaker's Bow - Back Stock Key2-1.STL
484 Bytes
Queenbreaker's Bow - Barrel1 Pin2-1.STL
7.7 KB
Queenbreaker's Bow - Barrel2 Pin2-1.STL
7.7 KB
Queenbreaker's Bow - Front Barrel Pin1-1.STL
7.7 KB
Queenbreaker's Bow - Front Block Bottom Key1-1.STL
484 Bytes
Queenbreaker's Bow - Front Block Key2-1.STL
484 Bytes
Queenbreaker's Bow - Front Circle GREY pin2-1.STL
11.2 KB
Queenbreaker's Bow - Front MAIN Body Pin3-1.STL
9.65 KB
Queenbreaker's Bow - Handle Grip Key1-1.STL
484 Bytes
Queenbreaker's Bow - MAIN Body Side Pin2-1.STL
10 KB
Queenbreaker's Bow - MAIN Body Side Pin4-1.STL
10 KB
Queenbreaker's Bow - Scope Key1-1.STL
484 Bytes