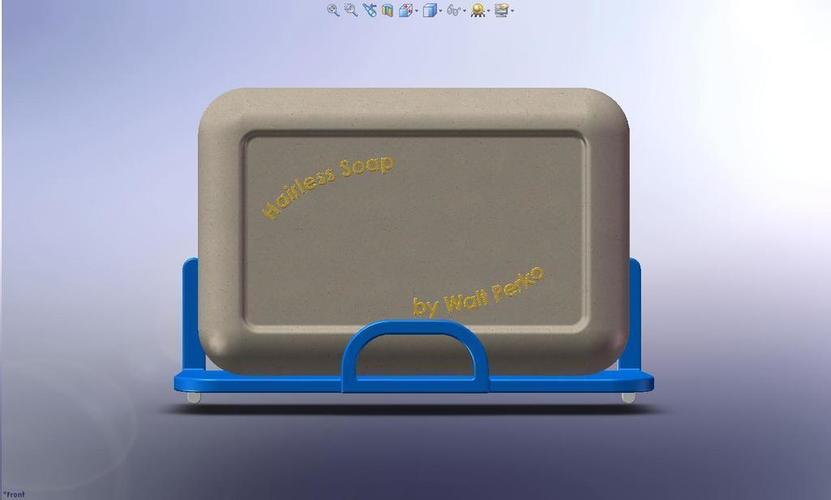 Yes, even this design can be a FREE download once I am fully funded for my RoboGuts™ S.T.E.A.M. Education Program Kits;
IF each viewer donates just $5 I'll be funded almost overnight and then all my designs become FREE downloads!  
The fastest and cheapest way to get all my .STL files FREE is to donate $5 to help fund school materials ... once I have $3,500 I'll convert all these files to FREE downloads.   https://www.gofundme.com/roboguts-kits-lessons
 This soap dish is designed to use 3M Brand or similar "Command Strips" or double-tape to mount it anywhere inside your tub or shower ... like to the side and under the shower head ... or along the shower wall anywhere up high so the water isn't continually rinsing over your soap ... this is especially great for roommates to have their own soap dish in the shower or by the sink minimizing clutter and space yet providing a more hygienic solution. This is another of many entries to the makezine.com/go/makerbot contest ... blog.makezine.com/archive/2010/04/makerbot_giveaway.html Instructions If you live in a rented space please use 3M Command Strips so you can take this soap dish with you when you move and not leave crud on the walls behind ... otherwise almost any other adhesive will mount this to a shower or bathroom wall. If you successfully make this with a 3D printer please send me the build-file and machine type so it can be uploaded here for others to use.
VerticalSoapDish2.STL
965 KB