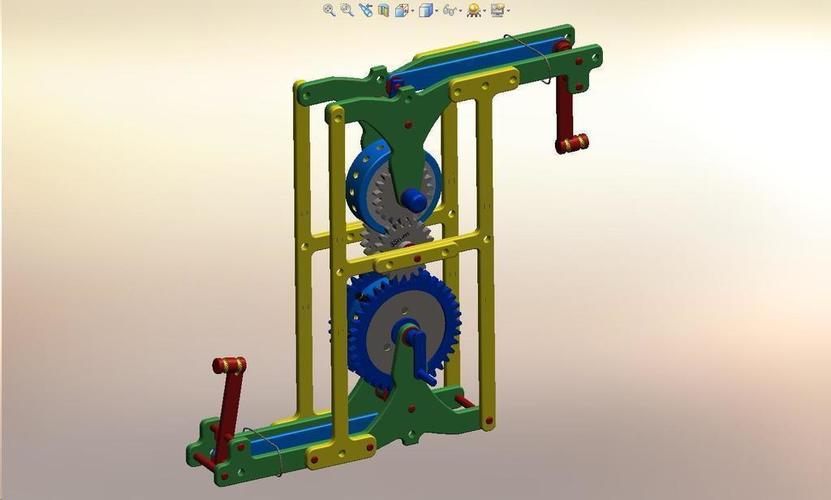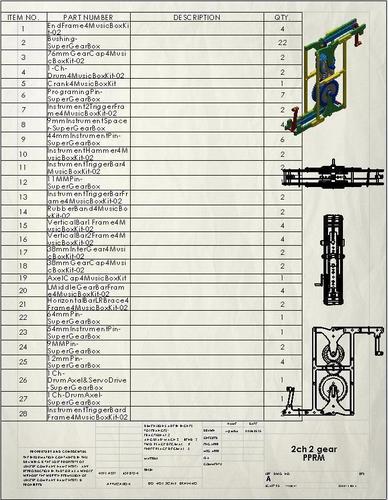 No Prints Yet

Be the first to upload a Print for this Design!
Yes, even this design can be a FREE download once I am fully funded for my RoboGuts™ S.T.E.A.M. Education Program Kits;
IF each viewer donates just $5 I'll be funded almost overnight and then all my designs become FREE downloads!  
The fastest and cheapest way to get all my .STL files FREE is to donate $5 to help fund school materials ... once I have $3,500 I'll convert all these files to FREE downloads.   https://www.gofundme.com/roboguts-kits-lessons
This is an upgraded kit from the more basic kit I uploaded earlier ... this includes differential gearing so one drum drives the other at a different speed (resolution) to create more beats/revolution and allow for more syncopation ... Yes every part here is designed to be MakerBotable with a CupCake MakerBot ... except for the rubber band ... get those from your local post office! This is another of many entries to the makezine.com/go/makerbot contest ... blog.makezine.com/archive/2010/04/makerbot_giveaway.html Instructions Use the BOM to see how many of each part to MakerBot ... and both the drawing and display images to assemble your 2-ch 2-gear Programmable Percussion & Rhythm Machine. Rubber bands are the springs around the horizontal extensions out to the hammer pulls the hammer back to a stand-up position. Program the drum set by sticking the programming pegs into the holes on the drum ... Set different objects in front of the hammers and crank the machine to hear the rhythm you created ... It's a learning process to understand beats/measure ... then with 2:1 gearing and a 2nd machine you can increase the resolution to 32 beats/measure. BTW, if you store a few extra programming pins inside the drums and you'll have a two more sources for noise ... albeit not percussive but more like a rattles. Adding a servo drive to the back will allow for continuous rotations. Adding a µController will allow you to vary timing turning the motor drive ON/OFF and different times ... there's almost no end to the expandability of this kit. If you successfully make this with a 3D printer please send me the build-file and machine type so it can be uploaded here for others to use.
VerticalBar2Frame4MusicBoxKit-02.STL
64.7 KB
InstrumentTriggerBardFrame4MusicBoxKit-02.STL
183 KB
HorizontalBarLRBrace4Frame4MusicBoxKit-02.STL
117 KB
44mmInstrumentPin-SuperGearBox.STL
86.6 KB
11MMPin-SuperGearBox.STL
144 KB
1Ch-DrumAxelServoDrive-SuperGearBox.STL
199 KB
1Ch-DrumAxel-SuperGearBox.STL
79.3 KB
9MMPin-SuperGearBox.STL
166 KB
12mmPin-SuperGearBox.STL
139 KB
54mmInstrumentPin-SuperGearBox.STL
86.6 KB
76mmGearCap4MusicBoxKit-02.STL
430 KB
AxelCap4MusicBoxKit.STL
134 KB
Crank4MusicBoxKit.STL
191 KB
Instrument2TriggerFrame4MusicBoxKit-02.STL
393 KB
InstrumentHammer4MusicBoxKit-02.STL
1.66 MB
LMiddleGearBarFrame4MusicBoxKit-02.STL
91.3 KB
VerticalBar1Frame4MusicBoxKit-02.STL
174 KB
ProgramingPin-SuperGearBox.STL
483 KB
InstrumentTriggerBarFrame4MusicBoxKit-02.STL
183 KB
InstrumentTriggerBar4MusicBoxKit-02.STL
125 KB
EndFrame4MusicBoxKit-02.STL
355 KB
Bushing-SuperGearBox.STL
324 KB
64mmPin-SuperGearBox.STL
86.6 KB
38mmGearCap4MusicBoxKit-02.STL
122 KB
9mmInstrumentSpacer-SuperGearBox.STL
325 KB
1-Ch-Drum4MusicBoxKit-02.STL
1000 KB