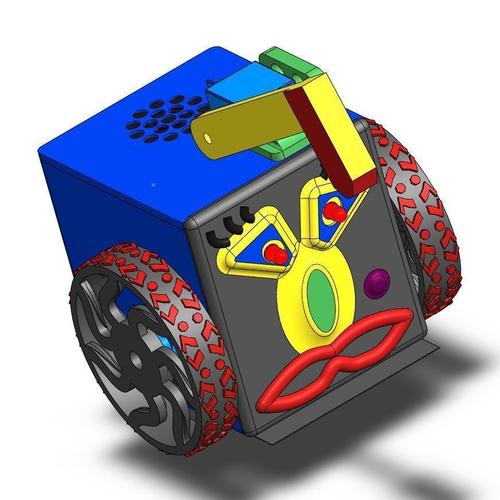 No Prints Yet

Be the first to upload a Print for this Design!
miniFloppyBot is designed for the RoboGuts™ circuit board ... an Arduino might fit to do the same work, but the RoboGuts™ circuit board crams much more functionality into the same space!
Yes, even this design can be a FREE download once I am fully funded for my RoboGuts™ S.T.E.A.M. Education Program Kits;
IF each viewer donates just $5 I'll be funded almost overnight and then all my designs become FREE downloads!  
The fastest and cheapest way to get all my .STL files FREE is to donate $5 to help fund school materials ... once I have $3,500 I'll convert all these files to FREE downloads.   https://www.gofundme.com/roboguts-kits-lessons
Summary A few more wheel designs for the miniFloppyBot robot kits ... A few sensor mount designs for the miniFloppyBot robot kits ... Another two top designs for the miniFloppyBot robot kits ... A top servo mount designs for the miniFloppyBattleBot robot kits ... A Hammer for miniFloppyBattleBots These parts and the initial uploaded miniFloppyBot kit (http://www.thingiverse.com/thing:1586465) are all part of the RoboGuts™ S.T.E.A.M. education program where teachers only help students find answers and solve problems http://r2pv1.com/ Print Settings Printer: Need a sponsor Rafts: No Supports: No Notes: All these parts are in mm
Hammer2-4miniFloppyBots.STL
13 KB
4thTop4miniFloppyBot.STL
786 KB
SHARP-IR-ServoMount1.STL
41.8 KB
TopServo4miniFloppyBattleBot.STL
902 KB
Knee4miniBobbyBot.STL
166 KB
PING+ServoMount1.STL
42.9 KB