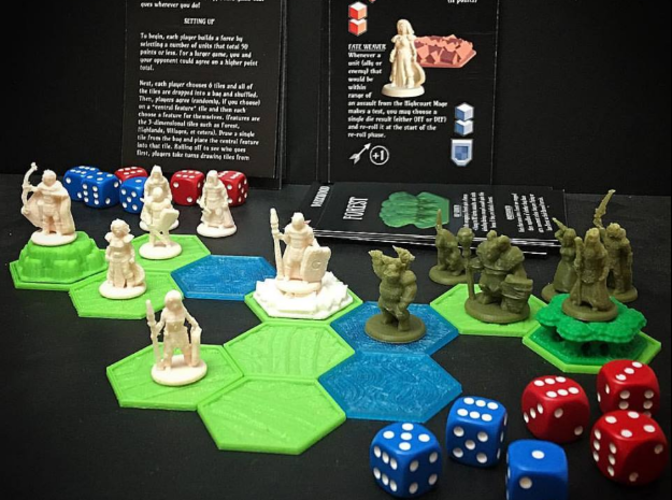 No Prints Yet

Be the first to upload a Print for this Design!
CORE SET 1: Legion of the High King against the Tribes of the Dark Forest
Welcome to the Fourth Edition of Pocket-Tactics, the modular, 3d-printable strategy board game that goes wherever you do!
This new edition represents years of streamlining, and we're excited to be ready to present this to you. To kick off the new stuff, we've gone back to the build from our original set (Legion of the High King versus the Tribes of the Dark Forest). The pieces (which we previewed in earlier posts) are designed to print standing up, and should do so without need of supports (though it can't hurt to add them if you need to). Stay tuned for more sets and pieces, as well as updated rules for all of the previous edition's pieces.
We've set up a Patreon page for anyone who's interested in helping to fund us so we can keep making free and open sourced games like Pocket-Tactics, Wayfarer Tactics. and others, not to mention the growing catalog of gaming miniatures that you can use for whatever you want! (Psst... we take requests and commissions...)
Enjoy!
HighKingVersusTribesCards.pdf
3.24 MB
DarkwoodJuggernaut.stl
16 MB
HighcourtMage.stl
12.6 MB
DarkwoodStalker.stl
14.4 MB
DarkwoodMarauder.stl
14.7 MB