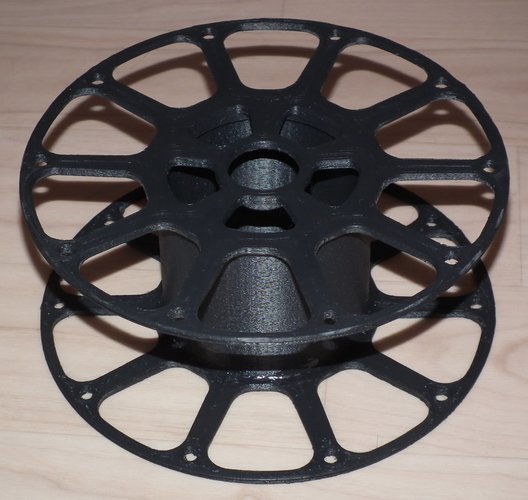 This is my design for a filament spool, for people who, like me, make their own 3D printing filament.
Two STL files are included, one for the sides (need to print two) and one for the middle bit. The middle bit has pads at one end to allow it to stick to the print bed. These pads will have to be broken (or cut) off after printing. The three parts need to be glued together. I make mine from ABS, so I use 'ABS glue' (scraps of ABS mixed with acetone).
Dimensions - sides are 200mm diameter, the middle part is 90mm diameter and 75mm long.
The centre hole is supposed to be 30mm diameter, although it tends to be a bit less in practice.
The overall weight is roughly 158 grams.
The photo shows one assembled spool (roughly printed), made from cheap recycled home-made ABS filament.
One word of caution - sometimes the outer edges of the spool sides can warp (lift) during printing. You need to make sure that the print is well stuck to the print bed.
UPDATE - I have uploaded another version of this, called 'Filament spool 2'. It's a bit simpler, to make it easier to print.