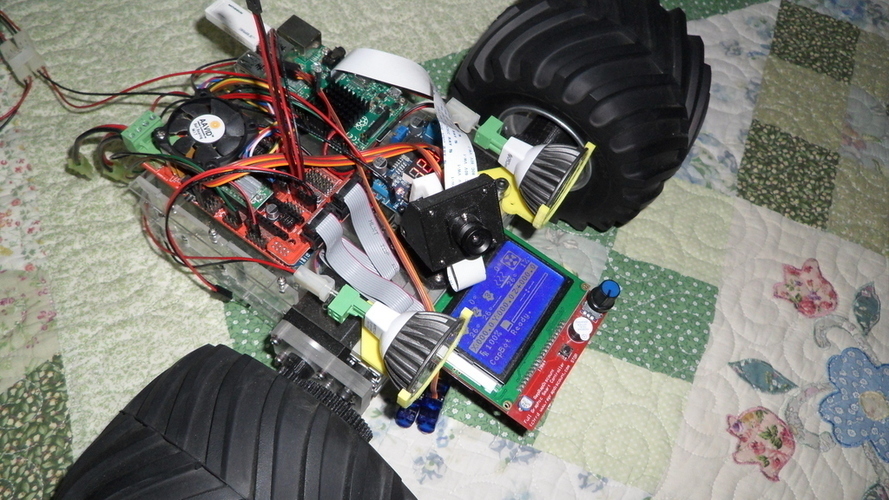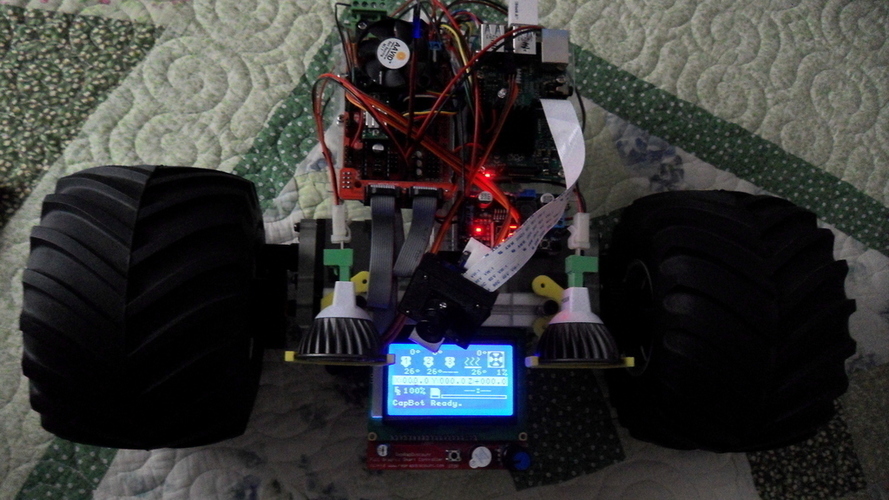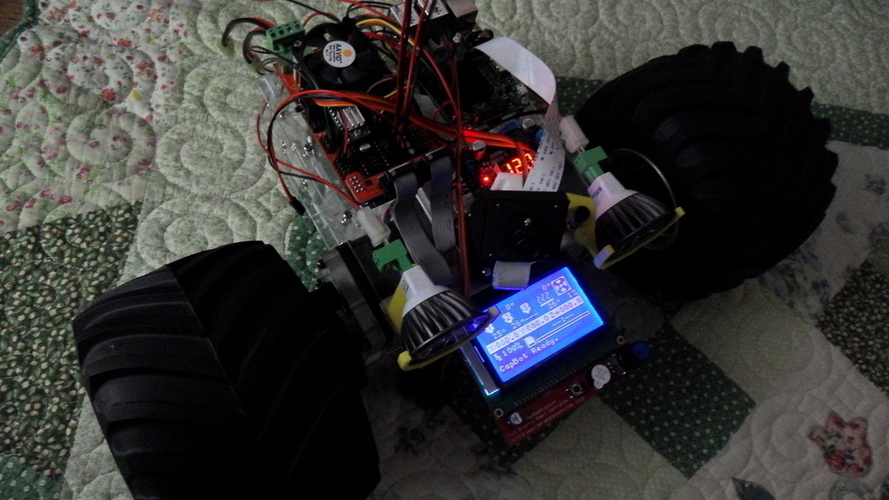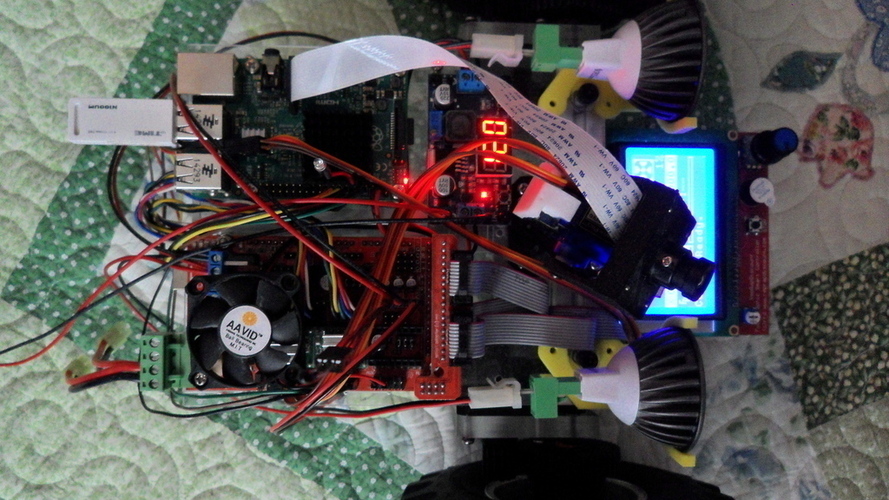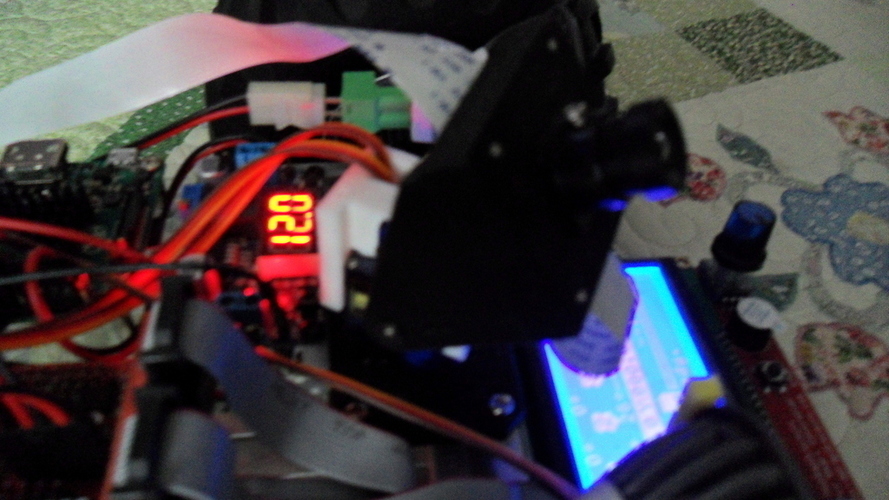 No Prints Yet

Be the first to upload a Print for this Design!
Summary[Update 20160105] Add CapBot_TopPlateSpacer-_BCT_r02a.stl Add CapBotSpacer-_BCT_r02a.stl Add CapBotFrontPlate-_BCT_r02a.stl
CapBot - DIY Web Controlled Camera RoBot 3D Design Tool: SketchUp Pro Design concept: Big Foot [Use 3D Printer parts]
The parts that you need to print:
2 x CapBot_Gear_WheelAdaptor-_BCT_r02a.stl 2 x CapBot_Gear_Drive43T-_BCT_r02a.stl 2 x CapBot_Gear_Pinion13T-_BCT_r02a.stl 1 x Pan/Tilt Camera Mount [http://www.thingiverse.com/thing:350229]
The parts that you need to CNC cutting:
1 x CapBot_TopPlateFront-_BCT_r02a.stl 1 x CapBot_TopPlateRear-_BCT_r02a.stl 1 x CapBot_BottomPlateFront-_BCT_r02a.stl 1 x CapBot_BottomPlateRear-_BCT_r02a.stl 1 x CapBot_SidePlateLeft-_BCT_r02a.stl 1 x CapBot_SidePlateRight-_BCT_r02a.stl 1 x CapBotBackPlate-_BCT_r02a.stl 1 x CapBot_MotorMountPlateMid-_BCT_r02a.stl 2 x CapBot_MotorMountPlateBearing-_BCT_r02a.stl
Size and Weight
Product Dimensions: ??? (W) x ??? (D) x ??? (H) mm Product Weight: ?? kg
Software
Software Bundle: Octoprint Supported File Types: .STL, .OBJ, .AMF, .Gcode Operating Systems: All (Web-based): Windows, Mac OS, Linux
Firmware
Arduino: Modified Marlin v1.0.2 CoreXY Raspberry Pi: Rasbian, Octoprint, SSH, Samba, VNC, WiringPi
Hardware
2 x 150mm Profile DF 2020 Base Plate: Acrylic 2 x Tire: Tamiya Clodbuster Tire 1 x Rear Tire: Roller 8 x M3 15mm [For Step Motor] 34 x M3 10mm [For Plate mount with camera] 38 x M3 Nuts [For Plate mount with camera] 8 x M3 Spacer [For Raspberry Pi and Ramps] 12 x M5 10mm [For Plate] 12 x M5 Nuts 20 x M3 30mm 4 x M4 45mm 4 x M4 Nuts
Electrical
1 x Control Board: Arduino Mega 2560 1 x Control Shield: Ramps 1.4 Board 1 x Display Board: Reprap Full Graphic Controller LCD 1 x Raspberry Pi: Raspberry Pi 2 B 1 x Camera: Raspberry Camera 2 x Servo Tower Pro SG9S 2 x Step Motor: NEMA 17 - Phase: 4, Step Angle: 1.8 Deg/Step, Holding Torque: 2.6Kg.cm 3 x Temperature Sensor 2 x 2 Watt LED Lamp Power Requirements: DC 12 V, 1.4 Amps or Lithium Polymer Battery Connectivity: USB, SD Card, Wi-Fi (Web-based)
Thanks for watching!........Coming soon!........Updating......
Zalophus's DesignHouse: http://zalophus.tistory.com/ and https://zddh.blogspot.com/
CapBot_Spacer_-_BCT_r02a.stl
9.46 KB
CapBot_BackPlate_-_BCT_r02a.stl
50.3 KB
CapBot_TopPlate_Rear_-_BCT_r02a.stl
124 KB
CapBot_Wheel_Adaptor_-_BCT_r02a.stl
522 KB
CapBot_Gear_Pinion_13T_-_BCT_r02a.stl
150 KB
CapBot_BottomPlate_Front_-_BCT_r02a.stl
57.1 KB
CapBot_SidePlate_Right_-_BCT_r02a.stl
39.3 KB
CapBot_MotorMountPlate_Bearing_-_BCT_r02a.stl
51.3 KB
CapBot_3WLEDMount_-_BCT_r02a.stl
72 KB
CapBot_FrontPlate_-_BCT_r02a.stl
40.5 KB
CapBot_TopPlate_Spacer_-_BCT_r02a.stl
4.18 KB
CapBot_MotorMountPlate_Mid_-_BCT_r02a.stl
41.9 KB
CapBot_SidePlate_Left_-_BCT_r02a.stl
39.3 KB
CapBot_BottomPlate_Rear_-_BCT_r02a.stl
108 KB
CapBot_TopPlate_Front_-_BCT_r02a.stl
86.8 KB
CapBot_Gear_Drive_43T_-_BCT_r02a.stl
501 KB