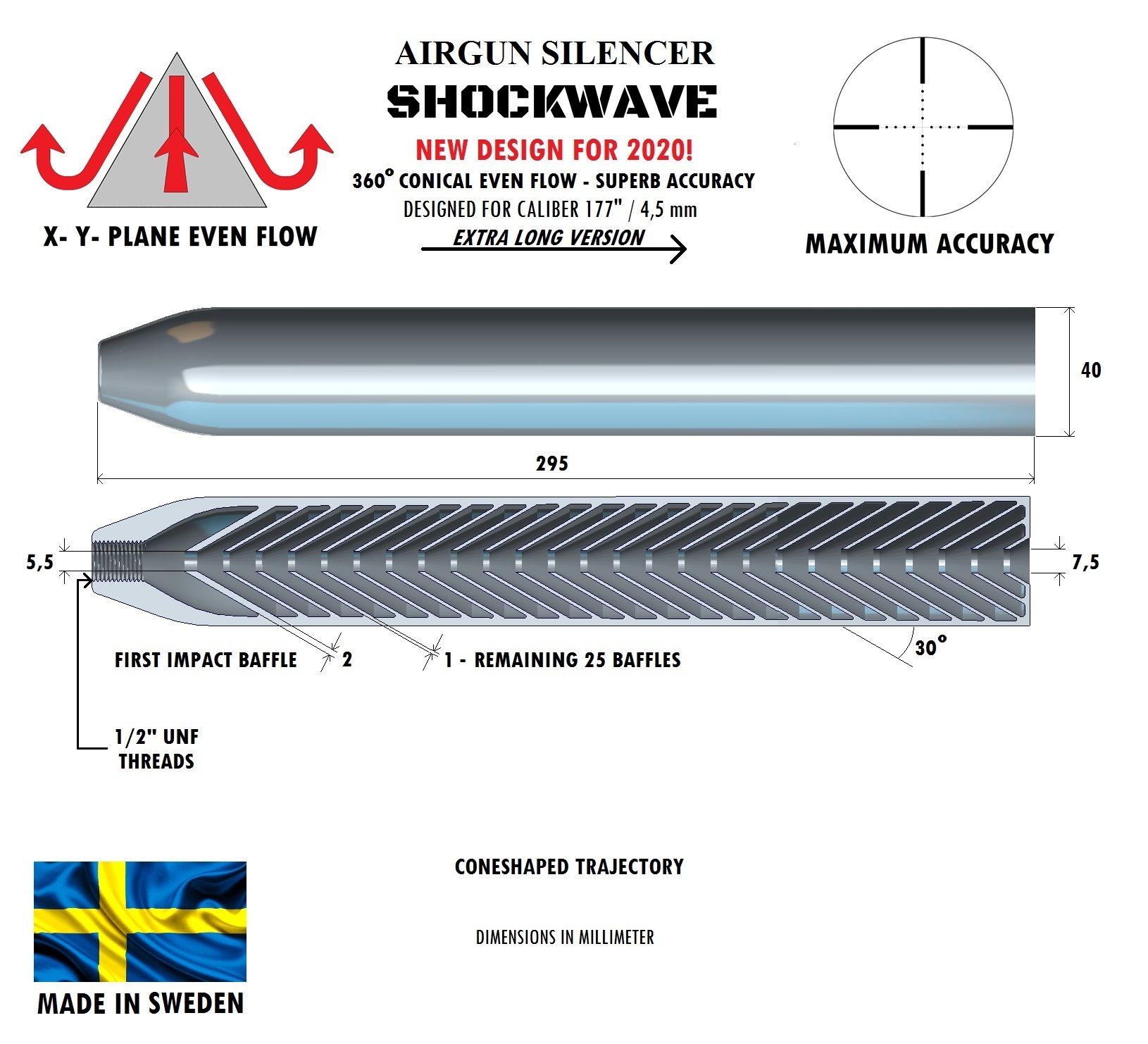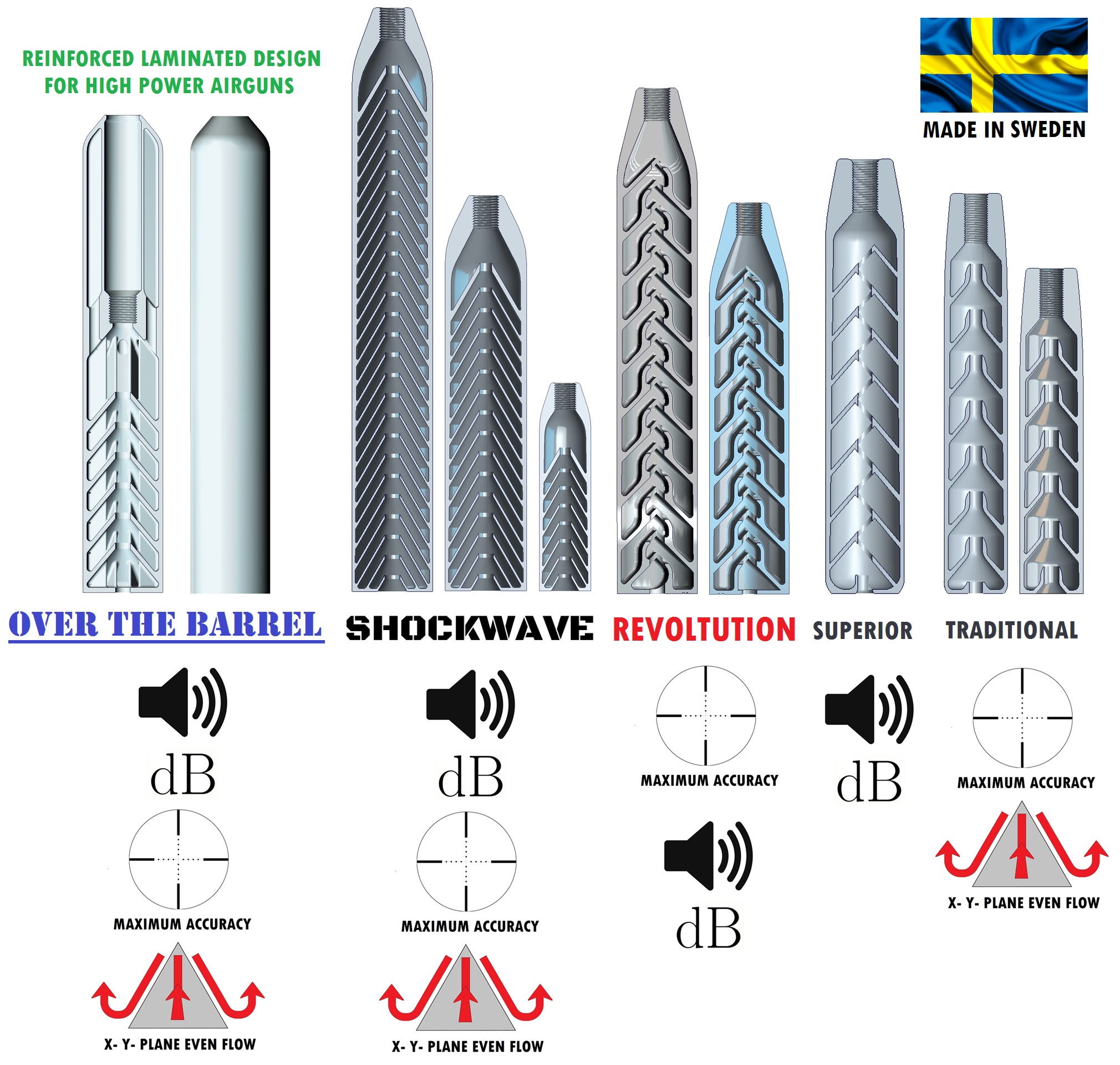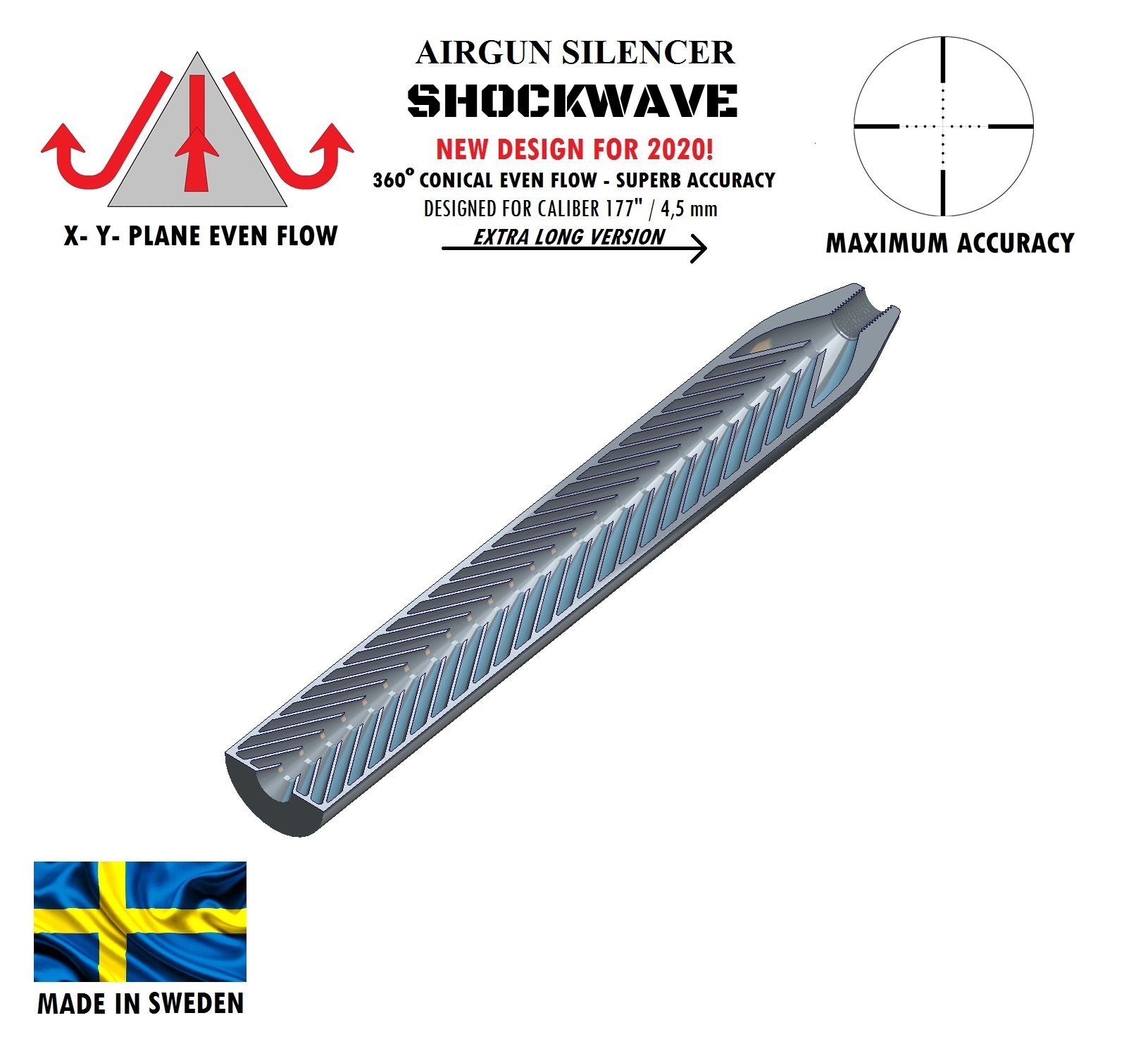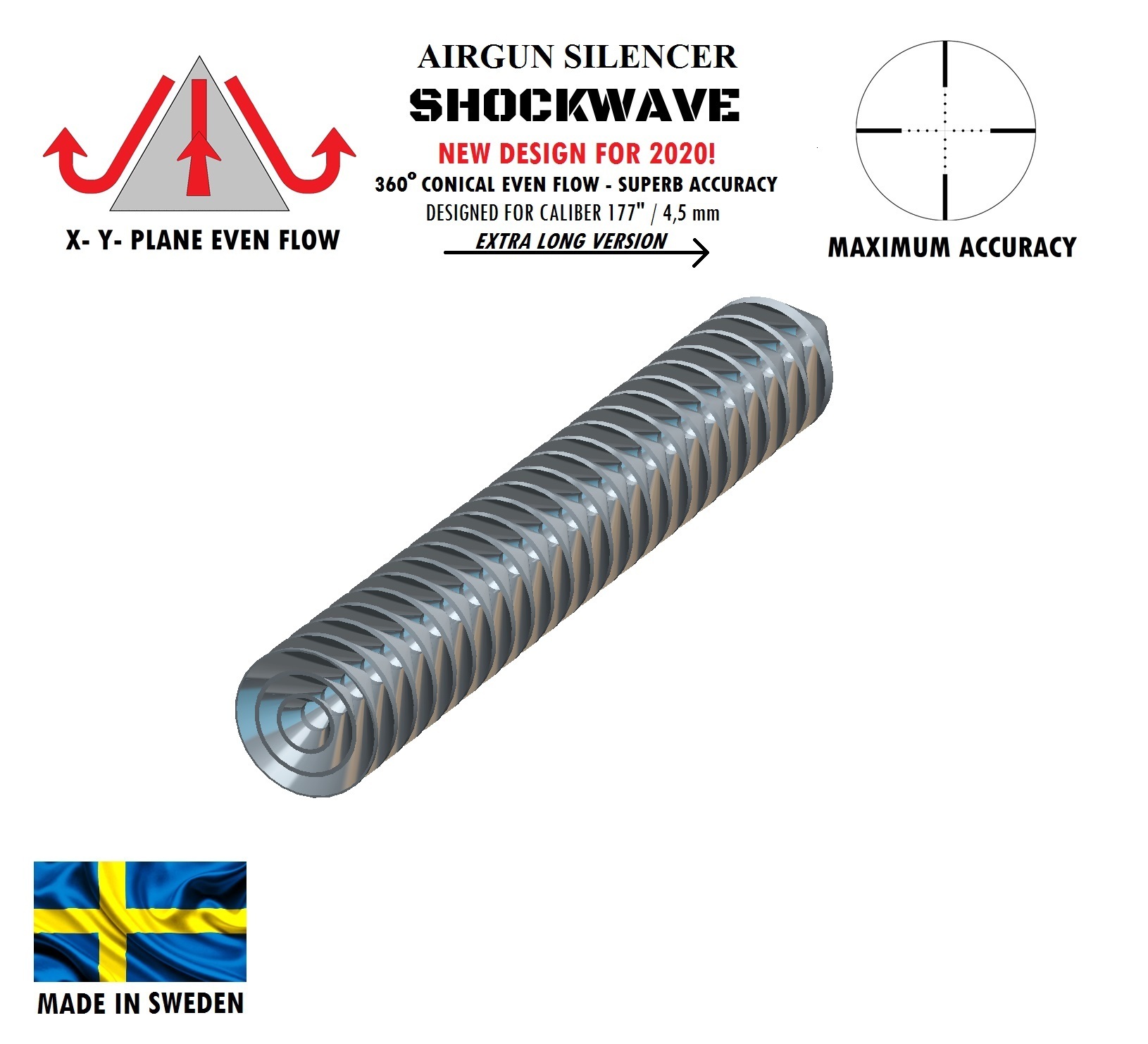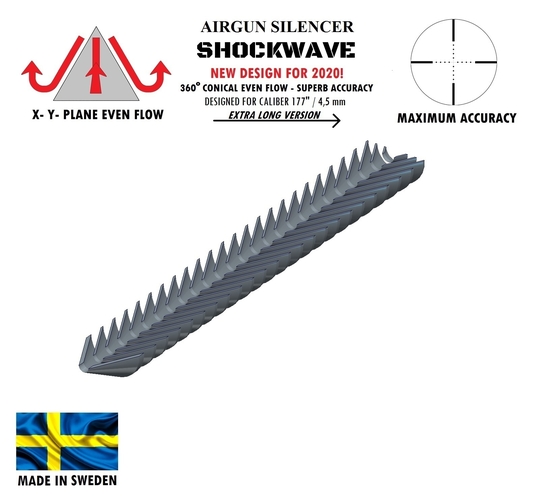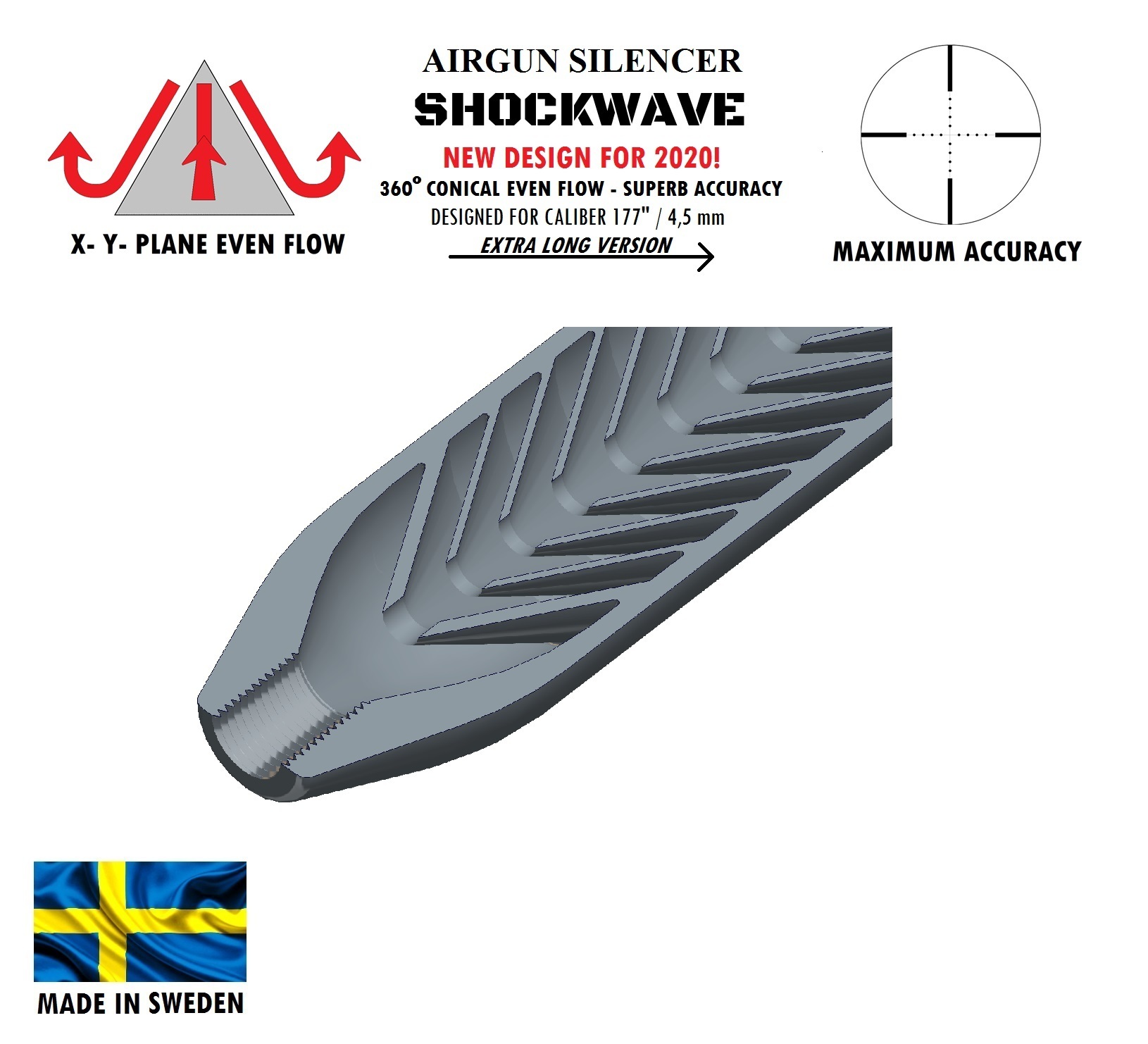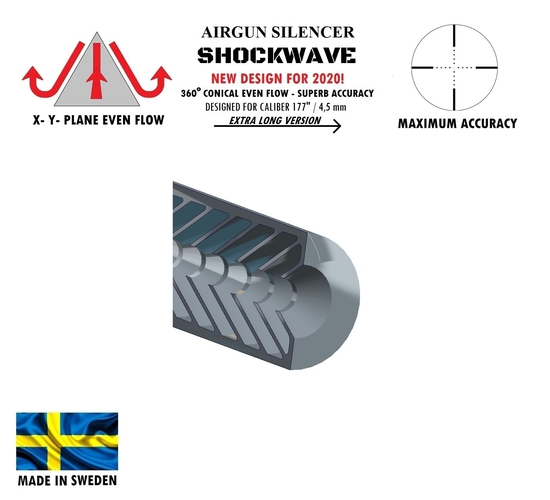 No Prints Yet

Be the first to upload a Print for this Design!
NEW SILENCER DESIGN FOR 2020! We are happy to present our new silencer "SHOCKWAVE" with unmatched accuracy and superb noise dampening results. The tight packed 60 degrees baffles are developed for subsonic airgun ammunition that effectively slow down the shockwaves. In the longer versions its not unusual to hear two or even three small "poof" when fired because of how the Shockwave silencer portion out the air with such efficiency and resistance to the air and how the great volume "swallows" the dispatched total air volume.
The Shockwave silencer are available in different calibers, length and diameters:
.177" / 4,5 mm .22" / 5,5 mm .25" / 6,35 mm .30" / 7.62 mm
Lengths and diameters:
295 mm x 40 mm (Extra long) 195 mm x 40 mm (Normal length) 120 mm x 30 mm (Shortened length)
Fully functional, 1-piece strong and dependable construction with superior sound moderating characteristics and repeatable accuracy.
Improvements:
·         The 1/2 - 20 UNF thread is improved and is ready to be directly screwed on the barrel after 3D-printing – cleaning with plug tap is not necessary. Screw the silencer on and off five times and the threads are settled in and airtight. Do use recommended 3D-printer settings for this.
·         The inner hole / trajectory is coneshaped that insures no impacts while maintaining tight tolerances.
·         The surface of the silencer is smooth for easy spray-painting or attachment of lustreless "hockey tape" / black textile tape.
For best results when 3D-printning
Use a layer height of 0,1 – 0,15 mm.
Set the printerhead velocity to maximum 40 mm/sec, for decreased vibrations.
Suitable printing materials: PLA tough or regular PLA.
The silencer must be printed with the exit hole downwards and the threads up.
Do not use supports. The angle of the baffles are 60 degrees, the overhang is well within limitations.
If your printer has build plate adhesion problems, use a brim.
shockwave_295_177_45.stl
60.5 MB