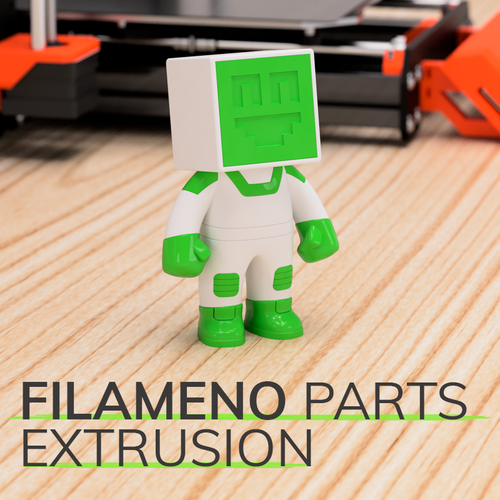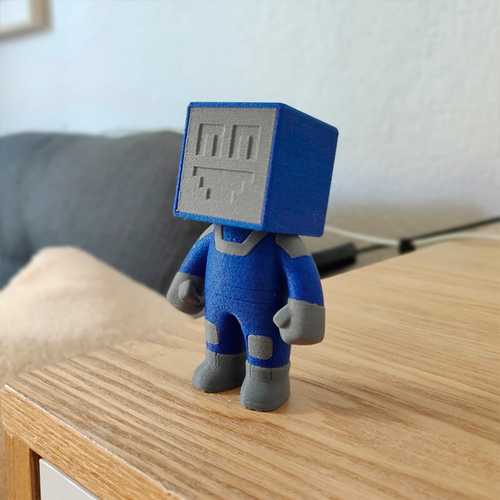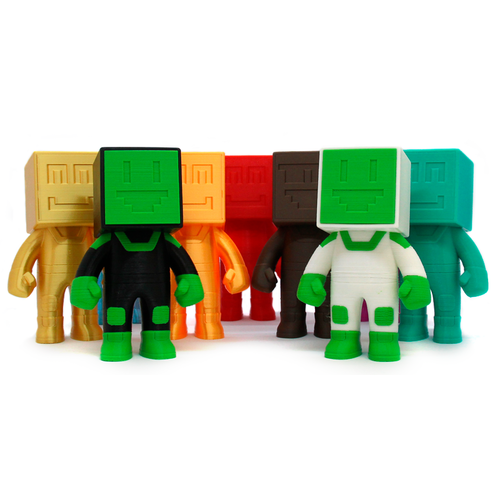 No Prints Yet

Be the first to upload a Print for this Design!
Filameno: la mascota de impresoras3d.com!!
Filameno es la mascota del portal web referente de Impresoras 3D en España.
Esta versión de Filameno está por partes, esto quiere decir que puedes imprimir por separado, las manos, las botas, la cabeza, la cara, e imprimir sus conectores para unir las piezas.
Filameno por partes es ideal para intercambiar los distintos estados de ánimo de Filameno, para cambiarle el color de las piezas, o para hacer un Filameno Gigante!
Su diseño es obra del diseñador @Flowalistik Su nombre fue elegido por toda la comunidad de impresoras3d.com que, mediante propuestas y posteriores votaciones, eligió Filameno como nombre.
Para darle vida, puedes utilizar Filamento PLA, Filamento PETG, Filamento Flexible o cualquier otro tipo de Filamento para Impresora 3D
Gracias a todos los que habéis puesto nombre a Filameno! Ahora que está inscrito en el registro civil, todos podéis descargarlo !! :)
Filameno: the impresoras3d.com pet !!!
Filameno is the reference web portal mascot in 3D printing impresoras3d.com
This version of Filameno is in parts, this means that you can print separately, hands, boots, head, face, and print their connectors to join the pieces.
Filameno by parts is ideal to exchange the different moods of Filameno, to change the color of the pieces, or to make a giant Filameno!
Its design is the work of the designer @Flowalistik Filameno's name was chosen by the entire community of impresoras3d.com who, through proposals and subsequent voting, chose Filameno as his name.
Thanks to all who have named Filameno! Now that it is registered in the civil registry, everyone can download it! :)
Enjoy!
Face Happy Kiss_impresoras3d_Filameno_dualextrusion.stl
319 KB
Face Glasses Smile_impresoras3d_Filameno_dualextrusion.stl
320 KB
Impresoras3d_Filameno_singleextrusionsplit_boot2.stl
2.44 MB
Impresoras3d_Filameno_singleextrusionsplit_hand2.stl
5.53 MB
Impresoras3d_Filameno_singleextrusionsplit_head.stl
1000 KB
Face Normal Smile_impresoras3d_Filameno_dualextrusion.stl
291 KB
Face Happy Laugh_impresoras3d_Filameno_dualextrusion.stl
336 KB
Face Normal Kiss_impresoras3d_Filameno_dualextrusion.stl
283 KB
Face Normal Laugh_impresoras3d_Filameno_dualextrusion.stl
301 KB
Impresoras3d_Filameno_singleextrusionsplit_connector.stl
56.9 KB
Impresoras3d_Filameno_singleextrusionsplit_body.stl
9.1 MB
Impresoras3d_Filameno_singleextrusionsplit_boot1.stl
2.44 MB
Impresoras3d_Filameno_singleextrusionsplit_hand1.stl
5.53 MB
Face Happy Smile_impresoras3d_Filameno_dualextrusion.stl
291 KB
Face Glasses Laugh_impresoras3dFilameno_dualextrusion.stl
329 KB
Face Glasses Kiss_impresoras3d_Filameno_dualextrusion.stl
310 KB