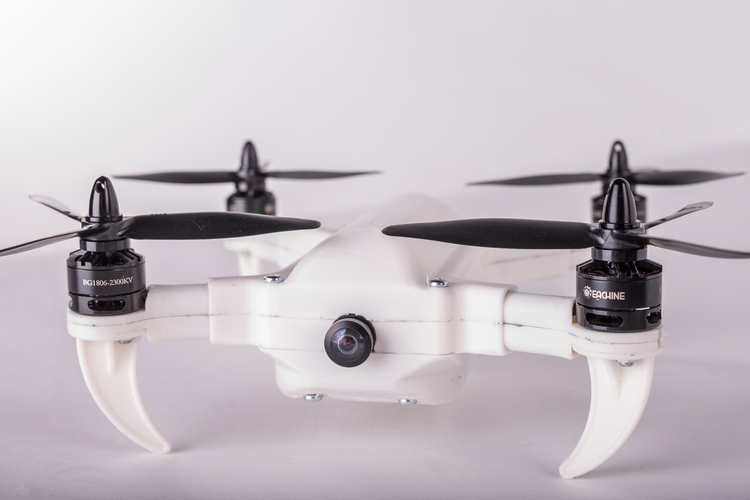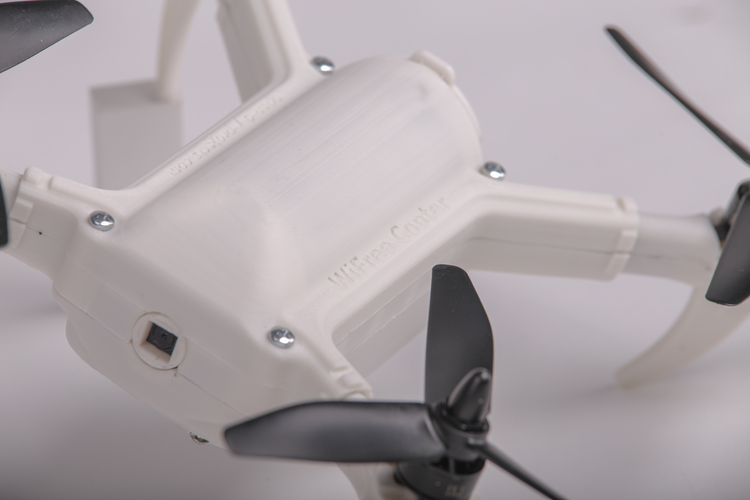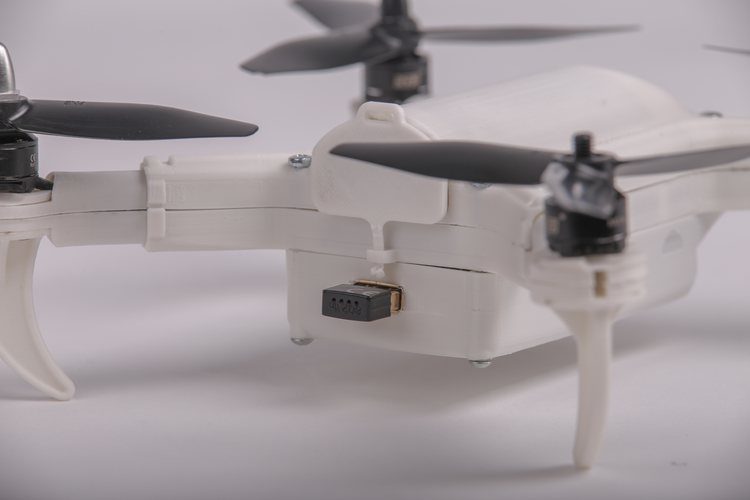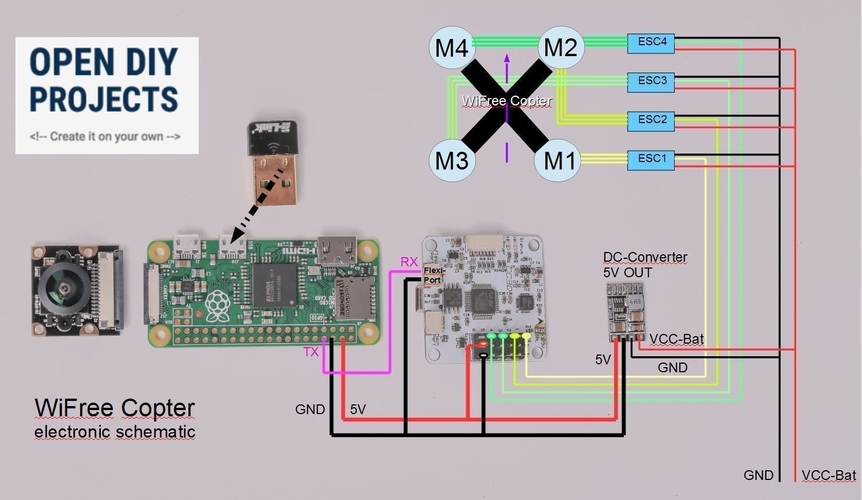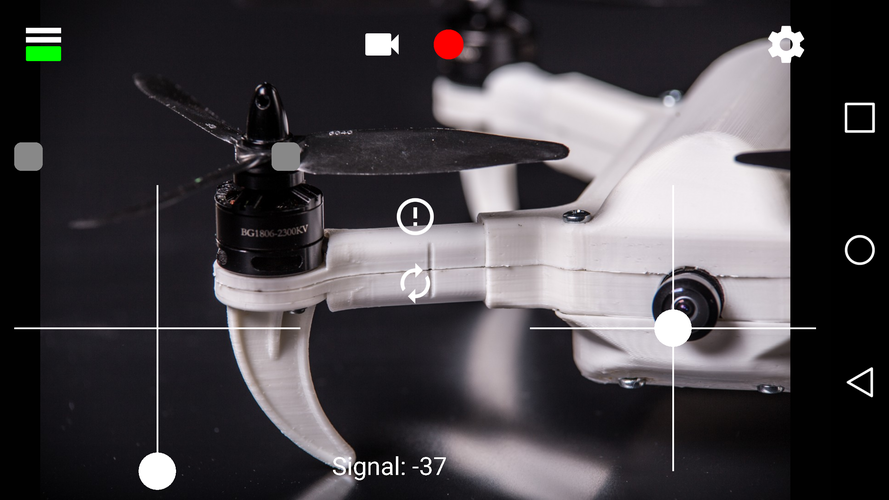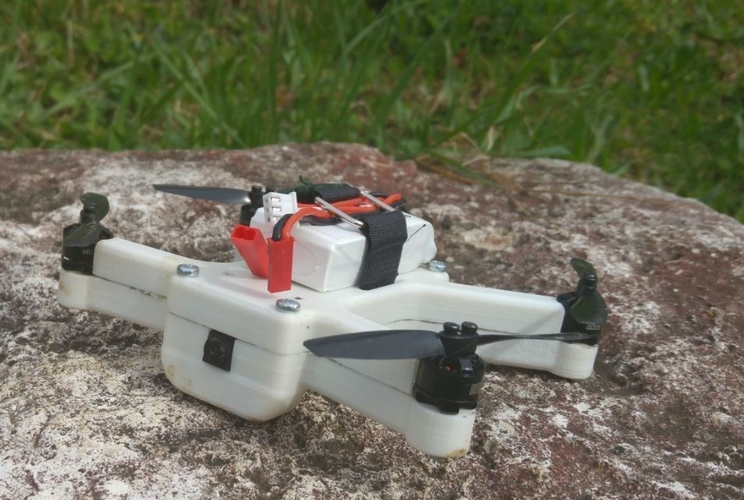 No Prints Yet

Be the first to upload a Print for this Design!
WiFree Copter www.open-DIY-projects.com / https://youtu.be/A6Zq8fR1DmM
Description in few words: the WiFree Copter is a 100% 3D-printing Copter, with a Raspbeery Zero and a small flightcontroller inside, controlled by WiFe incl. Live broadcast by Android Smartphone. based on DIY!
Here are the WiFree Project: http://open-diy-projects.com/wifree-copter/ Here the Android APP: http://open-diy-projects.com/topic/die-android-app/ Here the IMAGE for Rasp:http://open-diy-projects.com/topic/raspberry-pi-image-installation-und-verkabelung
Technical information: WiFree Copter – Frame 100% 3D printed HighTemp PLA – Motors Eachine BG1306 3100KV – ESC BLHeli20A OneShot 125 OPTO 2-4s – propeller 5" for example 3x5×4 – FLightcontroller CC3D (or Naze32....) – Raspberry Zero or Raspberry A+ uor B+ (the Frame is desigend for all!) – Raspberry Cam (all versions) – min Wlan dongle – 5V DC/DC converter (for Flightcontroller and Rasp.) – Battery 2S/ 850mAh
– Weight without Battery 238g, (Weight with Battery 290g (SLS 850mAh 2S) ) Flighttime around 8min!
Introduction: We often hear: "I want to build a well Copter what I need for this and what does it cost?"
Our experience shows that a homemade Copter with all accessories, such as remote control, receiver, camera equipment, etc., need a lot of time and also some devouring money. build a Copter, is usually a very complex matter. However, a finished, cheaper toy copter has nothing in common with model and a learning effect. Such ends but usually after a short time as an expensive resource in waste.
The WiFree Copter is the best proof of what the open-DIY-idea can be realized! Here we would allow technology enthusiasts to build a new Copter, which is controlled using a smartphone. The special feature is, we have a WiFe Live-broadcast on the Smartphone screen too! Here, all the technologies are combined - from 3D printing, electrical engineering, a Rasperry Pi and a smartphone app through to Copter control.
The idea behind it is a modular basic concept, we want to ensure that young people, technology enthusiasts, Copter beginners, students and schools across technologies enable fun tinkering and learning to enable. Therefore all the technical information, drawings, print data and sourcing list and describe. Our discussion forum is a platform for ideas, questions and enhancements are available, here we welcome any active support!
As flight controllers can be the popular Flight controllers, as they are already installed in various Coptern be used: either a Naze32, a CC3D or Flip32. The controller receives the control signals from Rasperry and regulates the stabilization of the various flight modes and Copters.
The mechanics and the 3D printed frame is completely closed - thus the electronics inside is protected. At the same time, each part of the frame can be replaced in the near future without solving only a solder joint or connection! As filament, we focus on high temperature resistant PLA H-T.
The smartphone app and the operating system of Rasperrys allows to controll all axes of the copters and stream the Live-FPV of the copters. In Rasperry on the SD card specially programmed operating system benefits based on Linux, which automatically connects the WiFi connection of the smartphone with the electronics, and the camera image is processed, digitized and transmits via the WiFi signal.