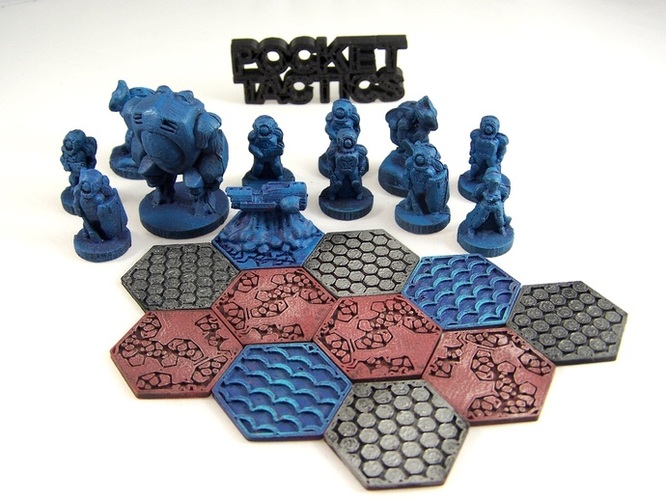 No Prints Yet

Be the first to upload a Print for this Design!
DOMINION STRIKE FORCE 
Acting as stewards over the trans-reality causeways, the militaristic force known as the Dominion polices many of the known worlds, protecting universal stability and punishing those who compromise it. Having lost their own world long ago to the effects of branar disintegration, the Dominion is now a multi-cultural melting pot, employing individuals from the far-flung reaches of the Multiverse who are dedicated to preserving order. 
TACTICS: The Dominion Strike Force boasts a solid blend of support and speed. Dominion units help one another across the map until they are in better position for tactical strikes, all the while holding a strong defense against ranged assaults.
Introducing Pocket-Tactics! A fast-paced, modular strategy board game that all fits in a tiny bag! This expansion provides a new faction that can be played against any of the current sets. The unit stat sheets and special rules pdf for this faction can be found here, though for the full rules sheet, visit either of the starter sets here: https://pinshape.com/items/583-3d-printed-pocket-t... or here: https://pinshape.com/items/467-3d-printed-dominion...
Instructions 
Printed in halves at a layer height of .10 and 10% infill. Models were assembled with superglue and painted with model acrylics.
pocket-tactics_united_separatist_militia.zip/pocket-tactics_united_separatist_militia/gunslinger.stl
737 KB
pocket-tactics_united_separatist_militia.zip/pocket-tactics_united_separatist_militia/militiaman.stl
2.1 MB
pocket-tactics_united_separatist_militia.zip/pocket-tactics_united_separatist_militia/colony.stl
586 KB
pocket-tactics_united_separatist_militia.zip/pocket-tactics_united_separatist_militia/separatist_tiles.stl
1.06 MB
pocket-tactics_united_separatist_militia.zip/pocket-tactics_united_separatist_militia/engineer.stl
586 KB
pocket-tactics_united_separatist_militia.zip/pocket-tactics_united_separatist_militia/turretmech.stl
180 KB
pocket-tactics_united_separatist_militia.zip/pocket-tactics_united_separatist_militia/freedom_fighter.stl
2.23 MB
pocket-tactics_united_separatist_militia.zip/pocket-tactics_united_separatist_militia/militia_sniper.stl
825 KB