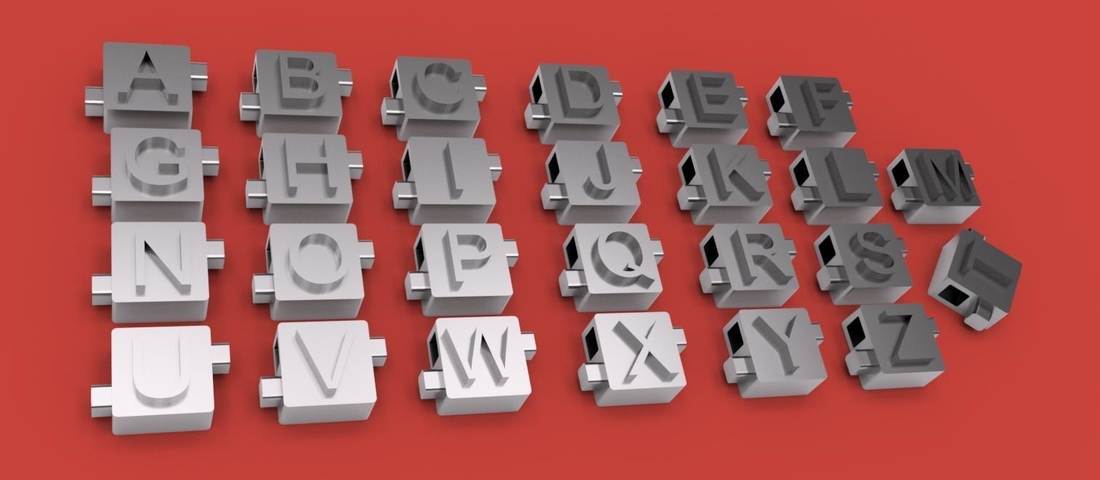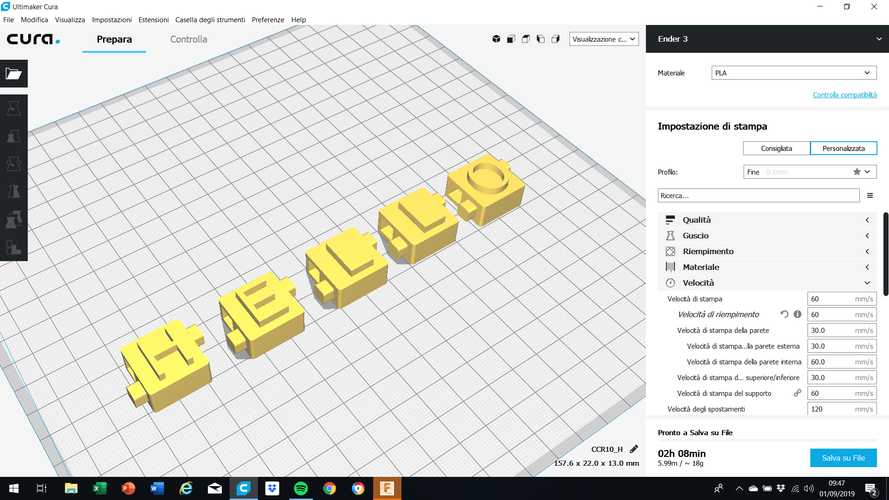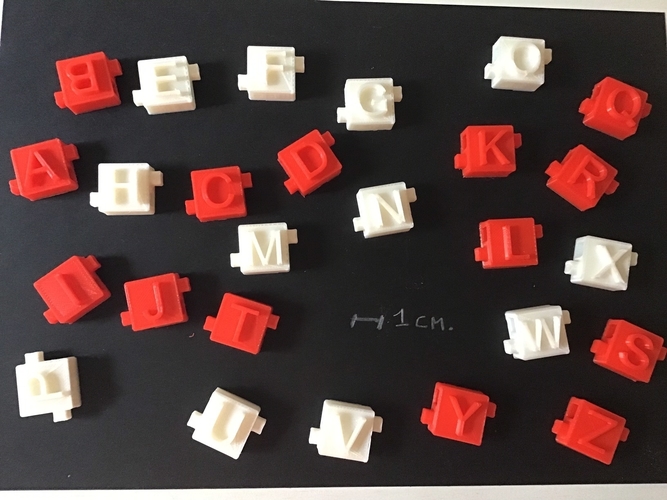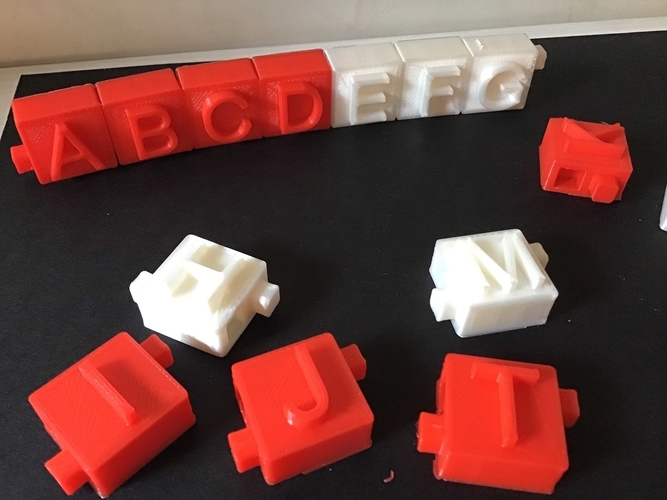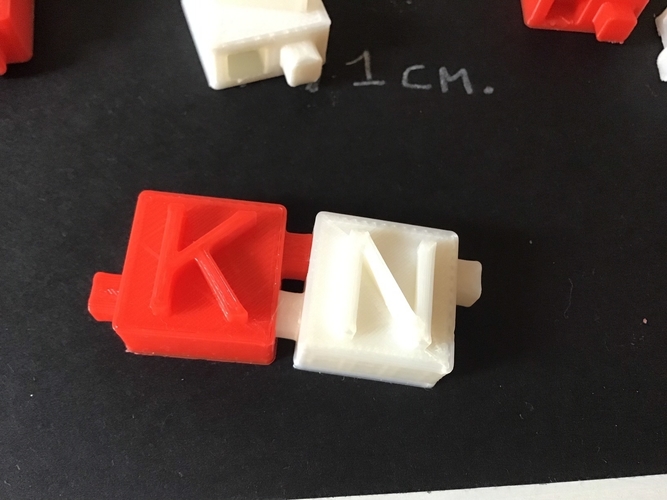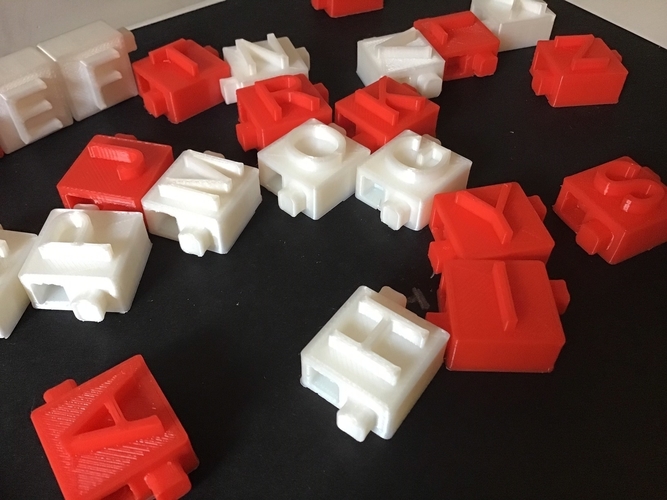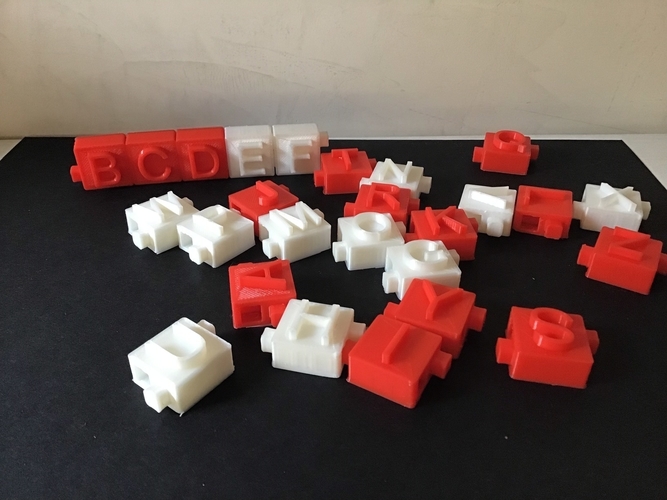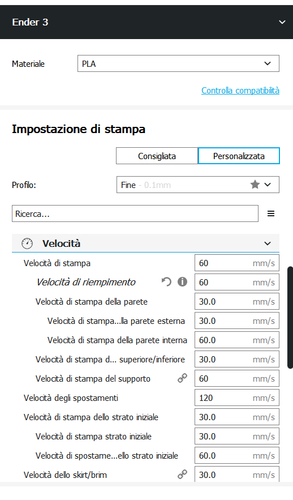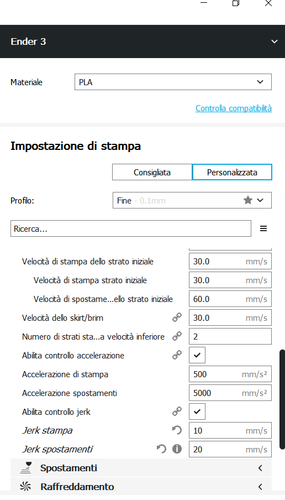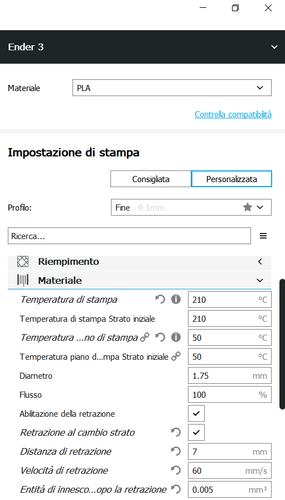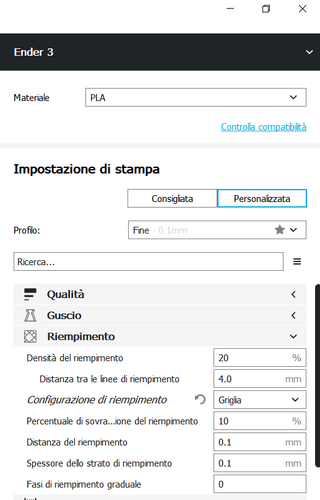 The zip file contains all the letters individually saved each as a .stl file plus a .stl file containing the entire alphabet.
The Alphabet.stl file, containing the entire alphabet, was printed with an Ender3, it can happen that, for the Delta printers, the image is too big, in this case the dimensions can be scaled. Created with Fusion 360
ATTENTION: depending on the printer and the type of filament used, there may be differences in measurements, I recommend,  printing before the free trial file that you find in the store
Have fun and good 3D printing!!!!
RackMultipart20190901-11579-1m130kx.zip/R.stl
60.8 KB
RackMultipart20190901-11579-1m130kx.zip/O.stl
75.5 KB
RackMultipart20190901-11579-1m130kx.zip/J.stl
55 KB
RackMultipart20190901-11579-1m130kx.zip/H.stl
43.6 KB
RackMultipart20190901-11579-1m130kx.zip/F.stl
43.2 KB
RackMultipart20190901-11579-1m130kx.zip/C.stl
70.6 KB
RackMultipart20190901-11579-1m130kx.zip/A.stl
45 KB
RackMultipart20190901-11579-1m130kx.zip/Q.stl
78.6 KB
RackMultipart20190901-11579-1m130kx.zip/N.stl
43.2 KB
RackMultipart20190901-11579-1m130kx.zip/M.stl
45.4 KB
RackMultipart20190901-11579-1m130kx.zip/K.stl
43.6 KB
RackMultipart20190901-11579-1m130kx.zip/I.stl
42.1 KB
RackMultipart20190901-11579-1m130kx.zip/ALPHABET.stl
1.36 MB
RackMultipart20190901-11579-1m130kx.zip/B.stl
68.2 KB
RackMultipart20190901-11579-1m130kx.zip/D.stl
59.8 KB
RackMultipart20190901-11579-1m130kx.zip/E.stl
43.6 KB
RackMultipart20190901-11579-1m130kx.zip/G.stl
70.6 KB
RackMultipart20190901-11579-1m130kx.zip/L.stl
42.5 KB
RackMultipart20190901-11579-1m130kx.zip/P.stl
57.1 KB
RackMultipart20190901-11579-1m130kx.zip/S.stl
80.2 KB
RackMultipart20190901-11579-1m130kx.zip/T.stl
42.9 KB
RackMultipart20190901-11579-1m130kx.zip/U.stl
57.1 KB
RackMultipart20190901-11579-1m130kx.zip/V.stl
44.2 KB
RackMultipart20190901-11579-1m130kx.zip/W.stl
48.5 KB
RackMultipart20190901-11579-1m130kx.zip/X.stl
46.8 KB
RackMultipart20190901-11579-1m130kx.zip/Y.stl
44.6 KB
RackMultipart20190901-11579-1m130kx.zip/Z.stl
44.2 KB