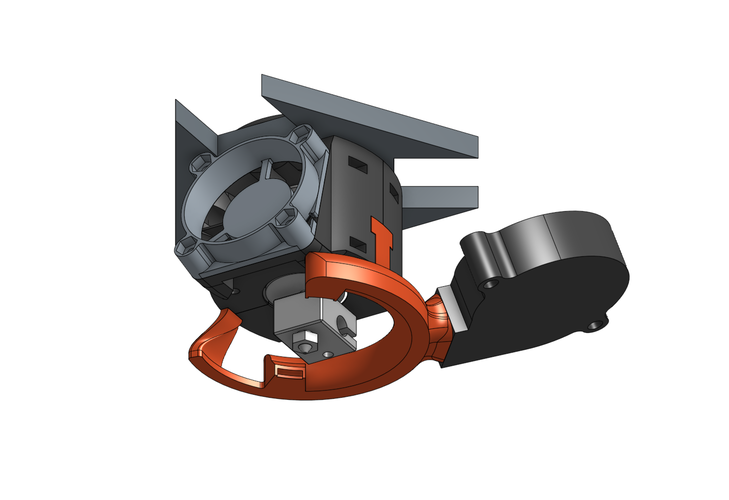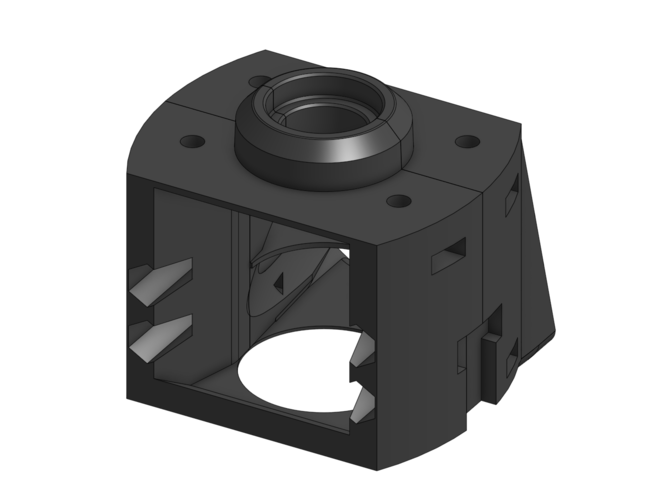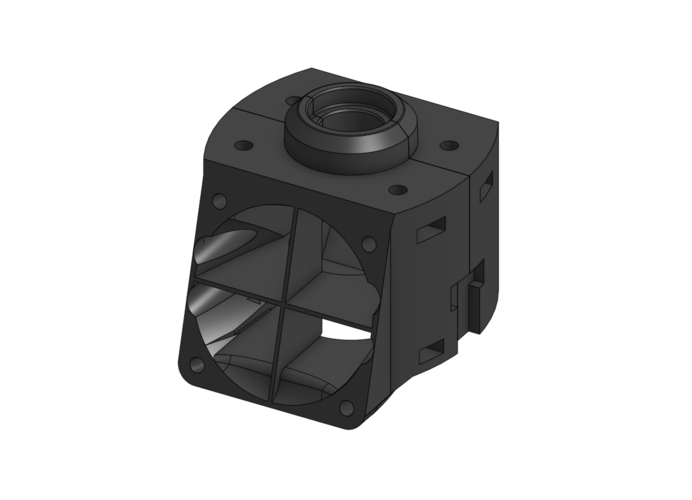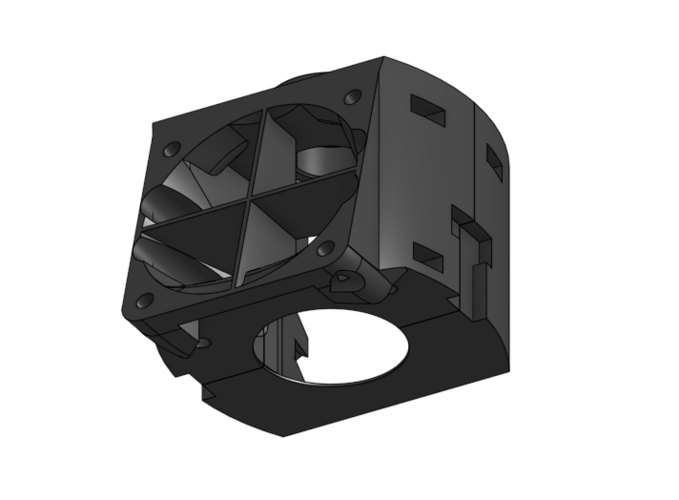 Licensed under GNU GPL v3
Source files will be provided on request, all rights are granted on purchase.
Tested and works good, sacrifices some volume (reduced max height) for better cooling performance. For now part cooler is compatible with 5015 radial coolers only. 4010 version is coming eventually (sooner if someone donates me some money so I can take another day off).
To assemble this one you'll need:
A machine capable of printing good quality ABS parts
10× M3 hex nuts
4× 16-20mm M3 bolts (to mount the cage to the effecor)
4× 8-25mm M3 bolts (to assemble the cage)
2× 6mm M3 bolts (to install magnetic probe plate)
2-4× M3 or M4 bolts to mount your 40mm fan (depends on your exact fan, should be 3-6mm longer than your fan holes depth)
Why ABS:
Because it is so much lighter and also wear- and heat- resistant.
How to orient:
I recommend orienting cage halves the way clamping part would face up.
How to assemble:
Mount the magnetic probe plate (it won't fit on later stages)
Insert the v6 hot end with heating block facing away from the probe plate, use heat gun to soften clamping parts of the cage if necessary
Screw the cage together, make sure there's no gaps
Insert the cage into the effector, you can cut it if it's too tight or add a shim or some pfte tape if it's too loose
Put the shim part on top of the effector and screw the cage to the effector
Clip on part cooler, you may prefer to glue your 5015 cooler to it for extra security
What is the point:
So you can reliably print PLA at 230°C and higher.
Some brands of PLA aren't optimized for high temperature printing. Even though PLA as a material can be extruded even at 300°C and does so awesomely, some filament softens at 60°C to the point of insta-clogging your hot end. Not only it makes printing at temperatures over 200°C unreliable, But it also makes it very likely to clog on excessive retractions.
And PLA looks great if printed at 230-250°C. Not only looks, but layer adhesion is also superb.
Hot end holder - Holder 2.stl
373 KB
Hot end holder - Shim.stl
1.24 MB
Hot end holder - Holder 1.stl
1.28 MB
Hot end holder - Cooler.stl
5.67 MB