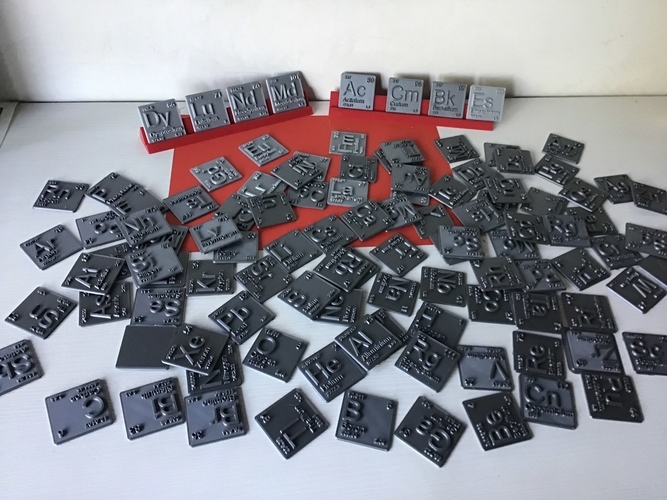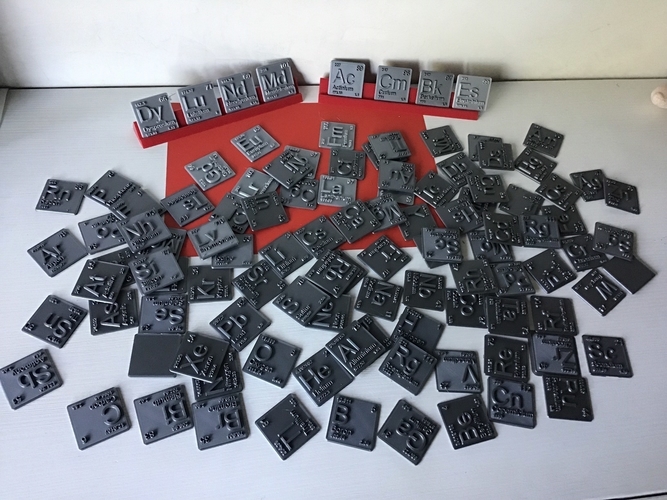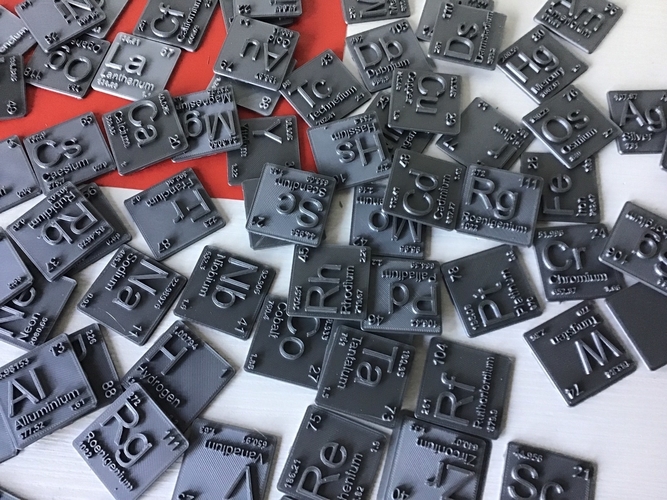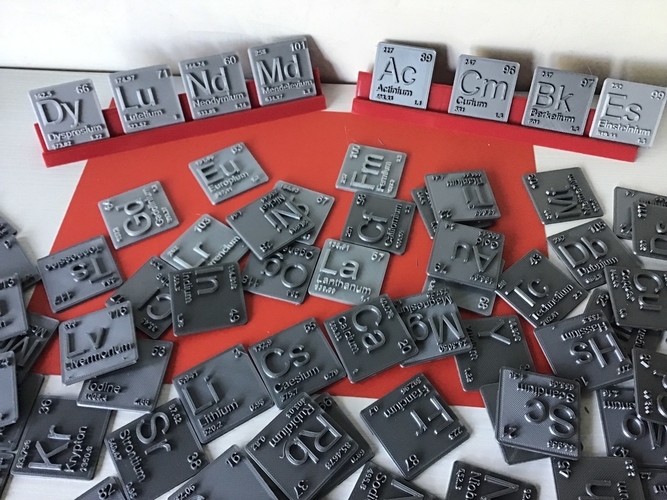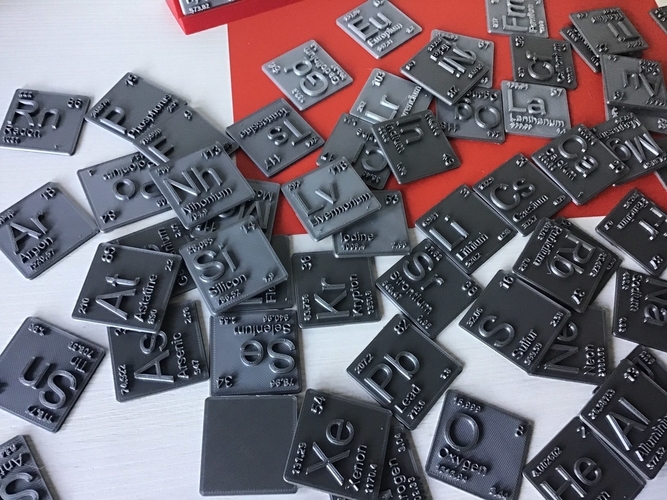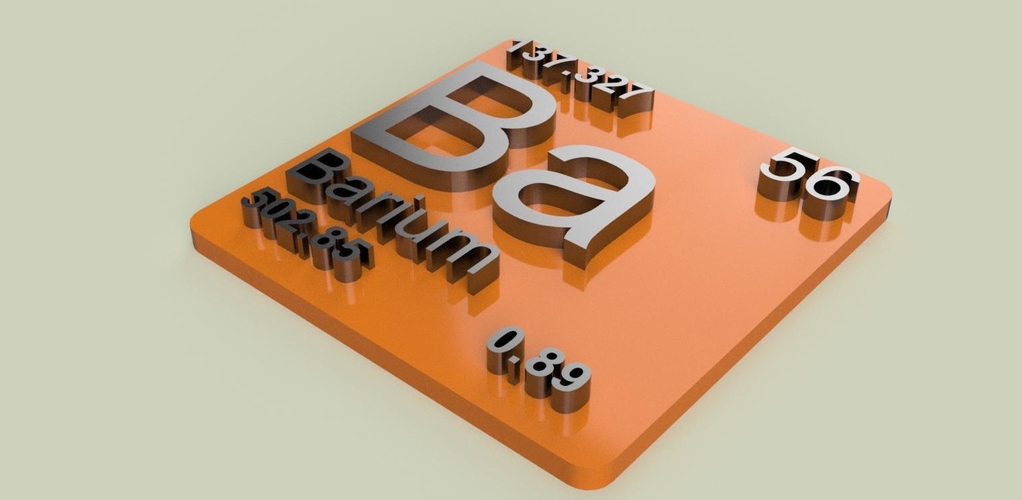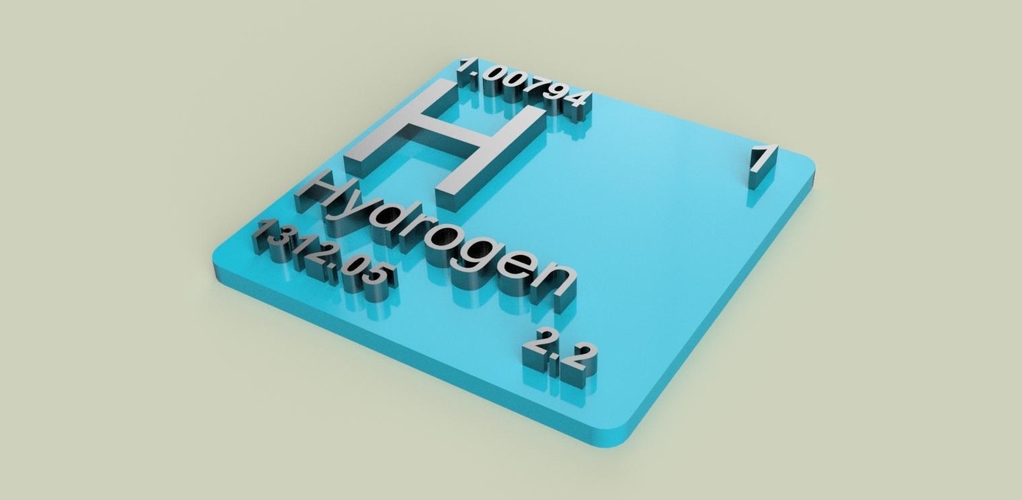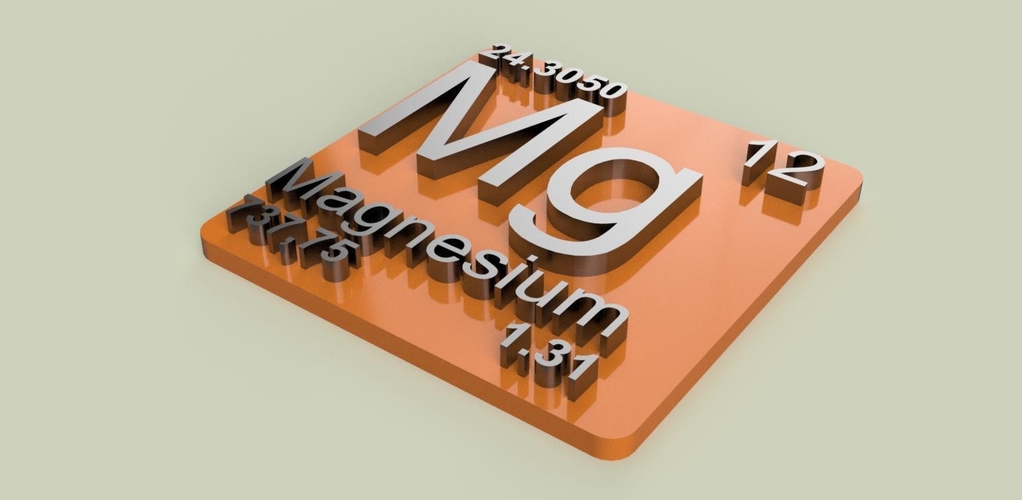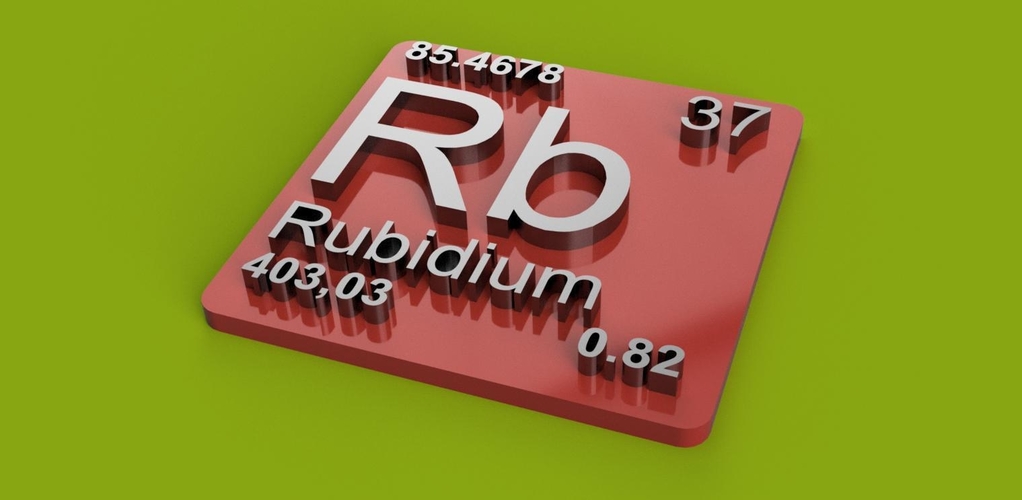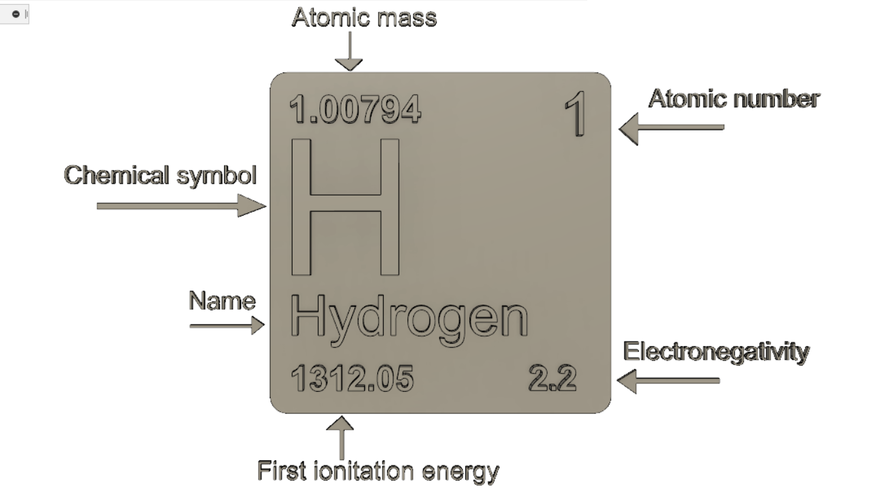 No Prints Yet

Be the first to upload a Print for this Design!
These 4 zip files contain all 118 elements of the periodic table each saved individually.
The periodic table is divided into four blocks and each zip file contains all the elements of one of the blocks.
A block of the periodic table is a set of chemical elements predominantly characterised by having their highest energy electrons in the same atomic orbital type.
Created with Fusion 360 Printed with Creality Ender 3
Have fun and good 3D printing!!!!
RackMultipart20190619-5962-1roev3a.zip/tantalum.stl
293 KB
RackMultipart20190619-5962-1roev3a.zip/roentgenium.stl
286 KB
RackMultipart20190619-5962-1roev3a.zip/rhenium.stl
307 KB
RackMultipart20190619-5962-1roev3a.zip/radium.stl
361 KB
RackMultipart20190619-5962-1roev3a.zip/oxygen.stl
315 KB
RackMultipart20190619-5962-1roev3a.zip/osmium.stl
334 KB
RackMultipart20190619-5962-1roev3a.zip/oganessum.stl
310 KB
RackMultipart20190619-5962-1roev3a.zip/nitrogen.stl
279 KB
RackMultipart20190619-5962-1roev3a.zip/neptunium.stl
296 KB
RackMultipart20190619-5962-1roev3a.zip/mendelevium.stl
316 KB
RackMultipart20190619-5962-1roev3a.zip/meitnerium.stl
304 KB
RackMultipart20190619-5962-1roev3a.zip/lead.stl
263 KB
RackMultipart20190619-5962-1roev3a.zip/lawrencium.stl
265 KB
RackMultipart20190619-5962-1roev3a.zip/iodine.stl
279 KB
RackMultipart20190619-5962-1roev3a.zip/hydrogen.stl
274 KB
RackMultipart20190619-5962-1roev3a.zip/gold.stl
274 KB
RackMultipart20190619-5962-1roev3a.zip/francium.stl
301 KB
RackMultipart20190619-5962-1roev3a.zip/flerovium.stl
153 KB
RackMultipart20190619-5962-1roev3a.zip/dubnium.stl
275 KB
RackMultipart20190619-5962-1roev3a.zip/curium.stl
248 KB
RackMultipart20190619-5962-1roev3a.zip/chromium.stl
342 KB
RackMultipart20190619-5962-1roev3a.zip/carbon.stl
325 KB
RackMultipart20190619-5962-1roev3a.zip/caesium.stl
349 KB
RackMultipart20190619-5962-1roev3a.zip/beryllium.stl
342 KB
RackMultipart20190619-5962-1roev3a.zip/berkelium.stl
238 KB
RackMultipart20190619-5962-1roev3a.zip/argon.stl
260 KB
RackMultipart20190619-5962-1roev3a.zip/thorium.stl
303 KB
RackMultipart20190619-5962-1roev3a.zip/tellurium.stl
285 KB
RackMultipart20190619-5962-1roev3a.zip/technetium.stl
264 KB
RackMultipart20190619-5962-1roev3a.zip/strontium.stl
360 KB
RackMultipart20190619-5962-1roev3a.zip/silicon.stl
318 KB
RackMultipart20190619-5962-1roev3a.zip/seaborgium.stl
355 KB
RackMultipart20190619-5962-1roev3a.zip/samarium.stl
370 KB
RackMultipart20190619-5962-1roev3a.zip/rubidium.stl
392 KB
RackMultipart20190619-5962-1roev3a.zip/rhodium.stl
299 KB
RackMultipart20190619-5962-1roev3a.zip/radon.stl
255 KB
RackMultipart20190619-5962-1roev3a.zip/promethium.stl
295 KB
RackMultipart20190619-5962-1roev3a.zip/potassium.stl
418 KB
RackMultipart20190619-5962-1roev3a.zip/platinum.stl
302 KB
RackMultipart20190619-5962-1roev3a.zip/palladium.stl
349 KB
RackMultipart20190619-5962-1roev3a.zip/nickel.stl
269 KB
RackMultipart20190619-5962-1roev3a.zip/neon.stl
273 KB
RackMultipart20190619-5962-1roev3a.zip/molybdenum.stl
350 KB
RackMultipart20190619-5962-1roev3a.zip/manganese.stl
352 KB
RackMultipart20190619-5962-1roev3a.zip/livermorium.stl
191 KB
RackMultipart20190619-5962-1roev3a.zip/lanthanum.stl
355 KB
RackMultipart20190619-5962-1roev3a.zip/krypton.stl
309 KB
RackMultipart20190619-5962-1roev3a.zip/iridium.stl
243 KB
RackMultipart20190619-5962-1roev3a.zip/helium.stl
272 KB
RackMultipart20190619-5962-1roev3a.zip/hassium.stl
291 KB
RackMultipart20190619-5962-1roev3a.zip/gadolinium.stl
341 KB
RackMultipart20190619-5962-1roev3a.zip/fermium.stl
249 KB
RackMultipart20190619-5962-1roev3a.zip/einsteinium.stl
305 KB
RackMultipart20190619-5962-1roev3a.zip/dysprosium.stl
373 KB
RackMultipart20190619-5962-1roev3a.zip/copernicium.stl
274 KB
RackMultipart20190619-5962-1roev3a.zip/chlorine.stl
266 KB
RackMultipart20190619-5962-1roev3a.zip/calcium.stl
362 KB
RackMultipart20190619-5962-1roev3a.zip/boron.stl
282 KB
RackMultipart20190619-5962-1roev3a.zip/bohrium.stl
228 KB
RackMultipart20190619-5962-1roev3a.zip/astatine.stl
286 KB
RackMultipart20190619-5962-1roev3a.zip/arsenic.stl
292 KB
RackMultipart20190619-5962-1roev3a.zip/actinium.stl
284 KB
RackMultipart20190619-5962-1roev3a.zip/alluminium.stl
303 KB
RackMultipart20190619-5962-1roev3a.zip/americium.stl
277 KB
RackMultipart20190619-5962-1roev3a.zip/antimony.stl
296 KB
RackMultipart20190619-5962-1roev3a.zip/barium.stl
396 KB
RackMultipart20190619-5962-1roev3a.zip/bismuth.stl
381 KB
RackMultipart20190619-5962-1roev3a.zip/bromine.stl
369 KB
RackMultipart20190619-5962-1roev3a.zip/cadmium.stl
315 KB
RackMultipart20190619-5962-1roev3a.zip/californium.stl
349 KB
RackMultipart20190619-5962-1roev3a.zip/cerium.stl
272 KB
RackMultipart20190619-5962-1roev3a.zip/cobalt.stl
358 KB
RackMultipart20190619-5962-1roev3a.zip/copper.stl
315 KB
RackMultipart20190619-5962-1roev3a.zip/darmstadium.stl
353 KB
RackMultipart20190619-5962-1roev3a.zip/erbium.stl
281 KB
RackMultipart20190619-5962-1roev3a.zip/europium.stl
250 KB
RackMultipart20190619-5962-1roev3a.zip/fluorine.stl
329 KB
RackMultipart20190619-5962-1roev3a.zip/gallium.stl
353 KB
RackMultipart20190619-5962-1roev3a.zip/germanium.stl
380 KB
RackMultipart20190619-5962-1roev3a.zip/hefnium.stl
282 KB
RackMultipart20190619-5962-1roev3a.zip/holmium.stl
330 KB
RackMultipart20190619-5962-1roev3a.zip/indium.stl
274 KB
RackMultipart20190619-5962-1roev3a.zip/iron.stl
268 KB
RackMultipart20190619-5962-1roev3a.zip/lithium.stl
248 KB
RackMultipart20190619-5962-1roev3a.zip/lutetium.stl
217 KB
RackMultipart20190619-5962-1roev3a.zip/magnesium.stl
359 KB
RackMultipart20190619-5962-1roev3a.zip/mercury.stl
322 KB
RackMultipart20190619-5962-1roev3a.zip/moscovium.stl
221 KB
RackMultipart20190619-5962-1roev3a.zip/neodymium.stl
308 KB
RackMultipart20190619-5962-1roev3a.zip/nihonium.stl
222 KB
RackMultipart20190619-5962-1roev3a.zip/niobium.stl
279 KB
RackMultipart20190619-5962-1roev3a.zip/nobelium.stl
283 KB
RackMultipart20190619-5962-1roev3a.zip/phosphorus.stl
337 KB
RackMultipart20190619-5962-1roev3a.zip/plutonium.stl
248 KB
RackMultipart20190619-5962-1roev3a.zip/polonium.stl
263 KB
RackMultipart20190619-5962-1roev3a.zip/praseo.stl
396 KB
RackMultipart20190619-5962-1roev3a.zip/protactinium.stl
363 KB
RackMultipart20190619-5962-1roev3a.zip/ruthenium.stl
268 KB
RackMultipart20190619-5962-1roev3a.zip/ruther.stl
289 KB
RackMultipart20190619-5962-1roev3a.zip/scandium.stl
403 KB
RackMultipart20190619-5962-1roev3a.zip/selenium.stl
378 KB
RackMultipart20190619-5962-1roev3a.zip/silver.stl
235 KB
RackMultipart20190619-5962-1roev3a.zip/sodium.stl
370 KB
RackMultipart20190619-5962-1roev3a.zip/sulfur.stl
349 KB
RackMultipart20190619-5962-1roev3a.zip/tennessine.stl
223 KB
RackMultipart20190619-5962-1roev3a.zip/terbium.stl
290 KB
RackMultipart20190619-5962-1roev3a.zip/thallium.stl
287 KB
RackMultipart20190619-5962-1roev3a.zip/thulium.stl
337 KB
RackMultipart20190619-5962-1roev3a.zip/tin.stl
272 KB
RackMultipart20190619-5962-1roev3a.zip/titanium.stl
284 KB
RackMultipart20190619-5962-1roev3a.zip/tungsten.stl
288 KB
RackMultipart20190619-5962-1roev3a.zip/uranium.stl
351 KB
RackMultipart20190619-5962-1roev3a.zip/vanadium.stl
340 KB
RackMultipart20190619-5962-1roev3a.zip/xenon.stl
203 KB
RackMultipart20190619-5962-1roev3a.zip/ytterbium.stl
289 KB
RackMultipart20190619-5962-1roev3a.zip/yttrium.stl
357 KB
RackMultipart20190619-5962-1roev3a.zip/zinc.stl
267 KB
RackMultipart20190619-5962-1roev3a.zip/zirconium.stl
278 KB