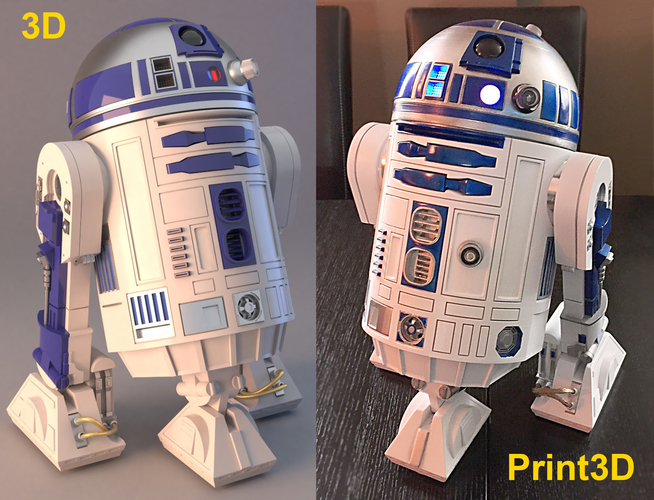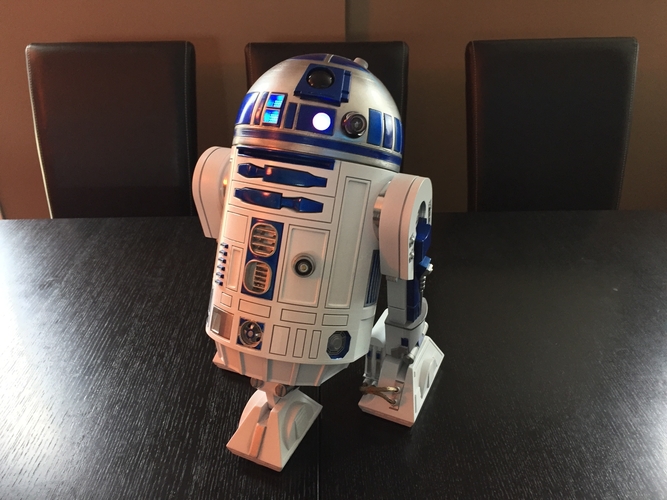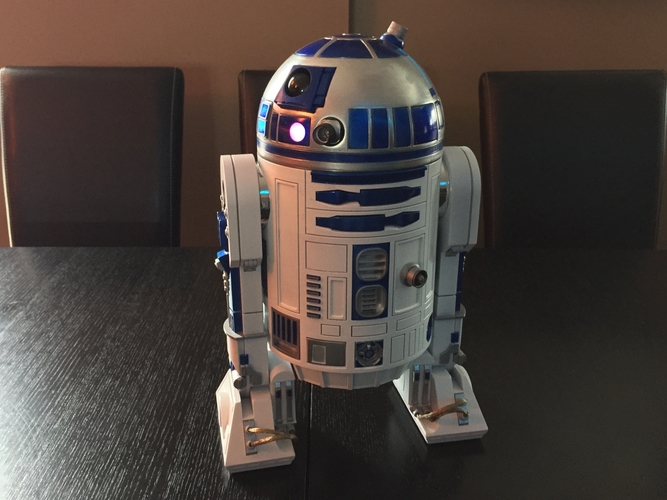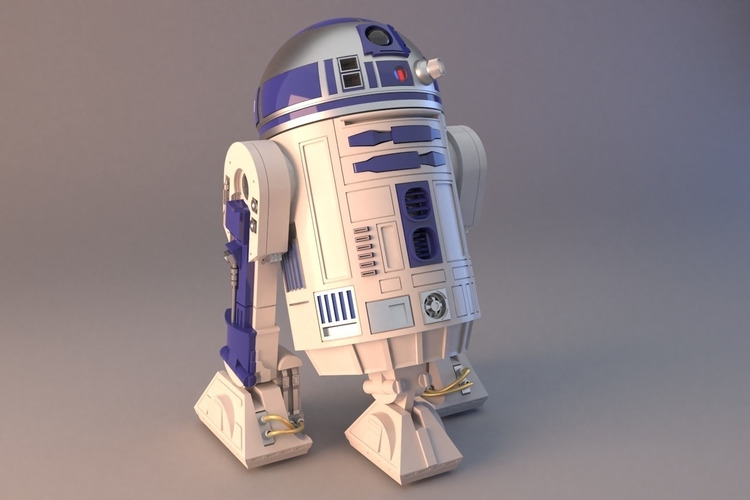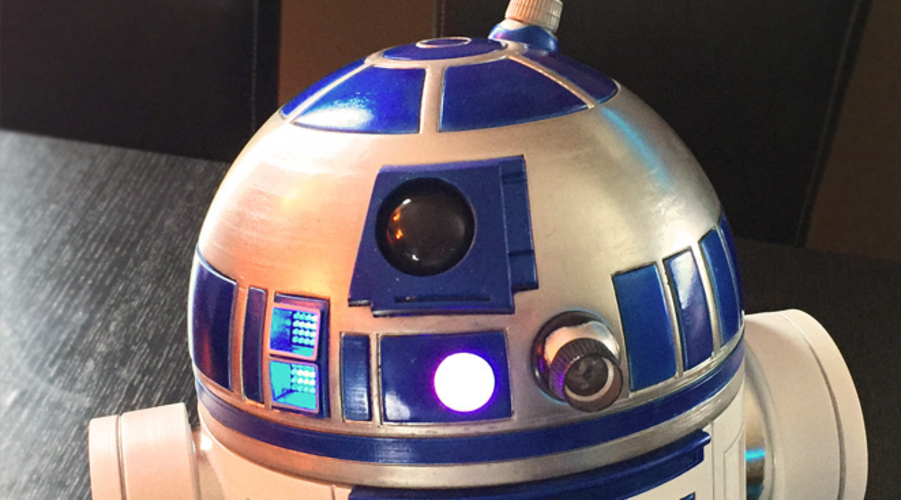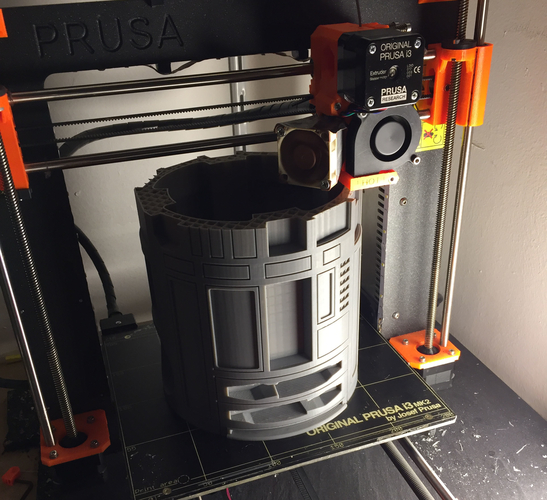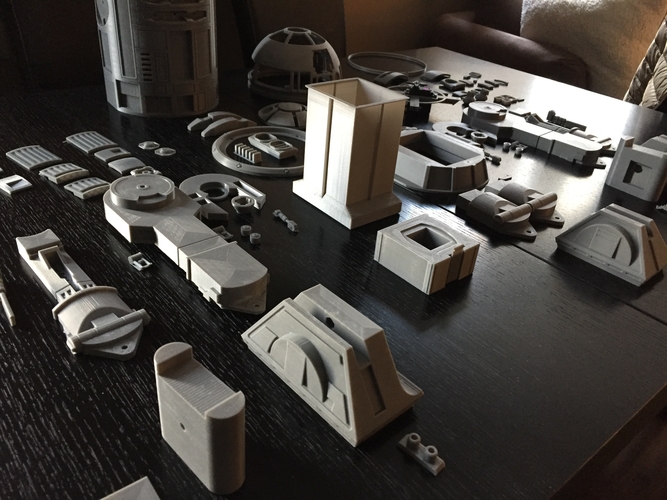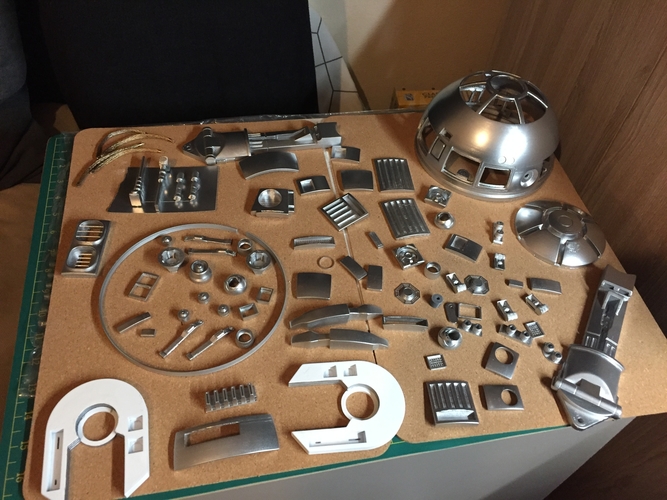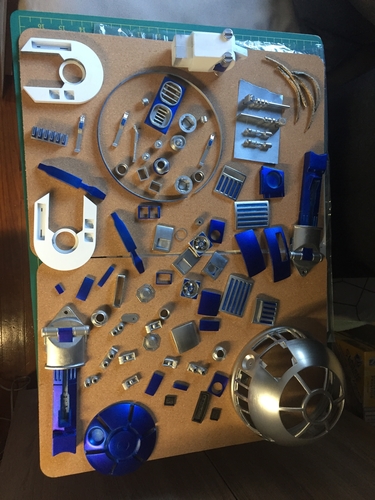 No Prints Yet

Be the first to upload a Print for this Design!
Build your own R2-D2: Here is my last original creation, A magnificent R2-D2 of very high quality, with all the details of R2D2 of 42 cm in its version a new hope 1977 (more exactly the scene where it reads the message of Princess Leia in the house of Obi Wan Kenobi). It has been specially designed for 3D printing. Possibility of enlarging .
All pieces of different colors are separated to paint each piece appropriately, unlike other models that are available for download.
Can be mounted without motor or L.E.D if desired
Printed in PLA and PLA Clear .
Better result by polishing with sandpaper 500/1000.
Paint with Spay Silver , Blue, White, varnish only on blue and white not on Silver.
A very detailed assembly instructions (PDF) with more than 40 illustrations for you step by step in the assembly of this magnificent Droïd.
The integral ARDUINO code and wiring diagram are provided and detailed for each L.E.D and servo motor.
I recommend printing in 0.1mm for perfect quality
Build volume minimum 20x20x20cm . ~1.4Kg PLA -Built for the purpose of integrating a servo motor for the head and L.E.D. -More than 72 R2D2 sound samples recovered directly from the 1977 New Hope Film are provided. Enjoy!
RackMultipart20190509-12814-1lgit18.zip/Kit Central foot slide.STL
763 KB
RackMultipart20190509-12814-1lgit18.zip/Jawa security bolt.STL
245 KB
RackMultipart20190509-12814-1lgit18.zip/LED BoXs Kit.STL
1000 KB
RackMultipart20190509-12814-1lgit18.zip/Kit Connection socket for 1 foot.STL
1.35 MB
RackMultipart20190509-12814-1lgit18.zip/Skirt.STL
392 KB
RackMultipart20190509-12814-1lgit18.zip/8xBearings.STL
2.59 MB
RackMultipart20190509-12814-1lgit18.zip/Dome Collar.STL
664 KB
RackMultipart20190509-12814-1lgit18.zip/Kit accessory silver for 1 leg.STL
2.65 MB
RackMultipart20190509-12814-1lgit18.zip/kit pieces for the body.STL
2.98 MB
RackMultipart20190509-12814-1lgit18.zip/Clear PLA_ KIT_EYE_LED windows_holoLens_etc.STL
2.67 MB
RackMultipart20190509-12814-1lgit18.zip/Tod of Dome blue.STL
4.47 MB
RackMultipart20190509-12814-1lgit18.zip/TOP LEG X 2.STL
6.45 MB
RackMultipart20190509-12814-1lgit18.zip/Big Body_no support.STL
8.96 MB
RackMultipart20190509-12814-1lgit18.zip/Trunnions Legs X4.STL
75.9 KB
RackMultipart20190509-12814-1lgit18.zip/Optional Support for HP_50mm.STL
123 KB
RackMultipart20190509-12814-1lgit18.zip/Support of SERVO MG996R in dome.STL
235 KB
RackMultipart20190509-12814-1lgit18.zip/Crown of ball bearing top of body.STL
335 KB
RackMultipart20190509-904-1a04a14.zip/Dome_With Support.STL
14.7 MB
RackMultipart20190509-904-1a04a14.zip/Center foot.STL
26.7 MB
RackMultipart20190509-12814-1lgit18.zip/Dome_no Support.STL
14.6 MB
RackMultipart20190509-12814-1lgit18.zip/Big Body_with support.STL
9.1 MB
RackMultipart20190509-12814-1lgit18.zip/LEFT_LEG.STL
9.06 MB
RackMultipart20190509-12814-1lgit18.zip/Right_LEG.STL
9.06 MB
RackMultipart20190509-12814-1lgit18.zip/KIT 2 Feets complet No need suport.STL
7.94 MB
RackMultipart20190509-12814-1lgit18.zip/Shoulders Right and left.STL
6.55 MB
RackMultipart20190509-12814-1lgit18.zip/Dome elements blue windows with support.STL
4.9 MB
RackMultipart20190509-12814-1lgit18.zip/Center Legg.STL
4.62 MB
RackMultipart20190509-12814-1lgit18.zip/Holographic projector X3.STL
3.88 MB
RackMultipart20190509-12814-1lgit18.zip/blue elements of the body.STL
159 KB
RackMultipart20190509-12814-1lgit18.zip/Servo motor receiver for body.STL
158 KB
RackMultipart20190509-12814-1lgit18.zip/2 bolts for 2 big feet.STL
143 KB
R2D2_Installation instructions.pdf
1.86 MB