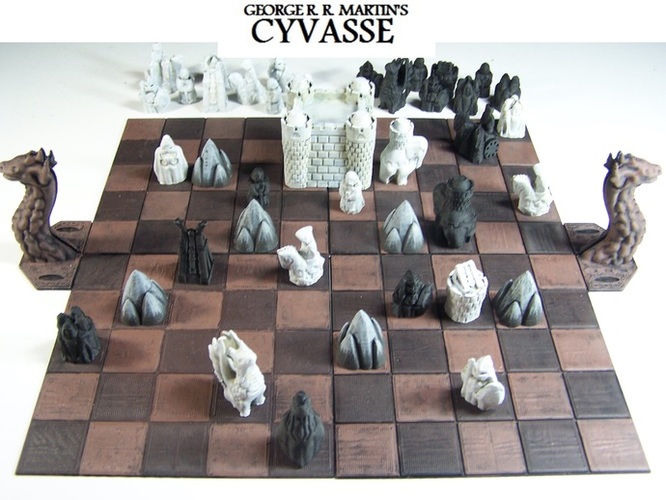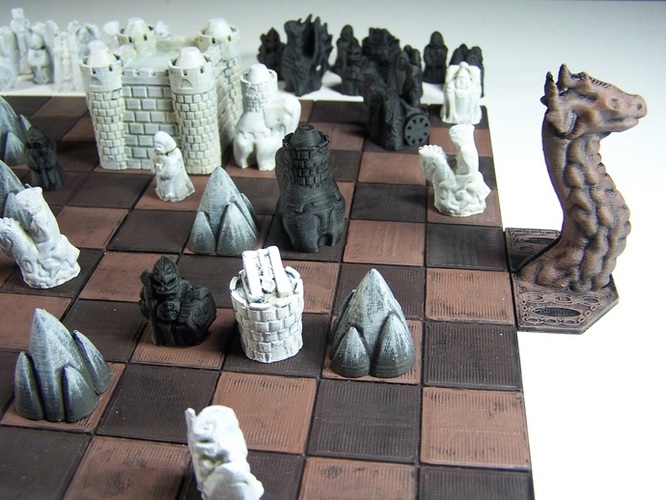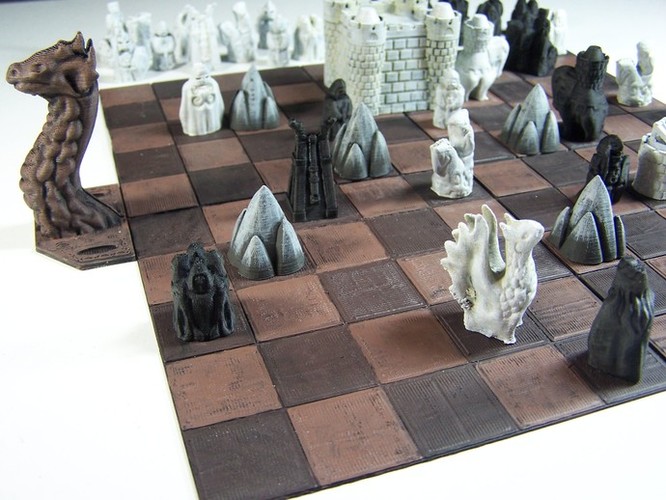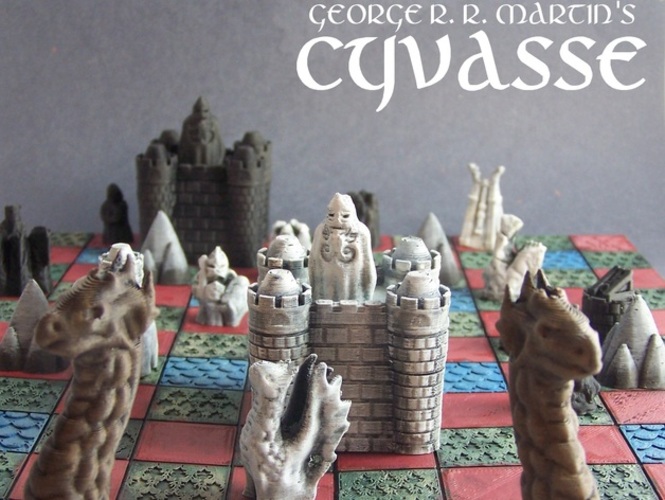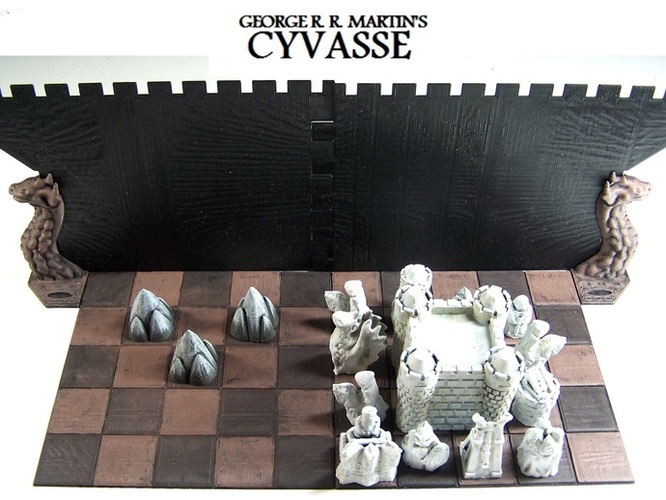 No Prints Yet

Be the first to upload a Print for this Design!
This is my attempt to translate the chess-like game featured in George R. R. Martin's A Song of Ice and Fire novels (Game of Thrones). Being a huge fan of the man and his work, I wanted to try and give his game the best translation I could. Working with my good friend (and studious Martin scholar) Nate Stephens, I adapted the game to include everything mentioned in the book into a rules set I found believable for a game made during the emulated time period, while also keeping the games in mind that Martin has mentioned as inspiration during interviews. So, Let me know if you get to printing/playing it, and if you have any suggestions for rules adjustments, variants, etc, post in the comments below and let's get a dialogue going. The rules PDF is with the other downloads, and its a light read (2 pages). Game on! 
Instructions 
With the current rules configurations, you'll need to print the following: Each side (Onyx and Alabaster) has Rabble x3, Spearmen x3, Crossbowmen x3, Light Horses x3, Heavy Horses x2, Elephants x2, Catapult x1, Trebuchet x1, Dragon x1, King x1, Keep x1 All of the pieces are grouped to reflect the distribution, so you only need to print each STL once. Of course, if you'e feeling brave, you can print the full plate, That has all the pieces one side will need. In addition, you'll need 6 mountains (three per player), four board sections (two per player), a pair of screen braces (both are in the same STL) and the two halves of the screen. I printed mine in black ABS and painted the pieces with acrylic model paints though the pieces would be great printed in black and white ABS, and wouldn't really require painting (that's just how I roll). I also painted the board in a checker-pattern. It wasn't necessary, but it makes movements (especially diagonal ones) a little easier to track.
george_r_r_martins_cyvasse_unofficial_game.zip/george_r_r_martins_cyvasse_unofficial_game/trebuchet.stl
1.23 MB
george_r_r_martins_cyvasse_unofficial_game.zip/george_r_r_martins_cyvasse_unofficial_game/catapult.stl
226 KB
george_r_r_martins_cyvasse_unofficial_game.zip/george_r_r_martins_cyvasse_unofficial_game/mountains.stl
3.98 MB
george_r_r_martins_cyvasse_unofficial_game.zip/george_r_r_martins_cyvasse_unofficial_game/board_b_v2.stl
8.36 MB
george_r_r_martins_cyvasse_unofficial_game.zip/george_r_r_martins_cyvasse_unofficial_game/heavy_horses.stl
17.7 MB
george_r_r_martins_cyvasse_unofficial_game.zip/george_r_r_martins_cyvasse_unofficial_game/keep.stl
4.81 MB
george_r_r_martins_cyvasse_unofficial_game.zip/george_r_r_martins_cyvasse_unofficial_game/elephants.stl
8.02 MB
george_r_r_martins_cyvasse_unofficial_game.zip/george_r_r_martins_cyvasse_unofficial_game/screen_b.stl
76.6 KB
george_r_r_martins_cyvasse_unofficial_game.zip/george_r_r_martins_cyvasse_unofficial_game/light_horses.stl
11.2 MB
george_r_r_martins_cyvasse_unofficial_game.zip/george_r_r_martins_cyvasse_unofficial_game/rabble.stl
14.7 MB
george_r_r_martins_cyvasse_unofficial_game.zip/george_r_r_martins_cyvasse_unofficial_game/spearmen.stl
13.3 MB
george_r_r_martins_cyvasse_unofficial_game.zip/george_r_r_martins_cyvasse_unofficial_game/dragon.stl
3.86 MB
george_r_r_martins_cyvasse_unofficial_game.zip/george_r_r_martins_cyvasse_unofficial_game/board_a_v2.stl
9.04 MB
george_r_r_martins_cyvasse_unofficial_game.zip/george_r_r_martins_cyvasse_unofficial_game/screen_braces.stl
11.9 MB
george_r_r_martins_cyvasse_unofficial_game.zip/george_r_r_martins_cyvasse_unofficial_game/cyvasse_full_plate.stl
17.2 MB
george_r_r_martins_cyvasse_unofficial_game.zip/george_r_r_martins_cyvasse_unofficial_game/crossbowmen.stl
6.59 MB
george_r_r_martins_cyvasse_unofficial_game.zip/george_r_r_martins_cyvasse_unofficial_game/screen_a.stl
64.5 KB
george_r_r_martins_cyvasse_unofficial_game.zip/george_r_r_martins_cyvasse_unofficial_game/cyvasse_board.stl
101 KB
george_r_r_martins_cyvasse_unofficial_game.zip/george_r_r_martins_cyvasse_unofficial_game/king.stl
3.44 MB