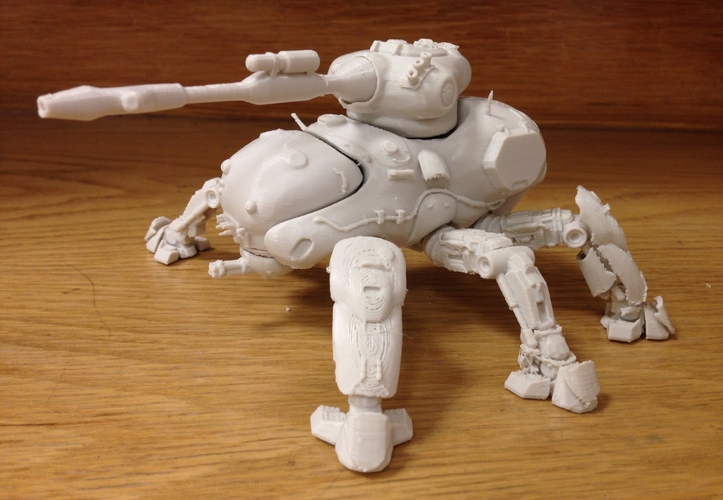 Here it is, one of the prints I'm most excited about, the Fallen walker/spider tank from Destiny! This is a game rip from (I believe) Destiny 2, so special thanks are in order for Coverop from the Destiny Model Rips discord for doing the work of extracting the model. Getting this print-ready (not just merging parts but restoring details that normal maps handle in the game, like cabling and vents) was a daunting task but once I threw myself into it, the work just flew by. Everything should be airtight and ready to go.
I love the look of this model and have done so for a long time, even before I got into Destiny. Even if you don't play the game, it still looks fuckin rad and will make a good addition to any model collection on your desktop or shelf.
The model comes in a total of 25 pieces so it requires some assembly, but not much; everything slots together perfectly for the most part (Unfortunately, you're going to need glue for some things: the rear hatch and the belly plate, and possibly the leg plating). Everything should already be optimally oriented for printing, but beware of removing the scaffolding from some of the smaller parts like the forward manipulator arms or the spikes/sensor package on the front of the head. Those broke when I tried removing them from my first print. Also be careful of the spikes on the main body when you're handling it both during cleanup and when attaching the legs and turret; I didn't break any of mine but that was because I was very careful about handling it. The legs will need some working in to fit into their sockets but once they're in they should stay snug and tight. I didn't even need any sanding for mine, even though I initially thought I would. The cannon barrel should also fit into its socket without any touch-up, though it was an extremely tight fit and it may depend on the material you're printing with (I'm using PLA); same goes for the turret fitting into the tank hull. The leg plating is the trickiest part to put on and as I said you may need glue for it. They were intended to just slot on but the scale I printed off made that not completely feasible so do all your finishing and painting before attaching them (ideally with some glue).
Anyway, I hope you guys enjoy this model as much as I do. Have fun printing!
print_cage_default 2-walker_head_and_belly.stl
3.29 MB
print_cage_default 2-walker_main_body.stl
4.74 MB
print_cage_default 2-walker_leg_left_panels.stl
3.14 MB
print_cage_default 2-walker_leg_right_panels.stl
3.14 MB
print_cage_default 2-walker_turret_and_misc.stl
4.57 MB
print_cage_default 2-walker_right_legs.stl
2.36 MB
print_cage_default 2-walker_left_legs.stl
2.36 MB