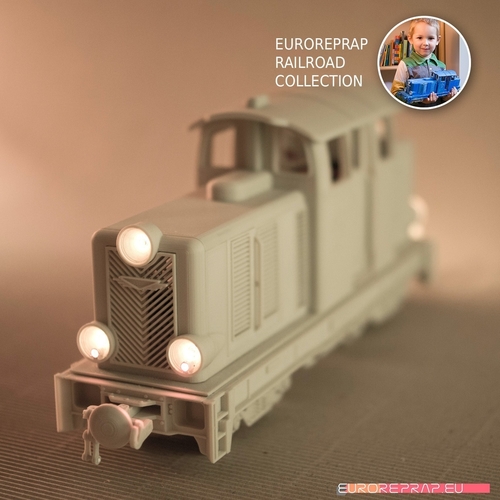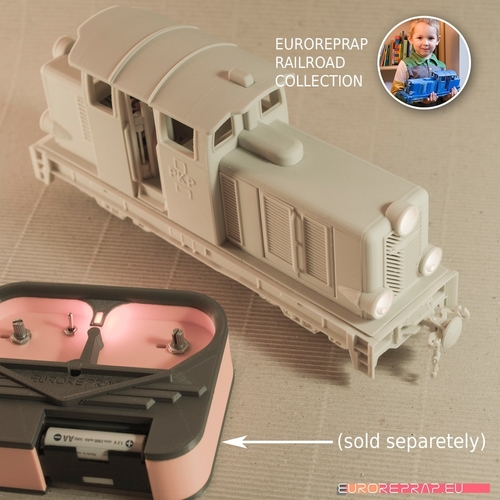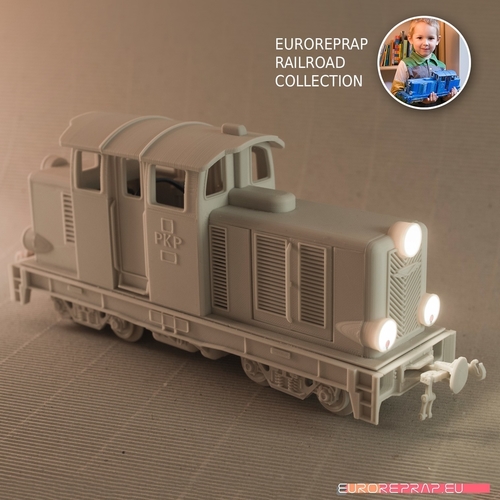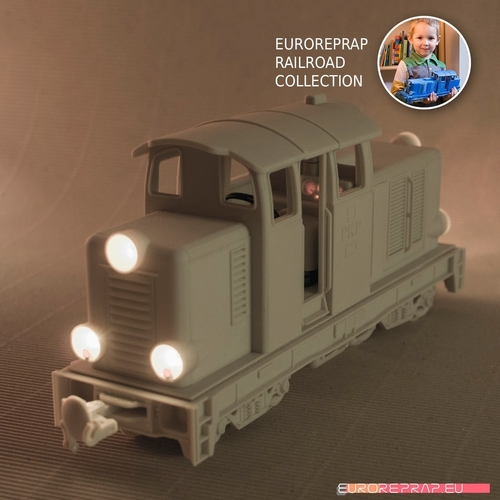 ...video available:
This is the most feature-rich of my locomotives (so far). Together with ERS/LEGO tracks compatibility, it gives you possibility to make it fully radio controlled, electric train. It has slots for light sources in headlights (separate for white and red), backlit gauges inside the cab, two of four axles are driven by a motor (prepared for 360 deg. servo). Of course it has a new ("ERS") coupling system - optimized for most demanding track curvatures of LEGO and ERS track systems.
To learn about the assembly please take a look at this PDF instruction: https://www.dropbox.com/s/j2v7...
>>The locomotive is compatible with LEGO tracks (adequate distance between gauge lines) and its native tracks standard: "Euroreprap Railroad System" (free inter-connector track model is available). >>No support is needed during printing >>Printers with small bed sizes will do fine (13x13 cm bed is OK) >>No special tools are needed during assembly of printed parts (I use metal nail file for finishing places where excessive material remained) >>The model's dimensions after assembly are: 323x134x72 mm (12.72x5.28x2.83 in)
Various "LEGO type" tracks are available freely for download & printing nowadays.. e.g. here: http://www.thingiverse.com/thi...
DIES_02_EL-15_1.stl
656 KB
DIES_02_EL-12_0.stl
1.47 MB
DIES_02_EL-09_1.stl
4.69 MB
DIES_02_EL-05_0.stl
11.1 MB
DIES_02_EL-01_1.stl
18.6 MB
DIES_02_EL-02_1.stl
11.3 MB
DIES_02_EL-03_1.stl
4.61 MB
DIES_02_EL-04_1.stl
6.51 MB
DIES_02_EL-06_1.stl
4.62 MB
DIES_02_EL-07_1.stl
2.18 MB
DIES_02_EL-08_0.stl
6.71 MB
DIES_02_EL-10_0.stl
1.54 MB
DIES_02_EL-11_0.stl
1.01 MB
DIES_02_EL-13_1.stl
2.19 MB
DIES_02_EL-14_0.stl
961 KB
DIES_02_EL-16_0.stl
6.85 MB