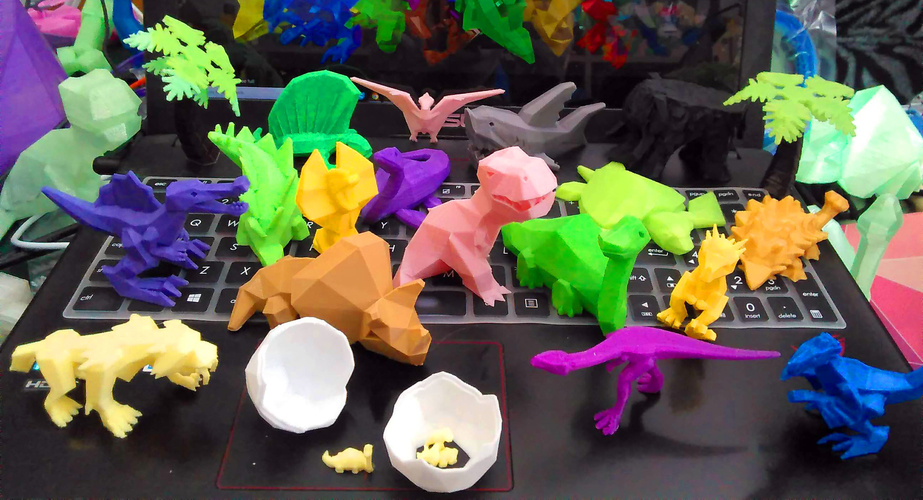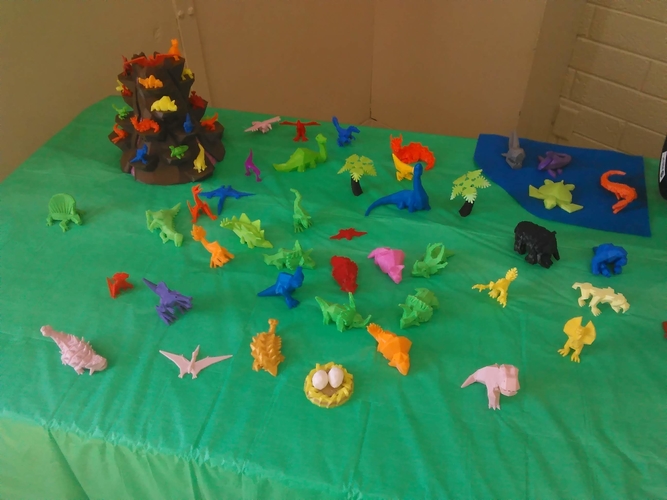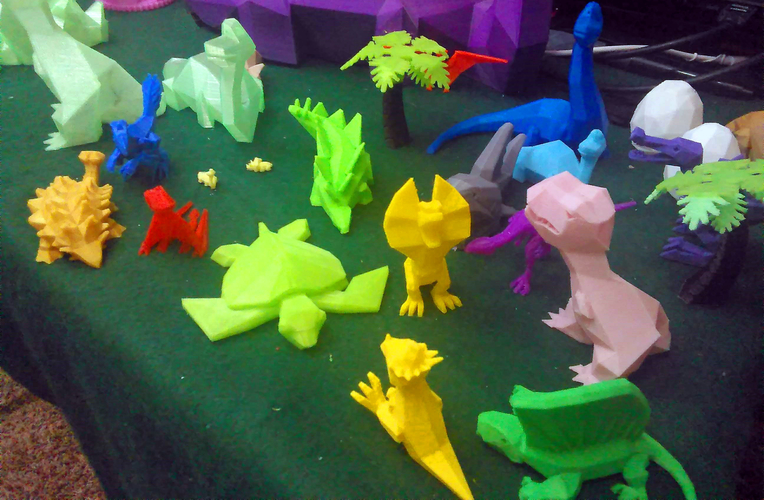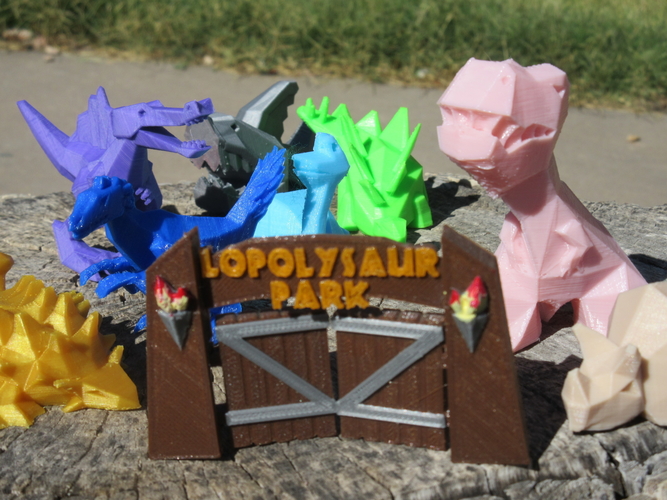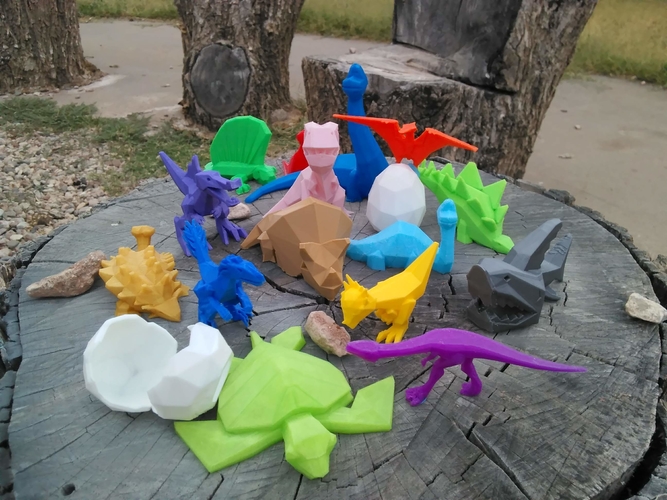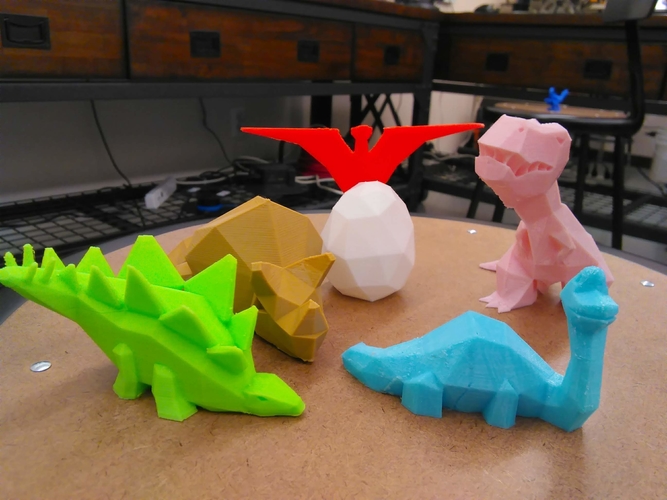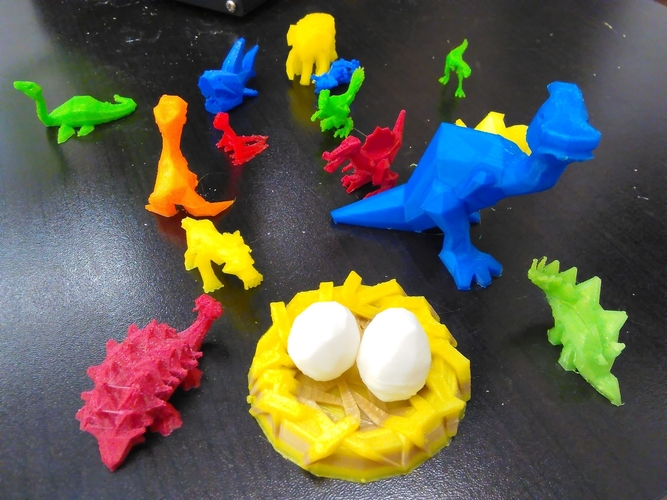 No Prints Yet

Be the first to upload a Print for this Design!
Welcome to Lowpolysaurus park. Kid friendly, whimsical, low-poly dinosaur models for your 3D printer. Designed to print without supports and print with low or no infill. Perfect as a test print or just for fun with gentle angles to minimize sharp edges so they're suitable for all ages. 
This listing is not for a physical item. You are getting the STLs file that can be used in your 3D printer or submitted to a 3D printing service to make a physical object.
35 low poly dinosaurs and 6 bonus models were created for the Low Poly Dino Kickstarter campaign, all of which are included here. Models include:
Tyrannosaurus Rex 
Triceratops  
Diplodocus 
Stegosaurus 
Raptor 
Ankylosaur  
Spinosaur  
Megalodon  
Pterodactyl  
Stygimoloch  
Archelon  
Elaphrosaurus  
Dilophosaurus  
Plesiosaur  
Mastodon  
Saber Tooth Tiger  
Dimorphadon  
Iguanodon  
Parasaurolophus  
Ground Sloth  
Dracorex  
Quetzalcoatlus  
Carnotaurus  
Nothosaurus  
Kosmoceratops  
Wendiceratops  
Styracosaurus  
Rubeosaurus 
Regaliceratops  
Sinoceratops  
Therezinisaurus  
Euoplocephalus  
Archaeopteryx 
Anurognathus  
Deinocheirus  
Cavemen  
Egg/Cracked Egg 
Dino nest  
Trees 
Volcano  
Goat
Volcano-With_Stands_Dual_1.stl
573 KB
Volcano-Stand17.stl
10.4 KB
Volcano-Stand14.stl
11.9 KB
Volcano-Stand11.stl
9.26 KB
Volcano-Stand08.stl
39.1 KB
Volcano-Stand04.stl
7.31 KB
Volcano-Stand01.stl
6.72 KB
Volcano-Parts_3.stl
79.8 KB
Volcano-Final_With_Stands.stl
413 KB
Scenery-PalmTreeTrunk.stl
22.3 KB
Scenery-PalmTop.stl
121 KB
Scenery-Gate Doors.stl
81.8 KB
LowPolyDinos-Wendiceratops.stl
46.1 KB
LowPolyDinos-Triceratops.stl
30.9 KB
LowPolyDinos-Stegosaurus.stl
58.8 KB
LowPolyDinos-SpinosaurusKissy.stl
63.1 KB
LowPolyDinos-Rubeosaurus.stl
35.1 KB
LowPolyDinos-Regaliceratops.stl
47.7 KB
LowPolyDinos-Pterodactyl.stl
37.4 KB
LowPolyDinos-Protoceratops.stl
82.5 KB
LowPolyDinos-Parasaurolophus.stl
37.5 KB
LowPolyDinos-Igunanadon.stl
78.1 KB
LowPolyDinos-Ground_Sloths_YMCA.stl
399 KB
LowPolyDinos-Elaphrosaurus.stl
50.7 KB
LowPolyDinos-Carnotaurus.stl
72.5 KB
LowPolyDinos-Ankylosaurus.stl
57.4 KB
CaveOfMen-Old.stl
74.4 KB
CaveOfMen-Cave_V2.stl
85.6 KB
Volcano-With_Stands_Dual_2.stl
50.8 KB
Volcano-Stand18.stl
44 KB
LowPolyDinos-Woolly_Mammoth.stl
198 KB
LowPolyDinos-Tyrannosaurus Rex.stl
61.4 KB
LowPolyDinos-Therizinosaurus.stl
160 KB
LowPolyDinos-Spinosaurus_Easier_Print.stl
77.4 KB
LowPolyDinos-Saber_Tooth_Tiger.stl
69.6 KB
LowPolyDinos-Quetzalcoatlus_Standing.stl
64.8 KB
LowPolyDinos-Pterodactyl_Hinged.stl
101 KB
LowPolyDinos-Plesiosaur.stl
29.6 KB
LowPolyDinos-Nothosaurus.stl
65.8 KB
LowPolyDinos-Ground_Sloths_3_wise.stl
331 KB
LowPolyDinos-Euoplocephalus.stl
130 KB
LowPolyDinos-Dracorex.stl
78.4 KB
LowPolyDinos-Dimorphodon.stl
51.8 KB
LowPolyDinos-Carnotaurus_Easy.stl
74.8 KB
LowPolyDinos-Archelon_SLA.stl
43.2 KB
LowPolyDinos-Anurognathus.stl
49 KB
LowPolyDinos2-Sawfish.stl
52.8 KB
CaveOfMen-Boy.stl
81.1 KB
CaveOfMen-Cave.stl
80.6 KB
CaveOfMen-Girl.stl
108 KB
CaveOfMen-Man.stl
60.4 KB
CaveOfMen-Wild_Woman.stl
64.7 KB
CaveOfMen-Woman.stl
60.2 KB
LowPolyDinos-Archaeopteryx.stl
95.8 KB
LowPolyDinos-Archelon.stl
44.5 KB
LowPolyDinos-Deinocheirus.stl
76 KB
LowPolyDinos-Dilophosaurus.stl
55.4 KB
LowPolyDinos-Diplodocus.stl
36.8 KB
LowPolyDinos-Goat.stl
21.9 KB
LowPolyDinos-Ground_Sloth.stl
104 KB
LowPolyDinos-Kosmoceratops.stl
48.5 KB
LowPolyDinos-Megalodon.stl
66.3 KB
LowPolyDinos-Pterodactyl_2.stl
37.3 KB
LowPolyDinos-Pterodactyl_flat.stl
29.2 KB
LowPolyDinos-Quetzalcoatlus.stl
31 KB
LowPolyDinos-Raptor.stl
139 KB
LowPolyDinos-Raptor_Easy_Print.stl
147 KB
LowPolyDinos-Sinoceratops.stl
43.4 KB
LowPolyDinos-Spinosaurus.stl
76.1 KB
LowPolyDinos-Stygimoloch.stl
54.4 KB
LowPolyDinos-Styracosaurus.stl
45.4 KB
Scenery-EggBottom.stl
34.6 KB
Scenery-EggTop.stl
23.3 KB
Scenery-Gate-Top_Brace.stl
376 KB
Scenery-Gate-Uprights.stl
69.3 KB
Scenery-PalmTreeFull.stl
144 KB
Volcano-Final_Shelled.stl
219 KB
Volcano-Final_Shelled_With_Pegs.stl
548 KB
Volcano-Final_Solid.stl
35.7 KB
Volcano-Parts_1.stl
105 KB
Volcano-Parts_2.stl
119 KB
Volcano-Parts_4.stl
120 KB
Volcano-PartsTop.stl
260 KB
Volcano-Stand02.stl
17.6 KB
Volcano-Stand03.stl
26.2 KB
Volcano-Stand05.stl
15.8 KB
Volcano-Stand06.stl
22.9 KB
Volcano-Stand07.stl
9.36 KB
Volcano-Stand09.stl
22.6 KB
Volcano-Stand10.stl
26.9 KB
Volcano-Stand12.stl
16.9 KB
Volcano-Stand13.stl
32.2 KB
Volcano-Stand15.stl
21.4 KB
Volcano-Stand16.stl
27.9 KB
Volcano-Stand20.stl
34.7 KB
Volcano-Stand21.stl
18.3 KB