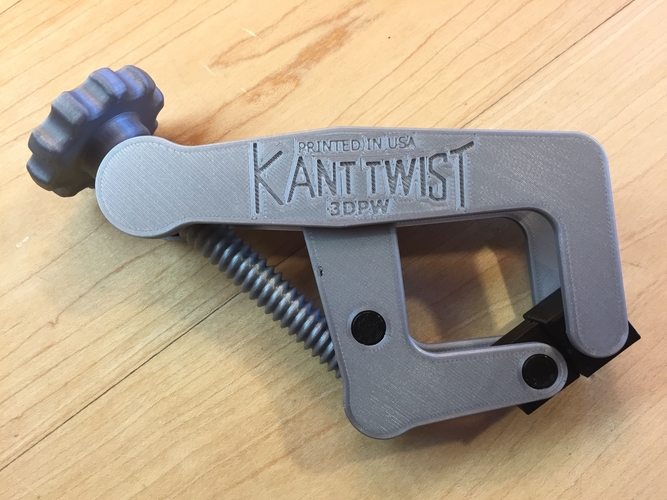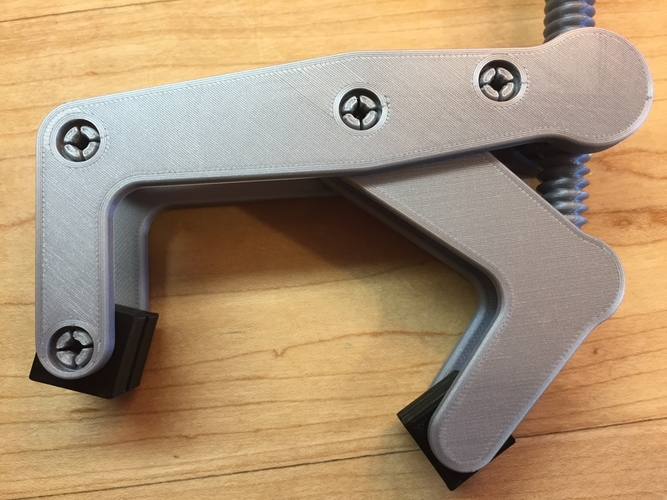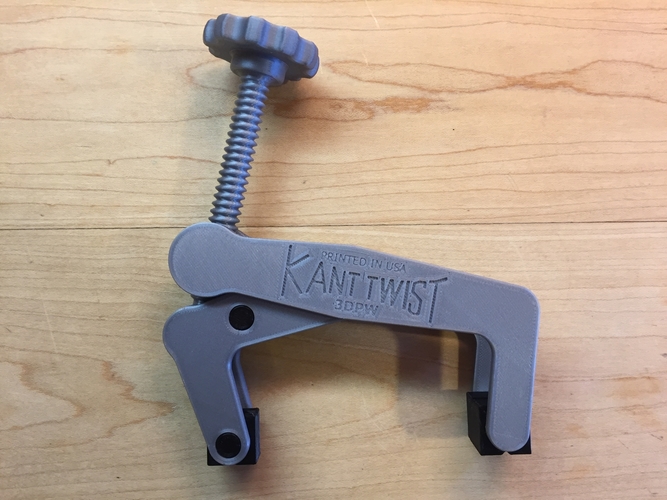 Kant Twist Clamp 
Optimized for 3D Printing 100% Printed Parts
I am a big fan of this clamp! If you have ever worked as a fabricator or a machinist you will be familiar with this clamp. Although I'm sure it has its purpose for woodworking as well. With a Kant Twist the load is distributed over two parallel jaws versus one jaw as with a c-clamp. This helps keeps your workpiece from walking.  Additionally the handle positioned perpendicular to the clamp load which keeps the clamp from twisting hence the name "Kant Twist".  I also like this because you can remove the clamp with one hand as well. 
You can find the designs for the Kant Twist all over the internet but they are designed to be made out of steel. If you try to print the original design out of plastic it's not going to work very well. My goal for this project was to create a 3D printed Kant Twist that actually works, only uses 3D printed parts (no glue or fasteners), and doesn't required any supports. 
The thread on the original version was too small and was not strong enough when printed so I changed the tread from a 5/16" UNF to a 1/2" trapezoidal thread.  I integrated the spacers into the legs and made them larger to reduce the number of parts and increase strength.  I also changed their design so they snap together and a locking pin holds them in place. They are riveted on with the steel version and I could have easily accomplished the same thing with glue but that would be cheating. I also made the legs thicker to increase the strength among some other changes to make it printable without supports. 
Printing note: Print in the orientations provided. I printed everything except the tread with 3 perimeters and 25% infill. I printed the thread with 6 perimeters and 50% infill. You can always increase the infill if you want it to be stronger. 
Assembly note: The arms don't come apart very easily, I would not recommend putting them together unless you have all the parts in place. If you do have to take them apart make sure pull them apart evenly, if they get cocked while you are pulling them apart the pins could brake.
See the video below for assembly Instructions:
KT-ARM SMALL FEMALE.stl
817 KB
KT-ARM SMALL MALE.stl
1.06 MB
KT-ARM LARGE MALE.stl
1.5 MB
KT-ARM LARGE FEMALE.stl
770 KB
KT-LOCKING PIN.stl
293 KB
KT-CLAMP PAD LARGE.stl
328 KB
KT-CLAMP PAD SMALL.stl
346 KB