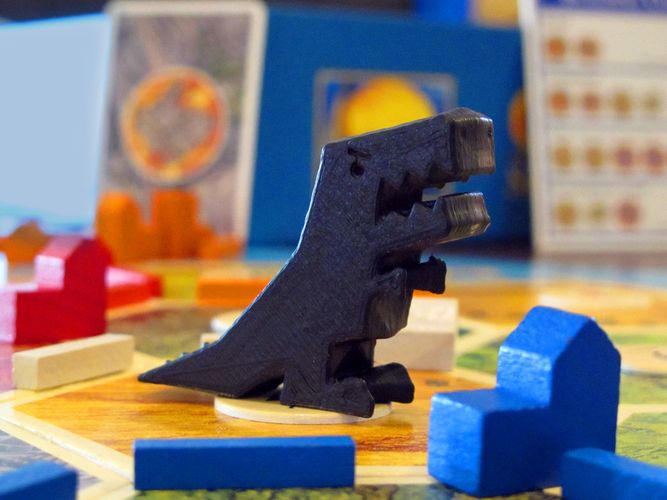 No Prints Yet

Be the first to upload a Print for this Design!
RAWWWWWWWRR! 
This is a T. rex replacement for your Settlers of Catan robber. 
Enjoy the carnage and mayhem and sweet crunching of tiny Catanese bones every time you pull a seven in the world's favorite resource-allocation board game. 
But first, my friends, a tale. A tale of misery and woe, and of 3D printing, and ultimately of redemption. 
Christmas came and went here at Zheng Labs, and as is our custom the boardgames were drawn from storage and placed into service, to amuse the ever-patient elders who aren't so into the Minecrafting and the Guild Wars 2 as are their grandchildren. Imagine the shock and dismay and the heartbroken looks on the wee little faces when our Catan box was revealed to have no Robber within! There was wailing. Gnashing of teeth. Rending of garments. The holiday turducken turned to ash in our mouths. 
High and low we searched, under bookcases and couch cushions, between the stuffed animals and inside cans and cartons of Tinkertoys and Lincoln Logs and K'Nex and LEGO and Thomas The Tank Engine sets long since mothballed, but the crafty Robber was nowhere to be found. Dejected, exhausted, we can only assume the Robber has absconded with his ill-gotten booty and is now living like a king in Patagonia. 
A d20 was pressed into service as an ersatz Robber token, but we do not tolerate half measures or temporary hacks at Zheng Labs. 
We. Do. Not.
So.
To the printer.