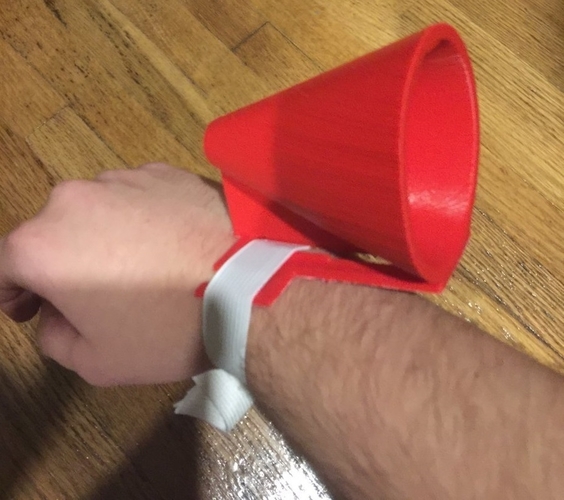 No Prints Yet

Be the first to upload a Print for this Design!
The wrist band funnel is part of wrist funnel corp 
Its a speciality funnel with a wrist strap on for both ease of  & better access for pouring drinks for people with neurological damage to their hands for example people with strokes,spinal injuries , als or other motor skill impairments to the hands 
but feel free to use this to help anyone who needs one, after all this is the inventors contribution to societies worldwide
This is a winning med tech device from the P4H2017 contest from Windsor ontario of a prize of $1,000  
Dr.Pat.begin from hotel dieu approved this model is november 2017
well this helps totally open source in terms of right to digitally manufacture it at home or otherplaces & to design accesories for this item but due to the new open source rules this is herby under no derivatives license away from open source as a result of the conquences of the new open source policy
This open source model is to better service of what is the ethical thing to do rather than just money & would love to help people as humanitarians just as a lot of our caring people do, I do however require is for this to only be done with intregty,ethics & respect of the ideas without the fear of infringement or other violations ; that also means no pirating if any profit are in my right .
(But note even those entites who are authorised still are obilgated to comply with the disclaimer,license,& still ensure everything is done with full intregty at all times & to do it non profit only uses only 
*******
CAUTION: always use Food Safe materials that are certified for reuse and water comsumption safety
also be sure to add Coatings on the print as well a example of the filament thats suited is Filaments.ca 's Easy PC CPE which has credentials on such and also it would be a good to use dishwasher safe filament such as the example of a filament already listed above
For the settings most defualt settings for the specific proper material  is great but brims , and low warp materials are key 
To prevent cracking of this 3DPrintable product
* updated disclaimer
part its also non profit based because profit is not the main goal otherwise , it would always have a price for this
but must be non commercial in nature, however to charge a price of the actual model requires a license permission that includes any type of transaction even a yard sale or classifieds , but for use in healthcare by medical industry & disability groups are also more than welcome it just has to be non commercial but its strictly  for funding thats not based on this models proceeds including non profit sale
any 3dprints of this model that are fully funded through (donations , grants or sponsorship) by itself are legal under the intellectual license by official authorization of the intellectual owner of this idea;
we also allow endorsements even though its creative commons but under the clause the designer can waiver parts of the license & that's one of them chosen to be allowed under license of this model
this project does not currently enough assets to be required to file as a NPO under Canadian Tax Law 
( timeline info chronologically updates )
there are already pilot projects going on right now in hotel dieu Windsor Ontario , until some point in thursday at noon November 2018 in Toronto time then i can reflect,& put the records into the logbook
originally the first specific medical condition to use this for was ALS i will still contribute to that the Dr.Pat.Begin from hotel dieu noted 
"The OT's found this would be most useful for a different patient population, especially for people who've had serious injuries that can no longer use their hands (ie. Spinal cord injuries, stroke, or any other condition with neurological damage to the muscles of the hand). "
So then this morning of sunday nov 19 2017 the slap bracelets were such a sucess we dropped the idea of the brace because of how well the slappy bracelets help fasten this medical device but when your using slappy wristbands its important to change slap wristbands every day or two
Later on i figured 2 inch wide velcro™ works best to fasten to the wrist
feb/7/2018 we released the latest version of the wrist band funnel
***************************************
finally hopefully this project becomes a social movement note this project its self is not a community by its self its a directly sourced only
remeshed wristband funnel.stl
13.5 MB
quad slotted wristband funnel.stl
64.3 KB