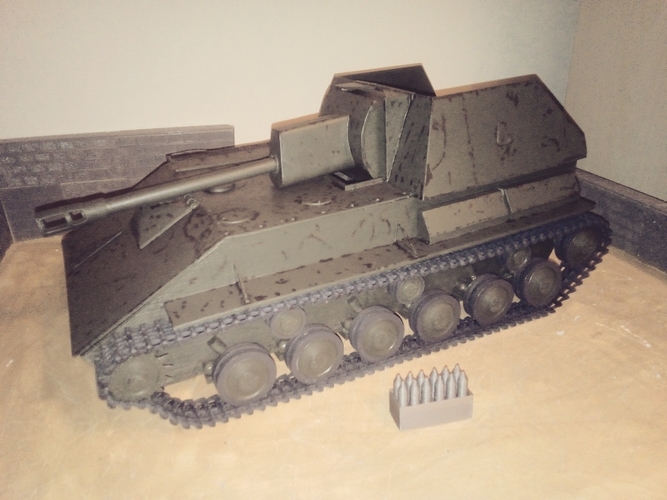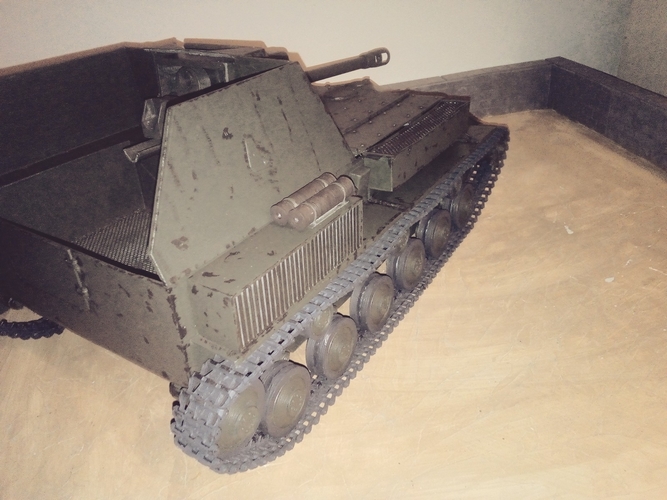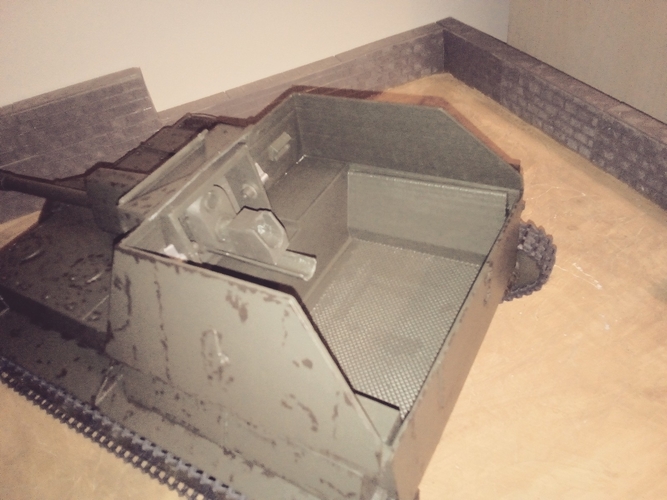 No Prints Yet

Be the first to upload a Print for this Design!
This model is provided with options for printing the lower hull, depending on your print bed size.
In addition you will require:
1 pair gearboxes. I used Heng Long ones with long shafts.
M3 bolts and washers with Nyloc nuts.
10mm Suspension springs
M3 drill and M3 thread cutter.
2 pairs of Heng Long PzIII or PzIV tracks. One pair will not be long enough.
Battery, speaker, electronics. Will run on RX18, Clark, IBU, Elmod
I designed and printed the entire model in PLA. Infill was 40% for large parts and 100% for small parts.
I assembled it, and it runs without detracking at all.
This model requires some experience of both model building and RC. To save on filament the base is hollow, it is far easier to install a sheet of 3mm styrene sheet than to include it in the printed part. Remember to cut out recesses for the suspension mount nuts.
SU76 vision_external.stl
229 KB
SU76 upper_hull_front.stl
810 KB
SU76 two_guards.stl
5.65 KB
SU76 small_exhaust_box.stl
128 KB
SU76 side_vision_ports.stl
175 KB
SU76 roller_cap.stl
122 KB
SU76 new_whole_sprocket.stl
2.02 MB
SU76 new_sprocket_spacer.stl
285 KB
SU76 lower_hull_front_left_plus_mirror_needed.stl
1.61 MB
SU76 barrel_muzzle_end.stl
273 KB
SU76 barrel only print half.stl
137 KB
SU76 box_and_vent option.stl
10.3 KB
SU76 breech_block.stl
143 KB
SU76 breech_in_pivot.stl
200 KB
SU76 breech_oval_link.stl
324 KB
SU76 citadel_floor.stl
9.41 MB
SU76 cupola_front_vision.stl
11.5 KB
SU76 guard_bracket.stl
5.58 KB
SU76 gun_pivots.stl
378 KB
SU76 hull brace.stl
5.72 KB
SU76left_side_boxes.stl
6.59 KB
SU76 lower_hull_complete.stl
6.62 MB
SU76 lower_hull_rear_left_plus_ mirror_needed.stl
1.76 MB
SU76 mantlet_barrel_guide.stl
268 KB
SU76 muzzle_brake.stl
755 KB
SU76 new_motor_mount.stl
6.47 KB
SU76 new_road_wheel.stl
815 KB
SU76 new_roller.stl
638 KB
SU76 new_roller_spacer.stl
251 KB
SU76 new_susp_arm.stl
483 KB
SU76 new_vent_mesh.stl
1.36 MB
SU76 new_vent_rim.stl
6.55 KB
SU76 rear_panel.stl
382 KB
SU76 recoil_runner.stl
202 KB
SU76 shell_crate1.stl
1.16 MB
SU76 shell_crate2.stl
798 KB
SU76 single_guard_150.stl
2.82 KB
SU76 sixty_degree_join.stl
12.7 KB
SU76 sprocket_cap.stl
136 KB
SU76 susp_restrict.stl
6.54 KB
SU76 susp_spring_plug.stl
77.5 KB
SU76 upper_hull.stl
3.43 MB
SU76 upper_hull_flat.stl
2.49 MB
SU76 upper_hull_parts.stl
420 KB
SU76 vent_trim.stl
6.55 KB
SU76 wheel_cap.stl
112 KB