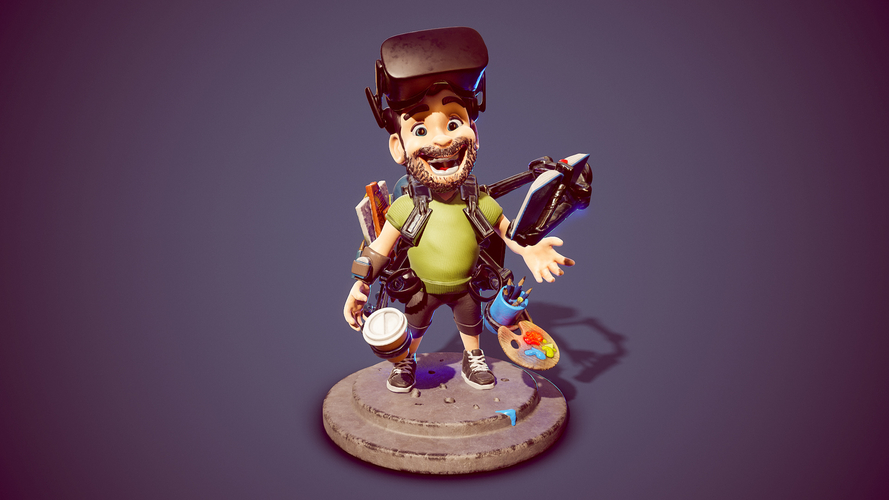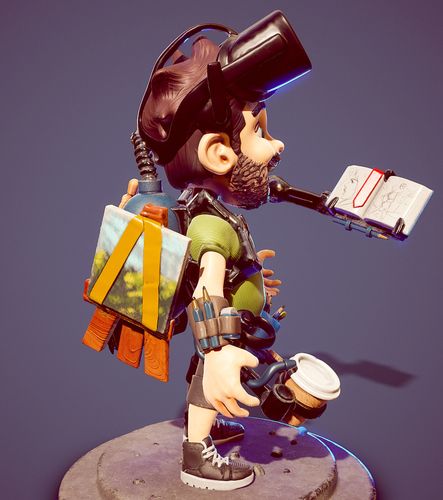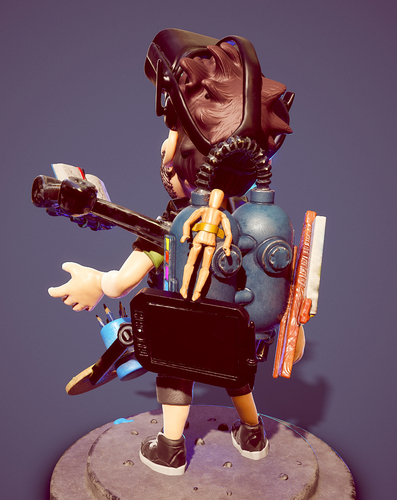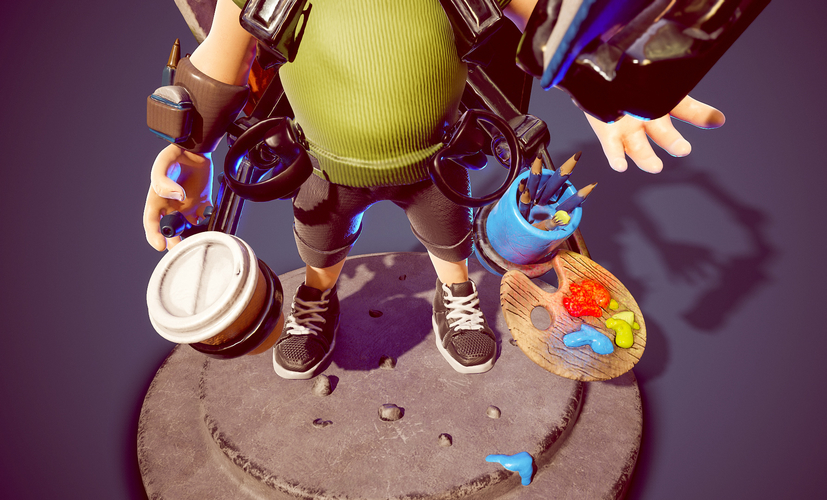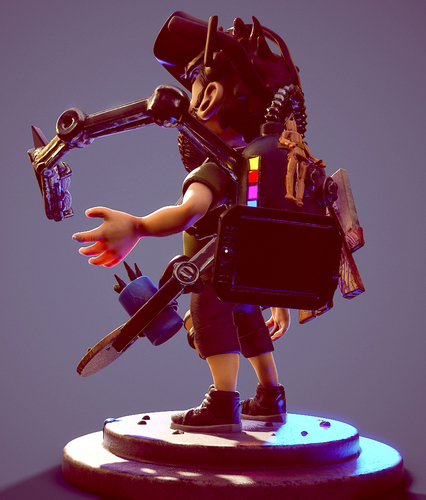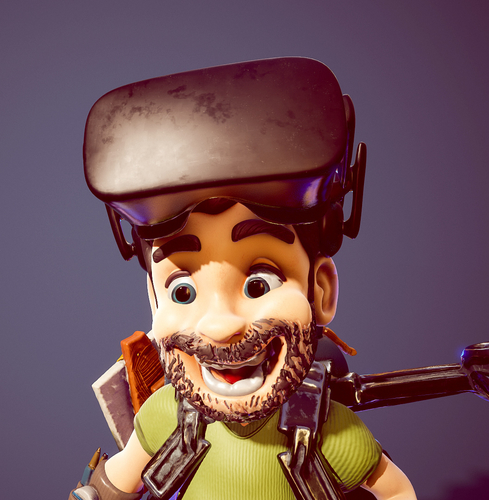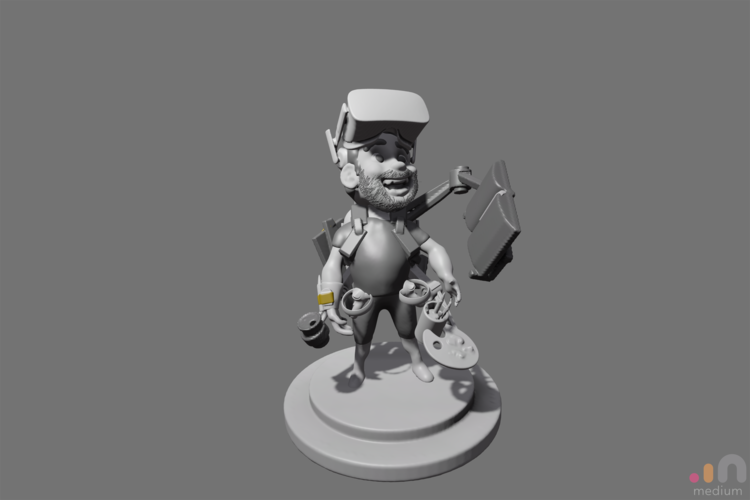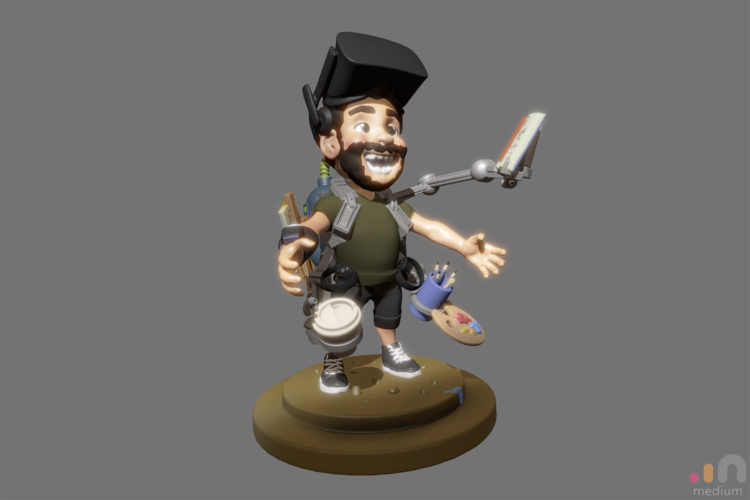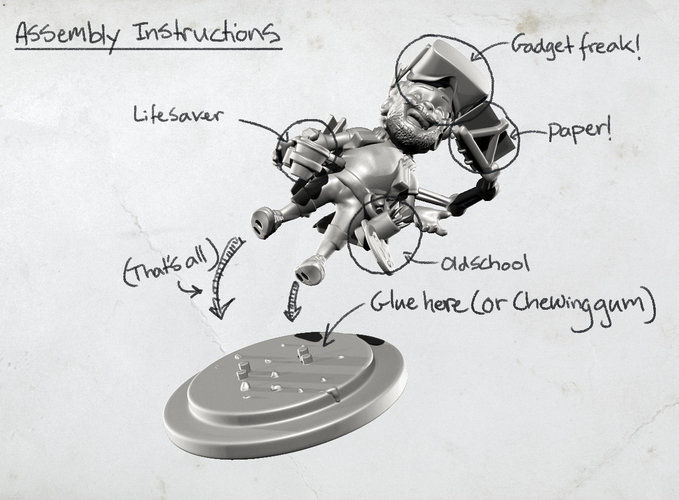 No Prints Yet

Be the first to upload a Print for this Design!
Background: 
My name is Martin, I'm a 34 years old guy with a wife and two kids and a big interest in art and technology. Luckily, I've ben able to make a living doing 2d art, but lately I've gotten much more interested in making 3d art, mainly because I've fallen in love with making 3d art in VR. For me, that way of working almost directly translates my 2d skills to 3d.  I had a lot of fun making this sculpt and I hope someone will have fun printing it! I don't have much knowledge about preparing files for print, so let me know if anything can be optimized. The Avatar should be pretty self explanatory, and it shows me, with all my tools, in a digital form. Wacom tablet, VR headset, brushes, palettes, coffee with refill option and tanks full of color, creativity and coffee probably.
Print files:
The print files consists of a few different assets. One where base and figure is separated, a solid version of the mesh and a hollow one. That way you can experiment with the version that works best for your printer. 
The process of making the sculpt: 
The model was sculpted in Oculus Medium (VR) from start to very close to finish. Even the initial character development was done with quick 3d sketches in VR. Once I decided on a form, I started refining in Medium. Initially I was using Mirror, but later on in the process, I turned that off to get some asymmetry and life into the model. Most of the model was sculpted using basic primitives, the move tool and smoothing.
Working in VR on this project was a great experience, and very rarely did I feel that I was stopped by technical barriers.  Once I was happy with the model, I exported an FBX to Zbrush. Here I Zremeshed the different parts and reprojected the details of the original mesh. That way I was able to get a rather low poly version of the model for texturing. Textures was done in Substance Painter, using the high res mesh to generate normal maps etc.
The print file was further refined in zbrush, by adding additional details for areas such as the hair. Preparation for print was done using Zbrush's 3d print hub, and Autodesk Meshmixer to inspect the model and hollow it out. In the optimal scenario I would have had the opportunity to 3d print this guy and find the right settings, but hopefully one of the more experienced 3d printers out there can help me optimize at some point. Good luck to everyone :-)
More renders and video can be found here: https://www.artstation.com/art...
RackMultipart20170831-8210-80m4c1.zip/hollowmodel.stl
43.5 MB
RackMultipart20170831-8210-1r0ygk5.zip/solidmodel.stl
41 MB
RackMultipart20170831-24389-5f7utf.zip/base.stl
14.1 MB
RackMultipart20170831-24389-5f7utf.zip/figure.stl
35.6 MB