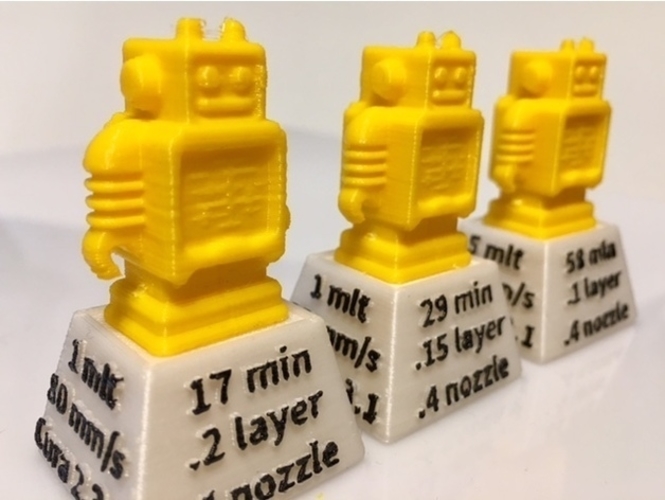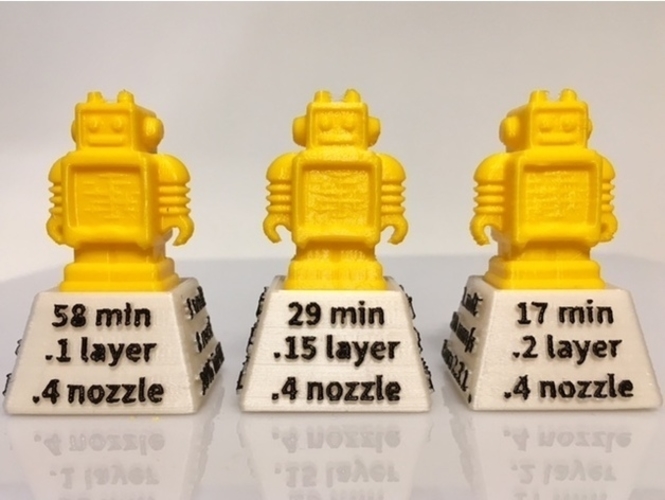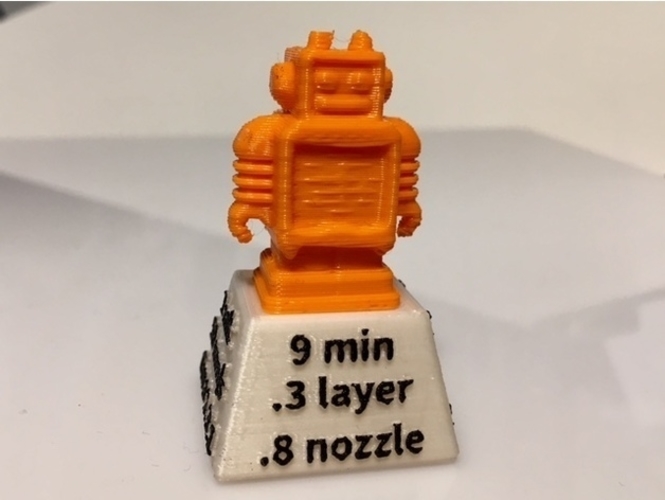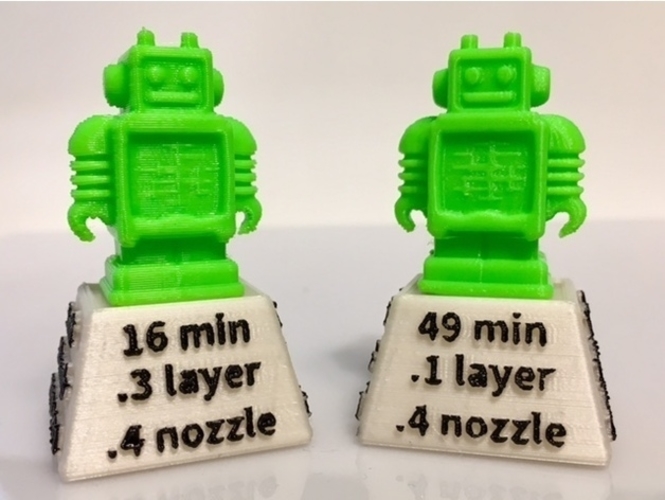 It's hard to find a better test print than the Ultimaker robot; it has insets, embossings, overhangs, bridges, posts, and fine features, all wrapped up in a model that's less than an inch and a half tall. This Customizer lets you create a base for the robot which you can use to record all your slicer and printer settings.
We optimized Cura settings for speed printing by modifying layer height, wall and roof counts, infill density, print speed, and minimum layer time, then recorded those settings on bases and glued on the corresponding 3D printed robots.
These printed Speed Racer Testbots will help us share best practices and slicer information with students and faculty who use the 3D printers at JMU 3SPACE.
Print the demo models here, or better yet, customize your own: https://www.thingiverse.com/th...
Read more at Hacktastic: mathgrrl.com/hacktastic/2017/01/slicer-testbot/
=====
Twitter:  twitter.com/mathgrrl
Hacktastic blog:  www.mathgrrl.com/hacktastic
Shapeways geekhaus store:  www.shapeways.com/shops/mathgr... 
This design and all associated pictures and files are licensed under the Creative Commons Attribution Non-Commercial Share Alike license. If you want to use designs, images, or files outside of the terms of this license, please email [email protected]
testbot-9-3-8-baseonly.stl
2.48 MB
testbot-9-3-8.stl
6.07 MB
testbot-15-2-4-baseonly.stl
2.43 MB
testbot-16-3-4-baseonly.stl
2.61 MB
testbot-17-2-4-baseonly.stl
2.42 MB
testbot-18-2-4.stl
5.98 MB
testbot-21-2-4-baseonly.stl
2.47 MB
testbot-29-15-4-baseonly.stl
2.58 MB
testbot-33-2-4-baseonly.stl
2.7 MB
testbot-49-1-4-baseonly.stl
2.56 MB
testbot-58-1-4-baseonly.stl
2.63 MB
testbot-81-06-4-baseonly.stl
2.65 MB
testbot-82-1-4-baseonly.stl
2.57 MB