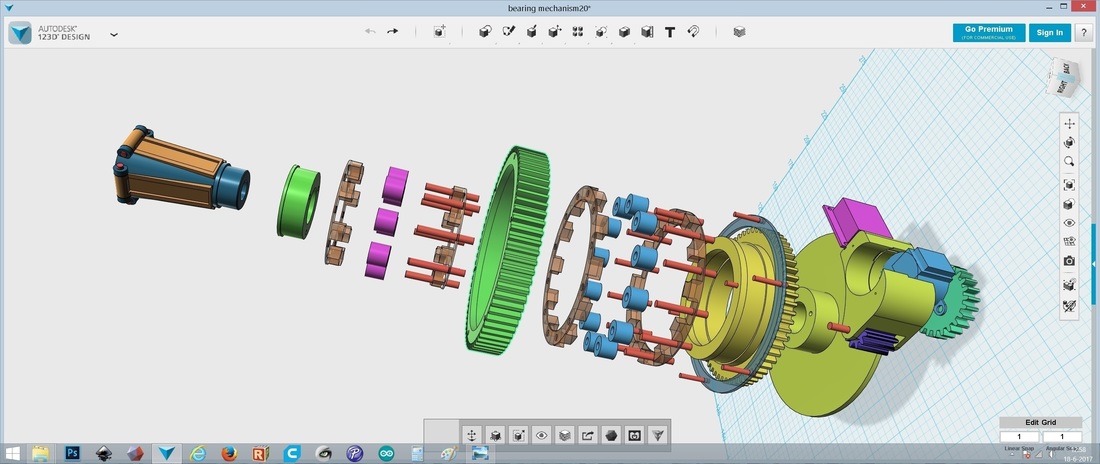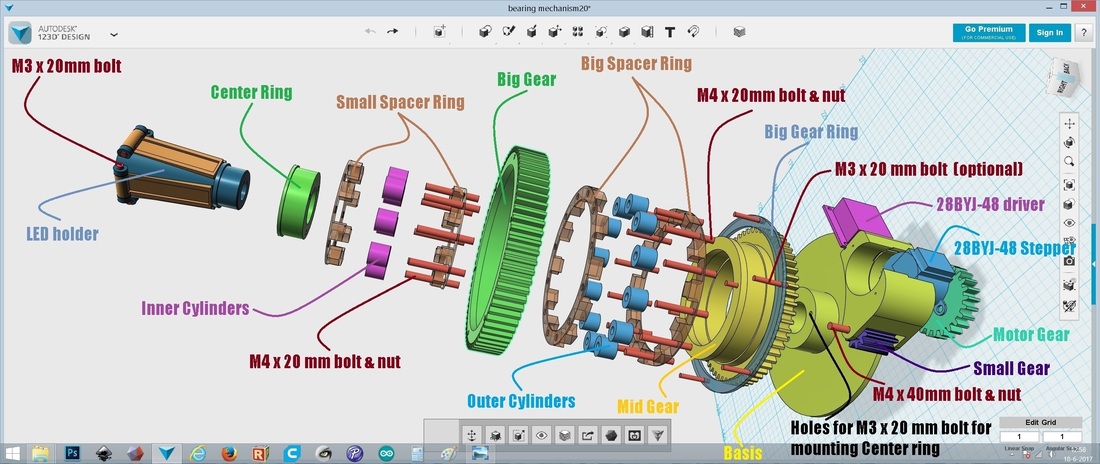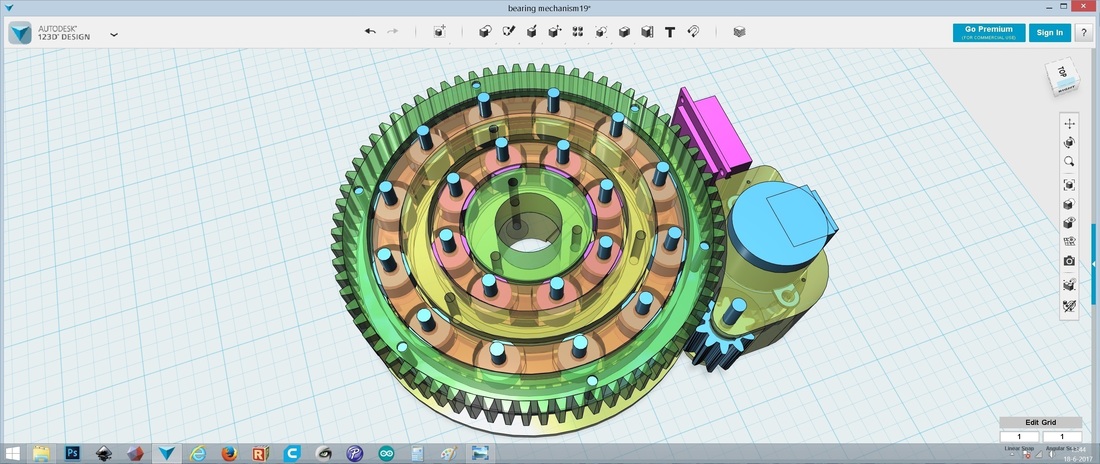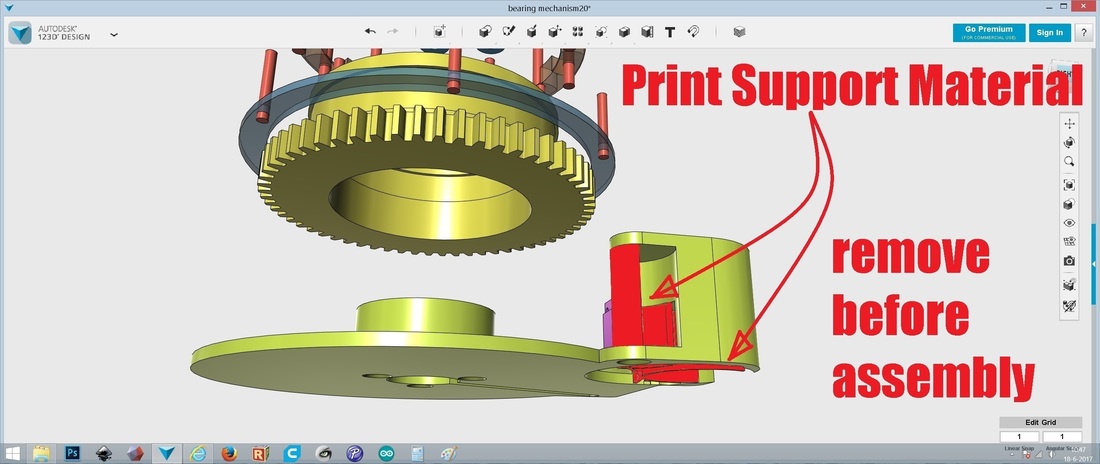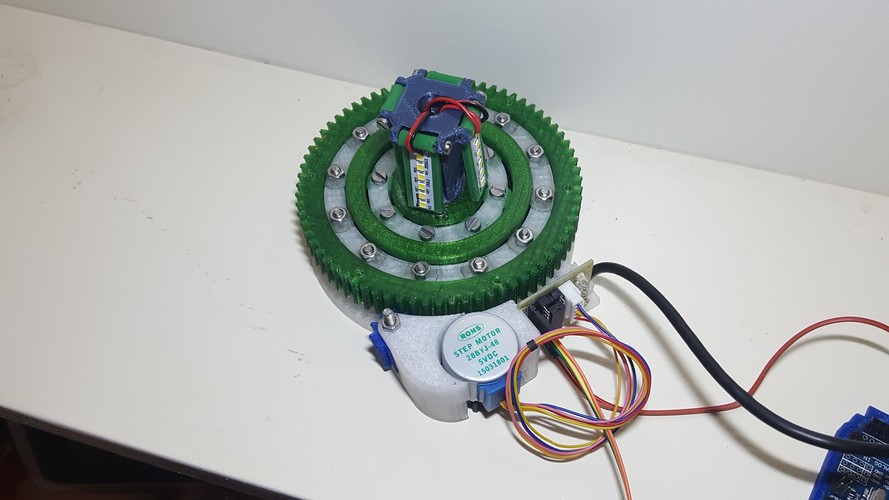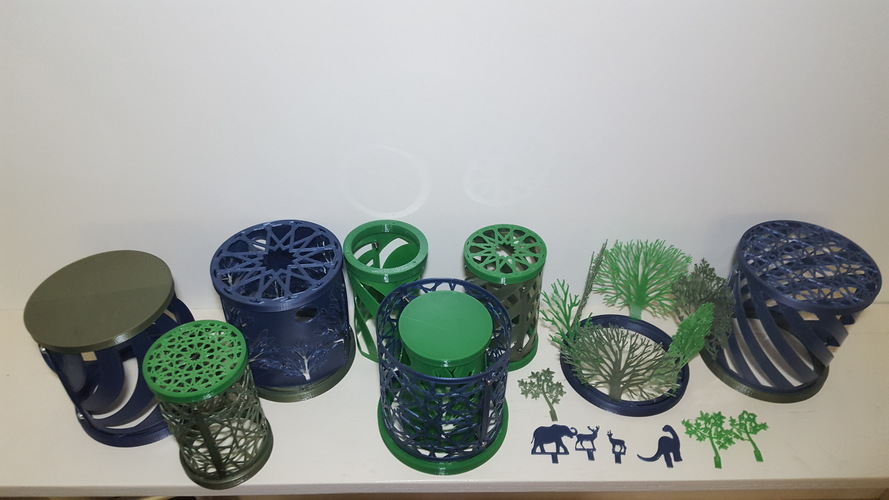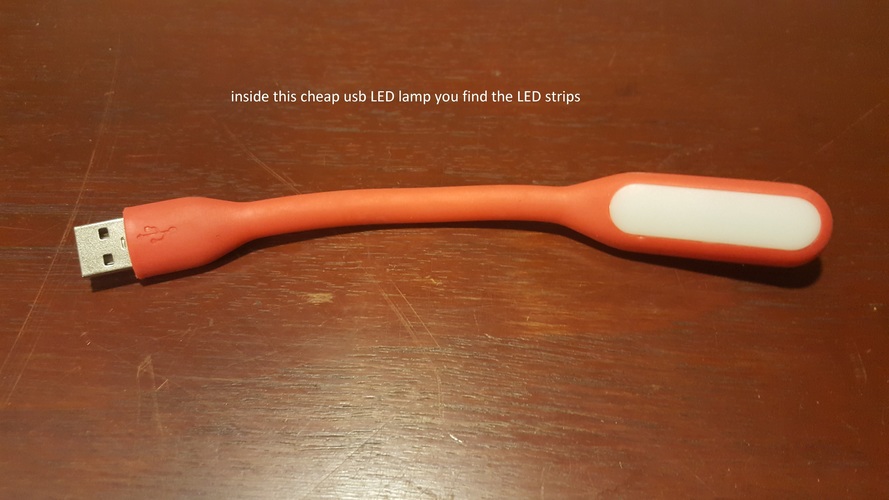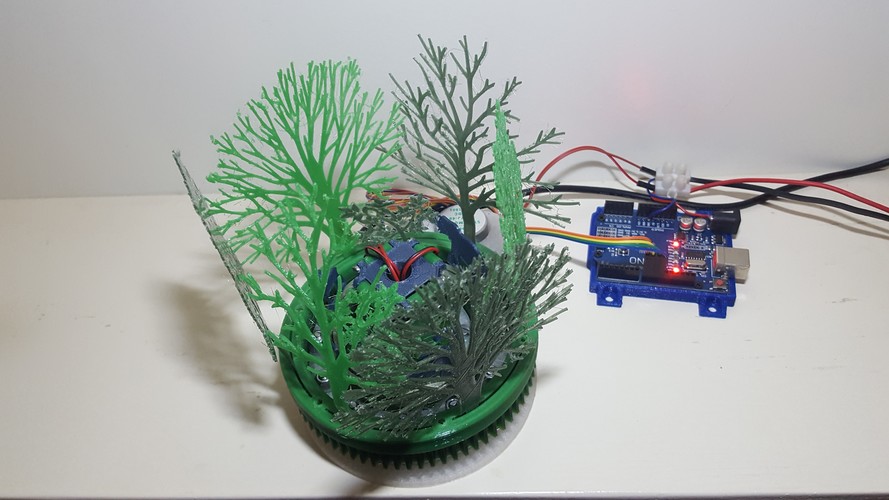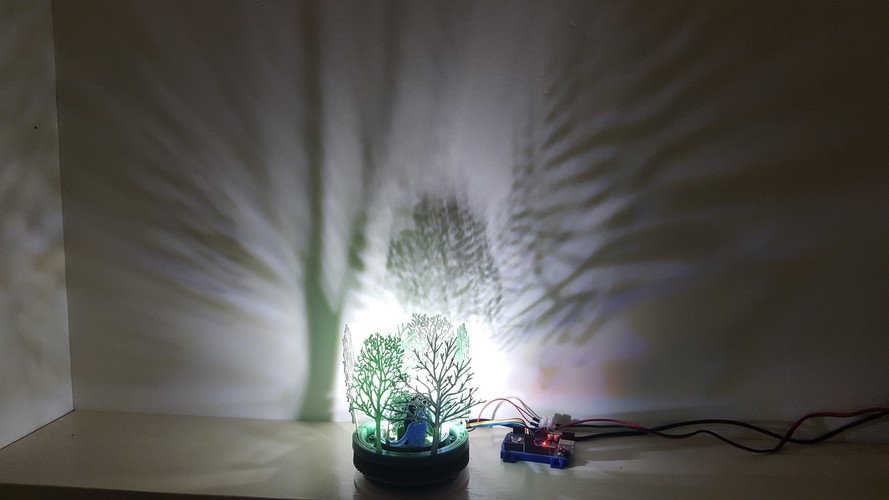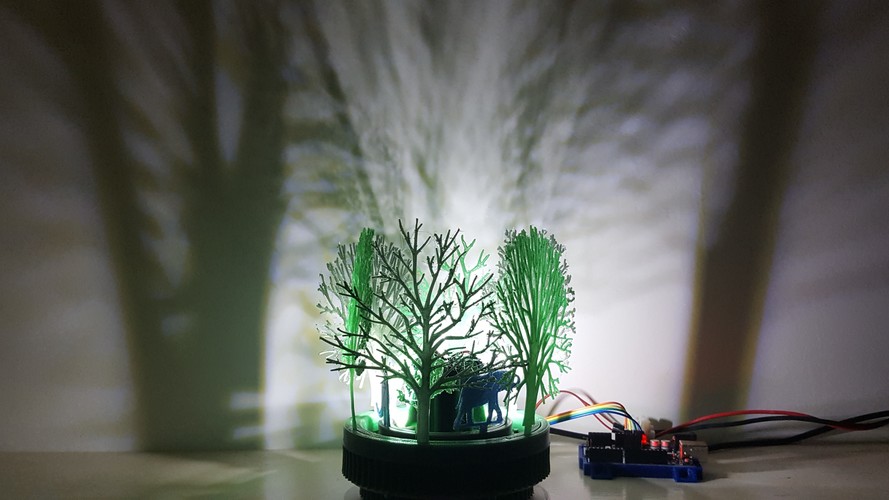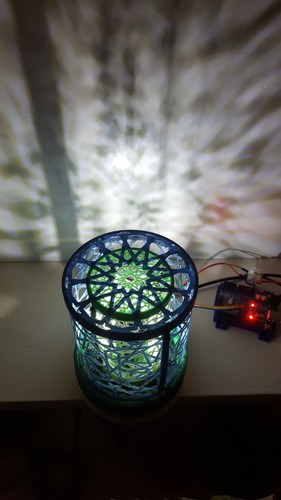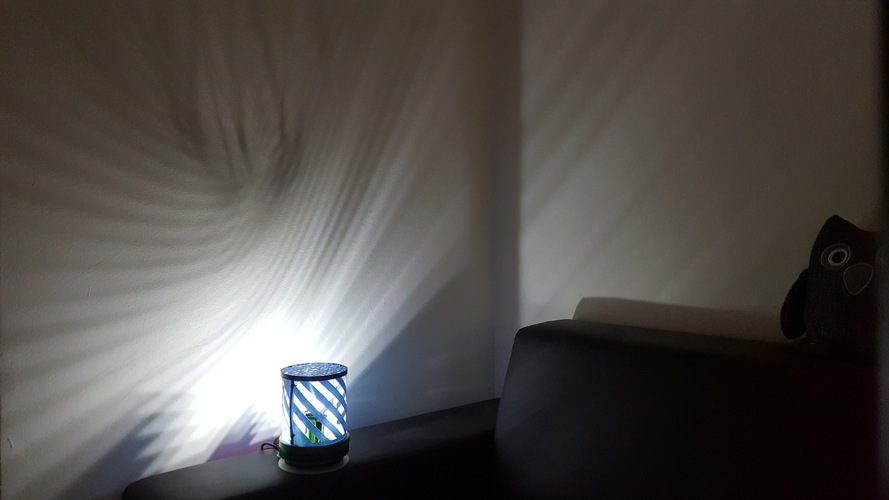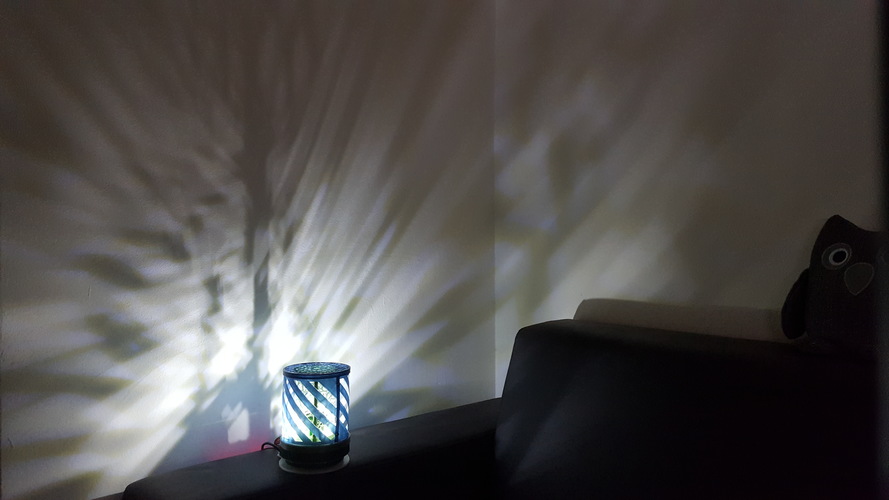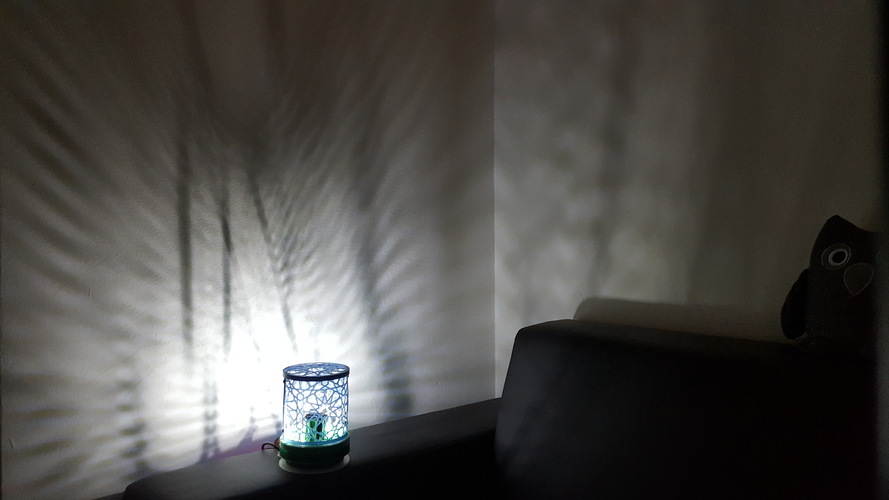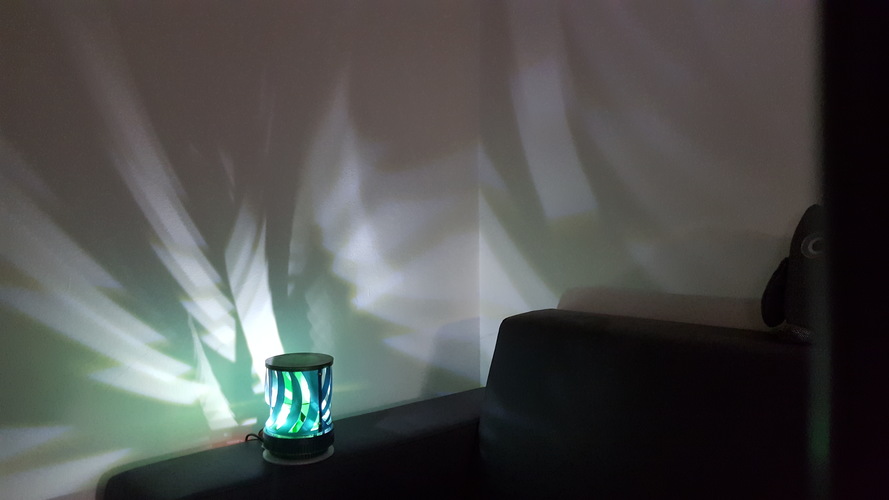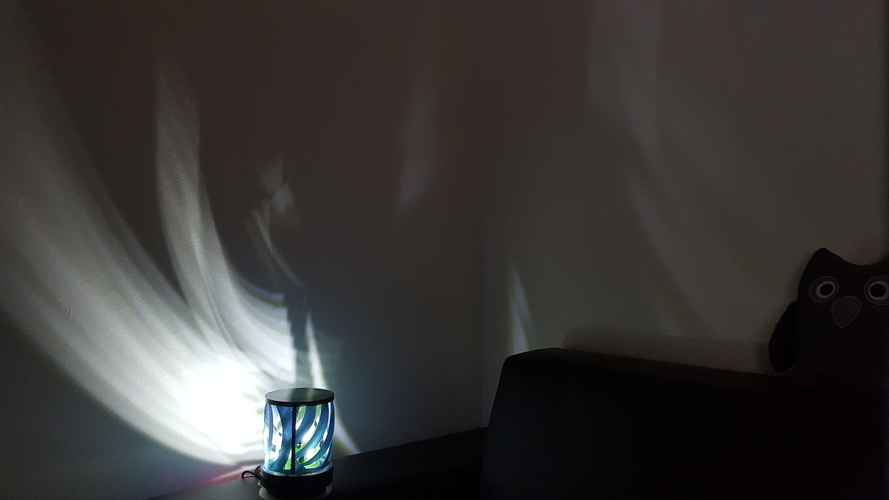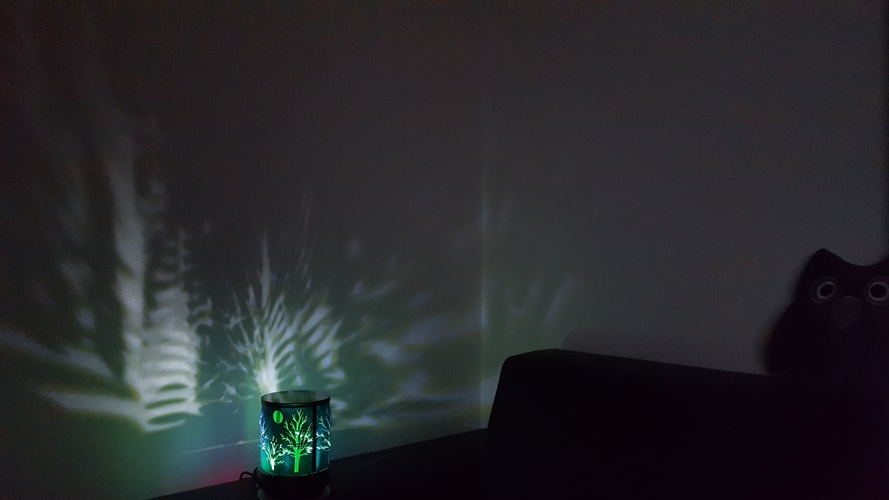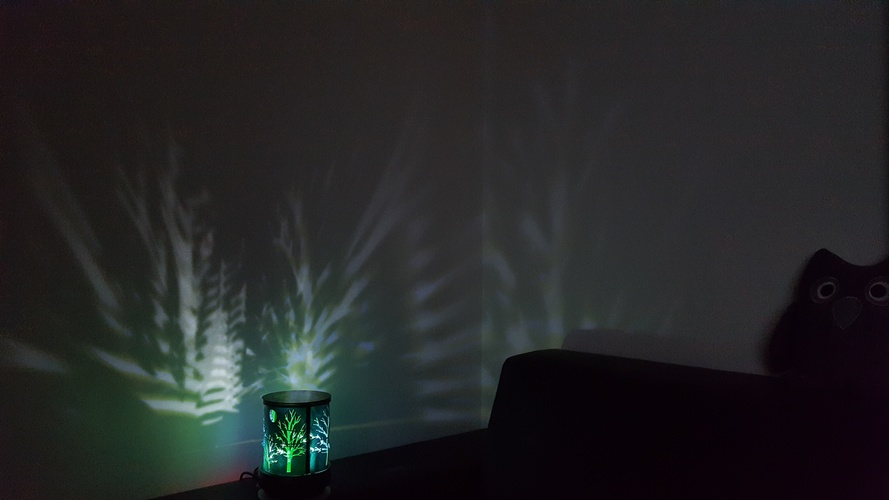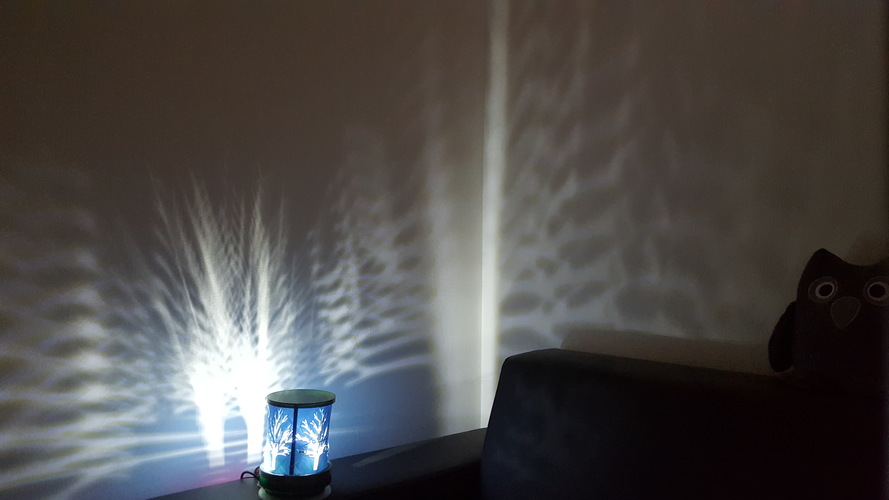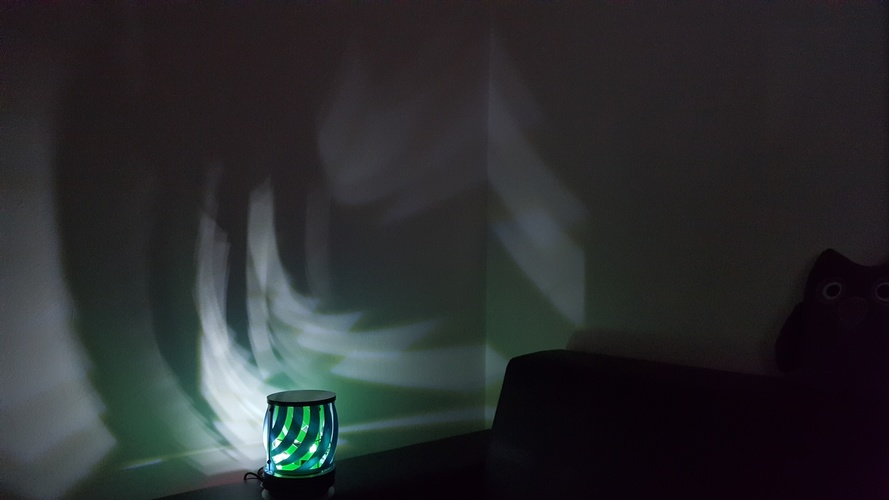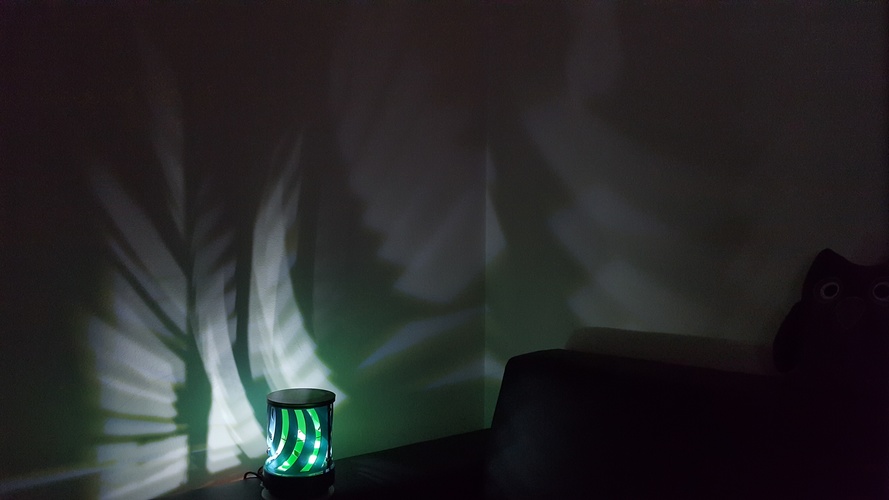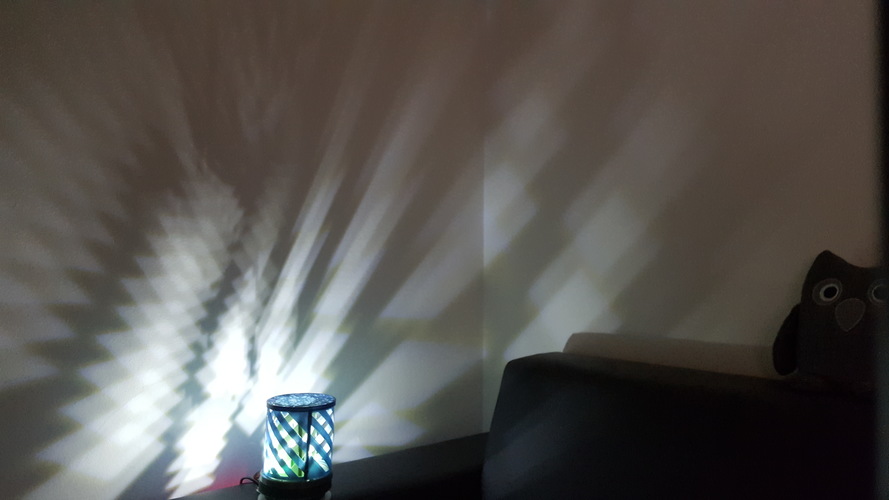 Hi :-),
This is the Bearing mechanism lamp! It's meant to make ever changing light and shadow effects. It can do this because you can change the lamp shades. Also you can combine a big and a small lamp shade together. Additionally they also turn around in opposite directions. This way you get endless different light reflections on your walls. In addition I have made different lamp shades to experiment with. You can use only one shade or experiment with different ones together. Also different colours give other effects. If you don't like my lamp shades, you can easily make one your own.
In total I have 4 different (big and small) lamp shades now. See pictures. You can print them flat on your printer and then roll them up and put them in the base ring. I had to make each shade in two pieces because not all people have big printers. You can connect these 2 parts additional with M3 bolts and nuts, but you may glue nail etc also :-) As an experiment I also made some lose trees and animals you can push in the rings instead of the lamp shade.
The light source are LED strips I got out of a cheap usb light. See picture. In my example I used 2 of them, but you can use 4 in total if you wish. The LED stript are mounted on a bracket with a pivot point so you can adjust the angle. This way you have more experimental options. These LED strips work on 5V so its easy to use.
This mechanism is powered by a little stepper and an arduino. 
In the base of this model the print support is already included. This means you have to cut this away afterwards. See picture (it's the red parts)
Beware: there are two different sizes of cylinders for the bearing part : see picture.
This is a nice site but unfortunately I have more material I can not upload on this site. For a video arduino script & more foto's see Thingiverse
RackMultipart20170620-61-ijqvtu.zip/bearing mechanism base.stl
3.55 MB
RackMultipart20170620-61-ijqvtu.zip/bearing mechanism big gear.stl
26.7 MB
RackMultipart20170620-61-ijqvtu.zip/bearing mechanism cylinder inner bearing.stl
279 KB
RackMultipart20170620-61-ijqvtu.zip/bearing mechanism cylinder outer bearing.stl
306 KB
RackMultipart20170620-61-ijqvtu.zip/bearing mechanism mid gear.stl
24.2 MB
RackMultipart20170620-61-ijqvtu.zip/bearing mechanism motor gear.stl
11.9 MB
RackMultipart20170620-61-ijqvtu.zip/bearing mechanism ring big gear.stl
886 KB
RackMultipart20170620-61-ijqvtu.zip/bearing mechanism ring center gear.stl
943 KB
RackMultipart20170620-61-ijqvtu.zip/bearing mechanism smal gear.stl
505 KB
RackMultipart20170620-61-ijqvtu.zip/bearing mechanism spacerring big.stl
1.72 MB
RackMultipart20170620-61-ijqvtu.zip/bearing mechanism spacerring smal.stl
1.18 MB
RackMultipart20170620-63-6njhz0.zip/Shadow Screen islam art lid big1.stl
2.27 MB
RackMultipart20170620-63-6njhz0.zip/Shadow Screen islam art big.stl
1.36 MB
RackMultipart20170620-63-6njhz0.zip/Shadow Screen diagonal small.stl
253 KB
RackMultipart20170620-63-6njhz0.zip/Shadow Screen diagonal big.stl
287 KB
RackMultipart20170620-63-6njhz0.zip/Shadow Screen abstract small.stl
768 KB
RackMultipart20170620-61-1oldwnm.zip/bearing mechanism base.stl
3.55 MB
RackMultipart20170620-61-1oldwnm.zip/bearing mechanism big gear.stl
26.7 MB
RackMultipart20170620-61-1oldwnm.zip/bearing mechanism cylinder inner bearing.stl
279 KB
RackMultipart20170620-61-1oldwnm.zip/bearing mechanism cylinder outer bearing.stl
306 KB
RackMultipart20170620-61-1oldwnm.zip/bearing mechanism mid gear.stl
24.2 MB
RackMultipart20170620-61-1oldwnm.zip/bearing mechanism motor gear.stl
11.9 MB
RackMultipart20170620-61-1oldwnm.zip/bearing mechanism ring big gear.stl
886 KB
RackMultipart20170620-61-1oldwnm.zip/bearing mechanism ring center gear.stl
943 KB
RackMultipart20170620-61-1oldwnm.zip/bearing mechanism smal gear.stl
505 KB
RackMultipart20170620-61-1oldwnm.zip/bearing mechanism spacerring big.stl
1.72 MB
RackMultipart20170620-61-1oldwnm.zip/bearing mechanism spacerring smal.stl
1.18 MB
RackMultipart20170620-61-1t3gjf3.zip/LED strip holder2a.stl
2.25 MB
RackMultipart20170620-61-1t3gjf3.zip/LED strip holder2b.stl
226 KB
RackMultipart20170620-63-6njhz0.zip/Shadow Screen abstract big.stl
1.08 MB
RackMultipart20170620-63-6njhz0.zip/Shadow Screen islam art lid big2.stl
1.17 MB
RackMultipart20170620-63-6njhz0.zip/Shadow Screen islam art lid small1.stl
987 KB
RackMultipart20170620-63-6njhz0.zip/Shadow Screen islam art lid small2.stl
1.99 MB
RackMultipart20170620-63-6njhz0.zip/Shadow Screen islam art small.stl
1.22 MB
RackMultipart20170620-63-6njhz0.zip/shadow screen lose parts deer1.stl
5.98 MB
RackMultipart20170620-63-6njhz0.zip/shadow screen lose parts deer2.stl
3.84 MB
RackMultipart20170620-63-6njhz0.zip/shadow screen lose parts deer3.stl
4.62 MB
RackMultipart20170620-63-6njhz0.zip/shadow screen lose parts dino.stl
2.92 MB
RackMultipart20170620-63-6njhz0.zip/shadow screen lose parts olifant.stl
6.73 MB
RackMultipart20170620-63-6njhz0.zip/shadow screen lose parts tree1.stl
49.3 MB
RackMultipart20170620-63-6njhz0.zip/shadow screen lose parts tree2.stl
27.9 MB
RackMultipart20170620-63-6njhz0.zip/shadow screen lose parts tree3.stl
16 MB
RackMultipart20170620-63-6njhz0.zip/shadow screen lose parts tree5.stl
28.6 MB
RackMultipart20170620-63-6njhz0.zip/Shadow Screen neutral lid big.stl
544 KB
RackMultipart20170620-63-6njhz0.zip/Shadow Screen neutral lid small.stl
658 KB
RackMultipart20170620-63-6njhz0.zip/Shadow screen ring big.stl
2.51 MB
RackMultipart20170620-63-6njhz0.zip/Shadow screen ring small.stl
1.66 MB
RackMultipart20170620-63-6njhz0.zip/Shadow Screen tree big.stl
32.9 MB
RackMultipart20170620-63-6njhz0.zip/Shadow Screen tree small.stl
17.1 MB