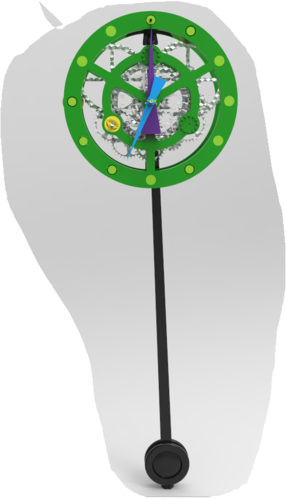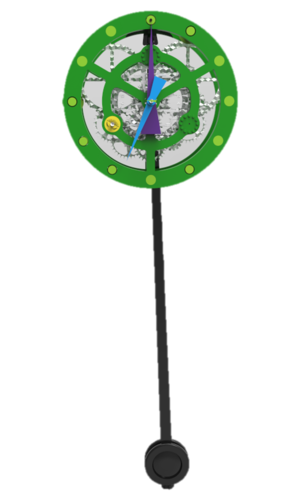 No Prints Yet

Be the first to upload a Print for this Design!
I have spent many hours creating a fully functional mechanical Grandfather Clock. Having made a laserply version last year, I used the same plan heavily modifying every part to make it 3D printable and even better functioning. The clock is completely designed by me, but credit is due to the original creator who uploaded the plans online for free. I have heavily modified the whole clock and redesigned nearly every part but have kept the assembly instructions and basic gear structure the same with alterations to the gears to allow them to mesh better. I have spent close to 30 man hours making this clock and I intend to print it myself, though if anyone else beats me to it, please upload photos. I am very confident that it will work but I expect there might be a few alterations due which I will make once I have finished printing and assembling. 
Attached are the original assembly files of the original creator. I have named all my parts the same for convenience and they fit together in the same way, but they are all slightly different shapes and sizes to help with 3D printing of the product.
For assistance on assembly feel free to ask
Individual parts are split for 3d printing because to complex to print in one go..but slot together and glue (advise tensol) 
Now I have also developed a additional file which is an external driver plate so that the clock can be easily electronically controlled. The clock is designed with a hollow central shaft which a normal quartz driver can fit into and be used to turn the whole clock. 
The frame I have included but I would advise just due to the size of the print, that you make out of a different material such as wood for strength and to save time. Also I have made it so it can be hooked onto a wall straight like shown in the render, because i thought it looked way better without a case!
Having based it off my own clock that I built and off the plans of the other clock I built, I am fairly certain it should work, the cogs are large but will fit in a 350mmx350mm printing base or slightly smaller but that's on the safe side. 
There are a lot of parts and this is a huge project to print but totally worth it!
I have made the same scale version out of wood as is CAD and it works fine so the 3D printing version should also work fine, just have to make sure the shafts are correctly aligned and suitably oiled/fixed.
I hope you enjoy! Again, any builds would be extremely appreciated.
Also I made in Solidworks and therefore if anyone would prefer those files to make some alterations I am happy to oblige but on the condition that you send me your alterations so I can too update with these improvements.
WEIGHT - Supports-1.STL
27 KB
Additional Plate for external driver.STL
145 KB
1x16 Drive - Base-1x16 Drive-1.STL
22.9 KB
1x16 Drive - Drive Shaft end-1x16 Drive-1.STL
382 KB
2x 64 Drive - Bush Bearing-2x60drive-1.STL
19.6 KB
2x 64 Drive - pulley-2x60drive-1.STL
227 KB
2x 64 Drive - Ratchet wheel-2x60drive-1.STL
67.5 KB
28x8 Drive - Bush Bearing-28x8Drive-1.STL
18.4 KB
28x8 Drive - Bush Bearing-28x8Drive-2.STL
18.4 KB
32x8 Drive - Bush Bearing-32x8Drive-2.STL
18.4 KB
60x8 Drive - 8 Tooth Gear -60x8 Drive-1.STL
71.6 KB
60x8 Drive - Drive shaft end cap-60x8 Drive-1.STL
135 KB
60x8 Drive - Top left weight wheel drive shaft end cap-1.STL
34.8 KB
Day-night Drive - 32 tooth gear-Night Day Drive-1.STL
180 KB
Day-night Drive - Bush Bearing-Night Day Drive-1.STL
18.4 KB
Day-night Drive - MOnth Toggle-Night Day Drive-1.STL
16.1 KB
FRONT - DAy Night Dial stick-1.STL
39.3 KB
FRONT - FACE-1 Front Face-1.STL
4 MB
FRONT - FACE-1 Sun Dial-1.STL
360 KB
Hour Drive - 32 tooth gear-1.STL
180 KB
Month Drive - Drive Shaft End Cap-Month Drive-1.STL
117 KB
Second Drive - 8 Tooth cog -Second Drive-1.STL
71.6 KB
Second Drive - Back bush Bearing -Second Drive-1.STL
18.4 KB
Second Drive - Drive shaft-Second Drive-1.STL
32 KB
Second Drive - Main Cog-Second Drive-1.STL
306 KB
Second Drive - Second hand -Second Drive-1.STL
29.6 KB
Second Drive - Stopper-Second Drive-1.STL
130 KB
16x8 Drive - 8 tooth Gear-16x8Drive-1.STL
71.6 KB
16x8 Drive - 16 tooth gear-16x8Drive-1.STL
175 KB
16x8 Drive - Base-16x8Drive-1.STL
22.9 KB
16x8 Drive - Drive shaft-16x8Drive-1.STL
159 KB
16x8 Drive - Pin-16x8Drive-1.STL
107 KB
30x8 Drive - Spacer-2x60drive-1.STL
20 KB
32x8 Drive - Drive Shaft-32x8 Drive-1.STL
30.6 KB
30x8 Drive - Pin-2x60drive-1.STL
107 KB
60x8 Drive - front weight wheel drive shaft-1.STL
91.2 KB
32x8 Drive - Drive Shaft end cap-32x8Drive-1.STL
165 KB
32x8 Drive - 8 tooth Gear-32x8Drive-1.STL
71.6 KB
Month Drive - Bush Bearing-Month Drive-1.STL
20.4 KB
60x8 Drive - 60 tooth gear-60x8 Drive-1.STL
480 KB
32x8 Drive - 32 tooth gear-32x8Drive-1.STL
180 KB
60x8 Drive - Back bush bearing-60x8 Drive-1.STL
18.4 KB
60x8 Drive - Drive shaft-60x8 Drive-1.STL
37.6 KB
32x8 Drive - Bush Bearing-32x8Drive-1.STL
18.4 KB
60x8 Drive - Top Left weight wheel-1.STL
222 KB
Month Drive - Month Habd-1.STL
25.6 KB
Month Drive - 32 tooth gear-Month Drive-1.STL
207 KB
Month Drive - Month Hand Drive shaft-1.STL
94.9 KB
30x8 Drive - Drive Shaft-2x60drive-1.STL
112 KB
Minute Drive - 64 tooth gear-Minute Drive-1.STL
548 KB
FRONT - Number 5 and 9 dial dots assem-1 Pulley-1.STL
352 KB
FRONT - Number 5 and 9 dial dots assem-1 Rear Dial Locking Pin-1.STL
60.2 KB
FRONT - Number 5 and 9 dial dots assem-2 Rear Dial Locking Pin-1.STL
60.2 KB
Minute Drive - Minute hand-2.STL
47.3 KB
FRONT - Number 8 and 4 dot shaft-1.STL
23.5 KB
Minute Drive - Bush Bearing-Minute Drive-1.STL
18.4 KB
FRONT - Number 8 and 4 dot shaft-2.STL
23.5 KB
Minute Drive - drive shaft end cap-Minute Drive-1.STL
165 KB
FRONT - Number 5 and 9 dial dots assem-2 Back Dial Pulley dot-1.STL
51.1 KB
FRONT - Number 5 and 9 dial dots assem-2 Front Dial Pulley Dot-1.STL
37.8 KB
Minute Drive - Drive shaft-Minute Drive-1.STL
37.6 KB
FRONT - Number 5 and 9 dial dots assem-2 Pulley-1.STL
352 KB
FRONT - Number 5 and 9 dial dots assem-1 Front Dial Pulley Dot-1.STL
37.8 KB
Rocker and Pendulum - pendulum spring-1.STL
114 KB
Rocker and Pendulum - Rocker-1.STL
24.7 KB
Week Drive - Stopper-Week Drive-1.STL
150 KB
Week Drive - Bush Bearing-Week Drive-1.STL
18.4 KB
Week Drive - Week Hand-1.STL
65 KB
Rocker and Pendulum - main pendulum-1 Pendelum rod-1.STL
276 KB
WEIGHT - Top End Caps-1.STL
454 KB
1x16 Drive - Drive Shaft-1x16 Drive-1.STL
22 KB
1x16 Drive - Spacer-1x16 Drive-1.STL
20.4 KB
2x 64 Drive - Pings1-1.STL
7.5 KB
2x 64 Drive - Ratchet arm-2x60drive-1.STL
119 KB
28x8 Drive - 8 tooth Gear-28x8Drive-1.STL
71.6 KB
28x8 Drive - 28 tooth gear-28x8Drive-1.STL
169 KB
28x8 Drive - Drive Shaft end cap-28x8Drive-1.STL
165 KB
30x8 Drive - 30 tooth gear30x2 Drive-1.STL
171 KB
30x8 Drive - Base-2x60drive-1.STL
23.3 KB
Day-night Drive - Day Night hand drive shaft-Night Day Drive-1.STL
22.3 KB
Day-night Drive - Day Night Hand-1.STL
65 KB
Day-night Drive - Toggle Drive Shaft-Night Day Drive-1.STL
22.2 KB
FRONT - number 1 and 3 dot shaft-1.STL
54.3 KB
FRONT - number 1 and 3 dot shaft-2.STL
54.3 KB
Hour Drive - Drive shaft hour hand-1.STL
160 KB
Rocker and Pendulum - Crutch assem-1 crutch frame-1.STL
46.2 KB
WEIGHT - Barrel-1.STL
484 KB
2x 64 Drive - 64 tooth gear-2x60drive-1.STL
570 KB
2x 64 Drive - Pings2-2.STL
7.5 KB
2x 64 Drive - Ratchet armes-2x60drive-1.STL
38.3 KB
Hour Drive - Hour hand-1.STL
30.6 KB
2x 64 Drive - right end cap-2x60drive-1.STL
177 KB
28x8 Drive - Drive shaft 2-28x8Drive-1.STL
30.6 KB
30x8 Drive - 8 tooth Gear-30x2drive-1.STL
71.6 KB
Day-night Drive - Drive Shaft-Night Day Drive-1.STL
41.8 KB
Day-night Drive - SToppers-Night Day Drive-1.STL
150 KB
FRONT - FACE-1 BAck Face-1.STL
404 KB
FRONT - Number 5 and 9 dial dots assem-1 Back Dial Pulley dot-1.STL
51.1 KB
1x16 Drive - 16 tooth gear-1x16 Drive-1.STL
269 KB
Week Drive - Bush Bearing-Week Drive-2.STL
18.4 KB
Week Drive - Week hand drive shaft-Week Drive-1.STL
22.3 KB
Rocker and Pendulum - Crutch assem-1 crutch pin-1.STL
14.9 KB
Rocker and Pendulum - Crutch assem-1 crutch pin-2.STL
14.9 KB
Rocker and Pendulum - Crutch assem-1 reocker crutch drive shaft-1.STL
38 KB
Rocker and Pendulum - main pendulum-1 Nut and bolt-1.STL
1.73 MB
Rocker and Pendulum - main pendulum-1 Pendulum weight-1.STL
521 KB
Week Drive - 32 tooth gear-Week Drive-1.STL
179 KB
Rocker and Pendulum - Drive shaft end cap-2.STL
127 KB
Rocker and Pendulum - main pendulum-1 Nut-1.STL
753 KB
Rocker and Pendulum - pendulum spring support-1.STL
31.8 KB
Week Drive - Drive Shaft-Week Drive-1.STL
43.1 KB
20-01-1 Frame, Assembly.pdf
24.9 KB
19-01-1 Weight, Assembly.pdf
14.8 KB
18-02-1 Back Dial, Assembly Front.pdf
12.3 KB
17-05-1 Front Dial, Outside Assembly.pdf
21.2 KB
17-04-1 Front Dial, Assembly Side.pdf
13.7 KB
16-01-1 Month Drive, Assembly Front.pdf
15.3 KB
15-01-1 x 16 Drive, Assembly.pdf
16.3 KB
14-01-1 Week Drive, Assembly Side.pdf
14.4 KB
13-01-1 32 x 8 Drive, Assembly Side.pdf
13.8 KB
12-01-1 28 x 8 Drive, Assembly Side.pdf
13.6 KB
11-01-1 Day-Night Drive, Assembly Side.pdf
15.6 KB
10-01-1 16 x 8 Drive, Assembly.pdf
18.8 KB
09-01-1 Hour Drive, Assembly Side.pdf
13.6 KB
08-01-1 30 x 8 Drive, Assembly.pdf
23.6 KB
07-01-2 x 64 Drive, Assembly Side.pdf
21.9 KB
06-01-1 Minute Drive, Assembly Side.pdf
13.3 KB
05-01-1 60 x 8 Drive, Assembly Side.pdf
14.4 KB
04-01-1 Second Drive, Assembly Side.pdf
14.3 KB
03-02-1 Rocker, Assembly Front.pdf
9.13 KB
03-01-1 Rocker, Assembly Side.pdf
13.9 KB
02-02-1 Pendulum, Assembly Bottom.pdf
11.6 KB
02-01-2 Pendulum, Assembly.pdf
17.9 KB
01-11-1 Assembly, Gears Ratio Explode.pdf
23.3 KB
01-10-1 Assembly, Centre Drive Shaft.pdf
7.66 KB
01-09-1 Assembly, Dial Top.pdf
14.4 KB
01-07-2 Assembly, Dial Side Right.pdf
15.7 KB
01-06-1 Assembly, Dial Back Inside.pdf
68.2 KB
01-05-1 Assembly, Dial Back.pdf
64.7 KB
01-04-1 Assembly, Dial Front Inside.pdf
66.2 KB
01-03-1 Assembly, Dial Front.pdf
69.1 KB
01-02-1 Assembly, Gears Ratio.pdf
38.7 KB
01-01-2 Assembly.pdf
73.1 KB