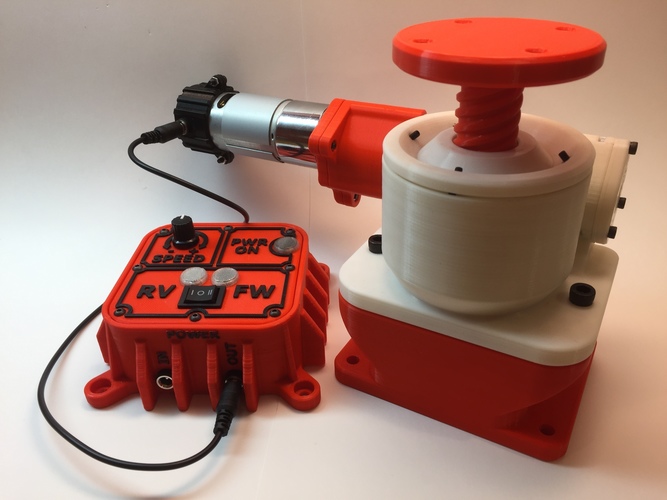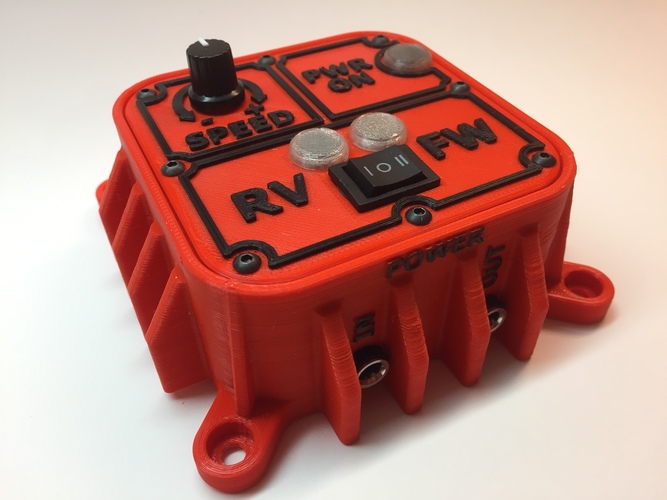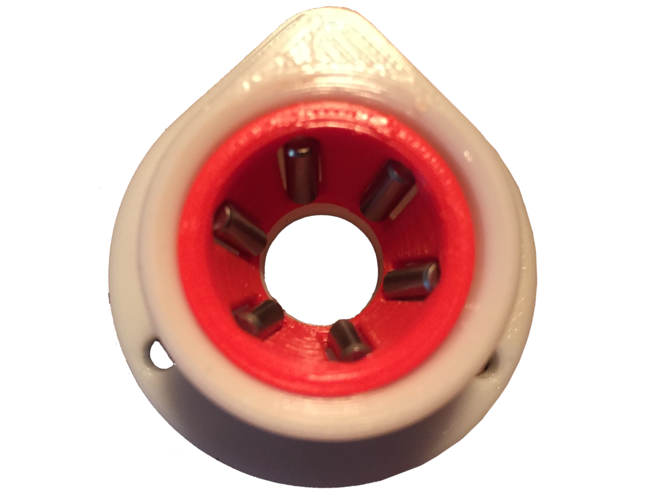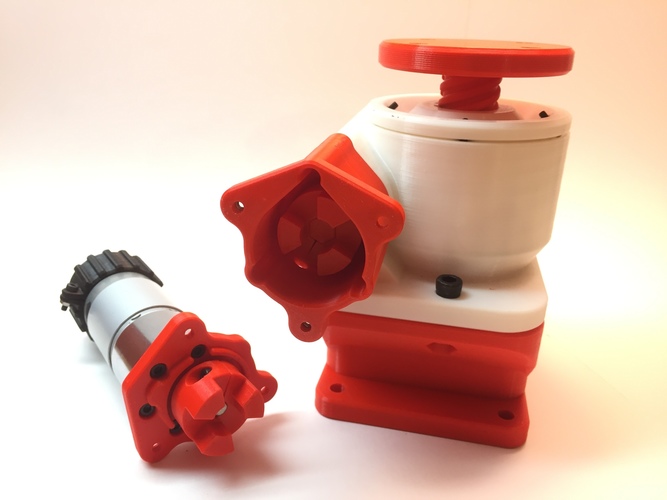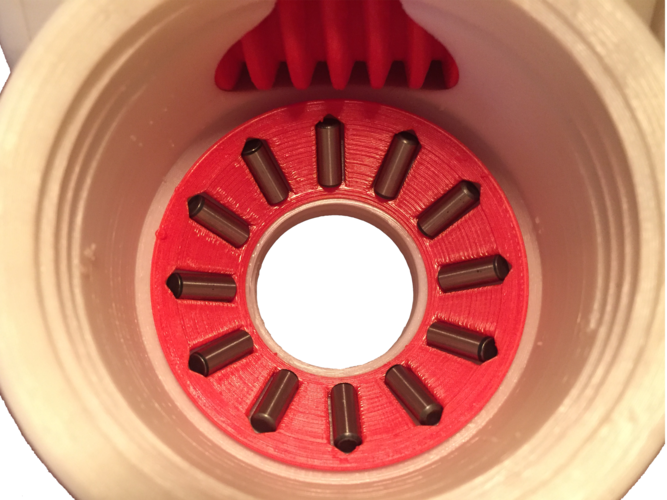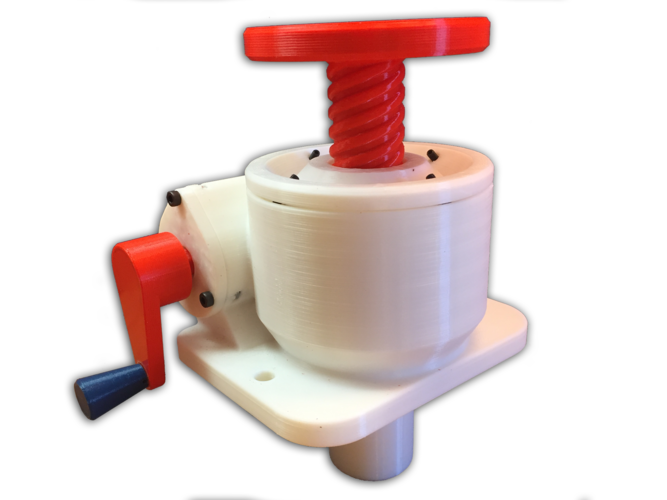 No Prints Yet

Be the first to upload a Print for this Design!
1/15 Ton Worm Driven Jack Screw
Identical design as an actual jack screw used in industry down to the bearings, gearing, and how the preload is adjusted. Some changes were made to the housing and gears so that it can be printed without supports. Every part is 3D printable with the exception of the needle roller bearings which I used dowel pins for. The jack screw is driven by a 24vdc gear motor. It's capable of picking up roughly 150 to 200lbs with the DC gear motor specified below.
DC Motor Controller Box 
This box  houses a DC motor controller to adjust speed and direction of a DC motor. The controller bolts on the bottom of the box with four M3 x 6mm long screws. The lid bolts onto the top of the box with eight M3 x 6mm long screws. I used heat-set brass thread inserts for the mounting threads. On the controller there is a yellow light for "on" and two red lights for "forward" and "reverse". I designed tubes that transfer light from the leds thru cover lenses so that they are visible from the outside of the box. A rocker switch sets; forward, reverse, or off. And a potentiometer controls the motor speed. I used panel mount female DC panel mount barrel jack for the external power connections from the power supply and to the motor.
Specifications: Worm Reduction: 30:1, 3/8" hex output shaft, anti-rotation keyway, 2" total travel, 1" dia. lead screw, M6 base mounting holes, M5 nut traps in tooling plate, Load rating: 150lbs Max. Working load should be less.
Thread Pitch Options: 
1.    Single Start: 1"-5 , Lead = .2" / with worm reduction per rev = .0067" 
2.    Double Start: 1"-2, Lead = .5" / with worm reduction per rev = .0167" 
3.    Quadruple Start: 1"-1, Lead = 1" / with worm reduction per rev = .0333"
Notes: 
• Before printing select desired thread pitch for your application; single, double, or quadruple. (Detailed above) Make sure the screw pitch matches the nut pitch. 
• No supports are required for any of the parts. 
• I printed the drive shaft on a raft to keep it stable since it will need to be printed vertical. 
• I printed everything with 3 outlines, 20% infill, .175mm layer height and everything fit perfectly the first time. 
• It would be advisable to use Lithium grease on both the gears, threads, and the bearings. 
• I have complete assembly instructions available upon request but they were too long to fit in the description. 
Required Components:
Motor Controller: PN A16090700UX0248 Manufacture: Uxcell Voltage: 10-30vdc/ 3amp You can find it on Uxcells site or I got mine on amazon for $10.
DC GearMotor: (optional) Any motor under 3amps will work but I used this one PN: A16051100UX0484 Manufacture: Uxcell Voltage: 24vdc/ 1amp RPM: 200 (20-1000 available same gearmotor) You can find it on Uxcells site or I got mine on amazon for $14.
Panel Mount DC Barrel Jack: Size: 2.1mm x 5.5mm Panel Hole Size: 7.8mm Qty: 3 I purchased mine from e-bay, they were like 10 for $1, but they also have them on amazon. Just make sure you get the two pin concentric style, the three pin style won't fit.
Thread Inserts: M3x.5mm thread, 5.6mm od x 3.8mm lg. brass QTY: 12 You can find the threaded inserts on Mcmaster.
Power Supply: You will need a power supply. Any power supply from 10-30vdc will work just make sure it has a 5.5mm x 2.1mm barrel connector. I purchased a 24vdc x 3 amp power supply for $12 on Amazon.
Double Male Adapter Cable: You will need a cable with 2.1mm x 5.5 male plugs on both ends for connecting the controller to the motor cap housing. I found five of them on e-bay for $3.
Required hardware: 
•  1/8" DIA. X 3/8" LG. DOWEL PIN – 24X (FOR DRIVE SHAFT BEARINGS) 
•  3/16" DIA. X 1/2" LG. DOWEL PIN – 12X (FOR DRIVE SHAFT BEARINGS) 
•  M3 X .5 - 10MM LG. SET SCREW (or SHCS) – 4X 
•  M3 X .5 HEX NUT – 32X 
•  M3 X .5 SOCKET HEAD CAP SCREW 10MM LG. – 8X 
•  M5 x 0.8 HEX NUT (for mounting to the tooling plate) 
•  M3 X .5 SOCKET HEAD CAP SCREW 6M LG. – 21X 
•  M3 X .5 X BUTTON HEAD CAP SCREW 6M LG. – 8X 
•  M3 X .5 SOCKET HEAD CAP SCREW 10M LG. – 3X
Load Test:
Demonstration:
WORM_GEAR-QUAD_START.stl
14.9 MB
DC MOTOR CONTROLLER.pdf
388 KB
WORM_GEAR-DOUBLE_START.stl
14.8 MB
WORM_GEAR-SINGLE_START.stl
17.4 MB
MOTOR ASSEMBLY.pdf
262 KB
MOTOR DRIVEN JACK SCREW.pdf
401 KB
LARGE_ROLLER_CAGE.stl
3.79 MB
MOTOR_COUPLING.stl
1.37 MB
LIFTING_SCREW-DOUBLE_START.stl
4.5 MB
LIFTING_SCREW-QUAD_START.stl
4.52 MB
SMALL_ROLLER_CAGE.stl
1.92 MB
LIFTING_SCREW-SINGLE_START.stl
4.85 MB
MOTOR_ADAPTOR.stl
1.83 MB
CONTROLLER_BOX.stl
6.12 MB
JACK_SCREW_HOUSING.stl
5.7 MB